Date squares are a blend of oats, brown sugar, butter and sweet dates. They are a classic recipe that many of us remember from when we were young. Whether it was from the bakery around the corner, or fresh out of grandma's oven. You'll love this date square recipe tradition four your own family!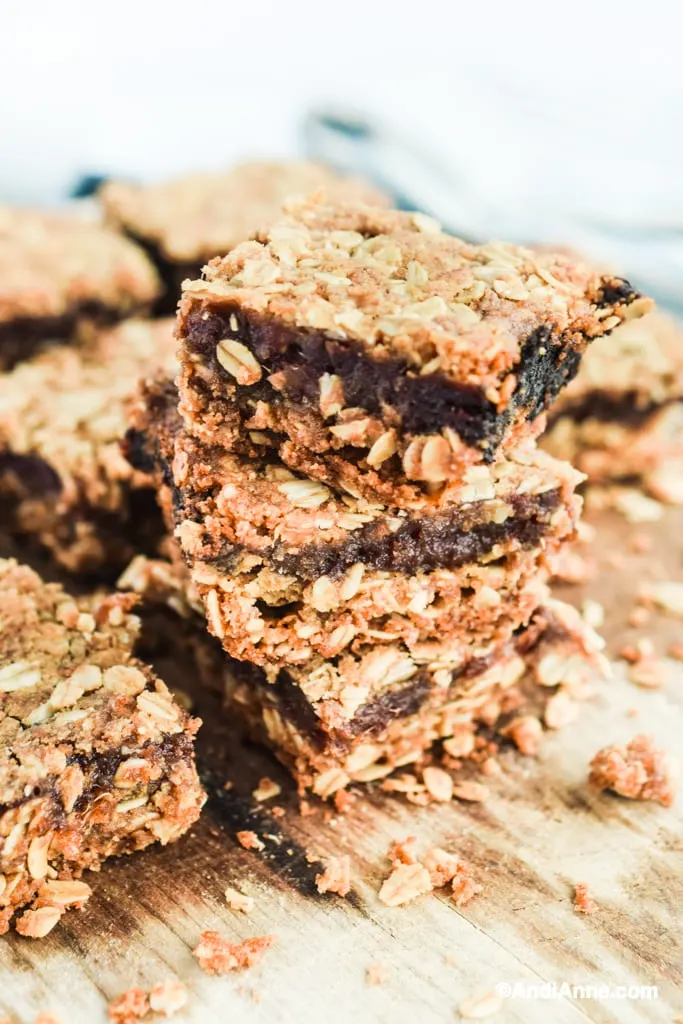 What are Medjool Dates?
Medjool dates are a large, dark date that has a more caramel flavor to it. They're often sold as dried dates, not dehydrated, which makes them soft and sticky and perfect for baking recipes!
Medjool dates naturally come with a pit inside them. So it's important to remove that pit before using in your baking. To do this, slice the date in half and squeeze out the pit (a large hard seed).
Alternatively you can buy dried pitted medjool dates which is what I tend to prefer. That way you don't have to remove the pit yourself.
Where Can You Buy Medjool Dates?
I am able to find medjool pitted dates in the fruit and vegetable section of my grocery store. They are usually in a clear plastic container at the end of one of the aisles. If you're not sure, ask your local grocer if your store offers them.
Alternatively, you can also purchase medjool dates online here.
I love good classic recipes made with large flake oats, like this Strawberry Rhubarb Crisp. More oat recipes include my Berry Oat Muffin Bites (great for little kids), and my popular Banana Oat Muffins.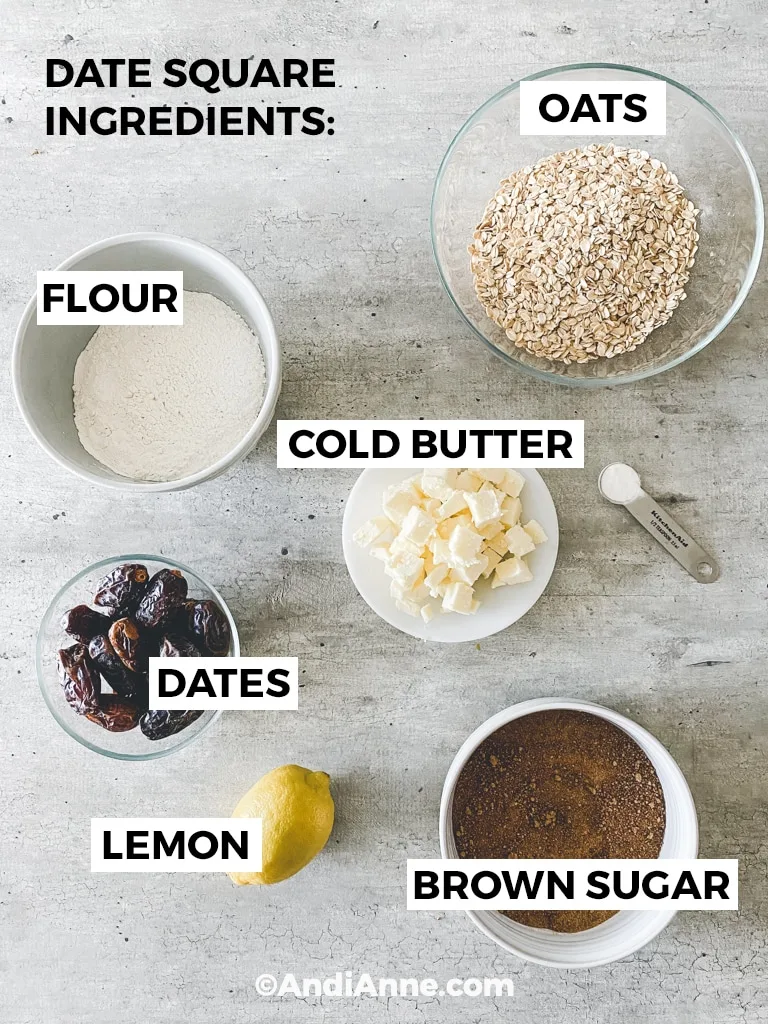 Date Squares Ingredients:
Date Filling
Medjool Dates – Look for "dried pitted medjool dates" preferably, this saves you time of cutting out the pits. If you can't find those, it's easy to slice the dates in half and squeeze out the pits before using.
Brown Sugar – You can use brown sugar in this recipe or coconut sugar. My preference is always to use coconut sugar as I prefer the taste, but both will work great.
Lemon – A squeeze of half of a fresh lemon makes a big difference in flavor!
Oat Crust
Large Flake Oats – this recipe will require old-fashioned rolled oats to get the required texture. I don't think that quick oats would work nearly as well, so look for the large flake oats at the grocery store or find them online here.
All Purpose Flour – You'll need a bit of flour to help create the crumbly texture of the crust.
Brown Sugar – You'll be using brown sugar in the crust as well. You can also use coconut sugar here. Either one will work great.
Baking Powder – Don't skip the baking powder. As this will help hold everything together.
Salted Butter – The key to a wonderfly perfect oat crust is in the butter. The butter must be cold, and must be crumbled into small pieces. The best way to do this is with a pastry cutter, but you could also use a fork.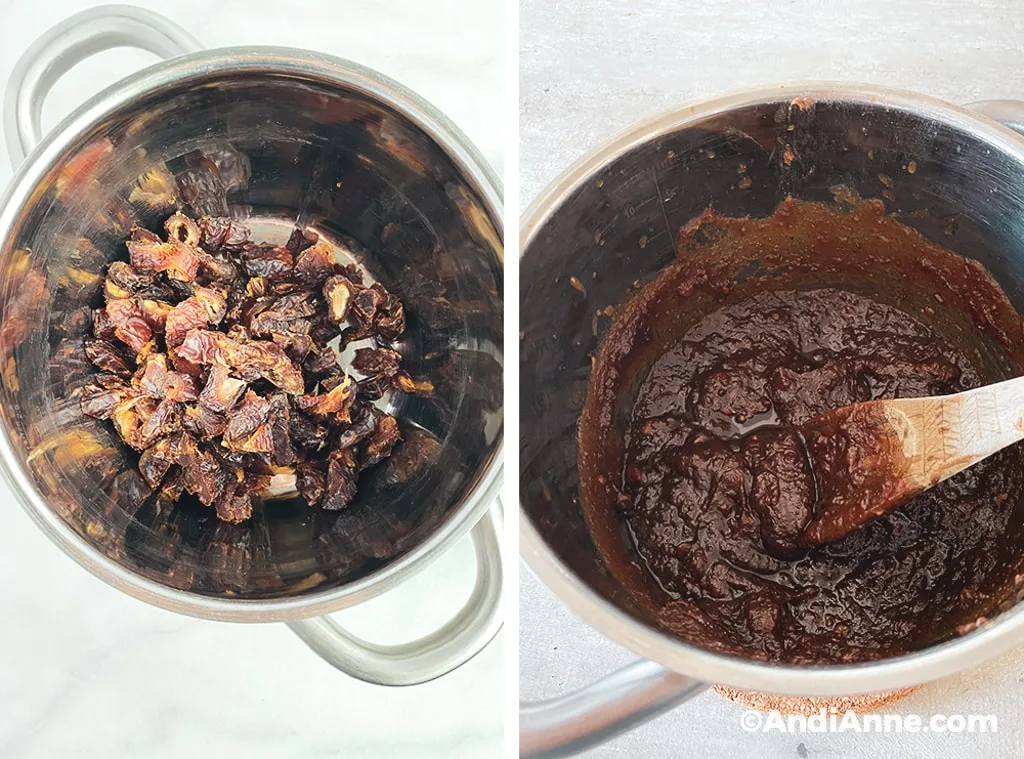 Date Squares Filling Instructions
Cut the medjool dates into smaller pieces. It will be easier and faster for the dates to cook down into a sauce. If the dates you purchased have pits, you can easily remove them as this time.
Add the chopped dates to a saucepan with water, and coconut sugar. Bring it to a boil, then reduce the heat to let the pot simmer. The key here is to stir constantly, which will prevent the mixture from burning. The entire process should only take about 8-10 minutes.
Once the dates have broken down, remove from the heat source and squeeze in half of a lemon. Stir it together and then set the pot aside.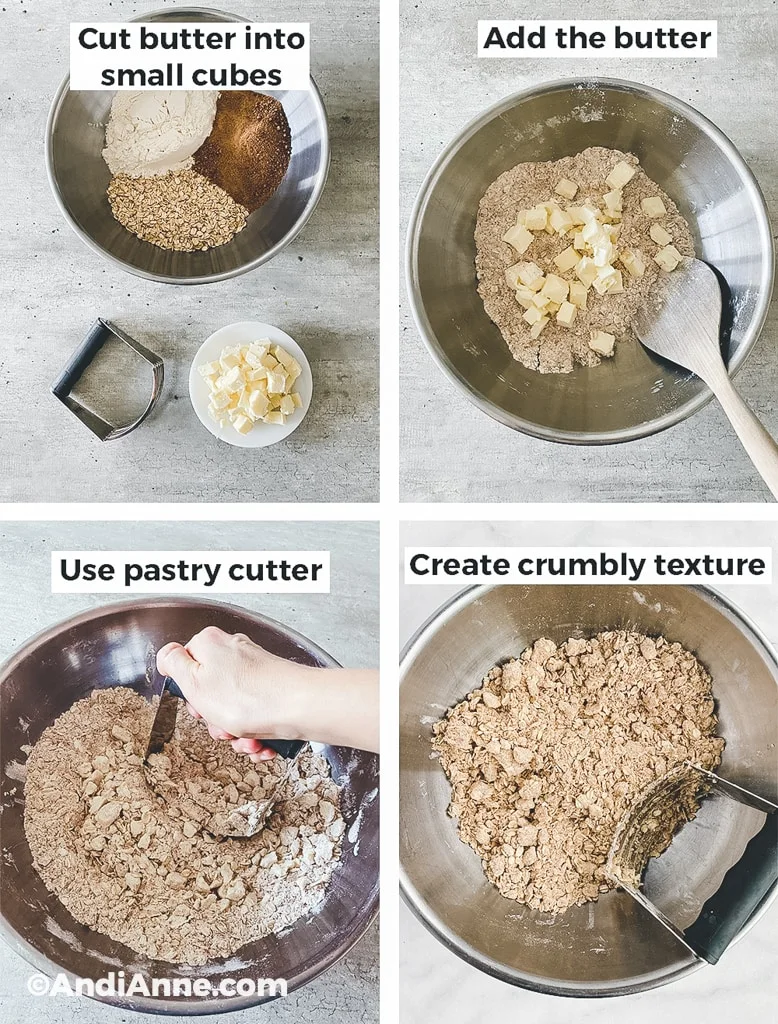 Oat Crust Instructions
First, you'll want to take the butter out of the fridge and cut it into slices, and then into small cubes.
Then add large flake oats, all purpose flour, brown sugar, baking soda, and salt to a large bowl and stir together.
Now you can add the butter cubes and use a pastry cutter to cut the butter into crumbly pieces. At this point I like to get my hands in there and make sure the butter is really broken down and mixed with the oats.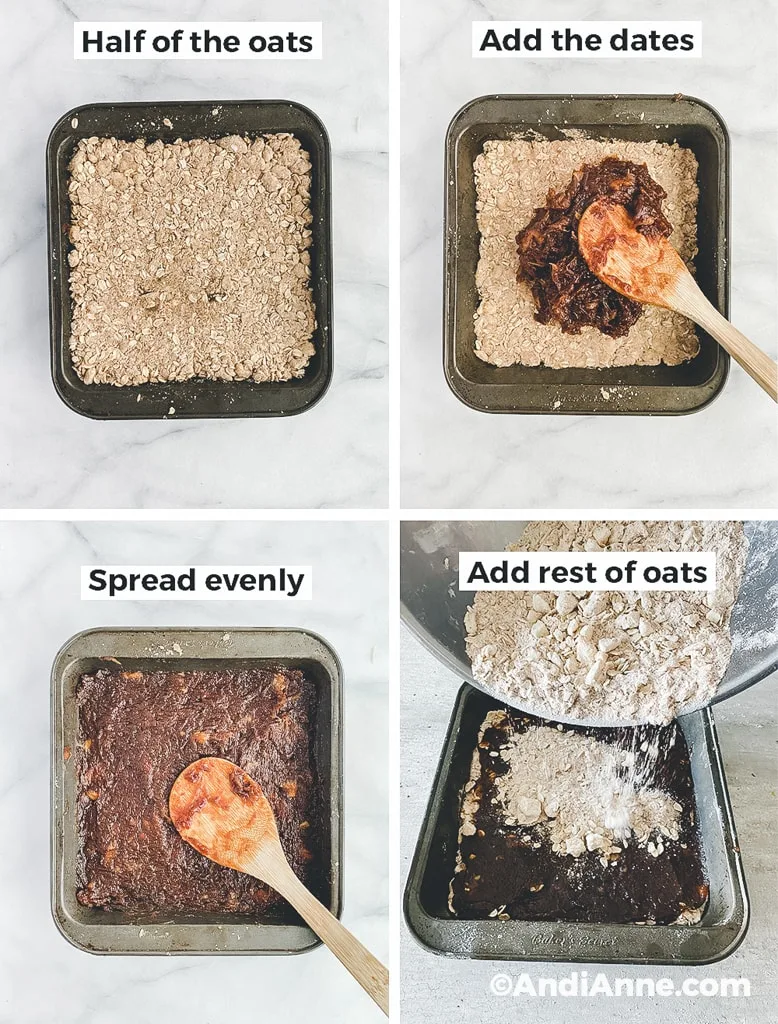 How To Assemble Date Squares
First, make sure your pan is lined with parchment paper, or greased with butter or nonstick cooking spray.
Pour 50-60% of the oat flour mixture into your baking pan. Press it firmly into the bottom with your fingers.
Next, pour the date mixture on top. Lightly spread the mixture around until it covers all sides. If you do this step gently, the dates will move without disrupting the oat crust below it.
Pour the rest of the oat mixture on top and spread to all edges. Lightly press with fingers so it's packed tightly.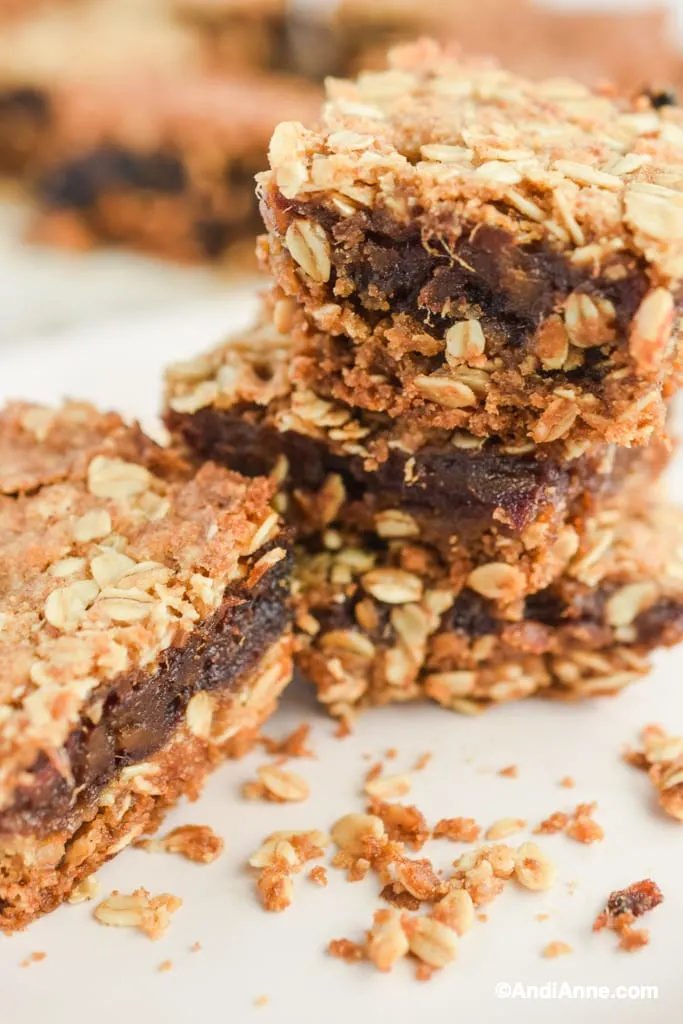 More Baking Recipes: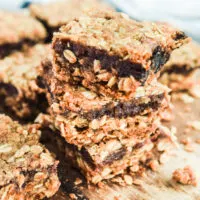 Old Fashioned Date Squares
Date squares are a blend of oats, brown sugar, butter and sweet dates. Your family will love this classic recipe, just like grandma used to make!
Save Recipe!
Saved!
Pin This
Print It
Instructions
Preheat the oven to 350°F. Line 8×8 inch baking pan with parchment paper or spray with nonstick cooking spray.

Add the medjool dates, water, and brown sugar to a saucepan over medium high heat. Bring to a boil then reduce heat to simmer. Stir the mixture constantly so that it doesn't burn (sugar burns easily). You'll know it's done when the dates have broken down into a thickened jam-like consistency.

Remove the saucepan from the heat source, then stir in lemon juice. Set aside.

In a bowl, mix the large flake oats, all purpose flour, brown sugar, baking powder and salt.

Add in cold butter pieces and use a pastry cutter to create a crumble-like texture of the butter. I like to use my hands at this point to break up any large pieces of butter still left.

Pour 50-60% of the oat mixture into a square baking pan making sure to cover completely. Press oats down firmly with your hands. Spoon the date mixture overtop, and gently spread with a spatula (Focus on gently spreading the top of the date mixture around with spatula to avoid disrupting the oat base). Sprinkle the rest of the oat flour mixture on top and spread evenly. Lightly press it into the pan.

Bake 45-50 minutes, or until golden brown.
Nutrition
Serving:
12
g
|
Calories:
350
kcal
|
Carbohydrates:
60
g
|
Protein:
3
g
|
Fat:
12
g
|
Cholesterol:
31
mg
|
Sodium:
128
mg
|
Potassium:
297
mg
|
Fiber:
3
g
|
Sugar:
43
g
|
Calcium:
59
mg
The nutritional information provided is an estimate and is per serving.