Dijon Thyme Baked Chicken
Disclosure: This post may contain affiliate links.
Dijon thyme baked chicken is a delicious and simple main dish. These chicken thighs are flavorful and easy to prep. Pair them with baked sweet potatoes, rice, or a quinoa salad to create an enjoyable family dinner.
You can batch cook a large amount and save them for simple lunches throughout the week, or freeze leftovers for another meal. These oven baked chicken thighs can be frozen for up to 3 months. When you're ready to use, just thaw and then wrap in aluminum foil before reheating.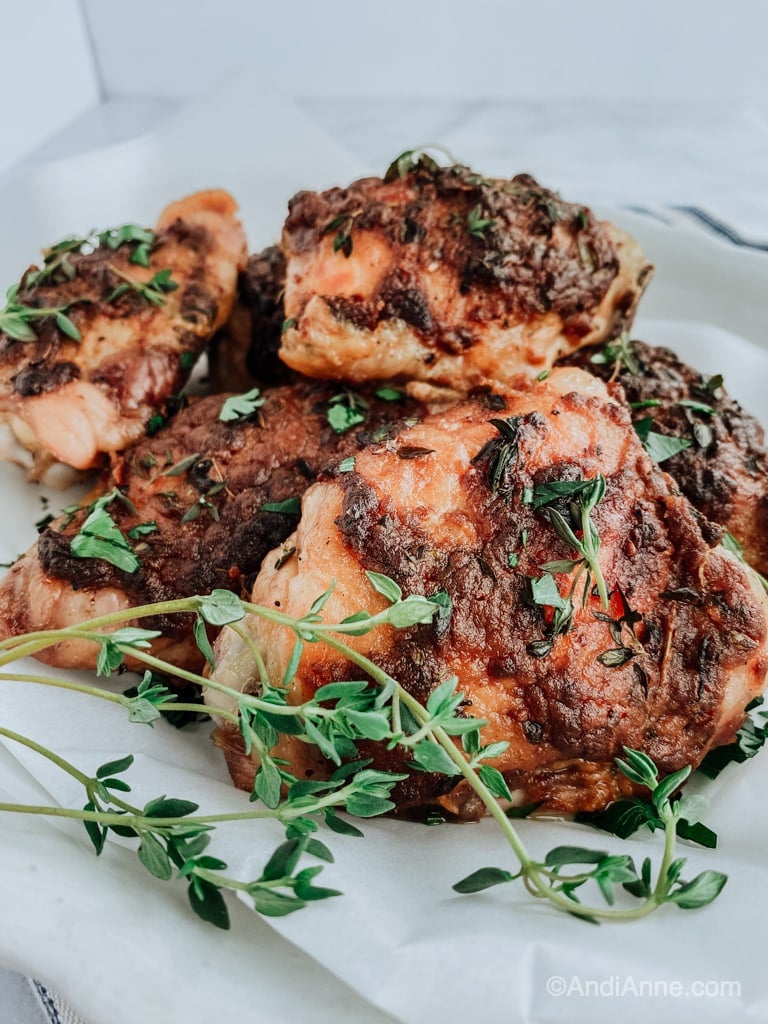 Dijon Thyme Baked Chicken Thighs Are Budget-Friendly and Delicious
Looking for a simple dinner recipe with ingredients you can easily find at your local grocery store? Then this is it!
Chicken thighs are probably one of the most affordable types of chicken. When we were in the early days of parenthood with a new baby and a single income – and we were on a very tight grocery budget.
I would always buy a large pack of chicken thighs because they were the most cost-effective.
Chicken thighs come with a skin-on option which can make them more juicy and flavorful than a chicken breast.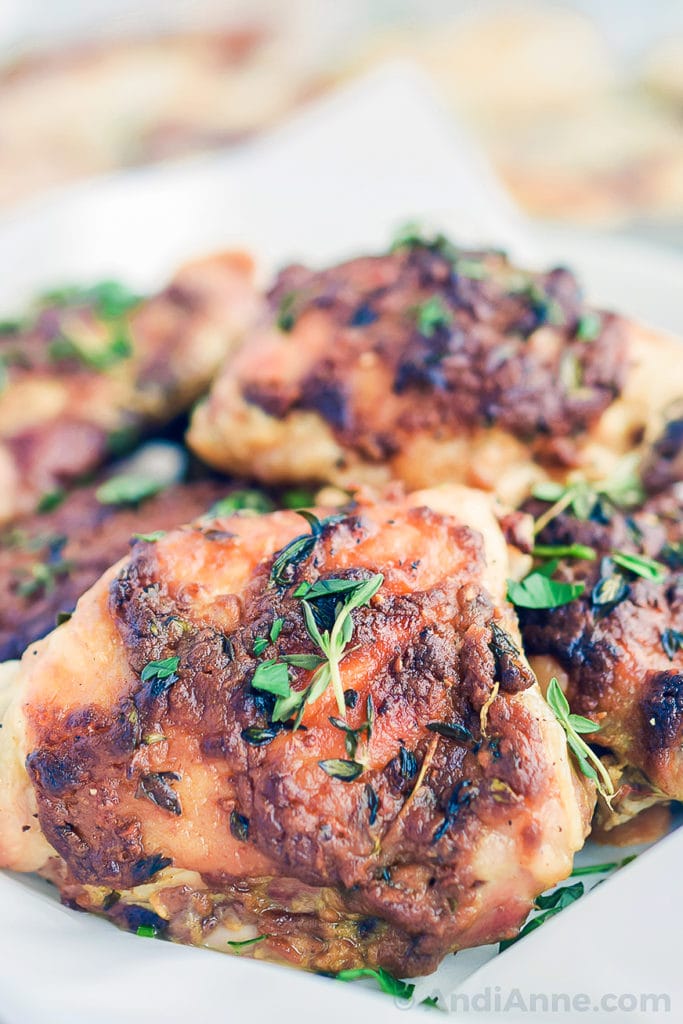 Do I Have To Use Chicken Thighs? Can I Use Different Chicken Cuts?
Yes! You can use any type of chicken you'd like. This dijon rosemary sauce can easily be used with any chicken cut including, drumsticks, wings, and chicken breast. However, different chicken cuts will require different cook times.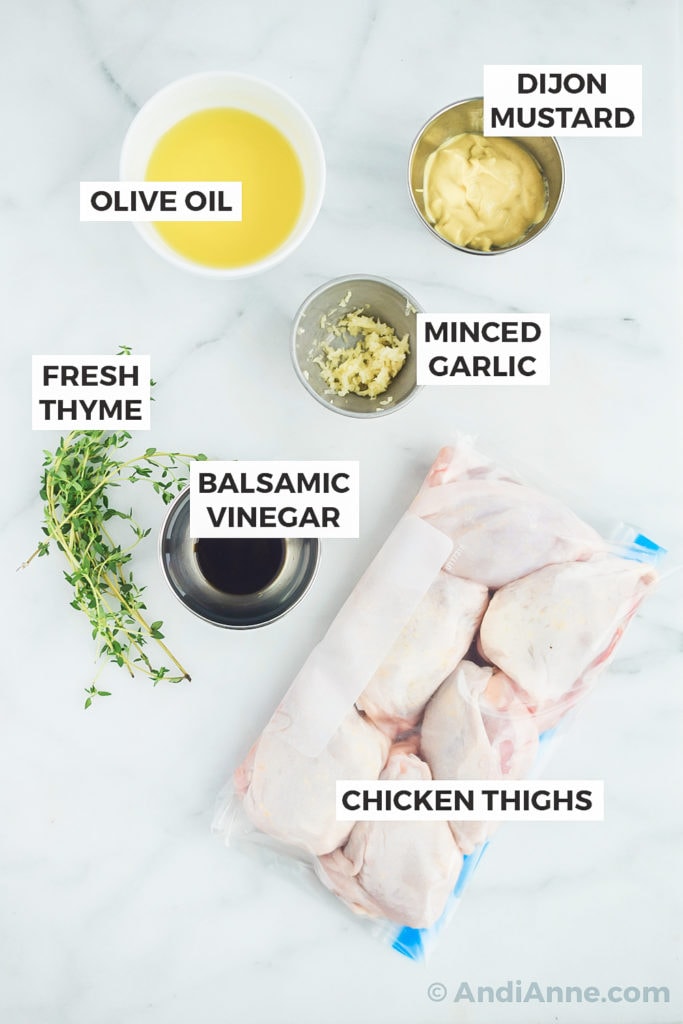 Dijon Thyme Baked Chicken Ingredients:
Chicken Thighs – This recipe uses six chicken thighs, which is about 2 lbs.
Balsamic Vinegar – I like to use balsamic vinegar because it has a spicy kick and adds great flavor to poultry.
Dijon Mustard – I used regular dijon mustard for this recipe. You can use any brand that you prefer.
Olive Oil – The oil will help to keep in moisture.
Minced Garlic – Use a garlic press to mince two cloves of garlic.
Fresh Thyme – Nothing smells better than fresh herbs! Fresh thyme will infuse the chicken with great flavor and also make your home smell amazing while the chicken is baking.
Sea Salt and Pepper – I seasoned each chicken thigh before drizzling any sauce on top. I prefer using sea salt in my recipes versus regular salt. But you can use any type of salt you have on hand.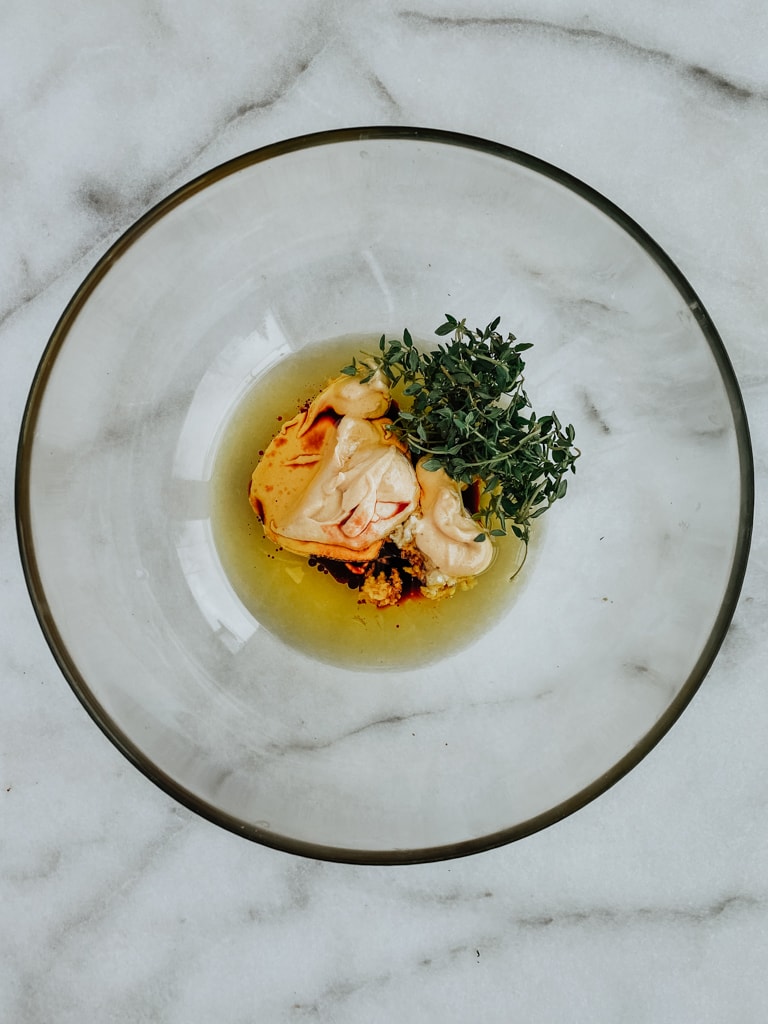 Can I Marinade Dijon Thyme Baked Chicken Thighs?
This recipe could optionally be used as a marinade as well. I love using chicken marinades as they can add more depth of flavor to your dish. The only downside to marinades is that they require a little more time to prepare.
To marinade this chicken, pour the sauce and chicken into a large plastic bag and seal. Place in the fridge for at least 1 hour before baking the chicken.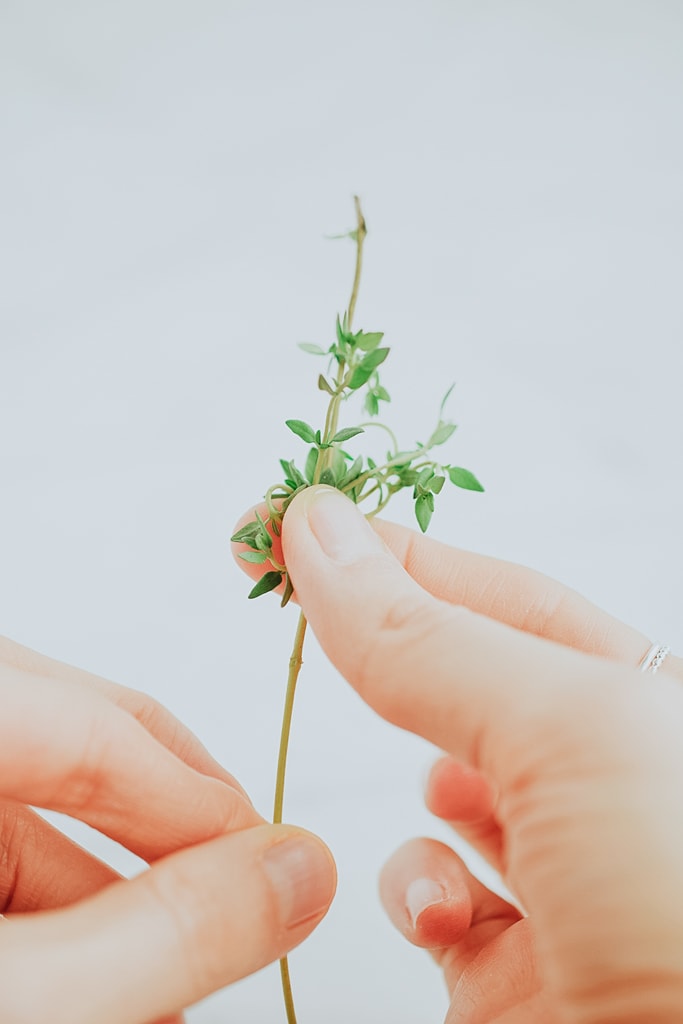 Pro Tip: How To Remove Fresh Thyme
There's actually an easy way to remove fresh thyme from the stem. Here's how you do it:
Turn the stem upside down (the opposite way that the leaves naturally grow).
Hold the bottom of the stem between two fingers with one hand.
With the other hand, push upward between fingers and the thyme leaves will naturally start to glide off.
It's okay if you have a few small stem pieces left on – the stems are pretty soft and can be cooked and eaten easily.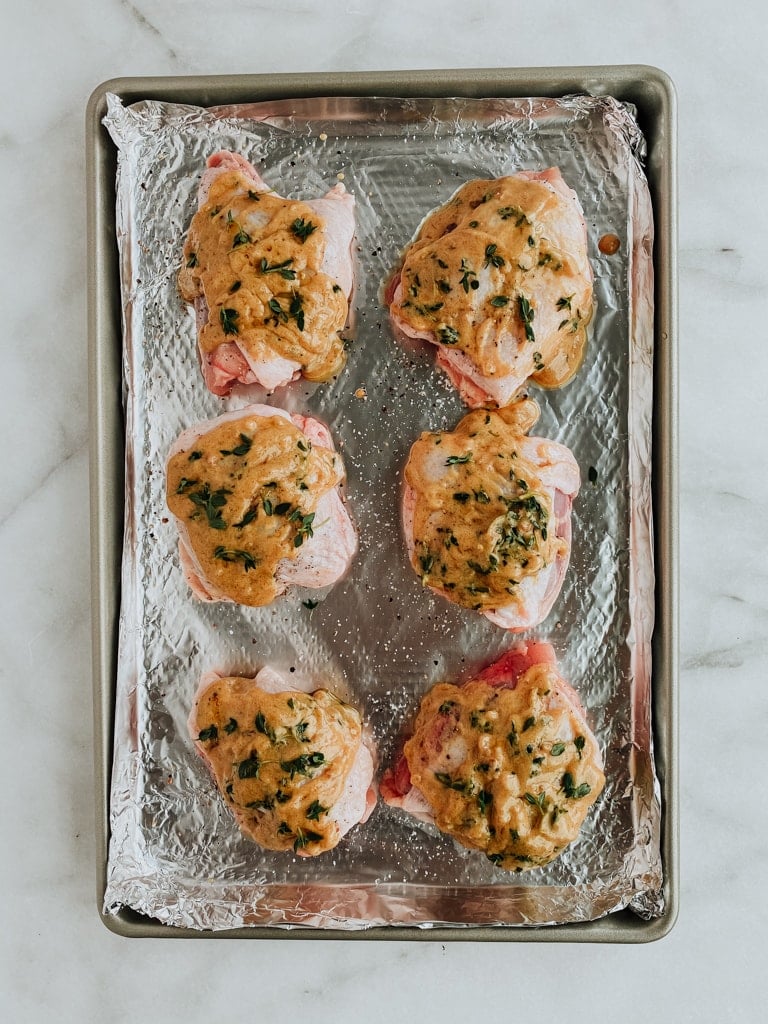 Place each piece of the chicken thighs on a baking sheet lined with aluminum foil. The foil is optional but it will keep your baking sheet unblemished, and it will make cleaning up easier.
Season each piece generously with salt and pepper.
Use a spoon to drizzle on the dijon thyme sauce over top of each chicken thigh. Now you can pop them in the oven to bake.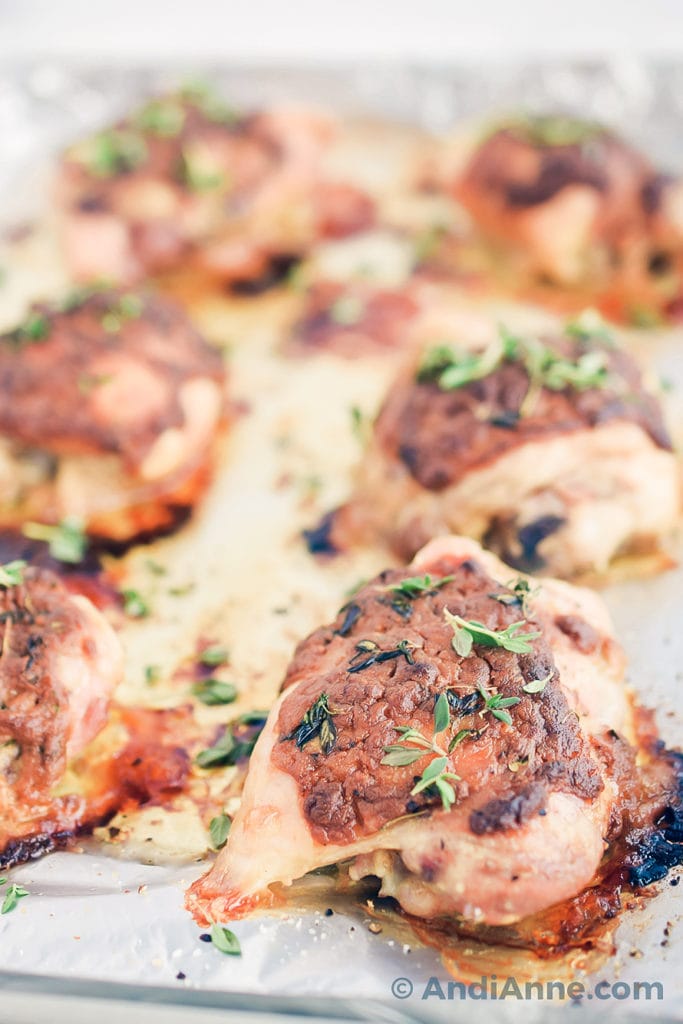 Baked Chicken Thighs Time and Temperature
The baking time for bone-in skin-on chicken thighs will be different than bone-in skinless chicken thighs. You want to bake until the chicken juices run clear and there is no more pink in the bone.
Chicken Thighs Cooking Chart:
Here is a handy chart for temperature and baking time for bone-in skin on chicken thighs:
| Temperature | Baking Time |
| --- | --- |
| 350°F | 50-55 minutes |
| 375°F | 45-50 minutes |
| 400°F | 40-45 minutes |
| 425°F | 35-40 minutes |
What Internal Temperature Should Thighs Be Cooked To?
According to the USDA recommended cooking temperatures, the safest internal temperature for cooking all types of poultry products to is 165°F. This is the interior temperature that the meat will read at once removed from the heat source. You can use a food thermometer, which will be poked into the thickest part of the meat to read the temperature.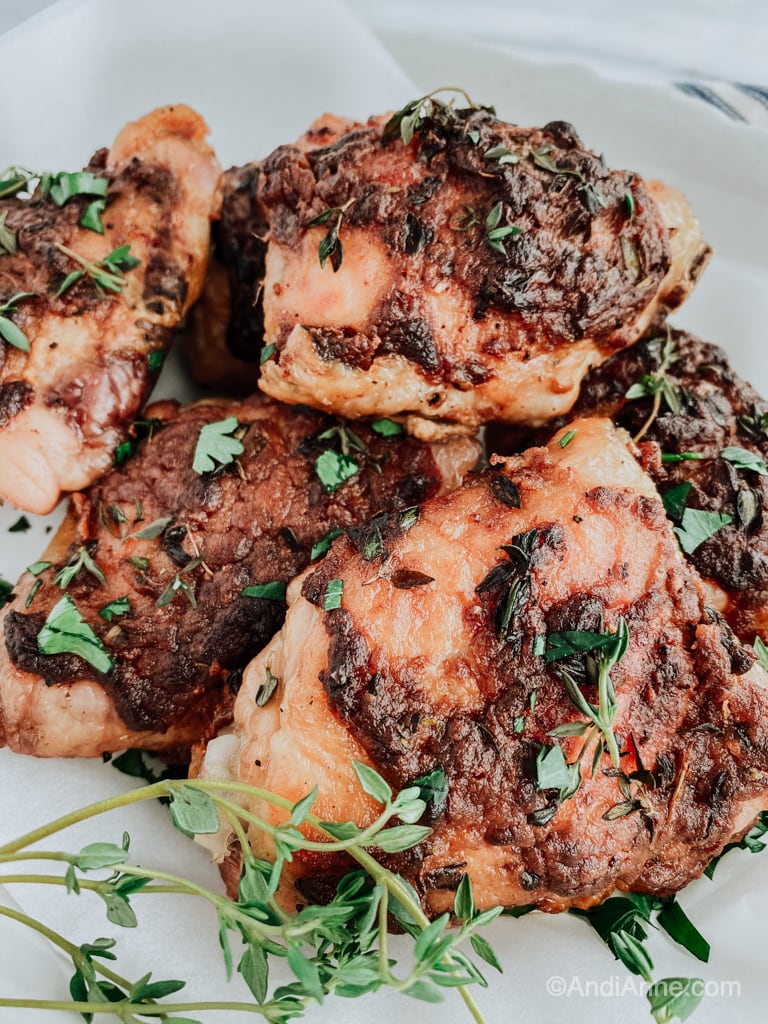 More Chicken Recipes To Try: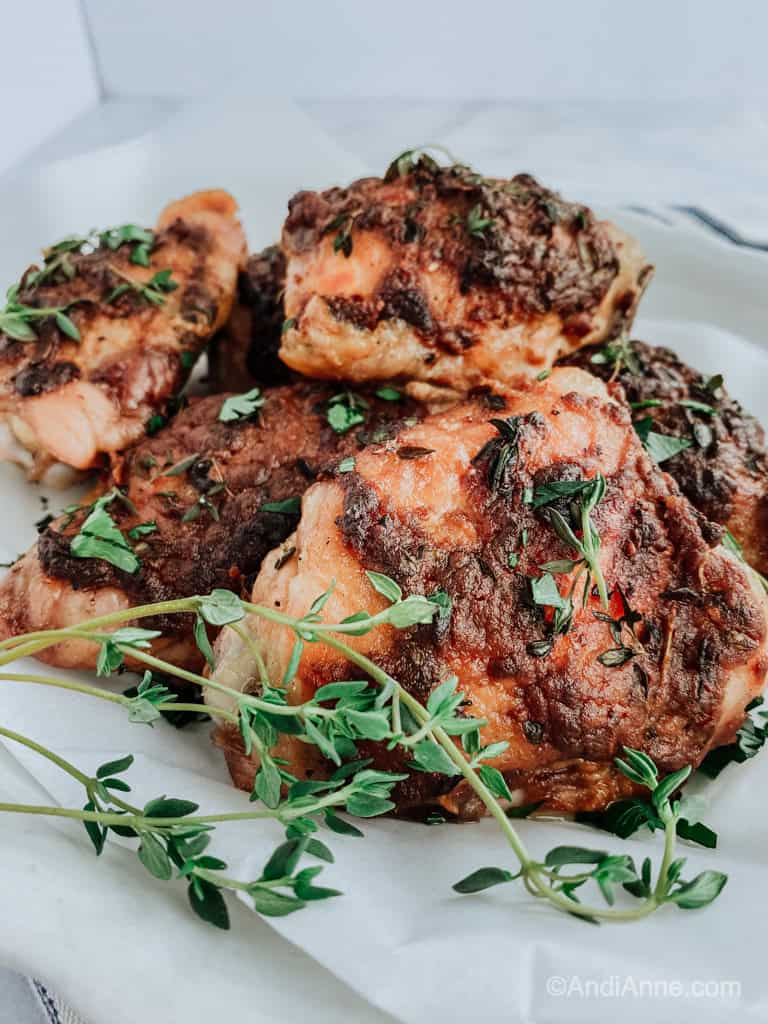 Dijon Thyme Baked Chicken Thighs
Dijon thyme baked chicken thighs are the perfect weeknight dinner. Baked with a delicious balsamic dijon thyme sauce, these can easily be paired with potatoes, rice or a side salad.
Print
Pin Recipe
Servings:
6
chicken thighs
Instructions
Preheat oven to 400°F. Line baking sheet with aluminum foil. 

In a bowl, stir together the dijon mustard, olive oil, balsamic vinegar, minced garlic and fresh thyme.

Blot each piece of chicken with a paper towel to remove any excess moisture.

Lay the chicken thighs on a baking sheet and generously season with salt and pepper.

Drizzle sauce over top of each chicken thigh.
Nutrition
Serving:
6
g
|
Calories:
428
kcal
|
Carbohydrates:
1
g
|
Protein:
24
g
|
Fat:
36
g
|
Cholesterol:
142
mg
|
Sodium:
197
mg
|
Potassium:
315
mg
|
Fiber:
1
g
|
Sugar:
1
g
|
Calcium:
22
mg