Easter egg blondies are a fun treat for Spring. These simple cookie bars are made using cadbury mini eggs and a cookie base. These are totally delicious, and a dessert that the whole family will love.
These Easter egg blondies are simple to put together using pantry staples. Everything can be put together and baked in under 40 minutes.
Be sure to get the kids involved here as they'll love helping you to make this wonderful Easter treat!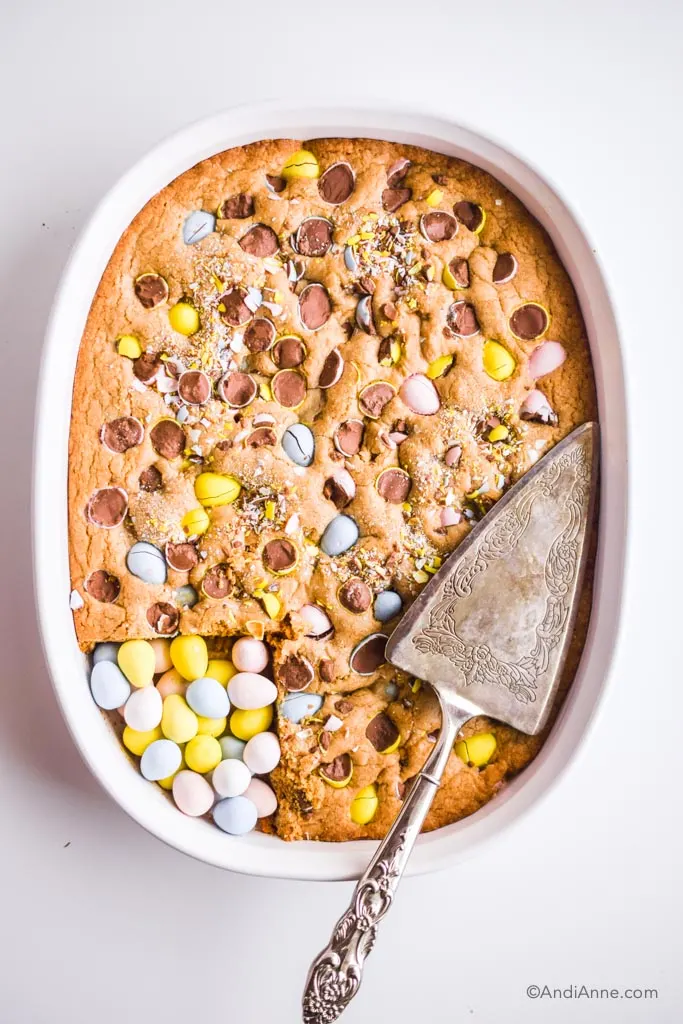 Easter Egg Blondies
How cute is this recipe? I just love seasonal baking because it adds a bit of tradition to each holiday. It's always fun to bring back recipes that your family loves, but I LOVE to try new ones too!
These easter egg blondies taste like a big cookie. And the chocolatey goodness from the Cadbury mini eggs – well, let's just say it's hard to eat only one! When you take that first bite, you'll know what I mean here.
If you can find a dish that's oval-shaped, then your blondies will look like a big Easter egg! I mean, does it get any cuter than this!? I just love an easy, family-friendly recipe.
If you're looking for another fun spring baking idea, try my no bake birds nest cookies.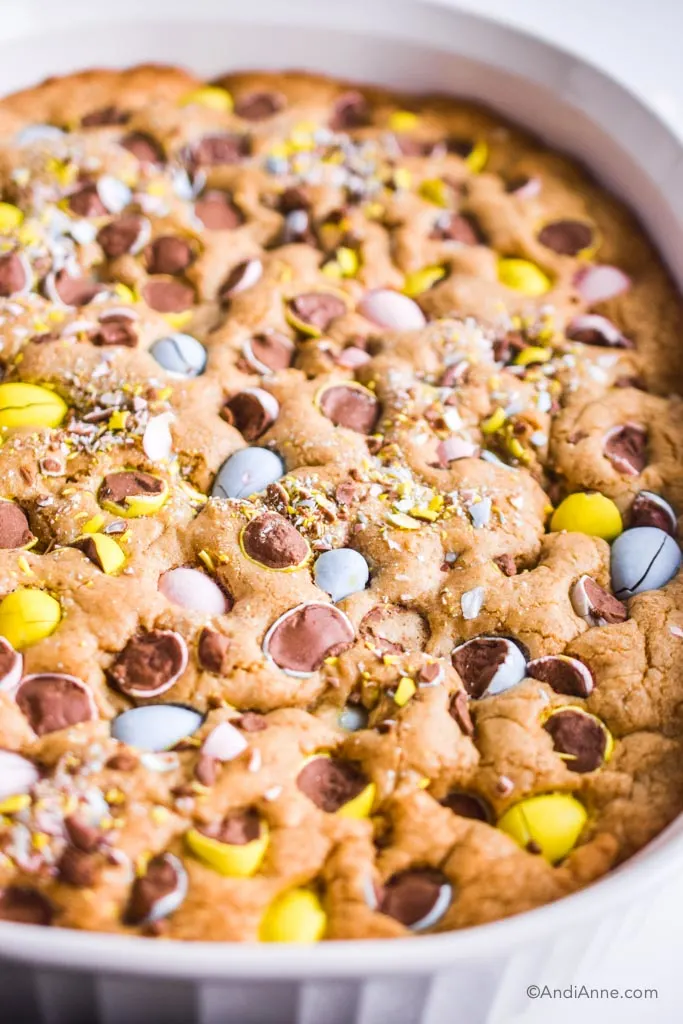 Easter Egg Blondies Ingredients:
These Easter egg blondies are so simple and made with just seven ingredients.
CADBURY MINI EGGS – These are highly addicting and totally delicious – luckily they only come out once a year or I would be eating way too many. You'll need 1 cup of Cadbury mini eggs that will be turned into cracked egg pieces.
FLOUR – I'm using all-purpose flour. However, you can use whole wheat flour, or a combination of both if you want.
BROWN SUGAR – For this recipe, you'll need 1 cup of brown sugar. You could also use white sugar or if you want your cookie bars to be less sweet, then try using coconut sugar. This is my personal favorite for use in baking recipes.
BUTTER – You'll need 1/2 cup of unsalted butter. Gently melt it in the microwave for 20-30 seconds. You don't want it to be boiling or bubbling when adding to the brown sugar. If it's too hot, let it cool down on the counter for a few seconds first.
EXTRA INGREDIENTS – You'll also need two eggs, baking powder, and salt.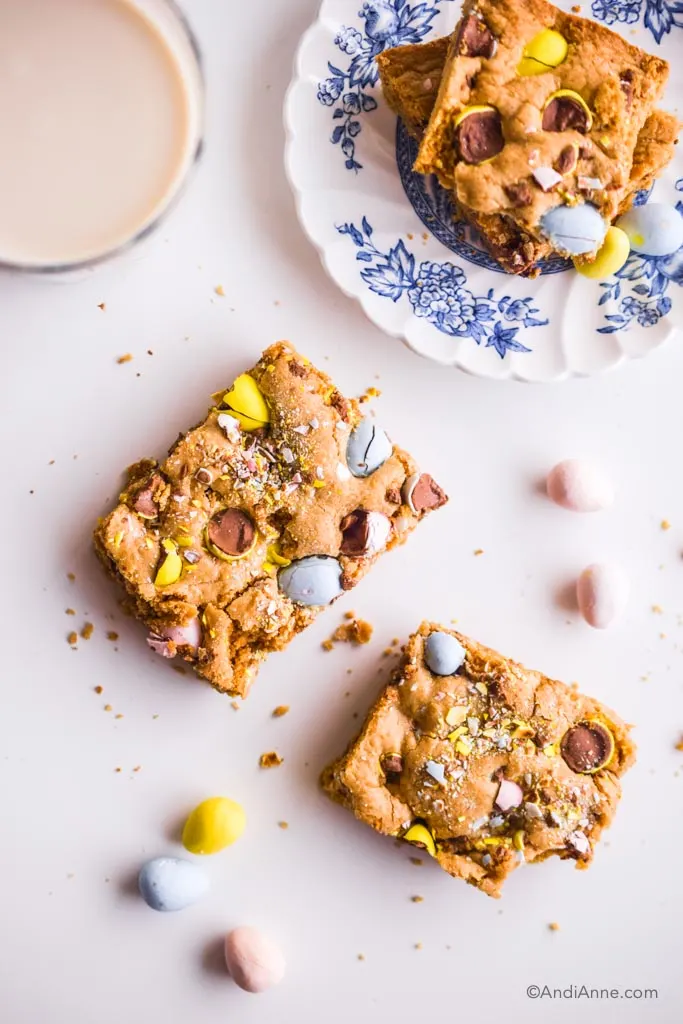 How To Make Easter Egg Cookie Bars
BREAK THE MINI EGGS – Add the eggs to a plastic bag and seal tightly. Then take a rolling pin and hit the eggs with the edge. They'll start to crumble pretty easily. It's noisy, fun, and a great way to get out some aggression.
WET INGREDIENTS – Add melted butter and brown sugar to a large bowl. Beat with an electric mixer. Add in eggs and beat again.
DRY INGREDIENTS – Add the salt, baking powder and 1/3 of the flour to the wet ingredients and mix. Add another 1/3 of the flour and mix again. Then add the last 1/3 of flour and mix. Fold in 1/2 cup of crushed mini eggs and gently mix until they're just combined. No need to overmix. At this point the batter will be a cookie dough consistency.
ADD TO BAKING DISH – Add the batter to a greased baking dish and press down to create an even layer. Add the last half of crushed eggs to the top of the batter and press them in gently so they stick.
BAKE – Bake for about 25 minutes or until the edges turn a golden brown and a toothpick comes out clean when poked in the center.
HOW To Serve The Easter Egg Blondies:
Add a dollop of vanilla ice cream, plain greek yogurt, or coconut whipping cream. So yummy.
Slice them up and let your child bring them as a treat to school for the class.
Bring over to Grandma's for a sweet treat before Easter dinner.
Make a batch with your kids on a Sunday having fun with music blaring and lots of giggles. Then proceed to eat almost all of them afterward (with ice cream, of course).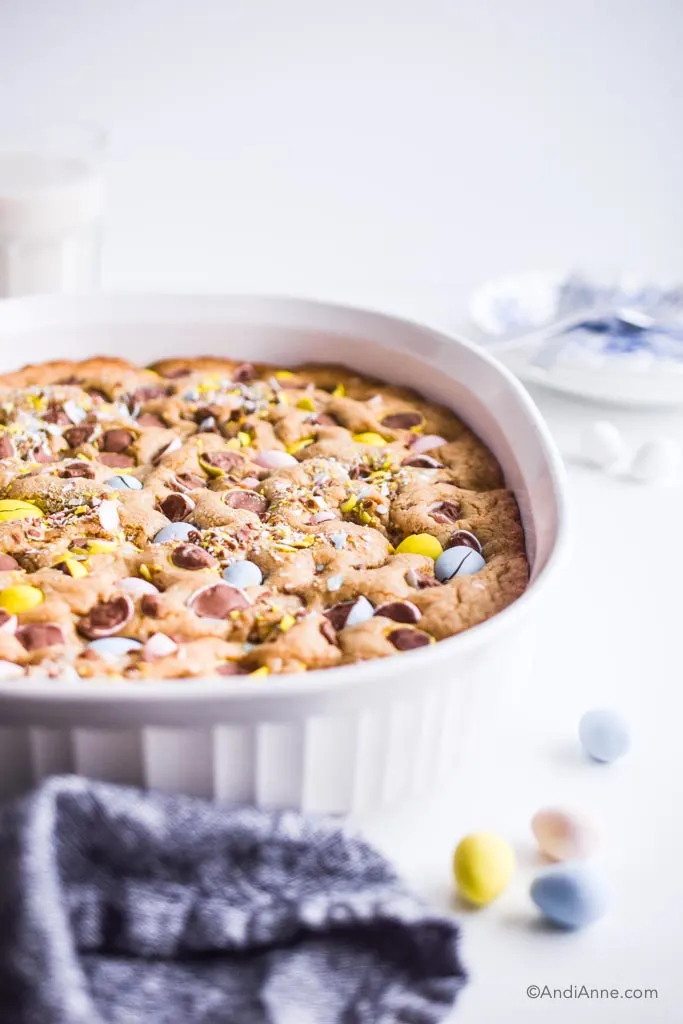 More Recipes To Try
Need a few more sweet treats in your life? Who doesn't, really. Here's some more ideas to add to your list: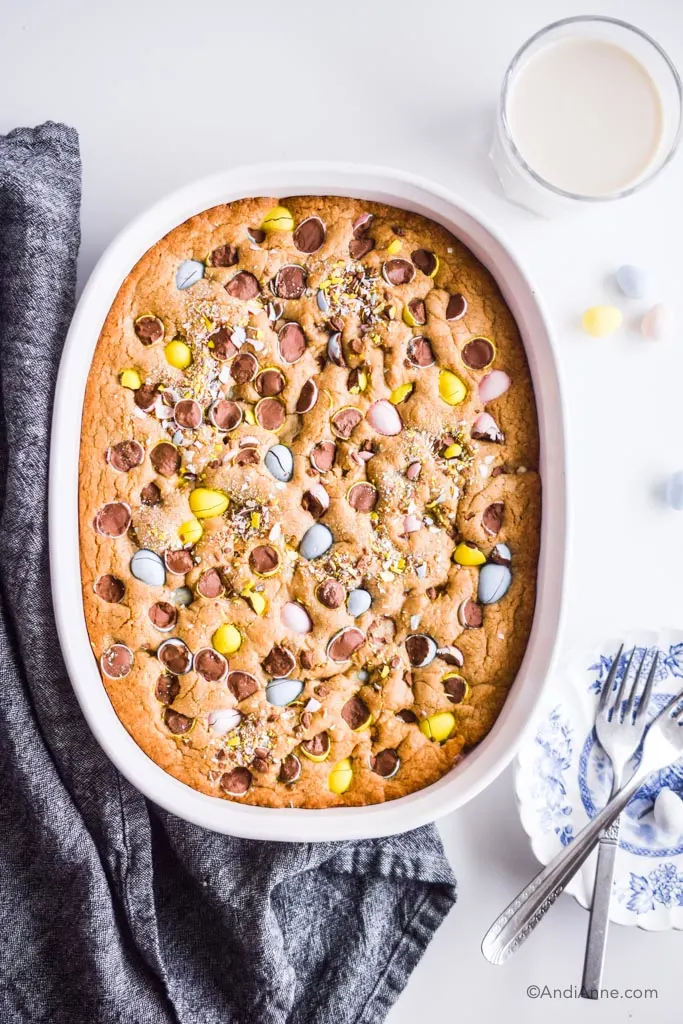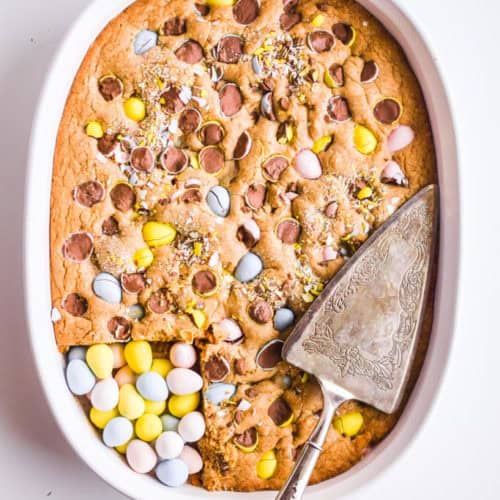 Instructions
Add 1 cup of cadbury mini eggs to a plastic bag and seal tightly. Using the edge of a rolling pin, break the eggs into cracked pieces. Set aside

Preheat the oven to 350°F. Spray a dish with non stick cooking spray or wipe with paper towel and a bit of cooking oil.

Melt the butter for 20-30 seconds in the microwave. In a large bowl, add brown sugar and melted butter. Use an electric mixer to beat until smooth.

Add in eggs and mix again until smooth and creamy.

Add the baking powder and salt. Add ⅓ of the flour and mix together. Add the second ⅓ of flour and mix again. Then the final ⅓ of flour and mix until it forms a cookie dough texture (you might have to do this last part with your hands or a spoon).

Add ½ cup of crushed cadbury mini eggs to the batter and gently mix in.

Press the cookie dough into an even layer in the baking dish with your fingers. Smooth out the top with a spatula.

Add the last ½ cup of the crushed cadbury mini eggs to the top of the blondie. Press them into the batter gently with your fingers.

Bake for 25 minutes or until edges are golden brown and toothpick comes out clean when poked in the center. Let cool for 10 minutes, then slice into pieces and serve.

Store the blondies in an air tight container on the counter or in fridge for up to one week. These can also be frozen in a freezer bag.