This is meal plan #2 with five quick easy and cheap meals that you can use for one week. The meal plan includes all five recipes and a shopping list for you to download and print.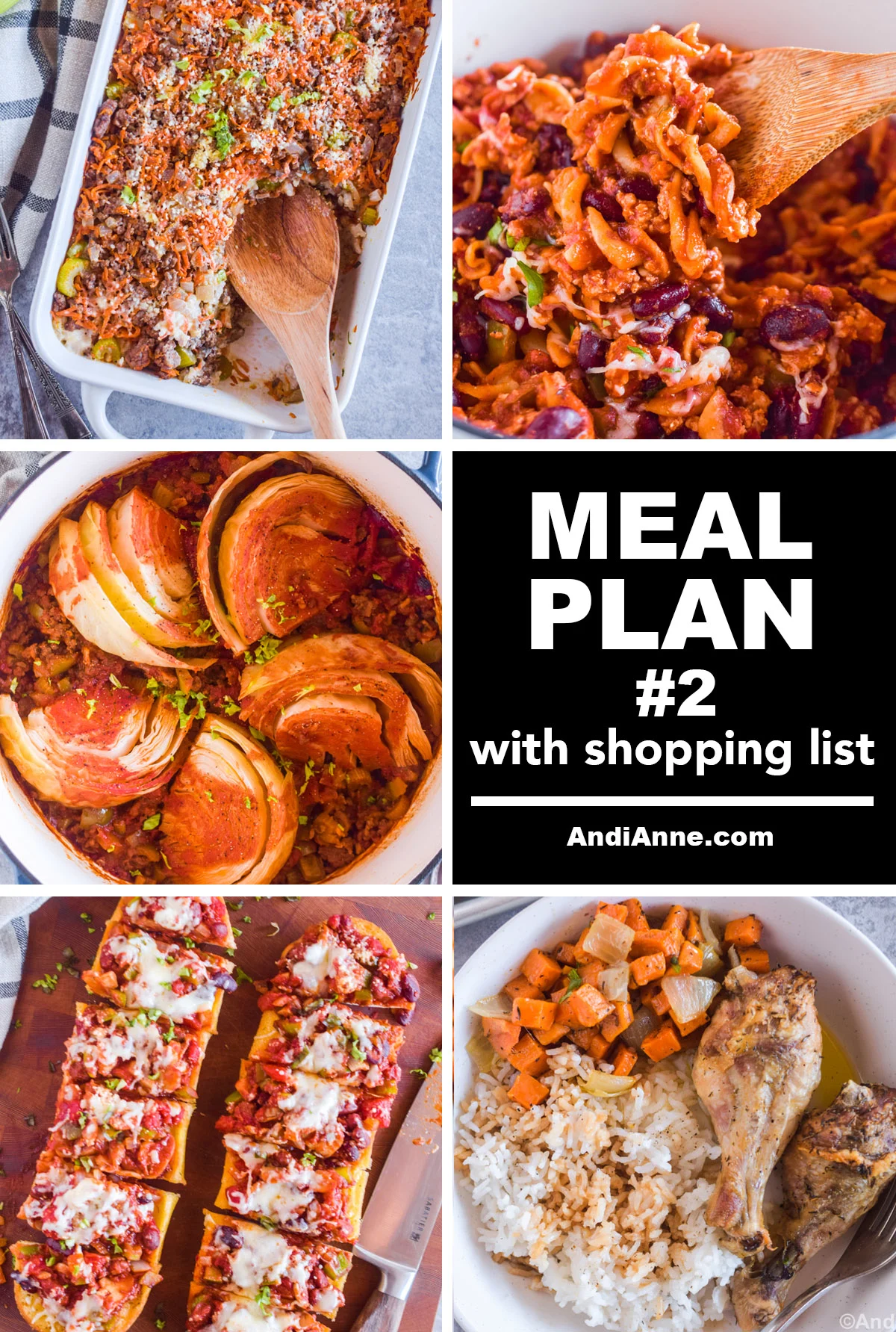 Meal Plan #2
This is Meal Plan #2 and includes five dinner recipes that use cheap and easy ingredients. Here you'll get sweet and sour beef with cabbage, chili pizza garlic bread, sweet pan chicken and sweet potatoes, one-pot ground pork with noodles, plus a beef and rice casserole.
Why Should You Use A Meal Plan?
Meal plans make life easier, once you get the hang of things.
You'll know what to expect for the entire week, taking the guesswork out of knowing what to cook for dinner.
You'll save money at the grocery store by knowing exactly what to buy, and nothing more.
It allows your family to enjoy a variety of recipes without having to search for new ones yourself.
you'll save time! Everything is planned out for you already. No need to write a grocery list either, I've done that for you!
Download Our Printable Shopping List
Download the full meal plan and shopping list for FREE! Click here to download Meal Plan #2.
Meal Plan Tips
Take a look at the meal plan with the shopping list before you go grocery shopping.
Shop your pantry first! For example, there's no need to buy new spices or canned diced tomatoes if you already have some.
Swap out ingredients that you don't like. For example, if sweet potatoes aren't your thing, try using russet potatoes instead.
Work smarter not harder. Cook a double batch of a recipe and freeze the rest for later. For example, our parmesan ground pork quiche freezes beautifully. One could easily be frozen for a future meal.
Check your local grocery stores for any sales and discounts. For example, one of my local stores was offering 2-for-1 on chicken thighs. I don't normally shop there because it's more expensive, but I made a trip and just bought the chicken!
More Meal Plans To Try
Watch The Meal Plan Cooking Video:
Be sure to watch the video below so you can cook along with me!
Watch Andi make these 5 quick and easy cheap meal ideas. These recipes are perfect for busy weeknights!
---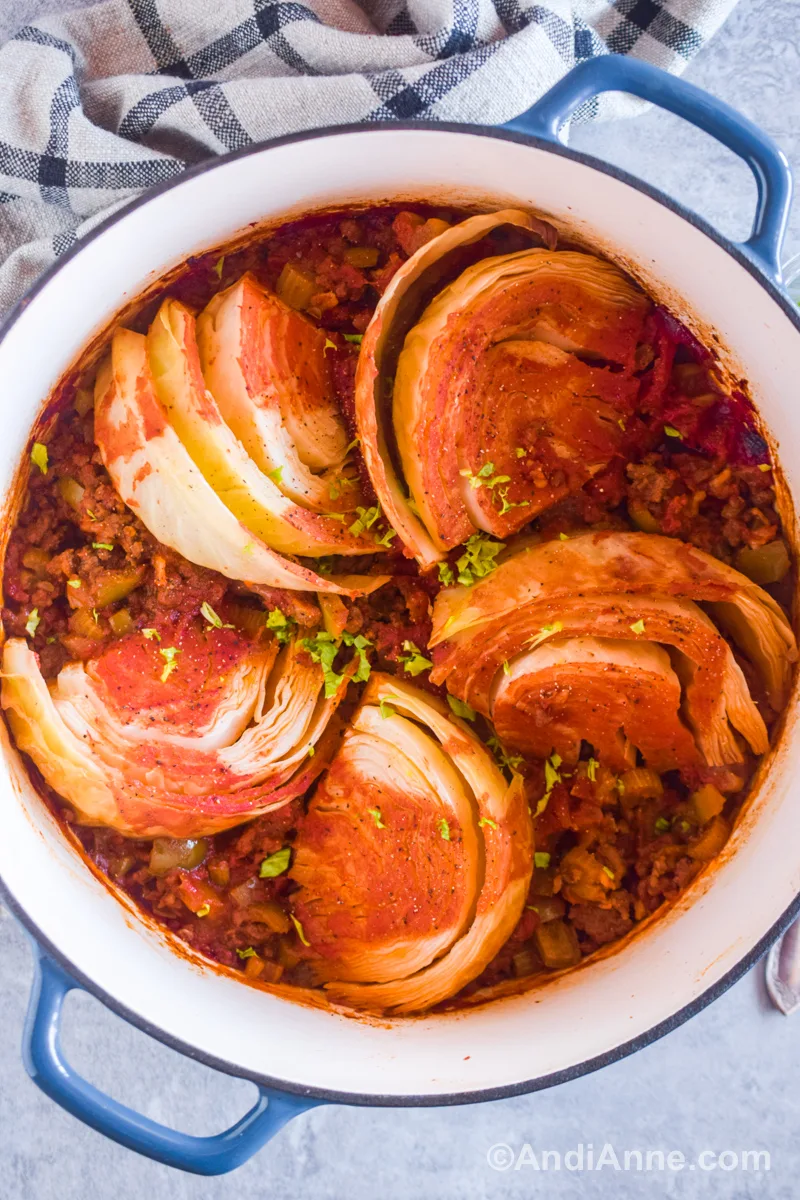 Dinner 1: Sweet and Sour Beef with Cabbage
Ground beef, onion, lentils, and bell pepper and cooked on the stove. Chopped cabbage and a sweet and sour sauce are poured on top. Everything is baked in the oven for a delicious and filling recipe.
Green cabbage is inexpensive and filling. Just cook until soft and tender.
Swap out ground beef for ground pork (it's cheaper), ground turkey or ground chicken.
See the full Sweet and Sour Beef with Cabbage recipe here.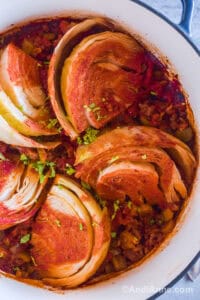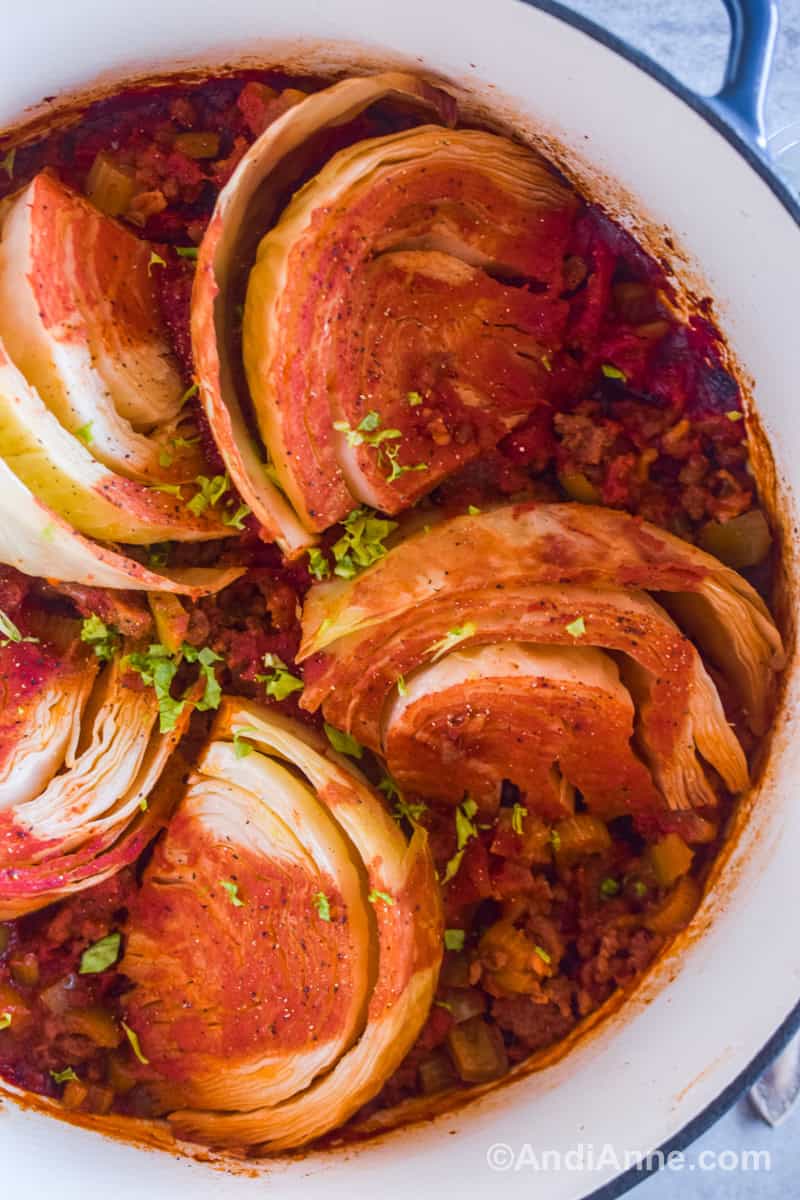 ---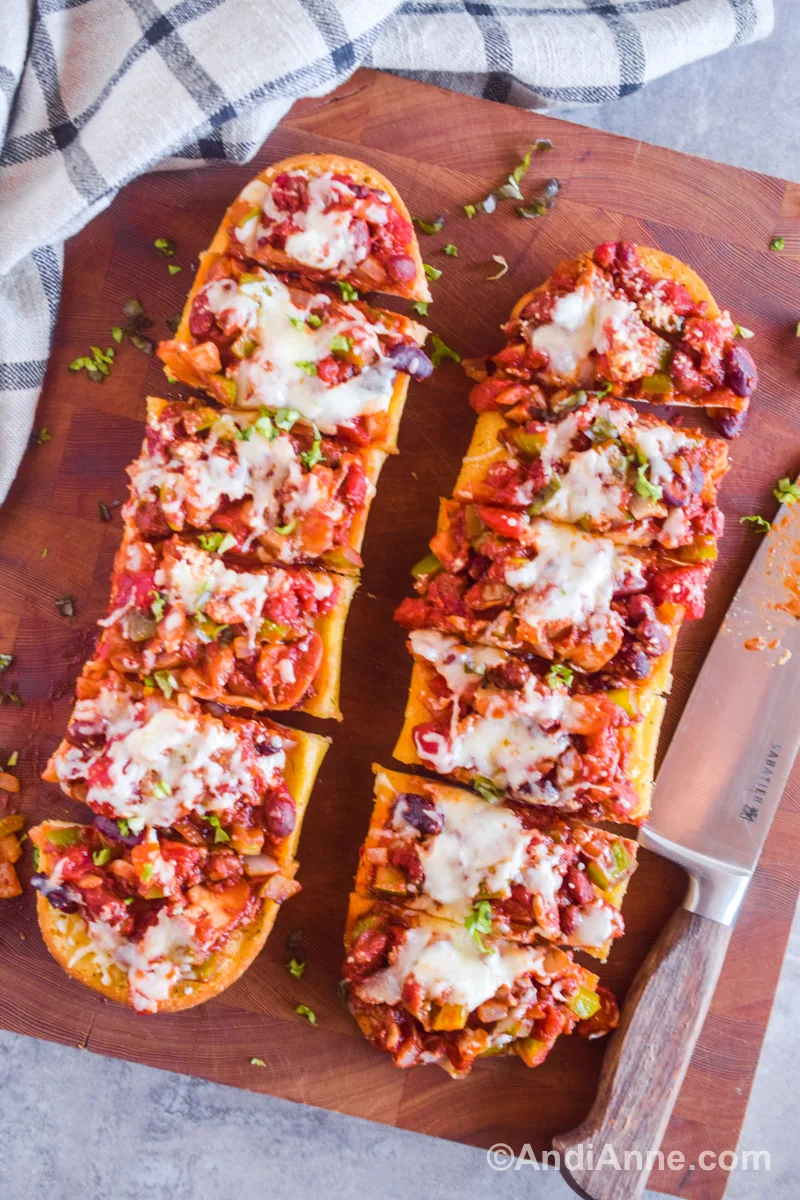 Dinner 2: Chili Pizza Garlic Bread
Canned chili is mixed with bell pepper, mushrooms, onions and tomatoes. Added to garlic bread, sprinkled with parmesan and mozzarella cheese and baked in the oven. The result is a fun meal idea the whole family can enjoy.
Use a garlic bread loaf, garlic texas toast or a french bread loaf for the recipe.
Canned chili makes a great base for this recipe. You can also make your own homemade chili instead.
This is a meatless recipe, but you can easily add ground beef, ground pork or diced cooked sausage.
See our full chili pizza garlic bread recipe here.
Chili Pizza Bread
Ingredients:
1

cup

chopped yellow onion

15

oz

canned chili

1

cup

chopped bell pepper

4

oz

canned mushrooms

pieces and stems

1

cup

canned diced tomato

drained

1

garlic toast

or french bread

2

Tbsp

parmesan cheese

1

cup

shredded mozzarella cheese
Click Here For Full Recipe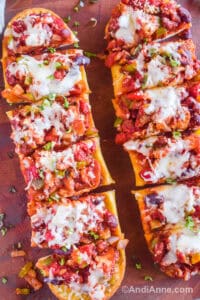 ---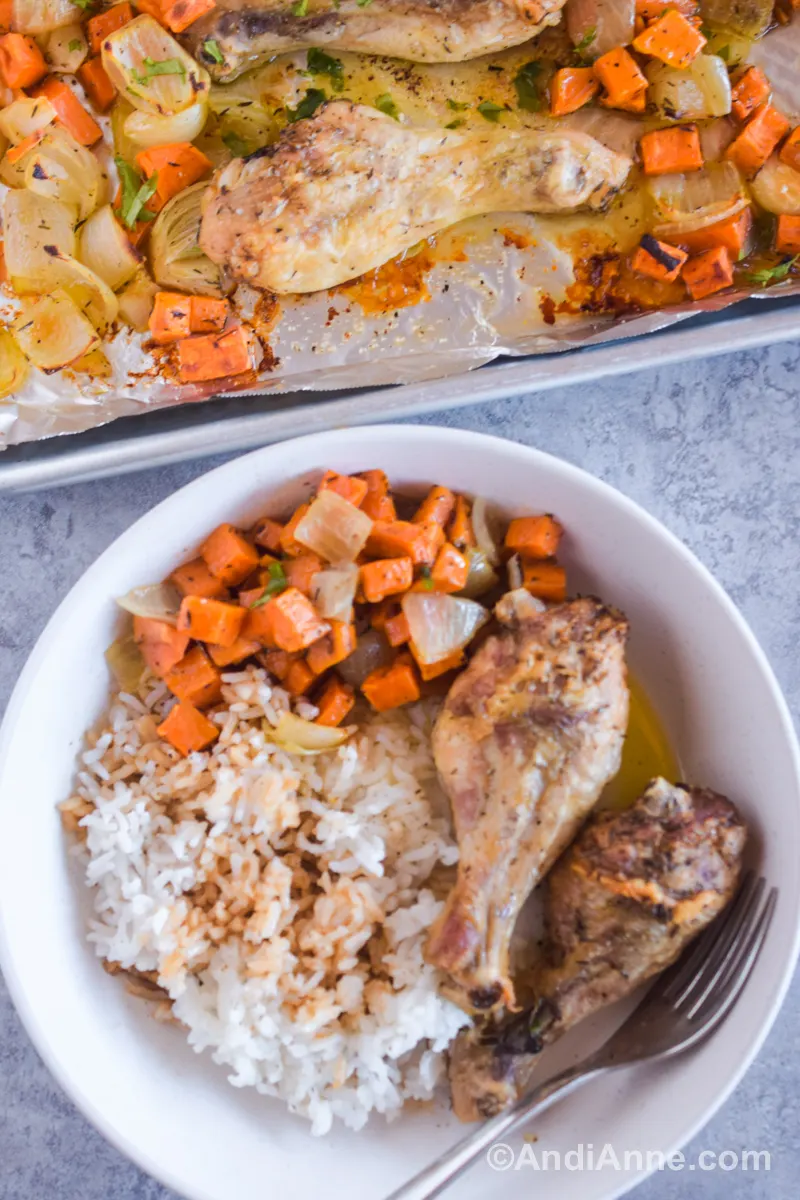 Dinner 3: Sheet Pan Chicken and Sweet Potatoes
Chicken legs are baked with sweet potatoes, chunks of onion and garlic cloves for a simple, healthy meal.
Chicken legs are usually cheapest chicken cut. You can also use chicken thighs for the recipe.
If you don't like sweet potatoes, swap them for russet potatoes or baby potatoes instead.
Add some greens like broccoli and brussels sprouts if you'd like.
Serve this with a side of rice, quinoa or pasta.
See the full sheet pan chicken and sweet potatoes recipe here.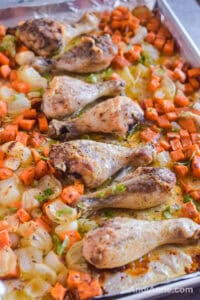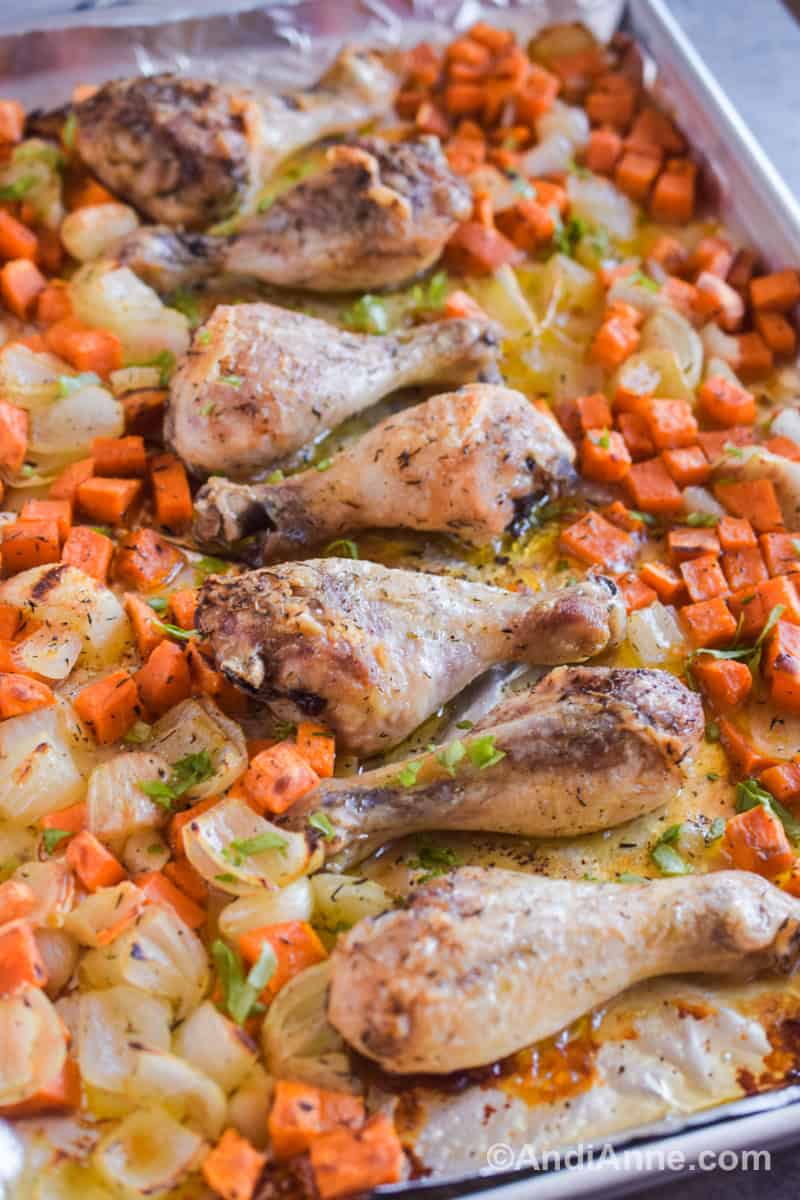 ---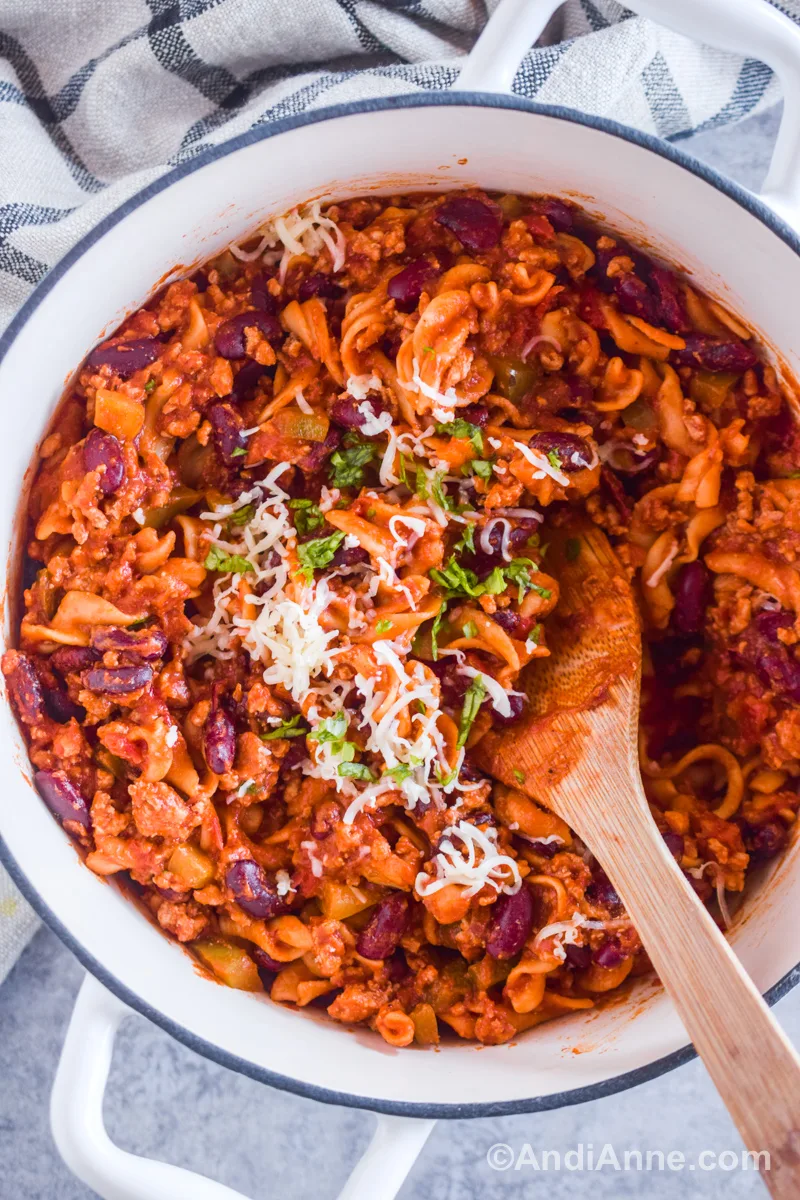 Dinner 4: One-Pot Ground Pork with Noodles
Ground beef, egg noodles, kidney beans and bell pepper are cooked together in one pot with a tomato sauce for an easy weeknight meal.
Egg white noodles tend to cook the fastest. However, you can try this recipe with other noodles you already have.
Swap the ground beef for ground pork (it's cheaper), ground turkey or ground chicken.
Kidney beans can be swapped with lentils, chickpeas or white navy beans.
Sprinkle a bit of shredded mozzarella on top! Parmesan would be good too.
See the full one-pot ground pork with noodles recipe here.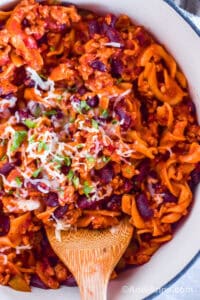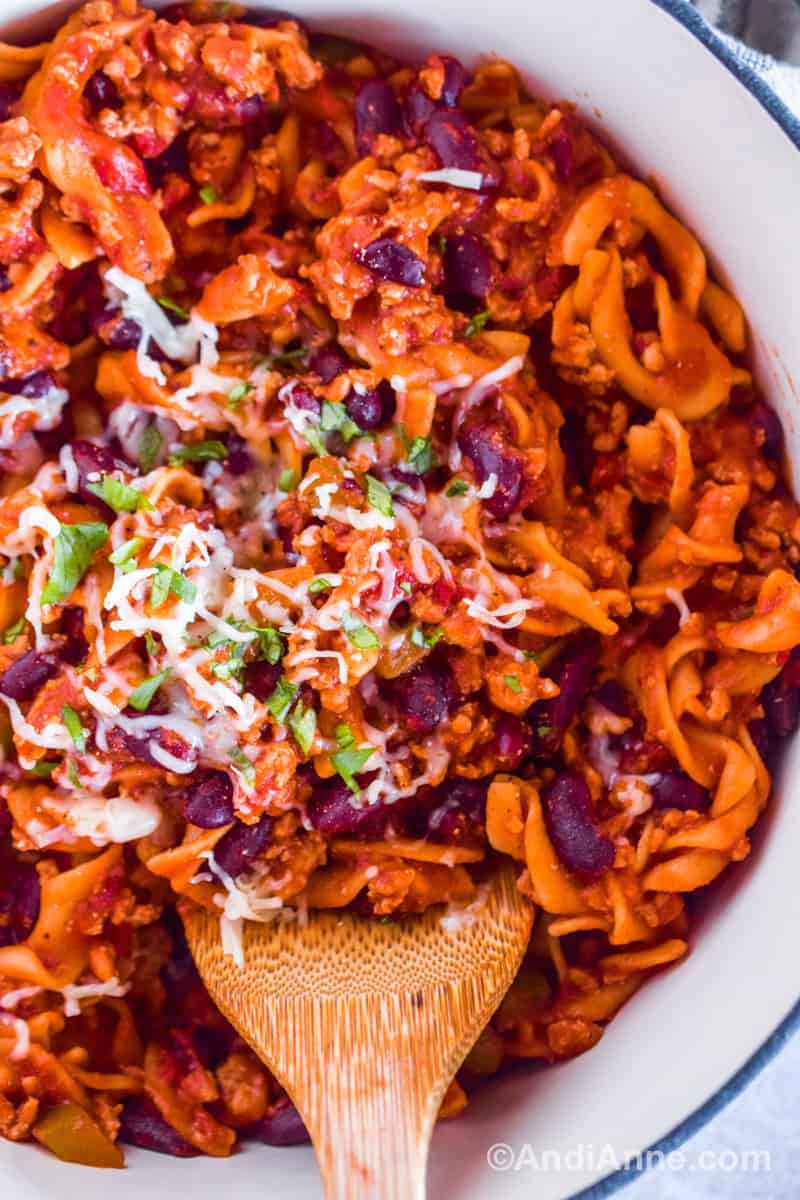 ---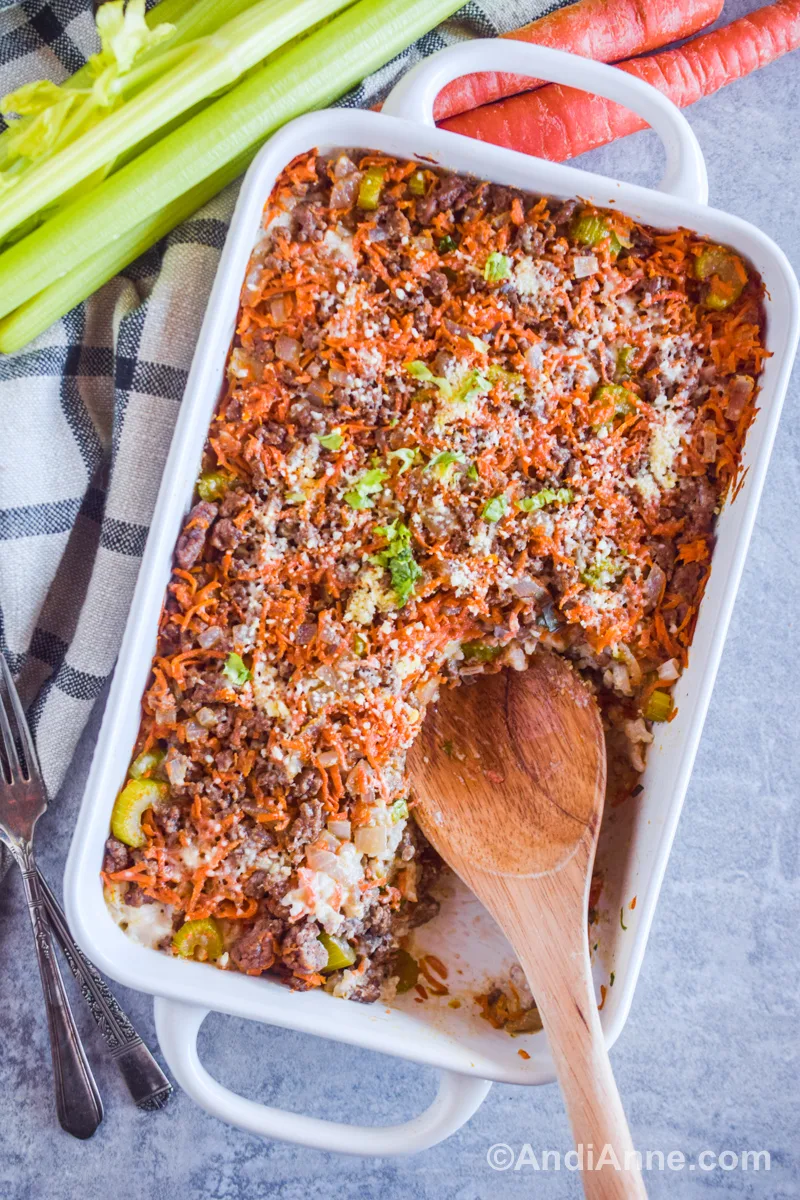 Dinner 5: Beef and Rice Casserole
Ground beef, onion and celery are cooked in a frying pan. This is layered in a casserole dish with a creamy mixture of mushroom soup, milk and rice. Topped with grated parmesan and baked for a filling meal.
Ground beef is inexpensive, but can easily be replaced with ground pork, ground turkey or ground chicken.
No need to cook the rice in advance, it will cook right in the casserole dish as the recipe is baking!
See the full beef and rice casserole recipe here.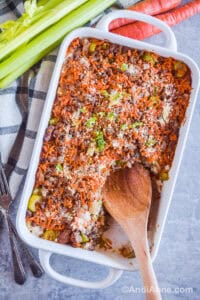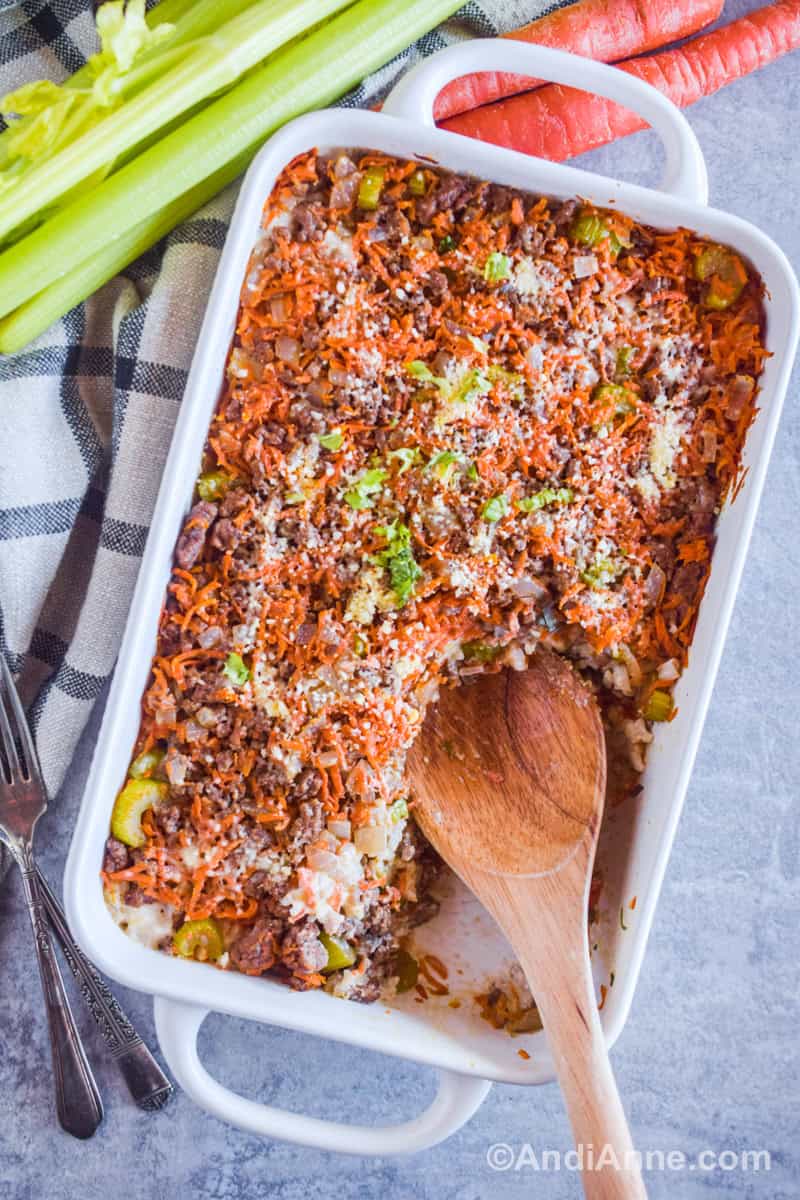 Don't Forget! The FREE printable shopping list and Meal Plan can be found here.