Kale chickpea cauliflower pizza is a wonderful way to enjoy pizza without any gluten, dough or excess carbs. This recipe loads up on vegetables including cauliflower, sweet potato, onion and kale. Chickpeas are used in the toppings and the crust with chickpea flour. This recipe is great for a healthy dinner option or can be used as meal prep for lunches for the week.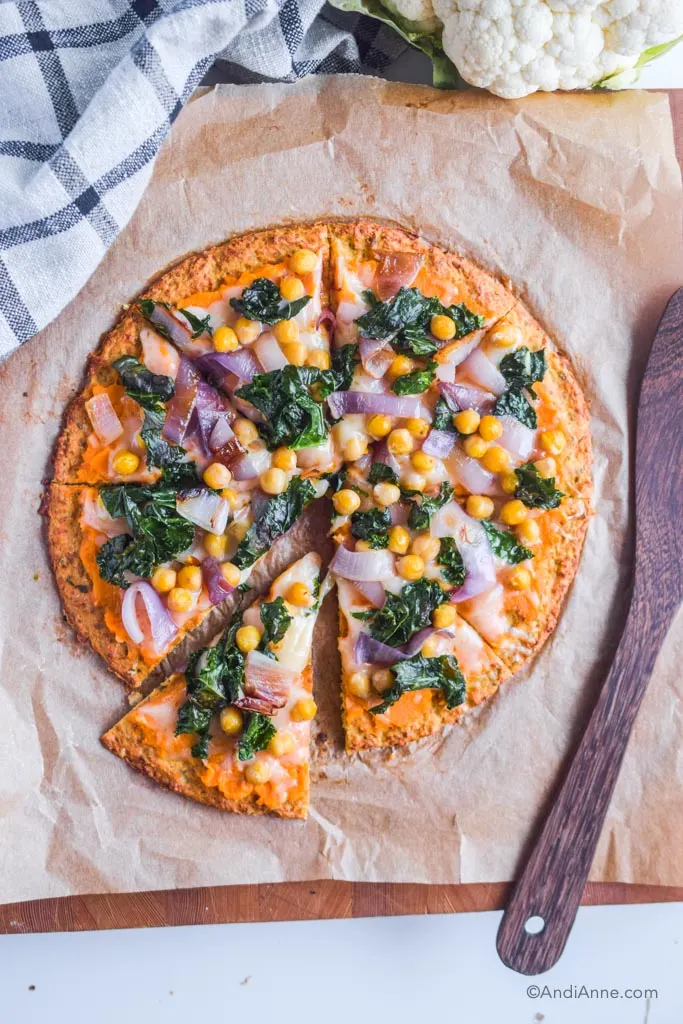 Kale Chickpea Cauliflower Pizza
Ah pizza, who doesn't love it!? The cheesiness, the crust, the toppings… it's easy to know why it's so incredibly popular and has at least half the frozen section of the grocery store is committed to it. Pizza is my weakness – put it in front of me and I'll probably eat 5-10 slices. This is totally fine some times, but if you have personal goals to eat healthier and lose weight naturally, then 6 slices of regular pizza won't help you get there.
So what if I told you that you could make a much healthier version of the tasty goodness? I'm sure you've heard of cauliflower pizza crust at this point, it's almost everywhere these days, but have you tried making it yourself? You'll skip all the additives they add to store-bought versions.
Making your own cauliflower pizza might seem a little overwhelming at first, but it's actually quite simple. And once you do it a couple of times it'll feel so much easier. So let me walk you through the process of making this delicious pizza and all the amazing benefits you'll be giving your body when you do!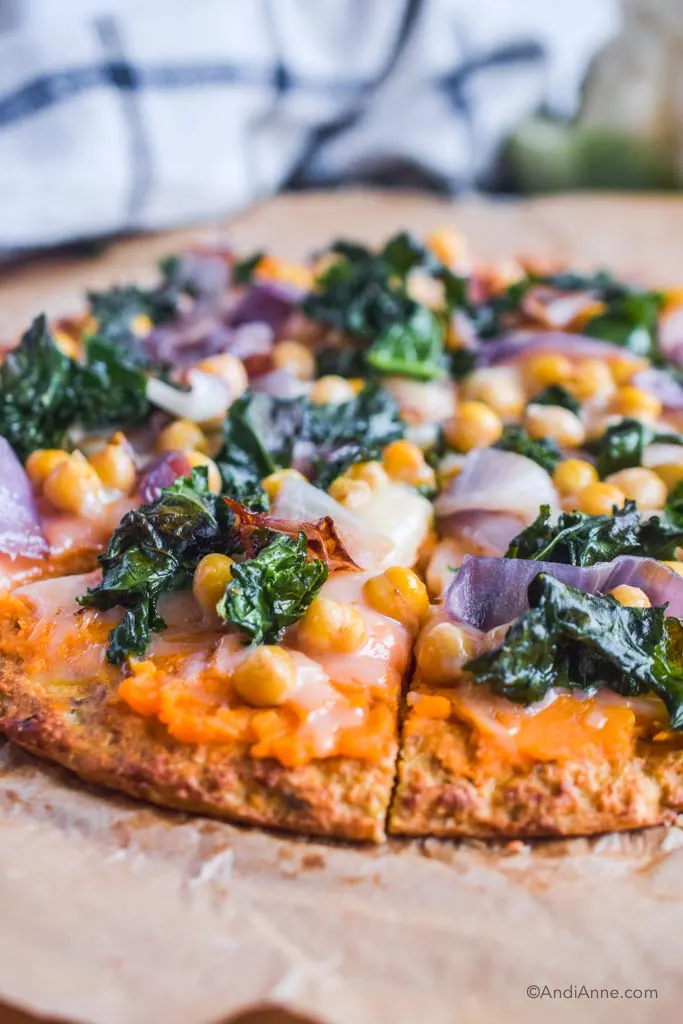 Kale Chickpea Cauliflower Pizza Ingredients
This recipe comes together in two main steps, the cauliflower crust and the pizza toppings:
Cauliflower Crust:
Riced Cauliflower – You can easily make your own riced cauliflower using these instructions, or you can purchase store-bought riced cauliflower. It usually costs a little more but if you don't have a food processor, it's worth it.
Chickpea Flour – Chickpea flour is used in the crust to help hold it together. This is a gluten-free flour made from chickpeas! To help save money, I like to buy my chickpea flour from a local bulk store but you can also buy it online here.
Egg – One egg is used as the liquid and fat to help hold everything together.
Spices – For spices, you'll need dried oregano, dried basil, garlic powder, and onion powder.
Pizza Toppings:
Sweet Potato Puree – Instead of traditional pizza sauce we're using sweet potato puree. You can usually find this canned at your grocery store, or you can make your own by boiling them in a pot then using an electric mixer and a bit of cooking oil or butter to puree them smooth.
Onion – You'll need 1/4 cup of chopped onion.
Garlic – I used 2 minced garlic cloves.
Chickpeas – You'll need 1/2 cup of canned chickpeas that are drained and rinsed.
Kale – The kale will crispen up when the pizza is broiled adding the perfect crunch! I used 1 cup of kale cut into thin strips.
Mozzarella Cheese – To make the perfect cheesy pizza, 1 cup of mozzarella cheese is sprinkled on top.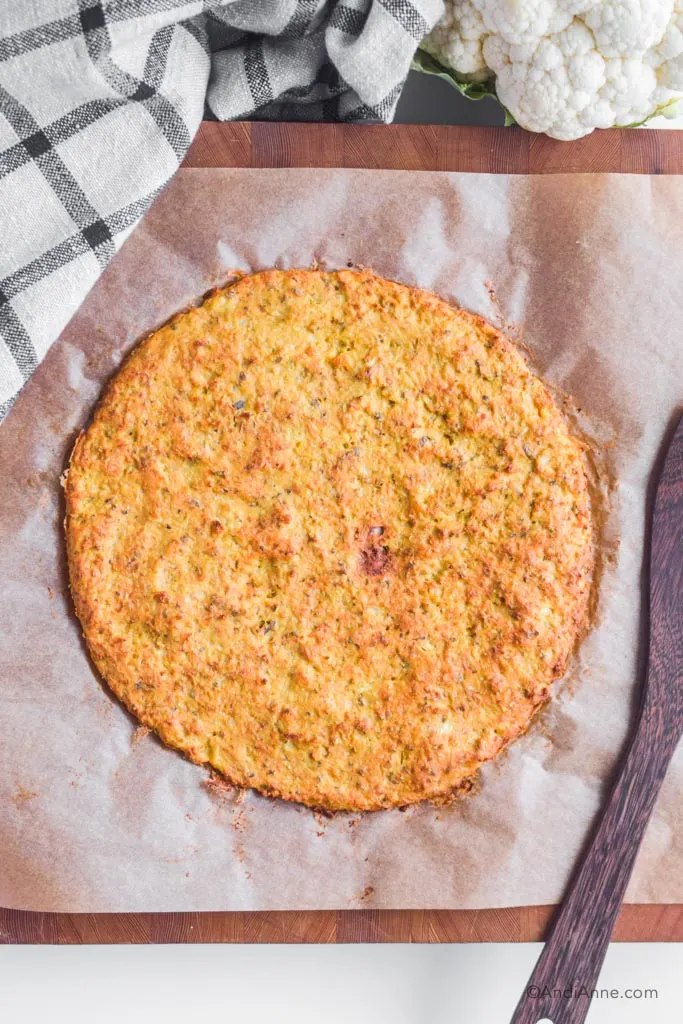 How To Make The Cauliflower Crust
First, you'll need a head of cauliflower. This vegetable is often overlooked in the supermarket – I mean, what should you do with it besides eating it raw?? Well, luckily for us it's super cheap so making a cauliflower pizza crust out of it is perfect!
Related Post: How To Make A Cauliflower Pizza Crust
HOW TO RICE THE CAULIFLOWER: Remove the stems and leaves from the cauliflower. Then cut it into 4 big pieces. At this point, you can break it up into smaller chunks and place them in your food processor. (If you don't have one you can use a cheese grater to grate the cauliflower). Blend the cauliflower in the food processor for a minute or two until it forms crumbs or a rice-like consistency. (see full instructions here)
COOK THE RICED CAULIFLOWER: This step is key to getting a firmer cauliflower crust. It will help to remove excess moisture from the cauliflower. Add 2 cups of riced cauliflower to a frying pan on medium heat and let it cook for 8-10 minutes, stirring regularly. That's it – it's super easy. No need to add anything during this step.
HOW TO MAKE THE CRUST: In a medium bowl, mix together the riced cauliflower, chickpea flour, egg and spices. This will become your pizza crust.
BAKE THE CRUST: Add the pizza crust to a pizza pan lined with parchment paper and use your hands to press it into a circle. This part can be a little sticky so I like to wet my fingertips with a bit of water which helps me to press down the crust onto the parchment paper.
Place in the oven and bake for 25-28 minutes or until it begins to turn golden brown. Remove from the oven, and set aside. Now it's ready for the toppings.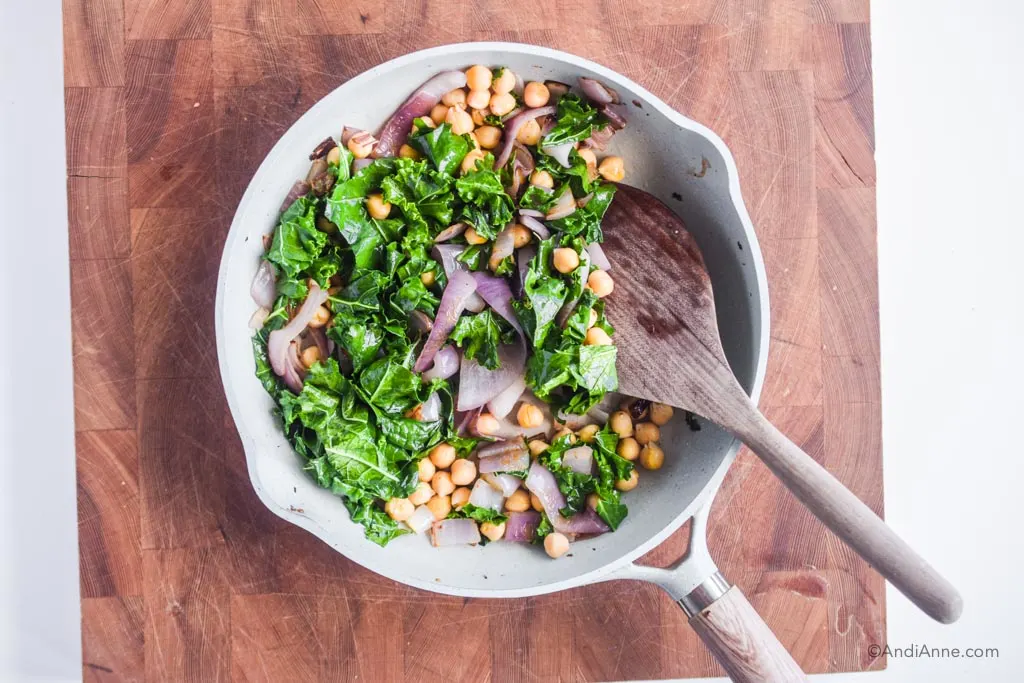 How To Make The Chickpea Kale Pizza Topping
In a skillet at a bit of cooking oil, and red onion slices. Cook for 1 minutes, or until they turn translucent. Next, add the chickpeas and kale. Cook another 2-3 minutes, until the kale softens. Remove from heat and set aside.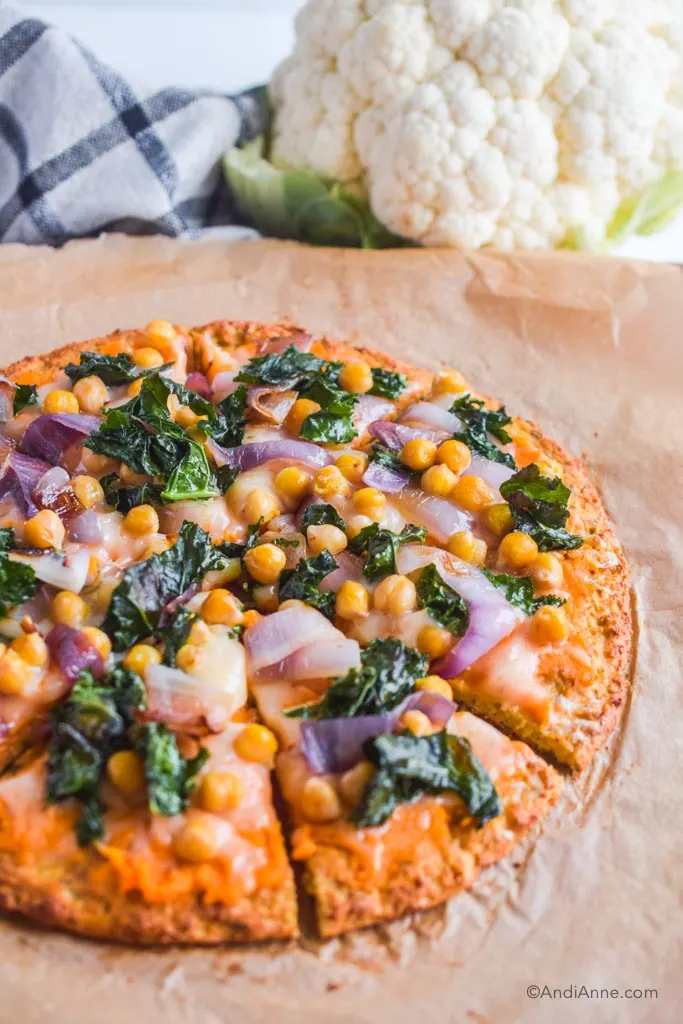 Assembling The Cauliflower Pizza
Now comes the fun part – assembling the pizza!
First, spread the sweet potato sauce with a spatula over the crust.
Next, sprinkle the mozzarella cheese.
Now, add the cooked kale and chickpea mixture on top.
Turn the oven to broil setting, and cook the pizza for 3-5 minutes or until the cheese melts and kale crispens. Keep an eye on the pizza during this time so that it doesn't burn.
Once it's done, slice into 8 pieces with a pizza slicer and you're ready to eat!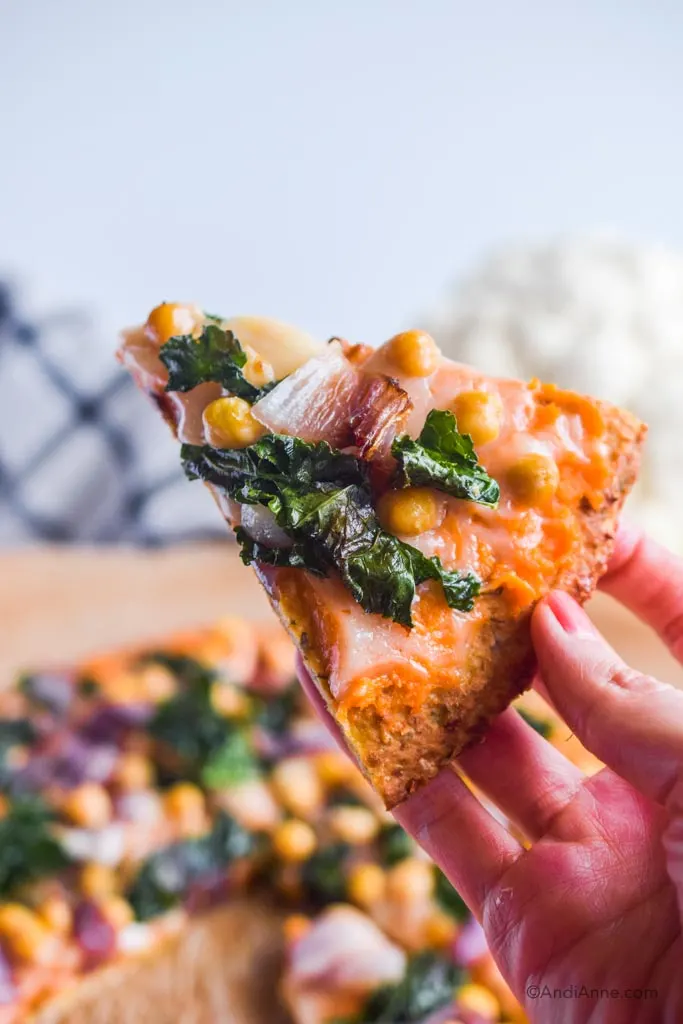 Kale Chickpea Cauliflower Pizza Frequently Asked Questions
What Does Cauliflower Pizza Crust Taste Like?
This is nothing like a traditional pizza crust – it won't feel "doughy" and the texture will be denser. But if you go into it without expectations of having it taste like a normal pizza, you will be happily surprised. It's quite delicious!
Do I Have To Use The Sweet Potato Puree?
Nope. You can use traditional pizza sauce or marinara sauce. You can also use pumpkin puree or butternut squash puree.
Can I Make This Dairy Free?
Yes! Just substitute the mozzarella cheese for a plant-based cheese alternative.
Can I Use A Store-Bought Cauliflower Crust For This Recipe Instead?
Sure you can! Just use the package cooking instructions for the crust. Then add the toppings using the instructions on this page.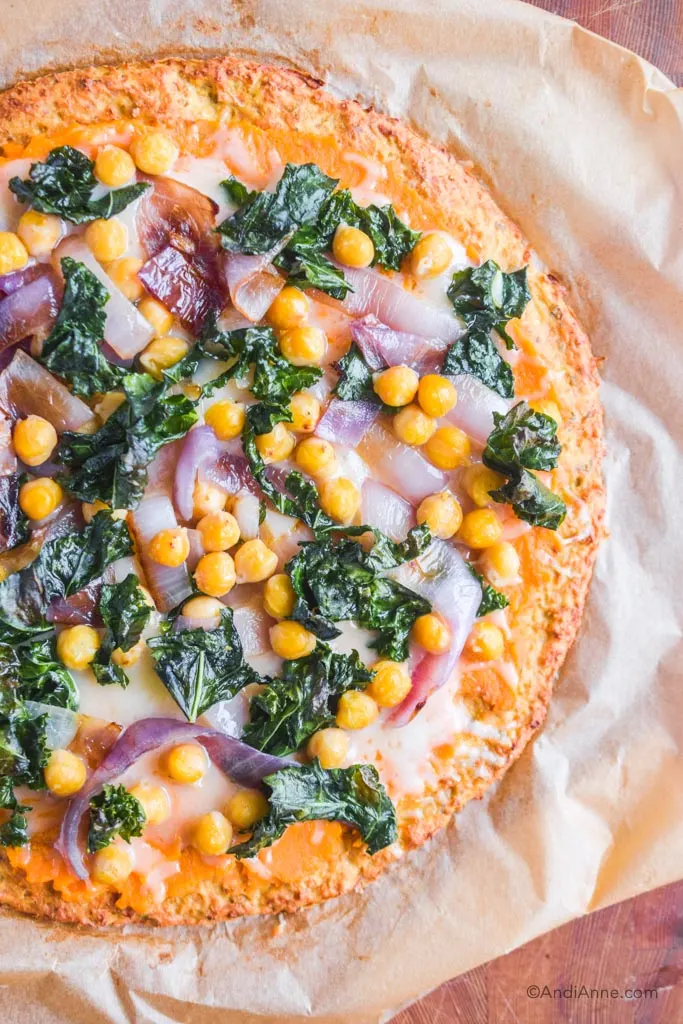 More Healthy Recipes To Try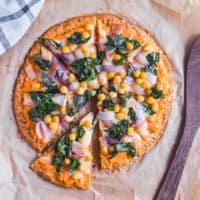 Ingredients
Pizza Toppings
1

Tbsp

cooking oil

2

garlic cloves

-

minced

¼

cup

red onion

-

chopped

½

cup

canned chickpeas -

drained and rinsed

1

cup

kale

-

sliced thin

½

cup

sweet potato puree

1

cup

mozzarella cheese

-

shredded
Instructions
Cauliflower Pizza Crust
Preheat the oven to 400°F 27 mins

Add cauliflower to a frying pan and sautee for 10 minutes. This will help remove excess moisture.

Add the riced cauliflower, chickpea flour, egg, dried oregano, dried basil, garlic powder, and onion powder to a bowl. Mix together until it forms a sticky paste.

Place parchment paper onto a pizza pan. Add the cauliflower dough and use fingertips to press out into a round crust shape. You can dip figertips in a bit of water to help with stickiness.

Bake the cauliflower crust for 25-28 minutes, or until it begins to turn golden brown. Remove from oven and let cool.
Pizza Toppings
Add 1 Tbsp cooking oil to a frying pan along with minced garlic and onion. Cook for 1 minute or until onion turns translucent. Add in the chickpeas and kale. Cook another 2-3 minutes, until kale begins to wilt.

Spread ½ cup sweet potato puree onto the cooked cauliflower crust.

Sprinkle 1 cup mozzarella cheese on top.

Add the chickpea kale mixture on top. Turn the oven setting to broil and cook for 3-5 mins or until cheese melts and kale begins to crisp. Keep an eye on the pizza during this time so that it doesn't burn.

Remove from oven. Pick up the pizza using the parchment paper and place over a cutting board. Use a pizza cutter or knife to slice into 8 pieces. Serve immediately.
Recipe Notes:
Leftovers can be stored in the fridge in an airtight container for up to 1 week.
You can easily make riced cauliflower in your food processor (see instructions here) or buy it from the store.
Nutrition
Calories:
167
kcal
|
Carbohydrates:
18
g
|
Protein:
9
g
|
Fat:
7
g
|
Sugar:
4
g