Ah pizza, who doesn't love it!? The cheesiness, the crust, the toppings… it's easy to know why it's so incredibly popular and has at least half the frozen section is committed to it in the grocery store. Pizza is my weakness – put it in front of me and I'll probably eat 5-10 slices. This is totally fine some times, but if you have personal goals to eat healthier and lose weight naturally, then 6 slices of regular pizza won't help you get there.
So what if I told you that you could make a much healthier version of the tasty goodness? I'm sure you've heard of cauliflower pizza crust at this point, it's almost everywhere these days, but have you tried making it yourself? You'll skip all the additives they add to store-bought versions, and the excess refined carbs!
Making your own cauliflower pizza might seem a little overwhelming at first, but it's actually quite simple. And once you do it a couple of times it'll feel so much easier. So let me walk you through the process of making this delicious pizza and all the amazing benefits you'll be giving your body when you do!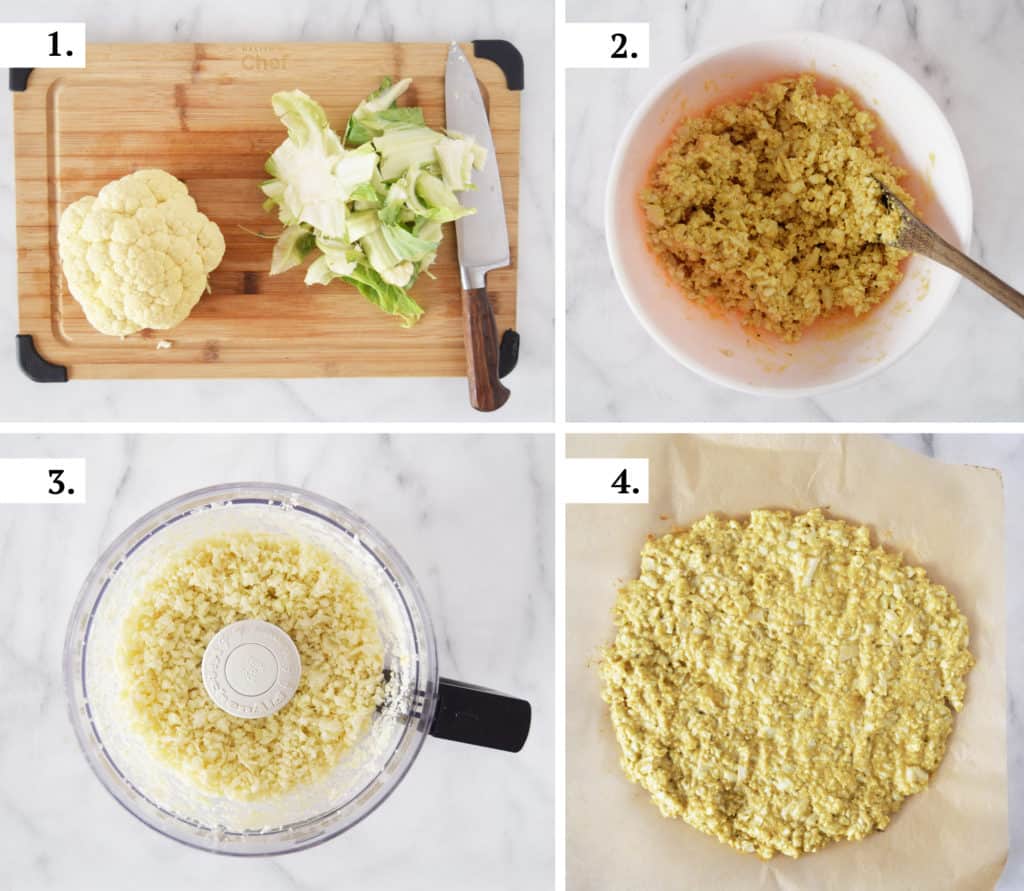 HOW TO MAKE THE CAULIFLOWER CRUST
The first step to making this pizza is to assemble the crust.
First, you'll need a head of cauliflower. This vegetable is often overlooked in the supermarket – I mean, what should you do with it besides eating it raw?? Well, luckily for us it's super cheap so making a cauliflower pizza crust out of it is perfect!
HOW TO RICE THE CAULIFLOWER: Remove the stems and leaves from the cauliflower. Then cut it into 4 big pieces. At this point, you can break it up into smaller chunks and place them in your food processor. (If you don't have one you can use a cheese grater to grate the cauliflower) Blend the cauliflower in the food processor for a minute or two until it forms crumbs or a rice-like consistency.
HOW TO MAKE THE CRUST: In a medium bowl, whisk together the eggs and spices for the crust. Add in the chickpea flour and mix again. Then add in the cauliflower and mix until everything is combined. This will be your pizza crust – This is nothing like a traditional pizza – it won't feel "doughy" and the texture will be different. But if you go into it without expectations of having it taste like a normal pizza, you will be happily surprised at its unique and delicious taste.
Now you'll want to divide the "dough" into two parts. Place one half on a pizza pan or baking sheet with parchment paper and form into a circle or oval-shaped pizza crust. This part can be a little sticky so I like to wet my fingertips with tap water which helps me to press down the crust onto the parchment paper.
Place in the oven and bake for 14 minutes. Remove, and set aside. Now it's ready for the toppings.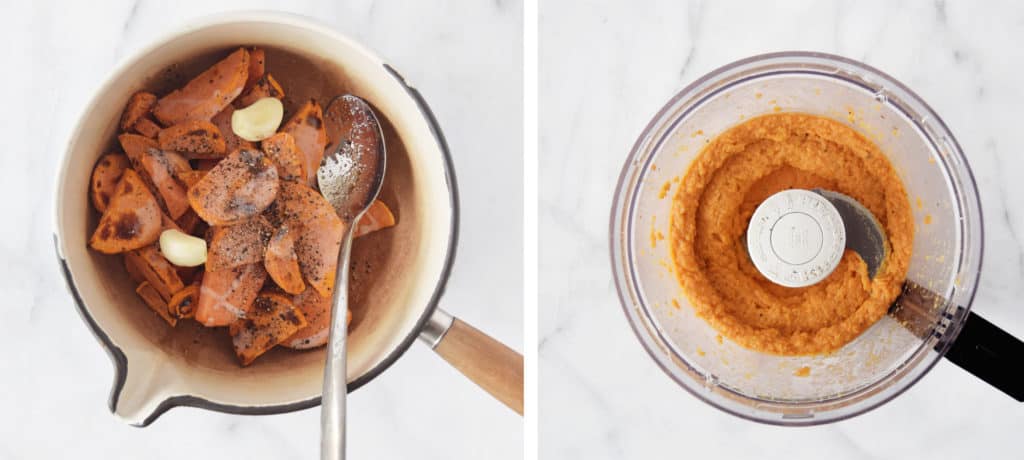 HOW TO MAKE THE SWEET POTATO SAUCE:
This sweet potato sauce is made using roasted sweet potatoes, garlic, coconut oil, salt and pepper. I used frozen roasted sweet potato that I bought at the store to speed up the process. You can also use canned puree sweet potato or you can roast them yourself! It's totally up to you.
To make the sauce, heat everything up (if needed) in a small pot then add everything to your food processor (or high-speed blender) and blend until smooth.
HOW TO MAKE THE VEGGIE TOPPINGS:
In a skillet at a bit of coconut oil, and red onion slices. Cook until they begin to become translucent. Then add in the chickpeas, kale and cook until kale begins to soften up a bit (3 minutes or so). Remove from heat and set aside.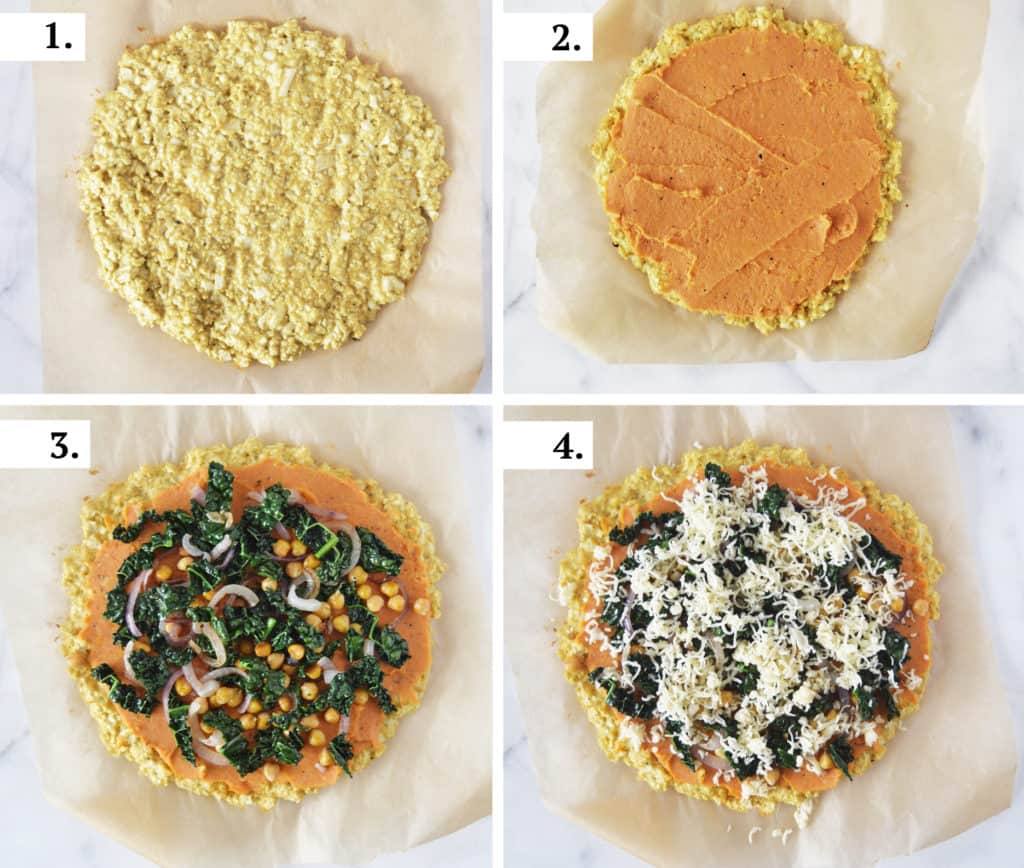 HOW TO ASSEMBLE THE PIZZA:
Now you get to put everything together! This is the fun part and it's a great activity to do with your kids. First, spread the sweet potato sauce with a spatula over the crust. Then add the vegetables, and sprinkle on the mozzarella cheese. Now you can place the pizza back in the oven for 8-10 minutes or until edges begin to golden.
Once it's done, slice with a pizza slicer and you're ready to eat!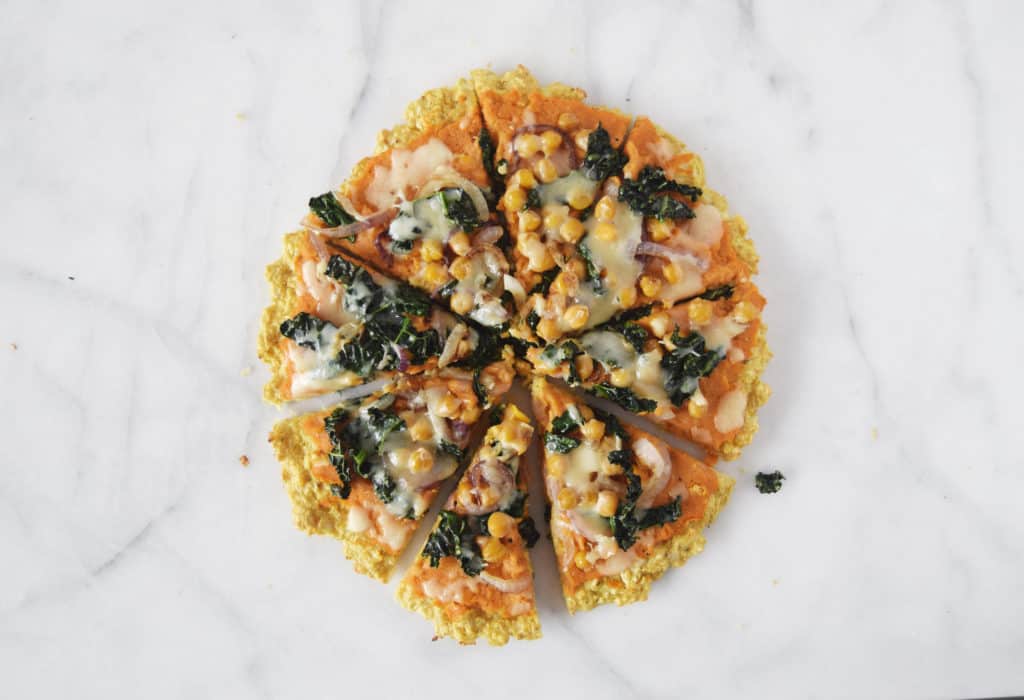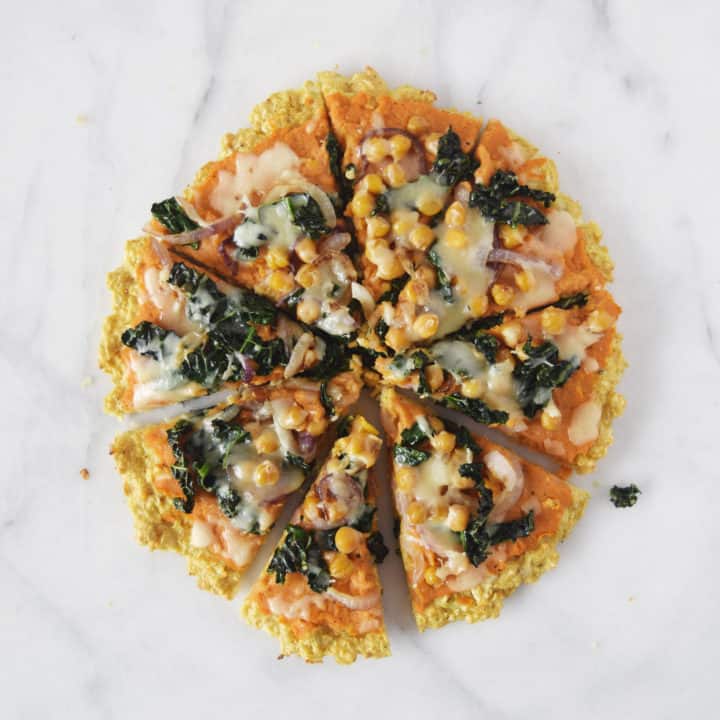 Veggie Pizza with Cauliflower Crust
Ingredients
Cauliflower Pizza Crust:
1 medium cauliflower
3 eggs
2 Tbsp dijon mustard
1 tsp dried oregano
1 cup chickpea flour
sea salt and pepper to taste
Sweet Potato Sauce:
2 cups sweet potatoes*
2 Tbsp coconut oil
2 cloves of garlic
sea salt and pepper
1/2 cup water
Pizza Toppings:
1/2 cup canned chickpeas, drained and rinsed
1/2 cup red onion
1/4 cup sunflower seeds (or pumpkin seeds)
1 1/2 cups kale sliced thin
1/2 cup shredded goat cheese or mozzarella cheese
Instructions
Preheat the oven to 350°F and line a baking sheet with parchment paper.
To make the cauliflower crust: First, you will need to rice the cauliflower. You can do this by using a food processor (my favorite way) or grating it using a cheese grater. Remove the stem and leaves from the cauliflower and then chop it into 4 pieces. Then chop into smaller chunks and add to your food processor.
In a medium bowl, whisk together the eggs, dijon mustard, and oregano. Stir in the chickpea flour, then add the cauliflower and mix everything together. Divide the mixture into two and place half on to a baking sheet lined with parchment paper. Form the mixture into a pizza dough. Place in oven and bake for 7 minutes. Remove from oven and flip the crust and bake for another 7 minutes. Remove from the oven and set aside.
To make the sauce: In a small bowl, mix together sweet potato, coconut oil, garlic, sea salt, and pepper. Taste and adjust seasoning as needed. Set aside.
To make the toppings: In a skillet over medium-high heat, add coconut oil and red onion. Cook for 1-2 minutes or until onions begin to look translucent. Add in chickpeas and cook for another minute or two, then add chopped kale and cook for 2-4 minutes. Remove skillet from heat.
Assemble the pizza: Spread 1.5 cups of butternut squash sauce over pizza, then add cooked veggies and sprinkle with sunflower seeds and grated cheese. Place back in the oven and bake for 5-10 minutes, until cheese is melted and edges of crust begin to golden. Remove from oven and drizzle with a small amount of honey (optional). Slice using a pizza cutter and serve while still warm. Leftovers will keep for 2 days, but this pizza is best served fresh.
Notes
*(you can use frozen, grilled frozen, canned puree, or fresh raw sweet potatoes and roast them yourself beforehand)
See more family-friendly recipes on our website: www.andianne.com
Nutrition Information:
Yield:

8
Serving Size:

1
Amount Per Serving:
Calories:

268
Total Fat:

13g
Saturated Fat:

6g
Trans Fat:

0g
Unsaturated Fat:

5g
Cholesterol:

79mg
Sodium:

617mg
Carbohydrates:

27g
Fiber:

7g
Sugar:

8g
Protein:

13g
Please note: This nutrition information is only an estimate and was created using Nutritionix