Cauliflower pizza crust is a delicious way to enjoy pizza without gluten, dough or added carbs. This pizza dough is easy to make, grain-free and healthy. I love making pizza with this crust and use this recipe often in our house!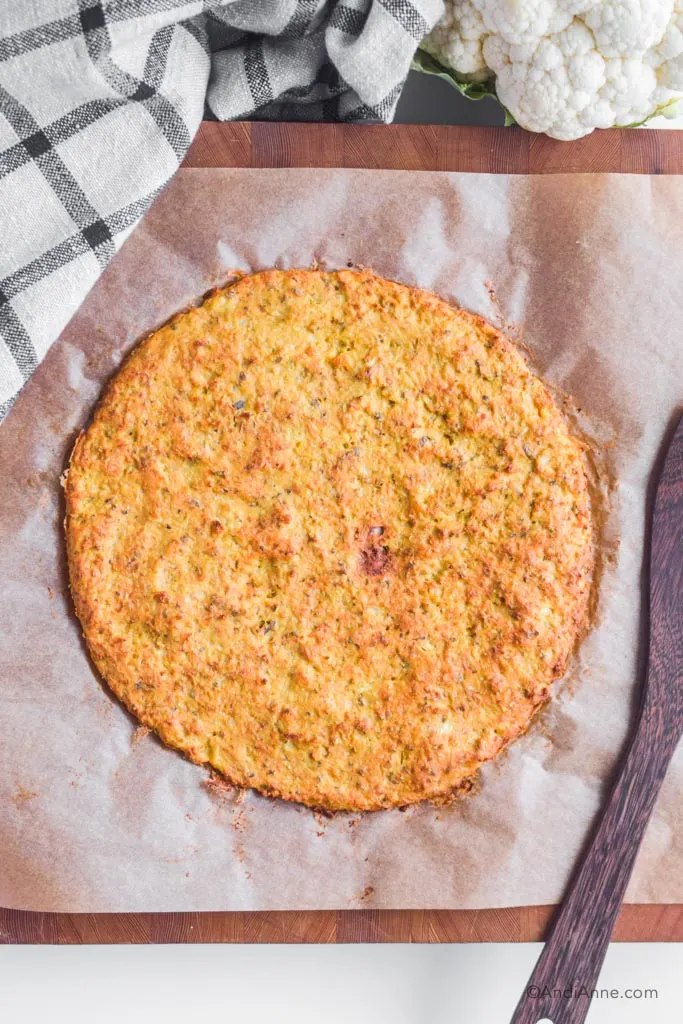 Cauliflower Pizza Crust
Ok, I know what you might be thinking… a cauliflower crust!? Make my own? Do I have time for that?? These are all good questions. And I get it.
Buuut, here's the thing. I've tried the store-bought cauliflower crusts before and they are not that great. In fact, I was totally disappointed. They claim to be "healthy" but they're loaded with low-quality ingredients and preservatives. Some of them even have added grain flour… which is totally confusing because many people (like my husband) who are gluten-free are purposely buying a cauliflower crust to avoid the flour portion.
But this crust is different. It's really good. It smells good – like really good while it's baking in the oven, all thanks to the oregano. And it's really delicious! I've made this recipe a few times now and I really enjoy it. You can use this base crust recipe for any kind of pizza you want. Pepperoni, ham and pineapple, mushroom, a Margherita pizza, or get fancy with my kale chickpea pizza with sweet potato sauce (it's really good).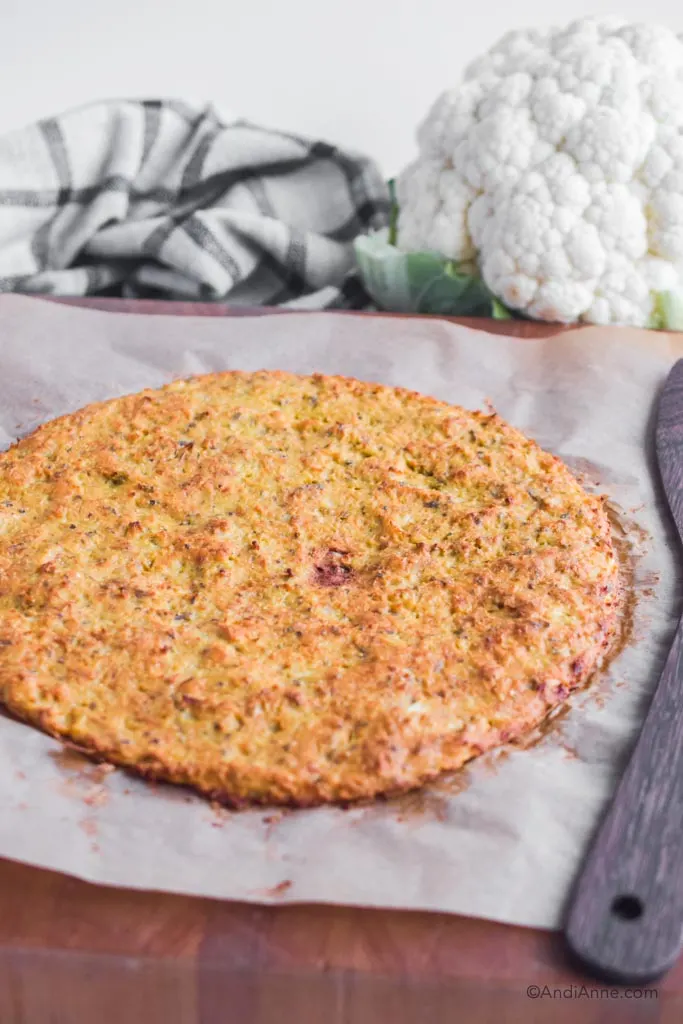 Cauliflower Pizza Crust Ingredients
This recipe comes together in two main steps, the cauliflower crust and the pizza toppings:
Cauliflower Crust:
Riced Cauliflower – You can easily make your own riced cauliflower using these instructions, or you can purchase store-bought riced cauliflower. It usually costs a little more but if you don't have a food processor, it's worth it.
Chickpea Flour – Chickpea flour is used in the crust to help hold it together. This is a gluten-free flour made from chickpeas! To help save money, I like to buy my chickpea flour from a local bulk store but you can also buy it online here.
Egg – One egg is used as the liquid and fat to help hold everything together.
Spices – For spices, you'll need dried oregano, dried basil, garlic powder, and onion powder.
Pizza Toppings:
You can use any kind of pizza toppings you'd like on your cauliflower pizza crust. Here's what I'm using in today's recipe.
Pizza Sauce – I used 1/2 cup of pizza sauce.
Mozzarella Cheese – To make the perfect cheesy pizza, 1 cup of mozzarella cheese is sprinkled on top. Feel free to substitute with a plant-based cheese if you prefer no dairy.
Kale – The kale will crispen up when the pizza is broiled adding the perfect crunch! I used 1 cup of kale cut into thin strips.
Is Cauliflower Pizza Crust Healthy?
Well, it depends. If you're buying a store-bought version it might not be. Many companies have gotten on the cauliflower pizza crust train but use some really crappy ingredients. I don't see the point in buying these. They're expensive and use poor quality ingredients.
When you make your own cauliflower pizza, you can use top quality ingredients that are actually good for your body! This recipe is made with cauliflower, chickpea flour, egg and spices. That's it! Just good quality, wholesome ingredients that you'll feel better feeding yourself and your family with.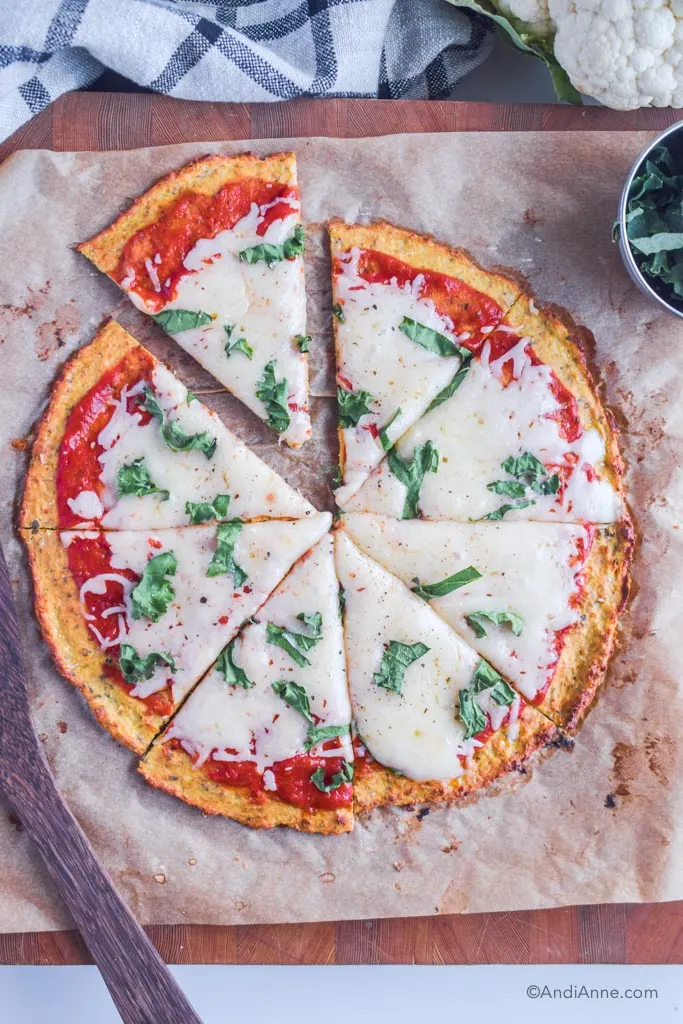 Cauliflower Pizza Crust FAQs
Is Cauliflower Pizza Crust Healthier Than Regular Pizza Crust?
I think so! It's made with cauliflower and chickpea flour as a base. It has less calories. It's low carb and there's no gluten which can bother many people's digestive system.
Does Cauliflower Pizza Crust Have Carbs?
Yes. It will still have carbs. Technically all food does. However these are whole food carbs versus carbs coming from refined flour. Our bodies NEED healthy carbs to properly function and use energy throughout the day. So these kinds of carbs are a better option.
What's The Healthiest Cauliflower Pizza Crust?
The one you make yourself! You can control the quality of ingredients you put into it and there will be no added preservatives, flavorings or other additives.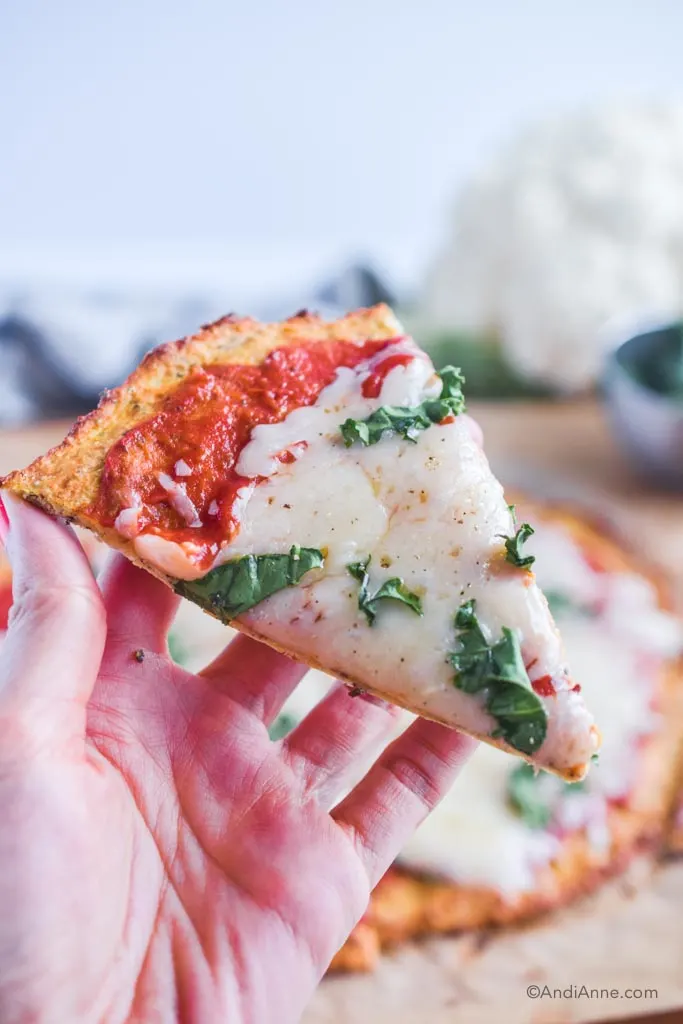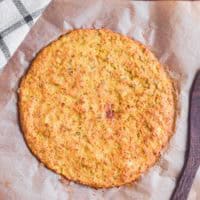 Ingredients
Pizza Toppings
½

cup

pizza sauce

1

cup

mozzarella cheese

-

shredded

½

cup

kale

-

thinly sliced and de-stemmed
Instructions
Preheat the oven to 400°F.

Add cauliflower to a frying pan and sautee for 10 minutes. This will help remove excess moisture.

Add the riced cauliflower, chickpea flour, egg, dried oregano, dried basil, garlic powder, and onion powder to a bowl. Mix together until it forms a sticky paste.

Place parchment paper onto a pizza pan. Add the cauliflower dough and use fingertips to press out into a round crust shape. You can dip figertips in a bit of water to help with stickiness.

Bake the cauliflower crust for 25-28 minutes, or until it begins to turn golden brown. Remove from oven and let cool.

Storage Instructions: Pizza crust can be stored in the fridge until ready to use. Or wrapped in parchment paper and sealed in a freezer bag and frozen for up to 3 months. When ready to use, re-heat the frozen crust in the oven at 400°F for 10-12 minutes. Then move on to pizza toppings step below.
Pizza Toppings
Spread ½ cup pizza sauce onto the cooked cauliflower crust.

Sprinkle 1 cup mozzarella cheese on top. Add sliced kale or any other favorite toppings.

Turn the oven setting to broil and cook for 3-5 mins or until cheese melts and kale begins to crisp. Keep an eye on the pizza during this time so that it doesn't burn.

Remove from oven. Pick up the pizza using the parchment paper and place over a cutting board. Use a pizza cutter or knife to slice into 8 pieces. Serve immediately.
Video
Recipe Notes:
Leftovers can be stored in the fridge in an airtight container for up to 1 week.
You can easily make riced cauliflower in your food processor (see instructions here) or buy it from the store.
More Recipes To Try