Garlic Parmesan Pasta is cooked in a creamy cheesy garlic sauce that is ready in minutes. With just a few simple ingredients you'll be able to make a rich and delicious comforting weeknight dish.
The Garlic Parmesan Pasta pairs well with our Easy Shredded Chicken recipe and Sauteed Green Beans.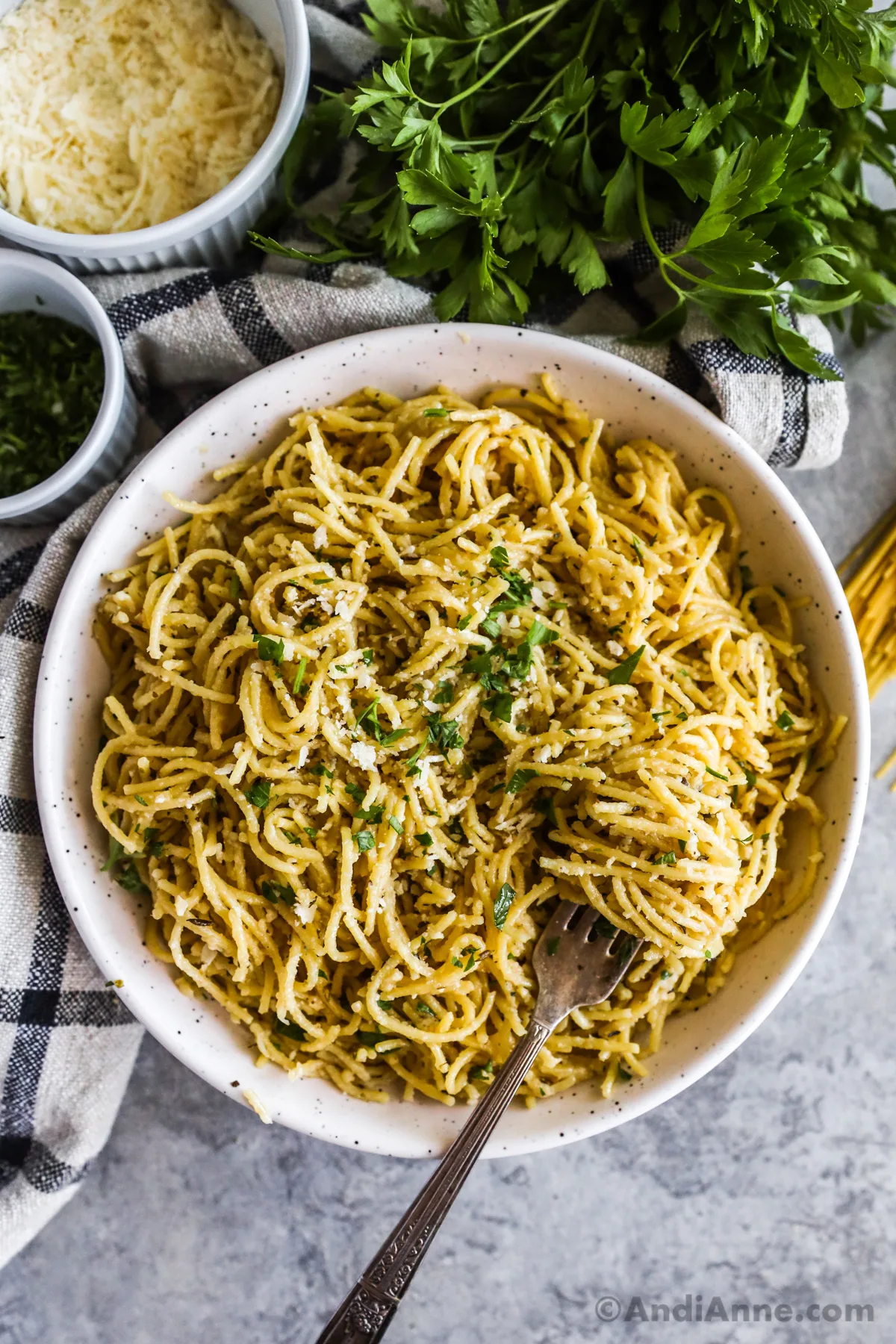 Garlic Parmesan Pasta
There's something about pasta that is comforting and relaxing but creamy pasta with garlic and parmesan cheese is a supreme comfort dish.
All the ingredients are made in one pot so the flavors are deeply embedded in the pasta. Once you taste the richness of the cheese combined with garlic and your favorite spaghetti, you'll know what I mean by comforting and relaxing.
Garlic Parmesan Pasta Video
Watch my easy tutorial video to see just how easy making garlic parmesan pasta really is.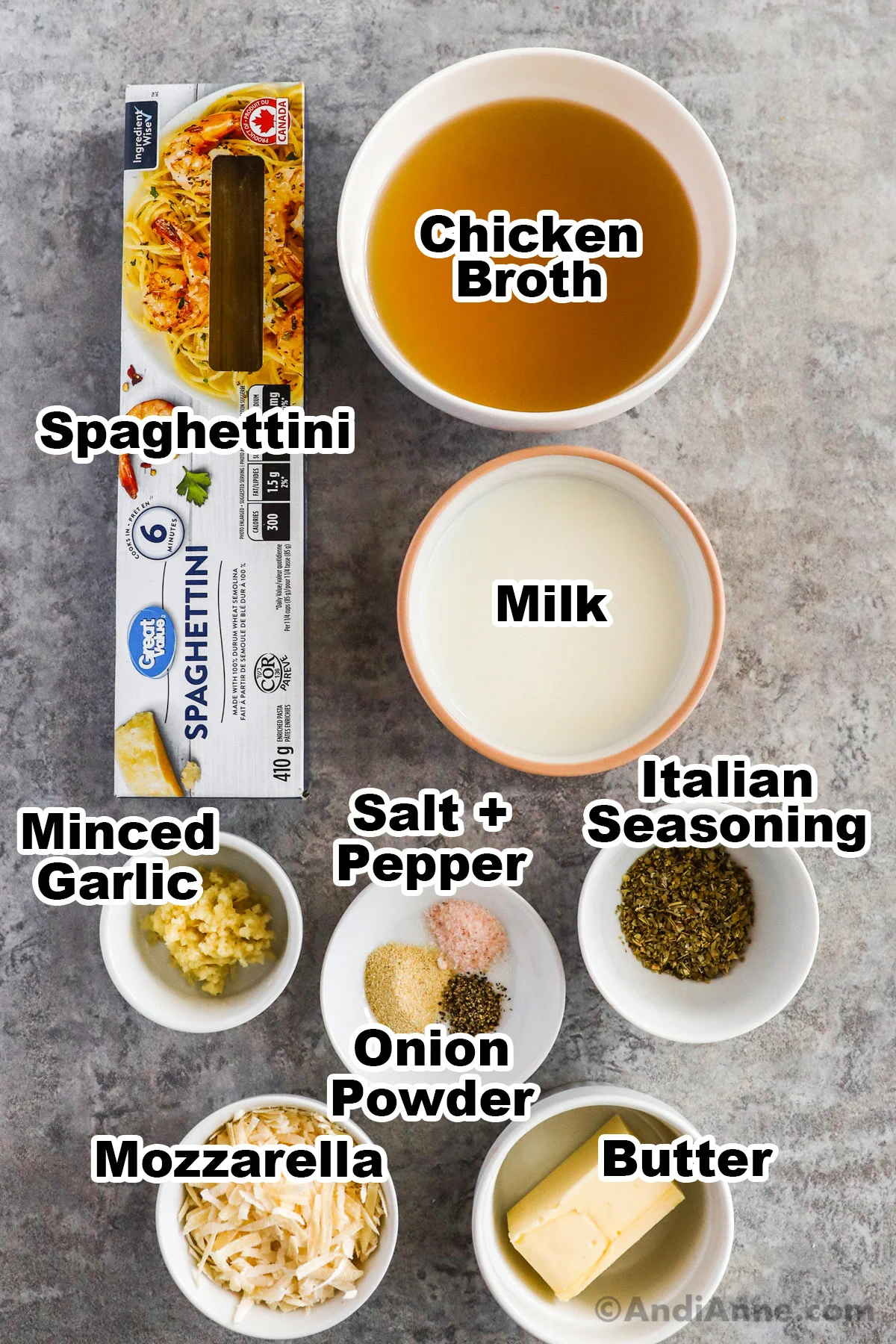 Recipe Ingredients
These simple ingredients are inexpensive and easy to find. Read on for a brief description of each ingredient.
Full instructions can be found in the recipe card at the bottom of this blog post.
ANGEL HAIR PASTA –Thinner than regular pasta, it has a shorter cooking time which works well with this recipe.
CHICKEN BROTH – This boosts the flavor profile of the dish. It's a subtle meaty flavor that won't take away from the flavors of the other ingredients
MILK – Milk keeps the pasta from becoming too dry, it also adds flavor and creaminess.
GARLIC – Will enhance all the other flavors in this recipe and bring everything together.
SALTED BUTTER – This healthy fat will keep the ingredients from sticking to the bottom while adding a creamy texture and flavor.
PARMESAN CHEESE – This delicious cheese adds a rich, sharp, tangy bold flavor and this recipe wouldn't be possible without it.
SALT – I love salt and use it whenever required because it reduces bitterness, increases sweetness, and gives our tastebuds a broader sense of the inherent flavors found in each ingredient.
PEPPER – Because a little bit of an edge works well with this creamy sauce.
ONION POWDER – Adds a deeper complex flavor to the dish.
ITALIAN SEASONING – The herbs in Italian seasoning add an aromatic woodsy flavor to the ingredients.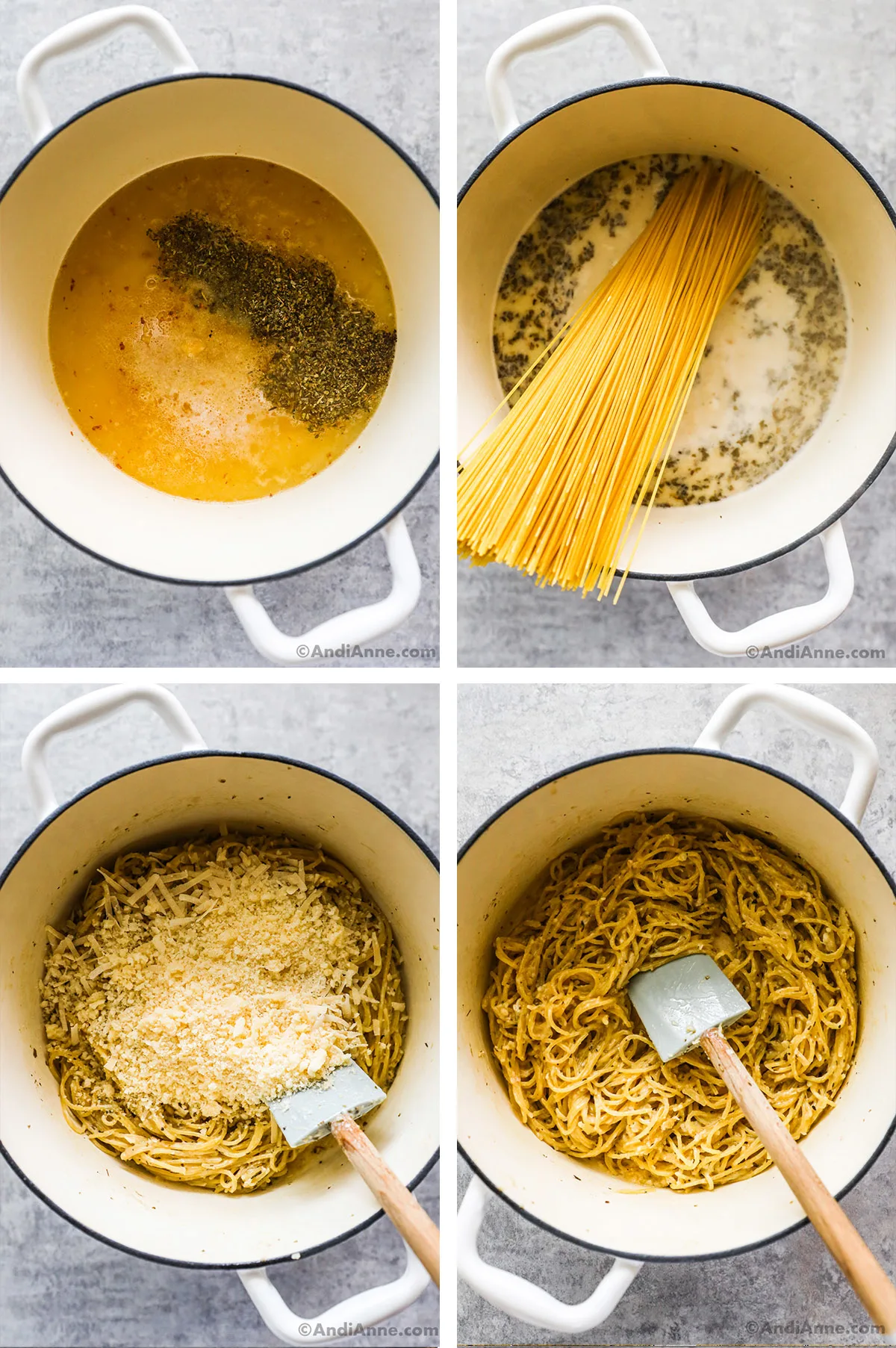 How To Make Garlic Parmesan Pasta
With a few simple ingredients, it doesn't get much easier than this considering the outcome of rich and bold flavors.
The following is a brief overview, detailed instructions are included in the recipe card at the bottom of this blog post.
MELT BUTTER AND GARLIC – In a large pan over medium heat, melt 2 tbsp of butter and then add the minced garlic and cook for 2 minutes stirring occasionally.
ADD INGREDIENTS AND BOIL – Pour the chicken broth into the pan and stir in the salt, pepper, onion powder, and Italian seasoning. While stirring, pour in the milk and bring the mixture to a boil.
ADD PASTA AND STIR – Once boiling, add the pasta and allow to simmer for 5 minutes. Don't forget to stir to prevent pasta from sticking.
ALMOST THERE – After 5 minutes, reduce the heat to low and add the remaining butter and stir. When the butter has melted in, slowly stir in the parmesan cheese until the dish is smooth.
GARNISH – Sprinkle with minced parsley and serve.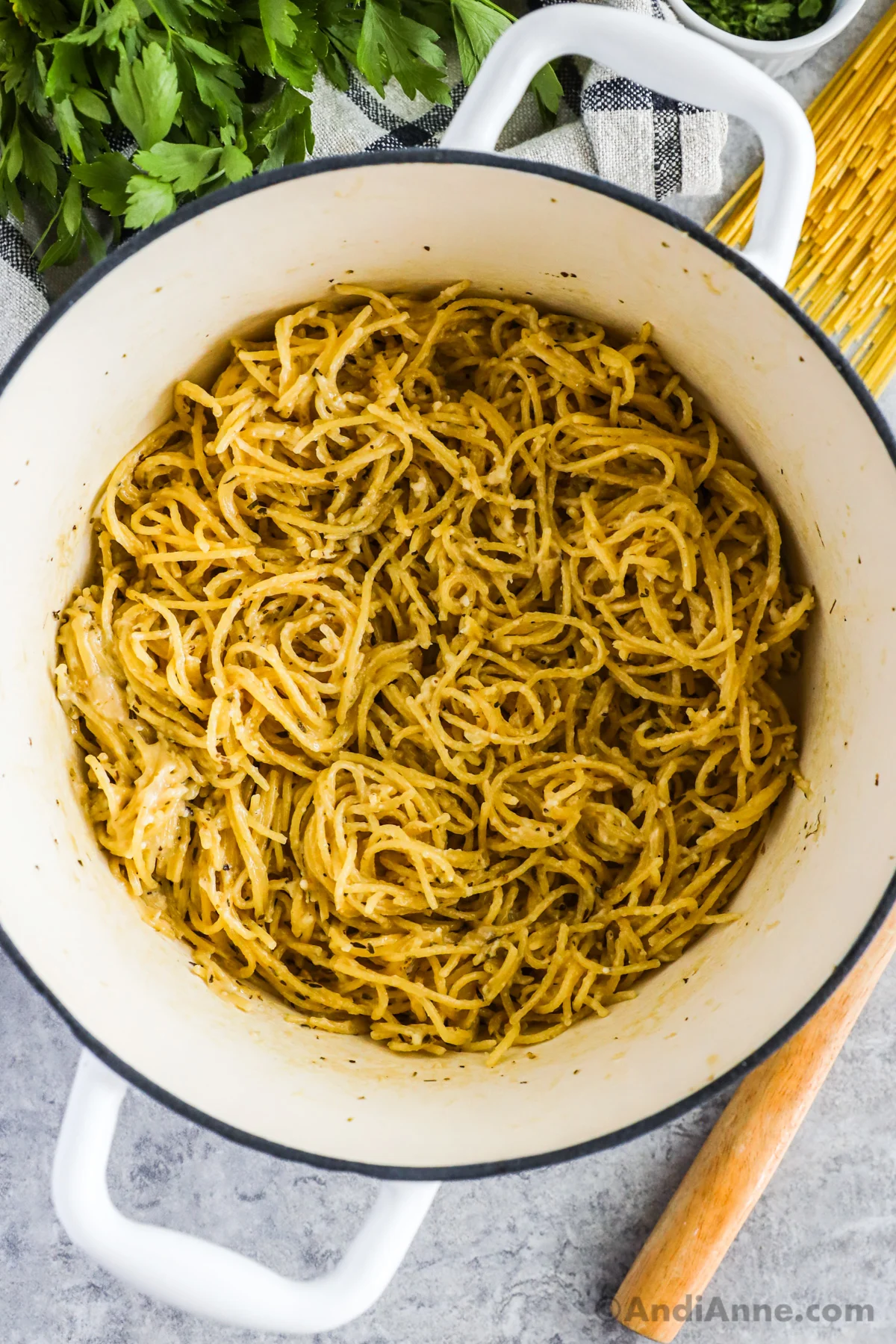 Recipe Tips
You've spent all that time cutting the Sweet potatoes and apples, let's get the best results for your effort. Here are some tips we recommend to make this recipe the best it can be:
PATIENCE – At first it seems as though the pasta won't fit into the liquid to boil, but be patient. It only takes a minute or two to gently nudge the pasta into the liquid.
FATS AND OILS – We use salted butter for this recipe because of its rich flavor and thick texture. Feel free to experiment with coconut oil, olive oil, ghee or your favorite cooking fat.
AL DENTE – The goal is to get the pasta onto a plate before it becomes overcooked. Al Dente means that the texture and consistency of the pasta is firm and chewy but still soft enough that it is enjoyable. It will continue to cook a little longer after it's out of the pot.
STIR – Right from the start this recipe needs you there moving things around. Stir the butter and garlic, the chicken broth and spices, and most importantly stir the spaghetti immediately once it's placed in the pot and later on when the liquid is almost completely absorbed. Basically stir the pasta whenever the lid is not on.
CHEESE – Use high-quality parmesan cheese, it will make all the difference. Do not use the sore-bought canned version.
SERVE NOW! – For best results, serve immediately. The flavors and textures will be best as soon as it's finished.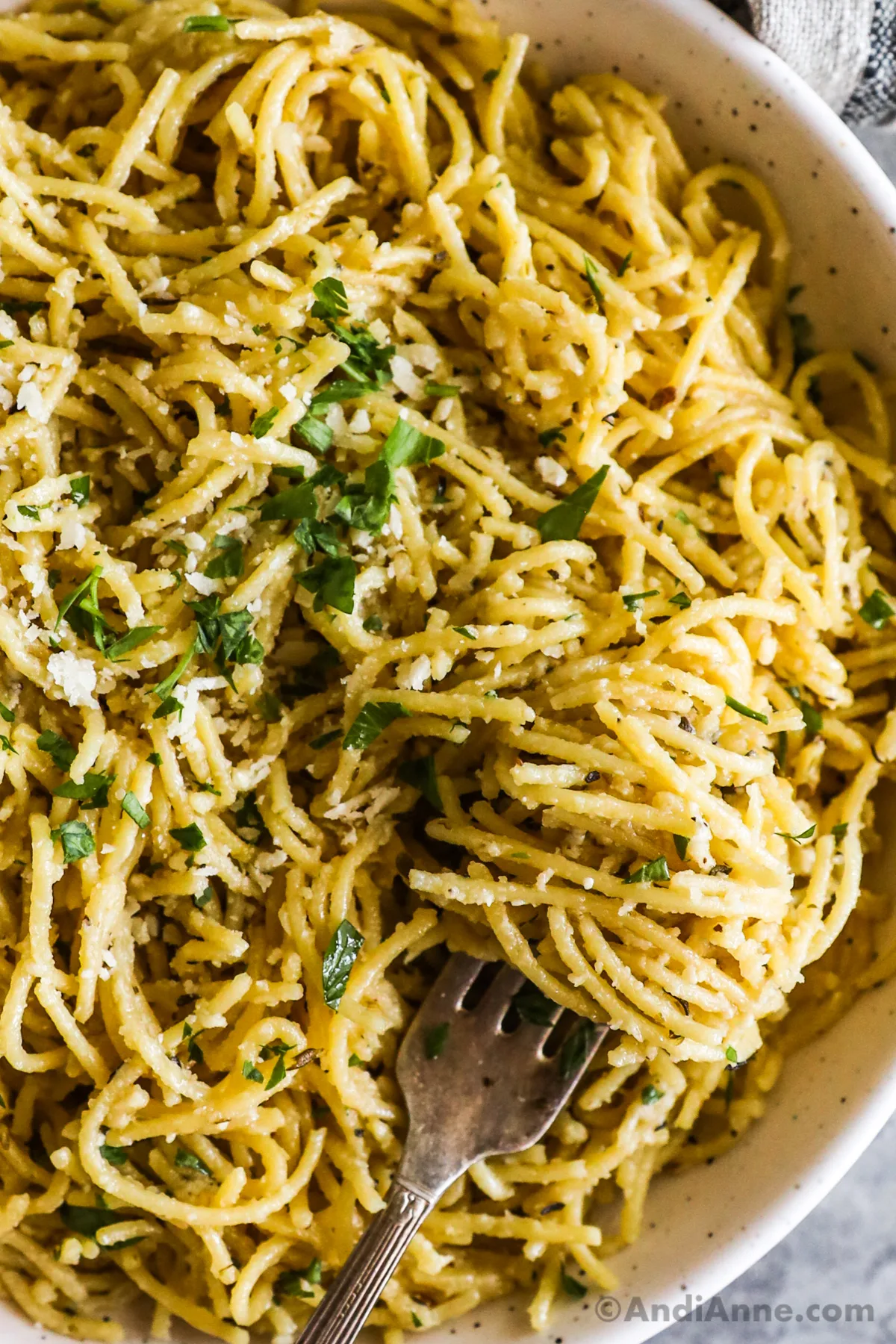 Storing Leftovers
If you have any leftovers at all I recommend the following:
FRIDGE – Store these leftovers in an airtight container for 2-5 days. Reheat in the microwave before serving.
FREEZER – You can definitely freeze this recipe, I would recommend air tight container or freezer bag with as much air removed as possible.
REHEAT – You can reheat in the microwave and add grated cheese to punch it up a notch.
This easy recipe has a surprising amount of flavor and texture, it's rich, creamy, bold, sharp, and uber satisfying. Eat it on it's own or pair it with a protein and veggies and your guests guaranteed will be pleased.
If you like the sounds of this recipe, you may also be interested in pairing it with: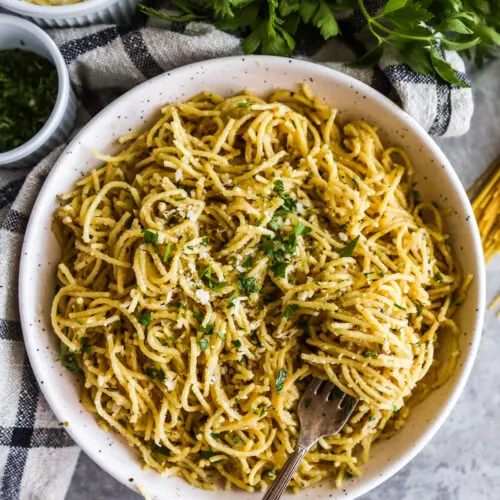 Instructions
In a large pot over medium heat, melt 2 Tbsp of butter and then add the minced garlic and cook for 1 minute, stirring.

Pour the chicken broth into the pot and stir in the Italian seasoning, onion powder, salt and pepper. Stir in the milk, then bring the liquid to a boil.

Once boiling, add the pasta and allow to simmer for about 4-5 minutes. Stir occasionally to prevent the pasta from cooking.

Once the pasta is cooked al dente, remove the pot from the heat source and add the last 2 Tbsp of butter and parmesan cheese. Stir together evenly.

Season with salt and pepper and a little bit more grated parmesan if desired. Scoop into bowls, serve and enjoy!
Nutrition
Calories:
295
kcal
|
Carbohydrates:
31
g
|
Protein:
11
g
|
Fat:
14
g
|
Saturated Fat:
8
g
|
Polyunsaturated Fat:
1
g
|
Monounsaturated Fat:
3
g
|
Trans Fat:
0.3
g
|
Cholesterol:
40
mg
|
Sodium:
878
mg
|
Potassium:
189
mg
|
Fiber:
2
g
|
Sugar:
4
g
|
Vitamin A:
628
IU
|
Vitamin C:
1
mg
|
Calcium:
225
mg
|
Iron:
1
mg
The nutritional information provided is an estimate and is per serving.