This gluten-free cake is made with two layers of white cake and topped with fresh whipping cream and berries. This cake is an allergy-friendly option that is also sugar-free, nut-free, and dairy optional. Learn how to make this delicious cake for your loved ones in this post.
Do you struggle with making a dessert that everyone can eat? I do too. That's why I created this recipe. This cake was a hit with my family, whether they had an allergy or not. I think it's the perfect Spring or Summer dessert to serve at holidays, birthday parties, or whenever you want to celebrate.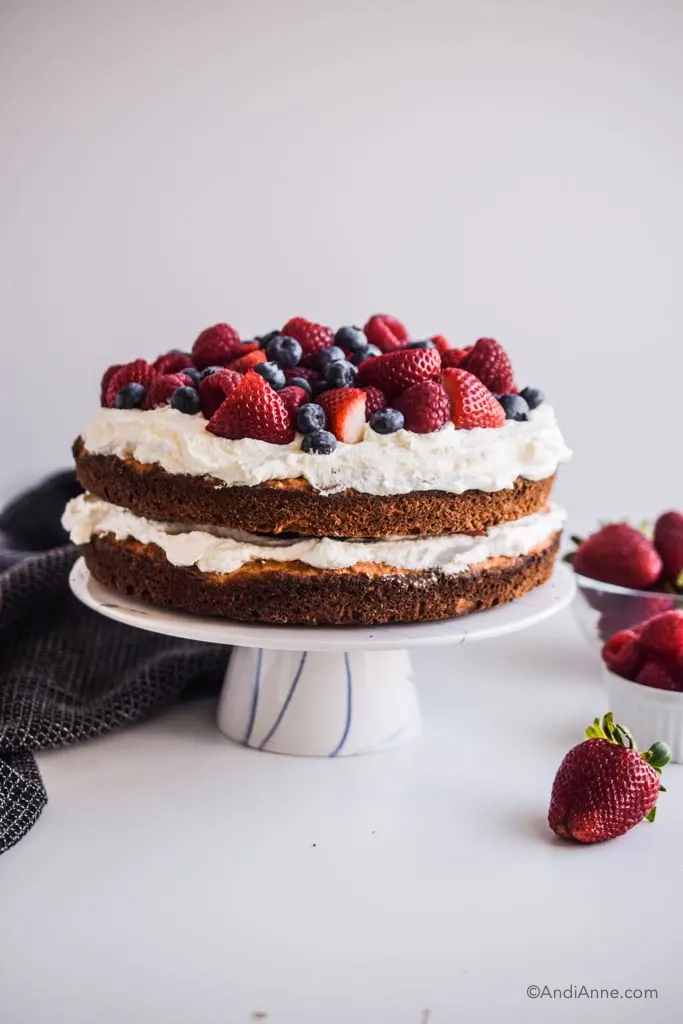 Gluten Free Cake
When you have a family that has a variety of allergies, it's hard to make a dessert for everyone. My dad is diabetic and gluten-free. My husband also has a gluten intolerance. And I'm severely allergic to nuts. Boy oh boy does this make it a struggle during holidays. Usually, someone is left out of the dessert portion, which isn't all that fun.
Most gluten-free cake recipes use almond flour, which I can't eat. And most sugar-free options use stevia, which I think has a weird aftertaste that I don't personally like.
So after a ton of research, some trial and error, I came up with this recipe. This recipe is inspired by a Norwegian cream cake called Bløtkake. My mom used to make this cake on my birthday. I loved it so much. But there's no way we could eat a normal version of that cake anymore.
Well, this gluten-free cake is beautiful. It's a feast on the eyes with all the colors from fresh berries. It's the perfect Spring or Summer celebration cake that most people can eat. This recipe does use real whipping cream which contains dairy, however you could substitute that for my delicious whipped coconut cream recipe if someone in your family has a dairy allergy. This truly is one of the best allergy-friendly cakes I've ever put together.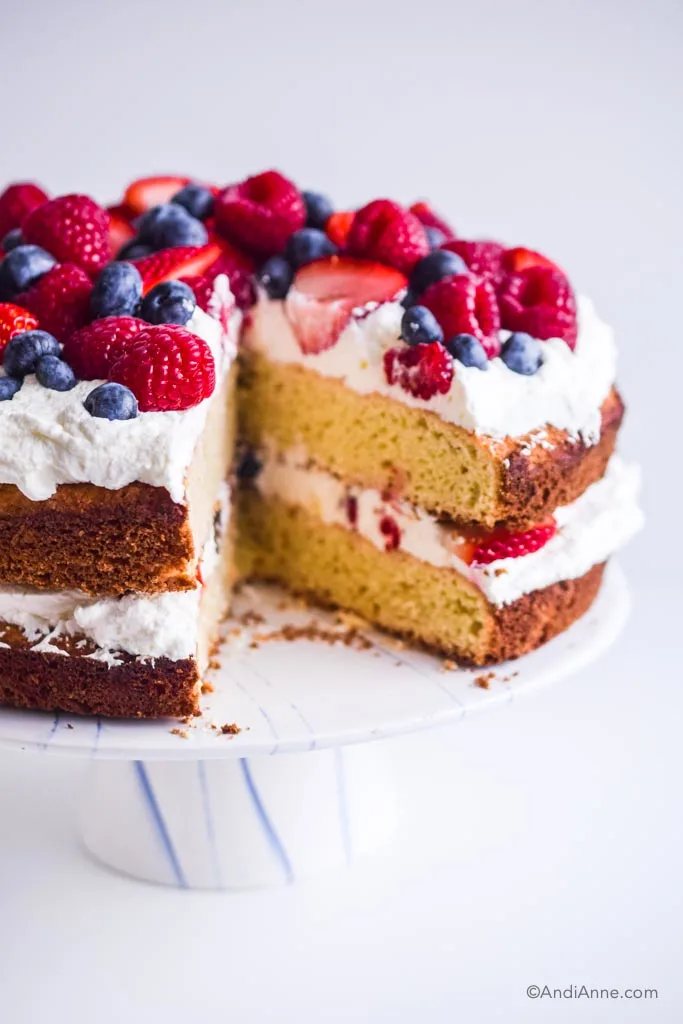 Gluten Free Cakes Are More Dense
Before we go any further it's important to know that gluten-free cakes will be denser than a cake made with regular flour that has gluten in it. You can enhance this feature by combining it with a light and fluffy whipped cream. Or you could eat it as a simple snack cake – it tastes great with a cup of coffee or tea.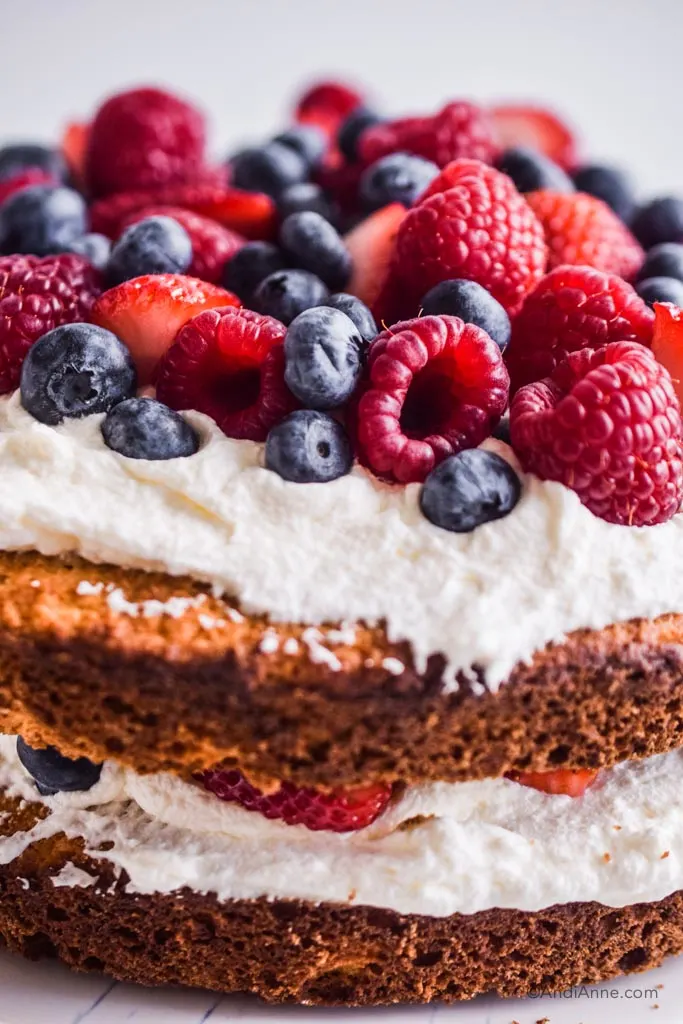 This Cake Is Allergy Friendly
As someone with a severe nut allergy, I can relate to how hard it is to find an allergy friendly dessert.
No Gluten – To make this cake gluten-free, I used a combination of coconut flour and tapioca starch as the base.
No Sugar – Lakanto monk fruit is a 1:1 white sugar replacement. It is zero calorie, zero glycemic, and is sweetened using erythritol and monk fruit extract, and NOT regular white sugar.
No Nuts – Many gluten free baking recipes use either cashews or almonds, but not this one! This recipe is totally nut free. Perfect for serving at kids parties. Gotta love that.
Dairy Optional – Sour cream, butter and whipping cream are used in this recipe. However, if you want to make a dairy-free option, substitute the sour cream with 1 cup full-fat canned coconut milk, 1/4 cup olive oil for the butter, and use my whipped coconut cream for the topping (you will need to double the recipe to get enough for the cake).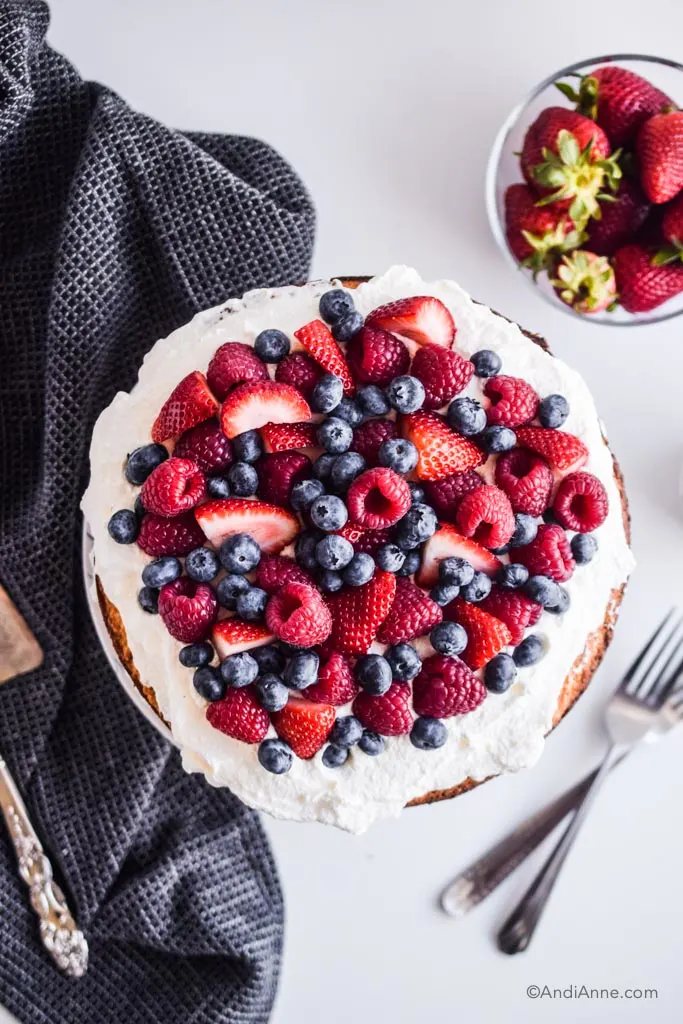 Ingredients For Gluten Free Cake
Lakanto Monk Fruit – This is actually the first time I've used the Lakanto monkfruit sweetener and I am so excited to have found it!
Coconut Flour – Coconut flour is made from dried coconut meat. It contains more fiber and protein than wheat flour. It helps to control your blood sugar because of its low glycemic index rating (source).
Tapioca Starch – Tapioca Starch is a powder that is low in fat and cholesterol. It tends to be very easy to digest. Tapioca flour has a higher glycemic index so it should still be eaten in moderation (source).
Unsalted Butter – The butter should be softened and at room temperature. I usually leave my butter on the counter the night before I'm going to bake.
Sour Cream – You'll need 1 cup of sour cream for the recipe. Alternatively, you could use 1 cup of full-fat canned coconut milk.
Eggs – Coconut flour is a dryer consistency and needs a lot of moisture to help create the cake. This is why we're using six eggs. If you have an egg allergy, you can substitute it with a flaxseed egg. I haven't tried this personally, but I've heard it works great.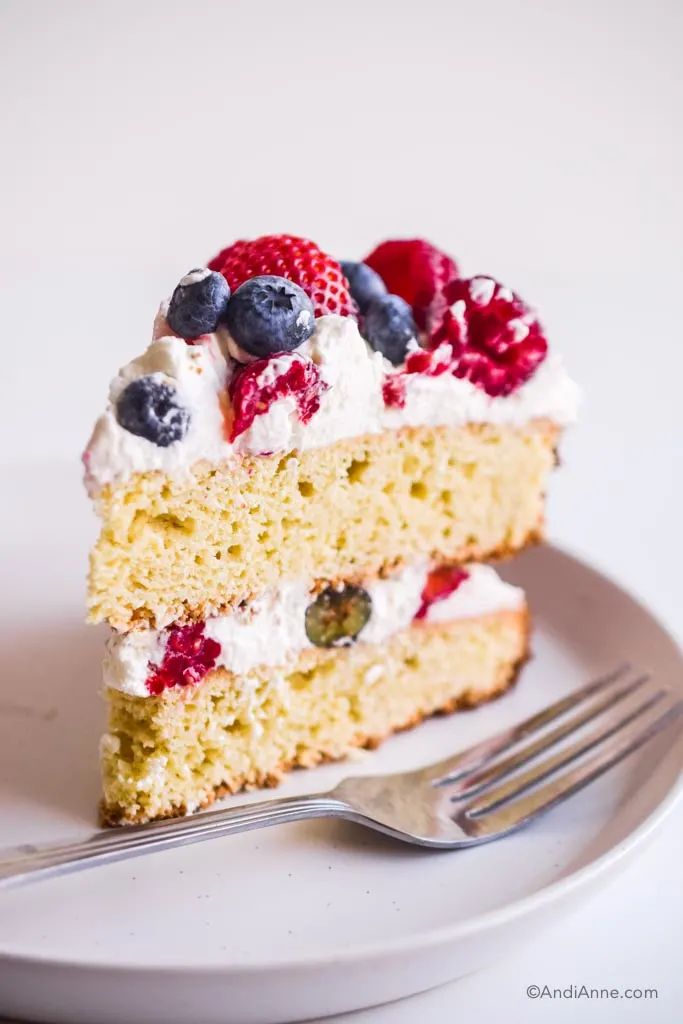 Tips For The Best Gluten Free Cake
Make the cake the day before – To help save time (and stress), I like to bake the cake portion the night before I plan to serve. This just makes life a bit easier. That way you can focus on decorating the cake and not feeling rushed to do it.
Don't skimp on the eggs (the cake needs it) – Coconut flour needs moisture which is why you need more eggs than usual. This recipe needs six eggs, so don't skip any.
Serve with fresh and ripe berries – The berries are the star of this cake, so you'll want to use the freshest ripest berries you can find.
Check the cake at 35 minutes – while cooking the cake, check at 35 minutes by poking with a toothpick to see if it comes out clean. If it's done, take it out of the oven.
Let cool completely before adding toppings – The cake needs to be completely cooled before adding the whipping cream on top. If the cake is still warm, the whipping cream will melt.
More Allergy Friendly Recipes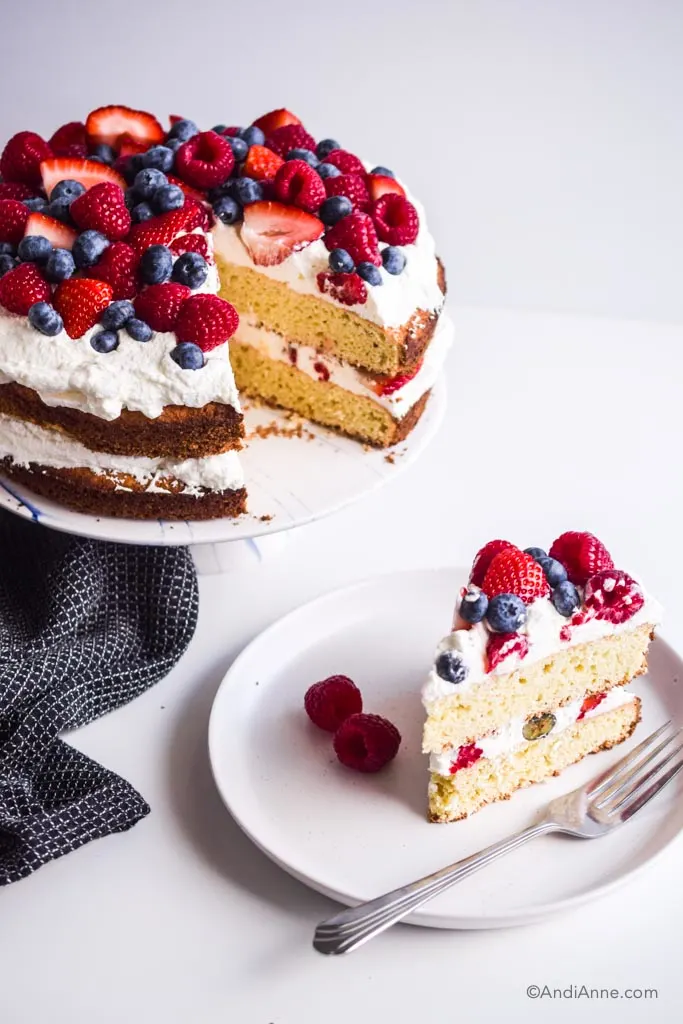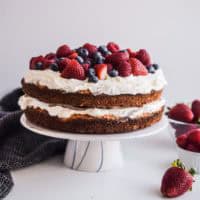 Gluten Free Cake with Whipped Cream and Fresh Berries (Sugar Free + Nut Free)
This gluten-free cake is made with two layers of white cake and topped with fresh whipping cream and berries. This cake is an allergy-friendly option that is also sugar-free, nut-free, and dairy optional.
Save Recipe!
Saved!
Pin This
Print It
Instructions
Preheat the oven to 350°F. Fully coat the inside of two cake pans with the softened butter using a paper towel.

In a medium bowl, mix together the coconut flour, tapioca starch, baking powder and baking soda. Set aside.

In a large bowl, add the softened butter and lakanto monkfruit sweetener. Use an electric mixer to blend the two together until creamy, 1-2 minutes. Add in the sour cream, eggs, and vanilla extract. Mix until smooth.

Pour the dry ingredients into the wet ingredients and mix until combined.

Pour half of the batter into one cake pan and the rest of the batter into the other cake pan. Use a spatula to smooth out the batter.

Place in the oven and bake for 35-40 minutes, or until toothpick comes out clean when poked in the center. Let sit for 10 minutes, then flip over onto a rack to cool completely.

Gently rinse all the berries under cool water. Lay onto a towel to dry completely before using.
Whipping Cream Instructions:
In a medium bowl, add the whipping cream and use an electric mixer to beat until light and fluffy. This took me about 5 minutes.
Assembling The Cake:
Add a small amount of whipping cream to the serving plate to help the cake stay still. Add one section of cake to the plate.

Top with 1/2 of the whipping cream and use a spatula to spread out into an even layer.

Add some fresh berries: blueberries, raspberries and sliced strawberries. Make sure all berries are fully dry before adding to the cake.

Top with the next cake layer.

Add the last half of the whipping cream.

Pile on more fresh berries in the center in any design that you like.

Store the cake in the fridge until you're ready to serve.
Recipe Notes:
You can prepare the cake portion the day before you plan to serve. Let cool completely then wrap in plastic wrap and store in the fridge until you're ready to assemble.
For maximum freshness, make the whipping cream and slice the berries on the same day you plan to serve the cake.
Store leftovers in an airtight container or covered in plastic wrap for 1-2 days.
Dairy-Free Option: substitute whipping cream for my whipped coconut cream (you will need to double the recipe for this cake). Substitute the sour cream with 1 cup full-fat canned coconut milk. Substitute butter for 1/4 cup olive oil.
Nutrition