These honey cinnamon roasted sweet potatoes are full of flavor! Chopped sweet potatoes are tossed a honey cinnamon sauce and roasted in the oven until they're crispy and tender. This is a simple side dish to serve with a variety of main meals including salmon, chicken, beef or pork.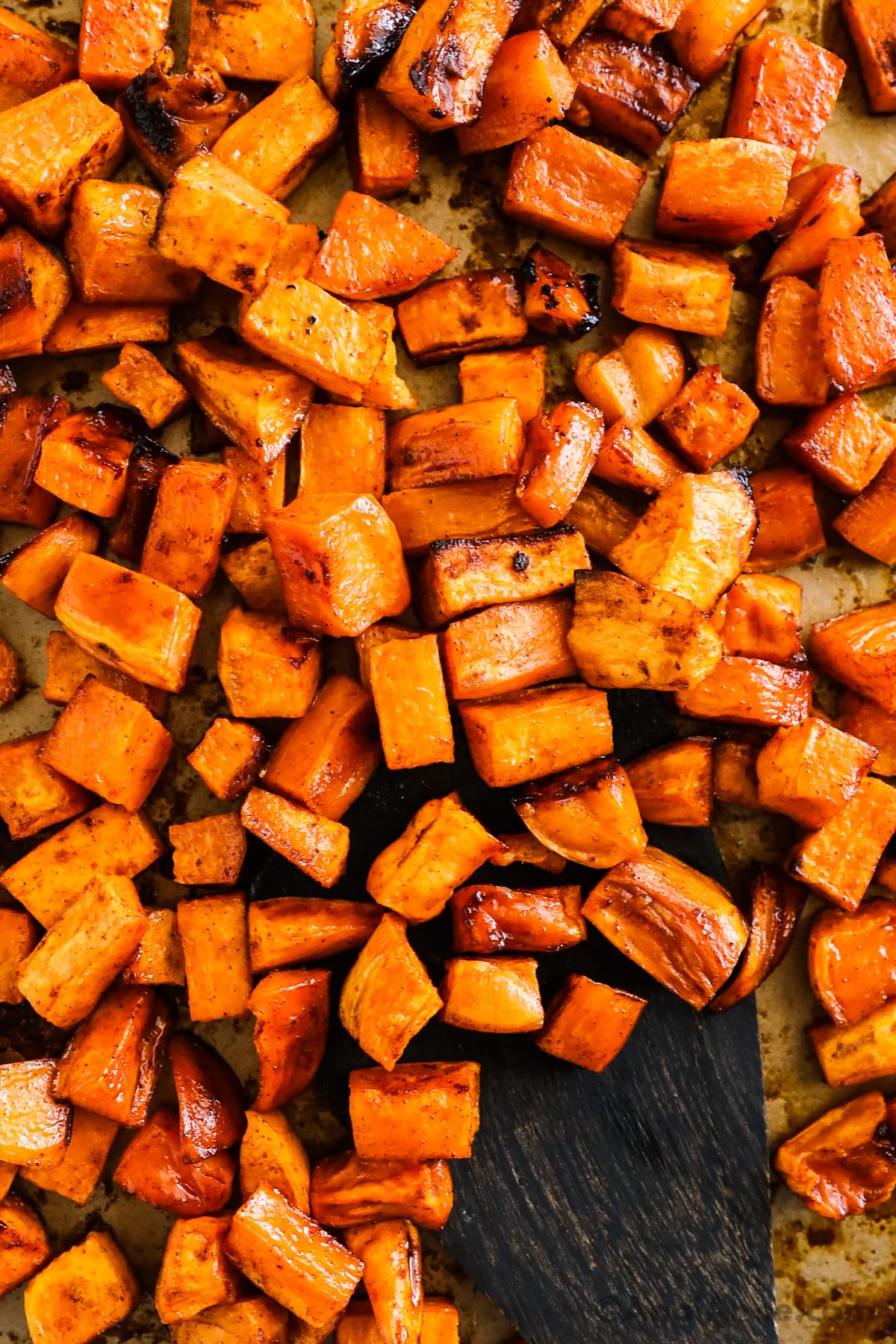 Honey Cinnamon Roasted Sweet Potatoes
These baked sweet potatoes have a hint of cinnamon and lemon, with a crispy honey-glazed coating. They're a delicious side dish that can be served with a variety of recipes including baked chicken legs, roasted turkey or glazed ham.
Roasting sweet potatoes in the oven is a great way to bring out the natural sweetness and create a crispy, caramelized exterior. Using a baking sheet lined with parchment paper will prevent the honey from sticking and make cleanup so much easier.
This is a great way to use up any leftover sweet potatoes that you have lying around and don't know what to do with.
For more sweet potato recipes, check out my easy mashed sweet potatoes, roasted cinnamon sweet potatoes with squash, all-in-one taco stuffed sweet potatoes, or marshmallow sweet potato casserole.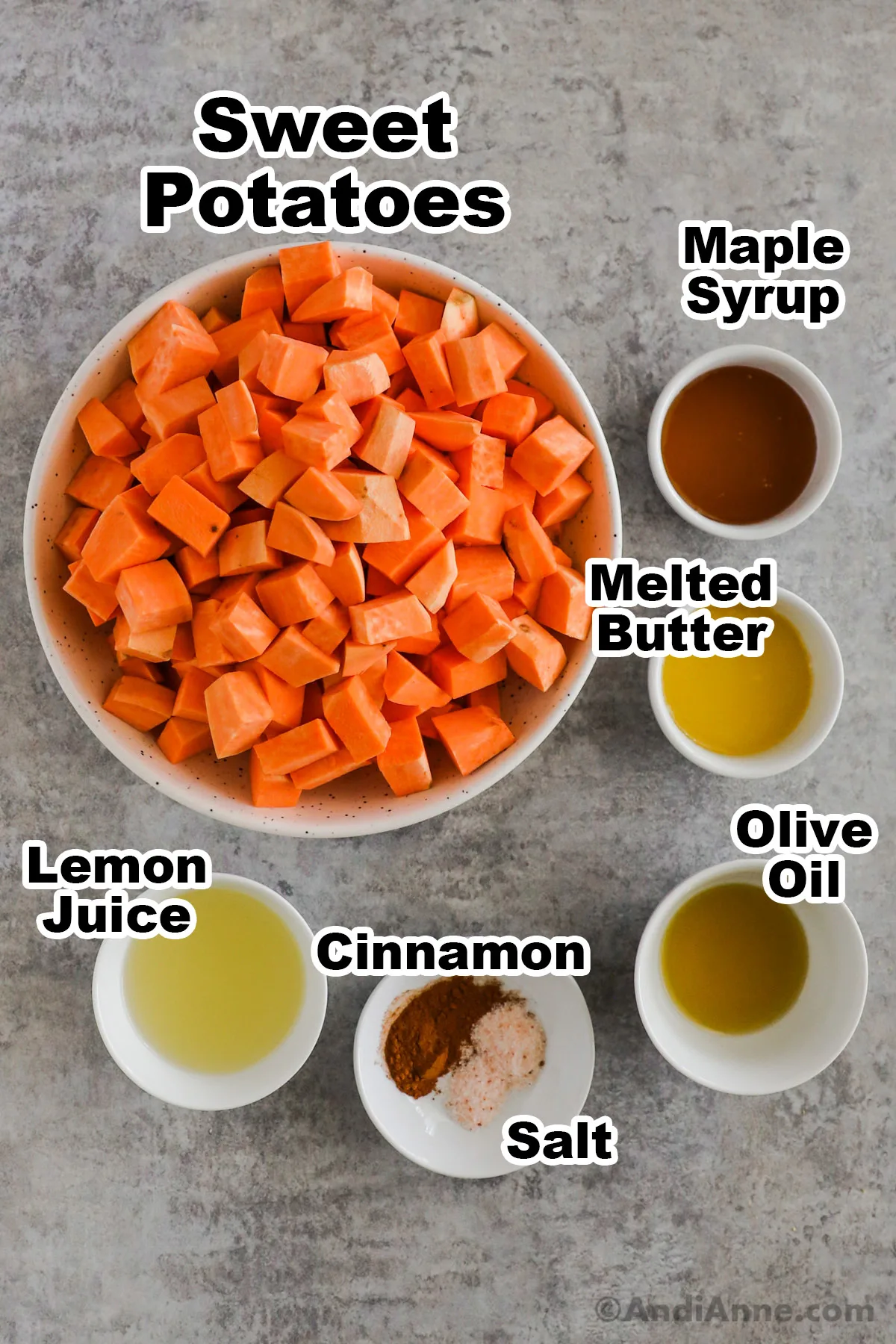 Recipe Ingredients
With just a few simple ingredients that you probably already have in your kitchen, you'll take these sweet potatoes up to the next level! Here's what you'll need with full instructions in the recipe card at the bottom of this blog post.
SWEET POTATOES – You'll need about 4 medium-sized sweet potatoes for this recipe. I used six cups of peeled chopped sweet potato to create a large enough serving for four people.
HONEY – Honey adds a deliciously sweet glaze coating to the sweet potatoes. It helps to make them a little crispy on the outside too! Unfortunately, the sugar in honey can burn when it's on the baking pan but I've got an easy trick to clean it off that I'll share below.
BUTTER – Use salted butter for the best flavor! You will have to melt the butter in the microwave for a few seconds so it can be mixed with the other ingredients.
LEMON JUICE – The citrusy lemon flavor really enhances the sweetness in the sweet potatoes. I used lemon juice from a freshly squeezed lemon.
OLIVE OIL – A little bit of olive oil helps to everything to stick to the sweet potatoes. You can also use canola oil or avocado oil. These oils all have a neutral flavor that won't compromise the flavor.
CINNAMON – Cinnamon and sweet potato are so good together. Cinnamon is added to the sauce and also sprinkled on top of the chopped sweet potato just before baking.
SALT – A little bit of salt is essential to balance out the sweetness.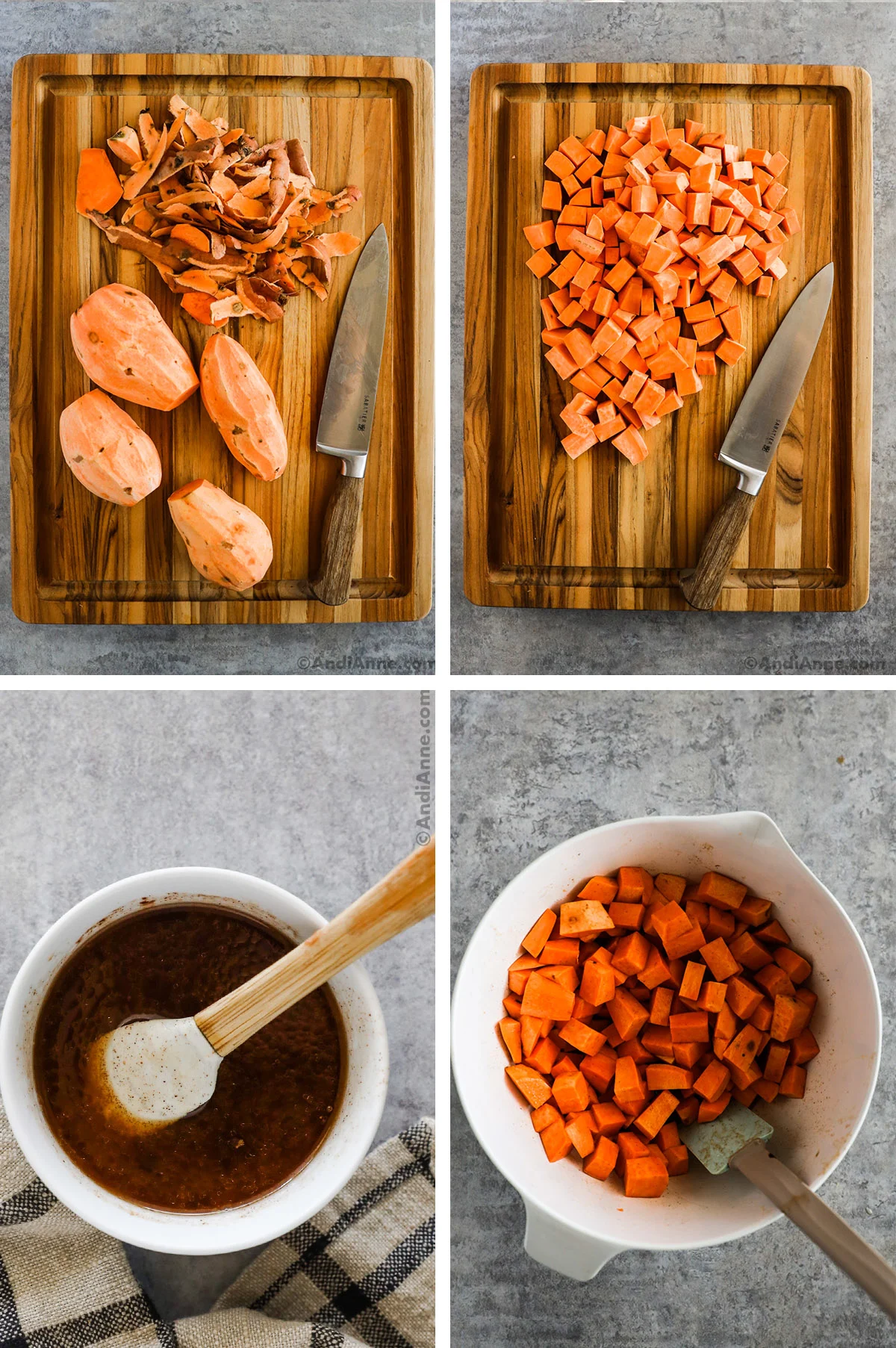 How To Make Honey Cinnamon Roasted Sweet Potatoes
This recipe is quick and simple with no fuss. Here's how to make it with the full details included in the recipe card at the bottom of this blog post.
PREP SWEET POTATOES – Preheat your oven to 425°F. Peel 2 pounds of carrots. Cut them into 2″ pieces and slice them in half if they are too thick.
MAKE SAUCE – In a large bowl, combine the lemon juice, honey, butter, olive oil, cinnamon and salt. Add in the chopped sweet potato and toss with the sauce until it's evenly coated.
ARRANGE SWEET POTATO ON BAKING SHEET – Spread the sweet potatoes out in a single layer on a baking sheet lined with parchment paper, making sure they are not touching. Sprinkle the salt and half of the cinnamon over top.
ROAST – Roast the sweet potatoes for about 40 minutes, tossing them halfway through. Check for doneness by poking with a fork and looking at them to see if they've turned golden brown.
SERVE – Scoop them onto a plate immediately while still warm. As they cool down that honey get sticker and makes them harder to remove from the baking sheet.
Storing Leftovers
If you have any leftover sweet potatoes, here's how to store them:
REFRIGERATE – First let them cool completely. Then add them to an airtight container. They can be stored in the fridge for up to 4 days.
REHEAT – Roasted sweet potatoes can be reheated in the microwave for 1-2 minutes, cooked in a frying pan, or baked in the oven again.
Preheat the oven to 400°F. Place the sweet potatoes back onto a baking sheet and bake for about 10 minutes or so, until they are warmed through. You can broil them for a minute to help crispen them up if you'd like.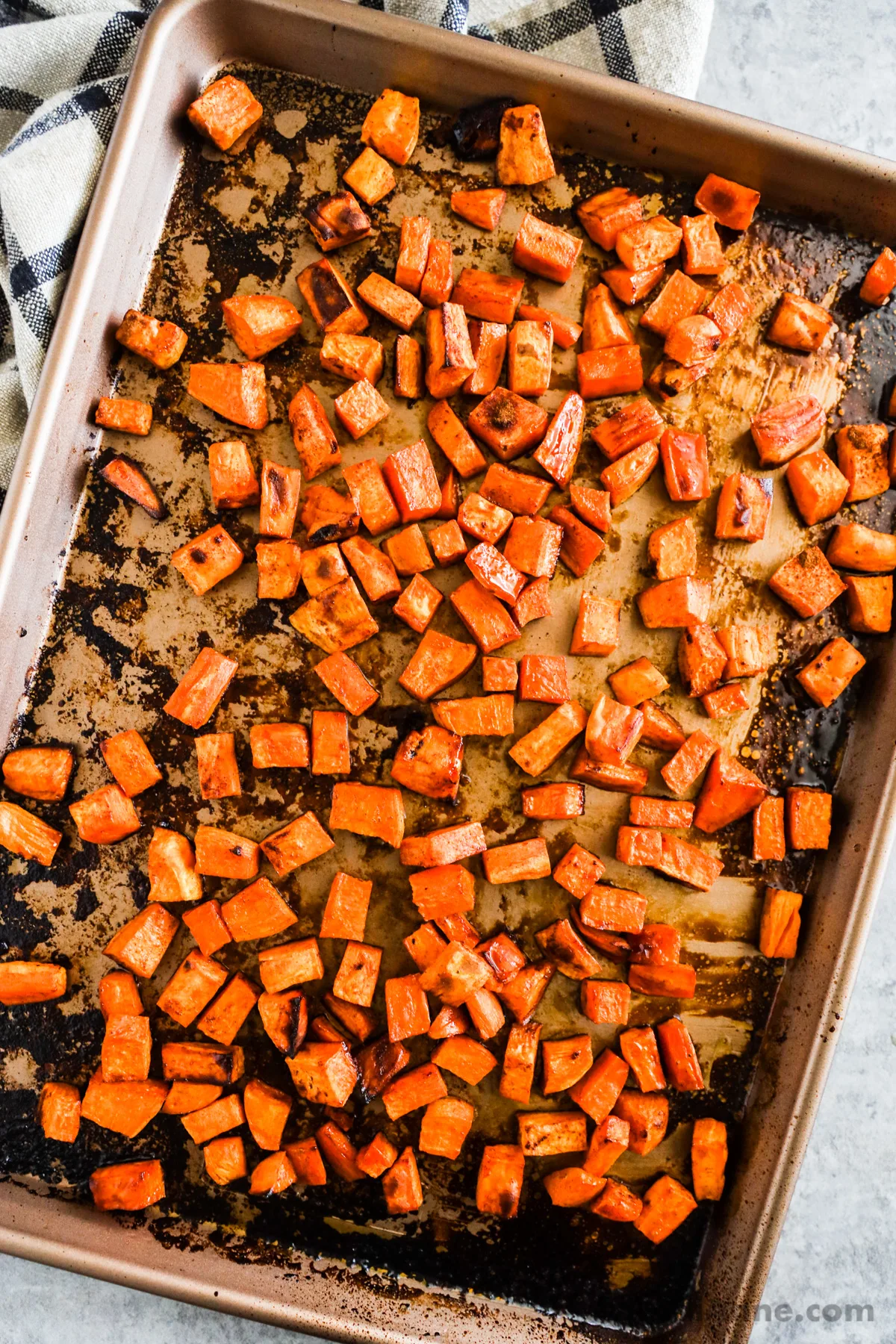 Recipe Tips
The honey will burn easily, so keep an eye on how they're roasting once you get to 35 minutes or so.
Scoop the sweet potatoes from the pan while they're hot. The honey is sticky and once they cool, the honey acts like glue making them stick to the baking pan.
Cook them until they're crispy and browning on the outside. This will give the best texture.
Drizzle fresh lemon juice, a sprinkle of cinnamon, or freshly grated parmesan for more flavor.
HOW TO CLEAN THE PAN
Any sauce with sugar can burn easily, and the honey from this one is no exception. If you're left with a sticky mess on the pan that you don't know how to get off, fear not because there is an easy way.
Simply add 1/2 cup of white vinegar along with hot water to the pan. Let this sit for 10 minutes. After that, you can gently scrape the sticky spots of with a plastic spatula. Vinegar and hot water can help get burn spots off of pots and pans too!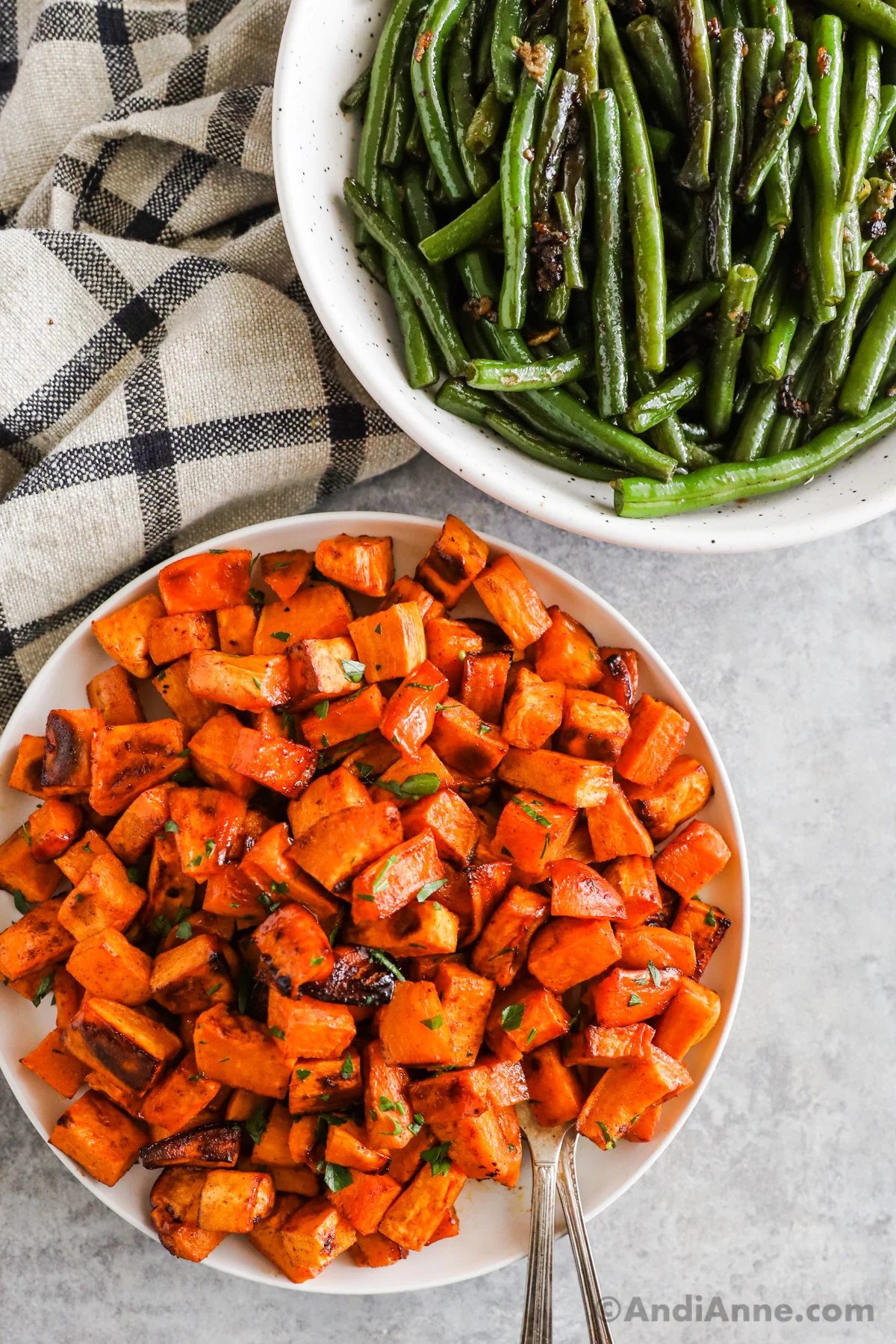 Can you soften sweet potatoes before roasting?
Yes, you can. This can shorten the roasting time. Sweet potatoes can be blanched in a pan with boiling water for a few minutes. This will soften them up quickly.
Alternatively, you can microwave the chopped sweet potatoes for a few minutes until they are soft when poked with a fork. Stop the microwave and check every minute or so until you've reached the desired tenderness.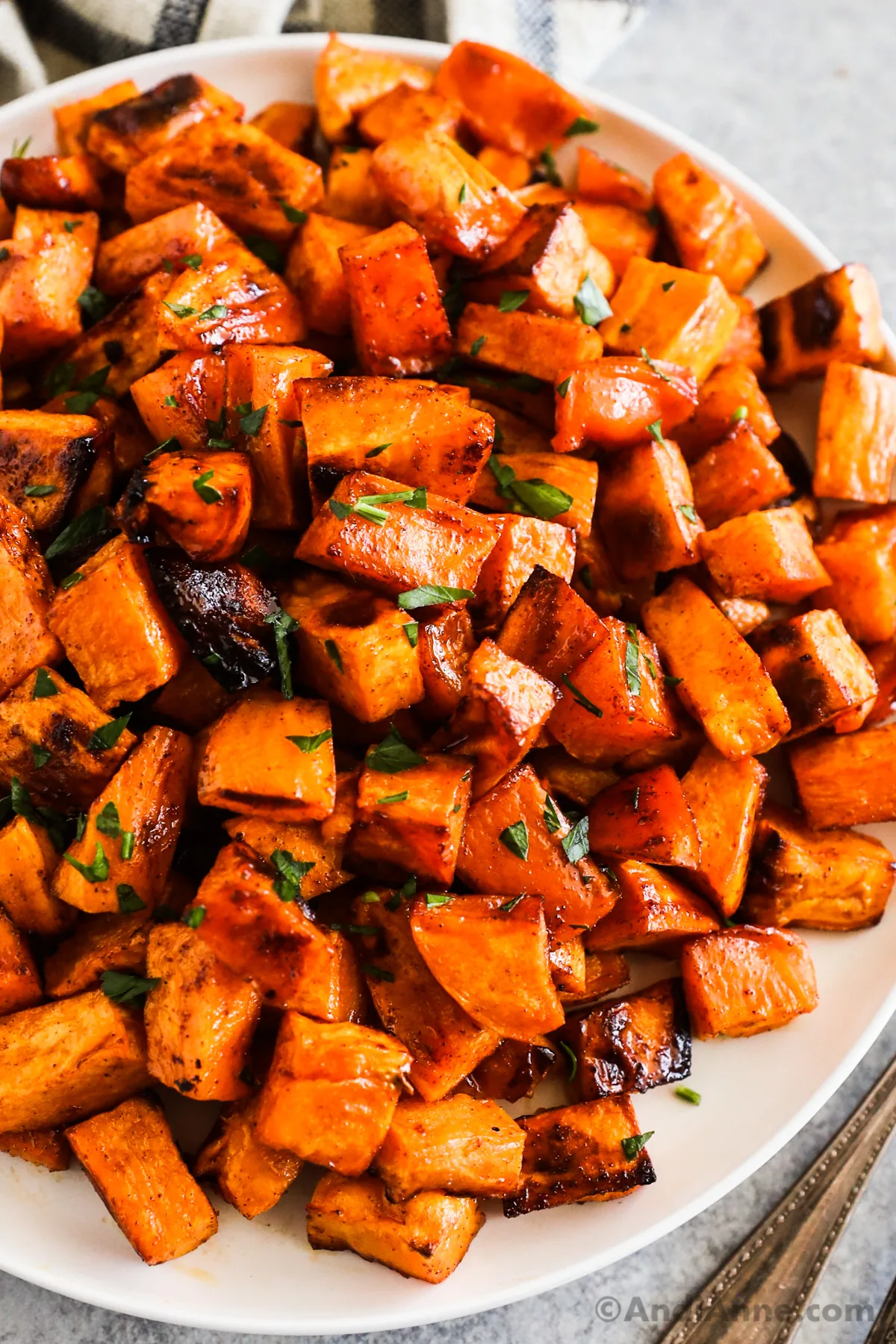 Honey cinnamon roasted sweet potatoes are an easy way to add fresh flavors to this classic side dish. Cinnamon adds a wonderful flavor that compliments the sweet potato beautifully.
Serve these at your next holiday dinner for a healthy addition to your turkey, chicken, beef or ham main.
For more easy side dish recipes you can try my garlic parmesan roasted carrots, baked parmesan green beans, stuffing muffins, quinoa salad, plant-based mashed potatoes, orange zest cranberry sauce, or crispy rosemary garlic potatoes. Yum!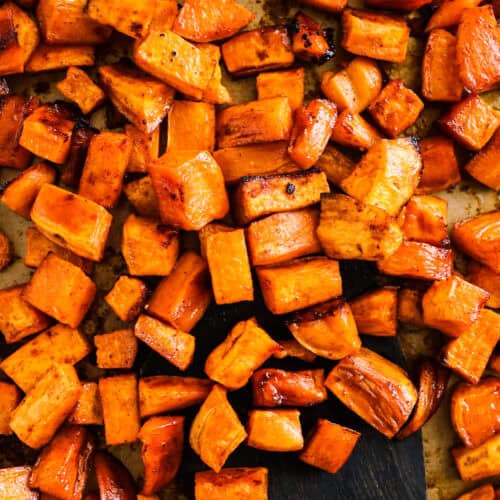 Honey Roasted Sweet Potato
Chopped sweet potatoes are tossed a honey cinnamon sauce and roasted in the oven until they're crispy and tender.
Save Recipe!
Saved!
Pin This
Print It
Ingredients
Instructions
Preheat oven to 425℉. Line a baking sheet with parchment paper or spray with nonstick cooking spray. Set aside.

Wash, peel and chop the sweet potatoes into small 1-inch cubes.

In a small bowl, mix together the lemon juice, honey, melted butter, olive oil, and ½ tsp of cinnamon.

Add the chopped sweet potatoes to a large bowl and drizzle the sauce overtop. Toss everything together until it's evenly coated.

Spread the sweet potatoes onto the prepared baking sheet in a single layer so that they are not touching. Sprinkle with the salt and last ½ tsp of cinnamon.

Bake for 38-40 minutes, flipping halfway through with a spatula. Cook until the edges are crispy and turn golden brown. Scoop onto a serving plate and enjoy!
Nutrition
Calories:
261
kcal
|
Carbohydrates:
55
g
|
Protein:
4
g
|
Fat:
4
g
|
Saturated Fat:
1
g
|
Polyunsaturated Fat:
0.4
g
|
Monounsaturated Fat:
3
g
|
Cholesterol:
1
mg
|
Sodium:
409
mg
|
Potassium:
714
mg
|
Fiber:
6
g
|
Sugar:
22
g
|
Vitamin A:
28318
IU
|
Vitamin C:
13
mg
|
Calcium:
76
mg
|
Iron:
1
mg