Green beans with parmesan are sure to be a crowd-pleaser at any meal. The combination of tender fresh green beans is mixed with roasted garlic, savory parmesan cheese, and crispy bread crumbs. The result is a dish that is both crispy and tender, with a rich, cheesy flavor that will leave you wanting more. This recipe can also be made using yellow beans.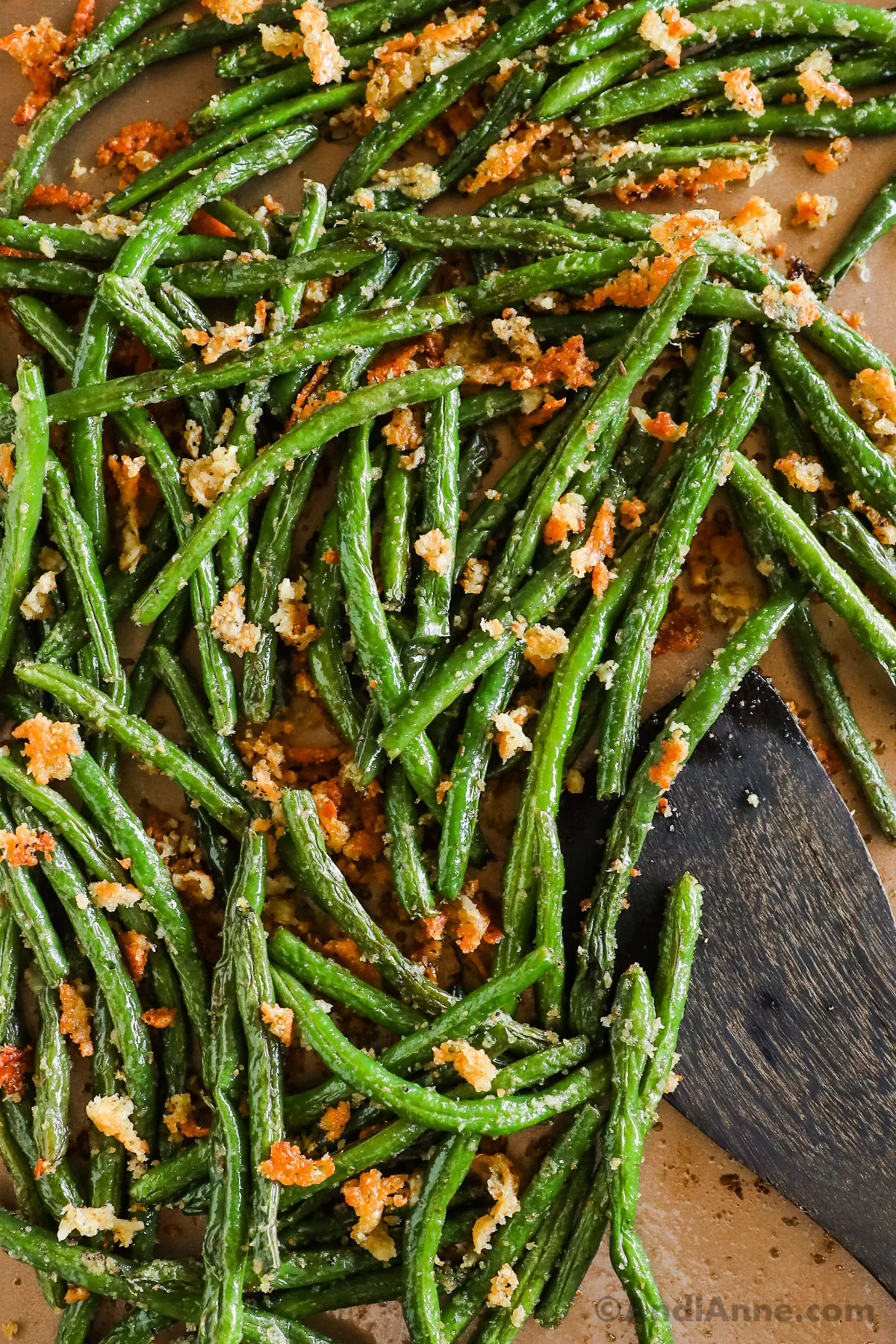 Parmesan Roasted Green Beans Recipe
Roasting green beans is a simple and delicious way to enjoy this nutritious vegetable. The roasting process brings out the natural sweetness of the beans and gives them a satisfying crunch.
This recipe is so versatile and can be served with a variety of main dishes!
Roasting green beans with parmesan is a simple and tasty way to prepare them.
Parmesan cheese adds a savory, nutty flavor to green beans.
Bread crumbs are tossed with melted parmesan to create the perfect crunchy pieces.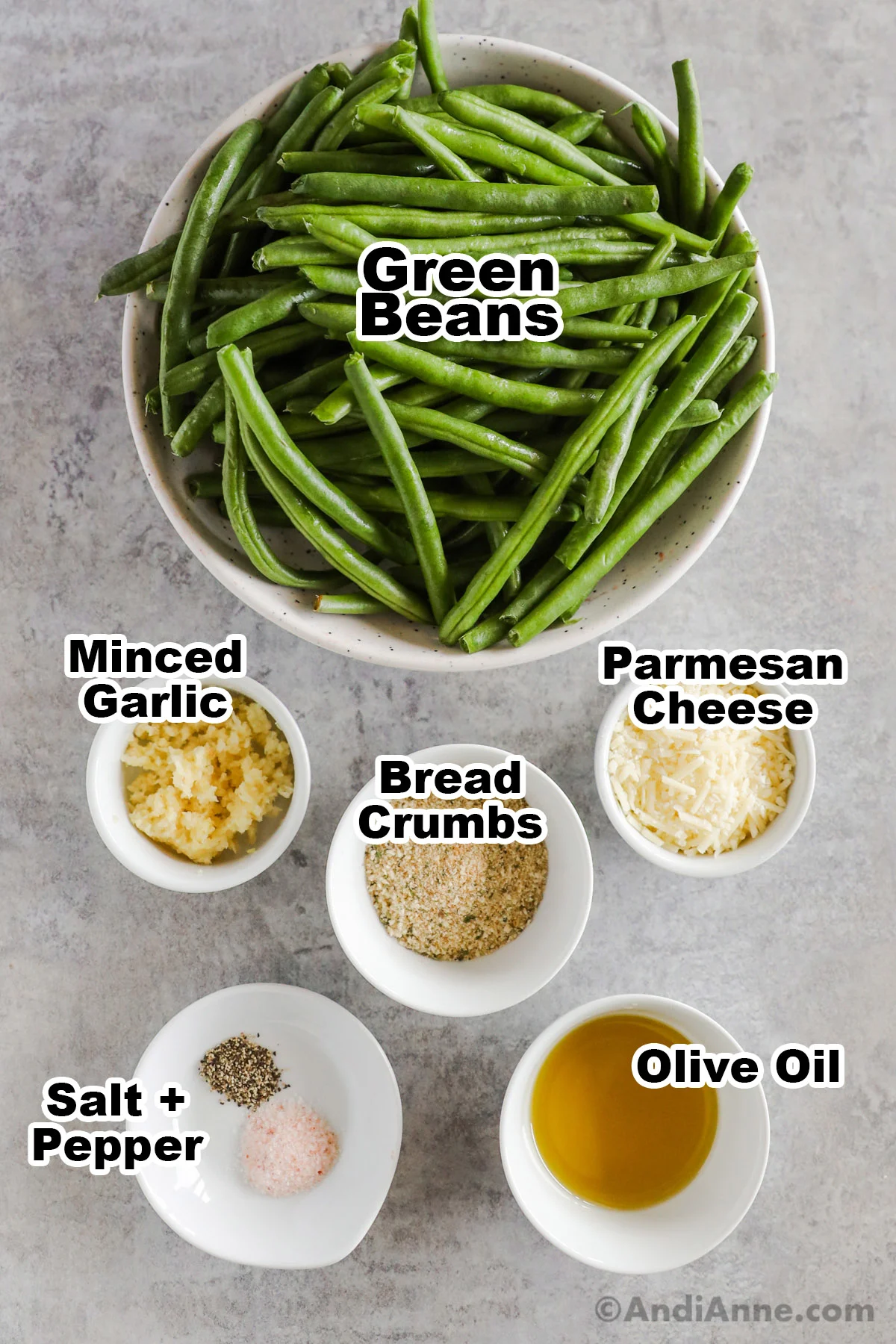 Recipe Ingredients
With just a few simple ingredients you'll have a delicious side dish on the table that compliments almost any meal. Here's what you'll need with full ingredients list in the recipe card at the bottom of this post.
FRESH GREEN BEANS – Look for firm, bright french green beans with no signs of yellowing or wilting. You can substitute with frozen green beans if fresh ones are not available.
SHREDDED PARMESAN CHEESE – Parmesan melts and mixes with the bread crumbs to create the perfect crunchy pieces. You can also use grated pecorino romano or asiago cheese if you prefer.
GARLIC CLOVES – Fresh minced garlic adds delicious flavor. You can substitute garlic powder if fresh garlic is not available.
OLIVE OIL – This oil is used to coat the beans and helps to crisp them up in the oven. You can substitute with avocado oil, coconut oil, or vegetable oil if preferred.
BREAD CRUMBS – These are used to add a crunchy texture to the recipe. You can use seasoned or unseasoned bread crumbs depending on your preference. Panko crumbs will work too!
SALT – This is used to season and bring out the natural flavors of the green beans.
BLACK PEPPER – Fresh ground black pepper adds a subtle heat and depth of flavor.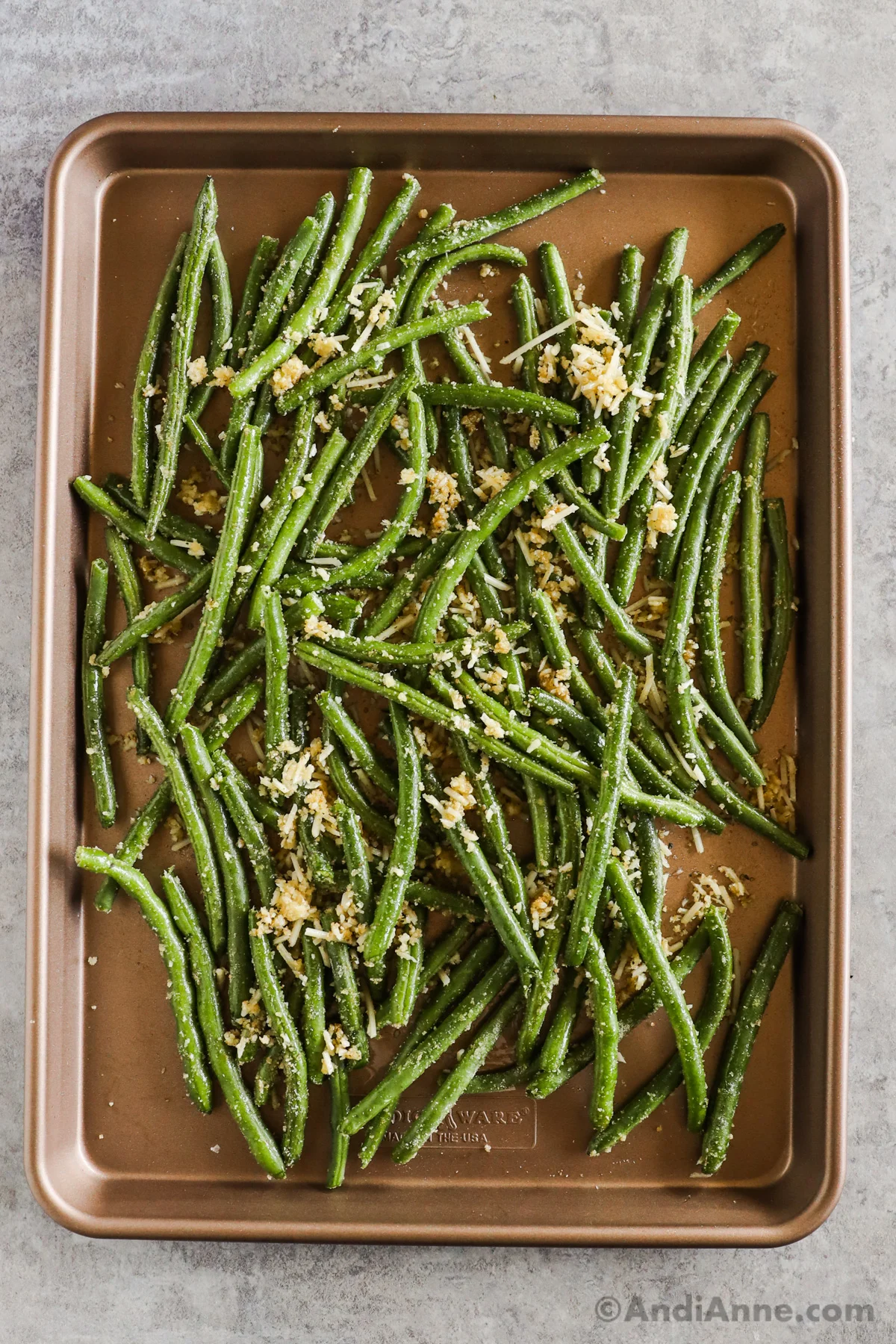 How To Make Green Beans With Parmesan
Roasting parmesan green beans is an easy and delicious way to add some flavor to your meal. Here's an overview of how to make it with the full instructions in the recipe card at the bottom of this post:
PREPARE THE GREEN BEANS – Rinse the green beans under cold water and trim the ends. Pat them dry with a paper towel.
MIX INGREDIENTS – Toss all the ingredients together in the bowl with the green beans. Spread them out on a parchment lined baking sheet.
ROAST THE GREEN BEANS – Preheat the oven to 400°F (200°C). Roast the green beans in the oven for 10-15 minutes, or until they are tender and slightly browned. Toss them halfway through.
SERVE AND ENJOY – Remove the green beans from the oven and transfer them to a serving dish. Sprinkle with more parmesan cheese and a drizzle of lemon juice if desired and serve immediately.
Can You Cook This Recipe In Frying Pan Instead?
Yes! If you're looking for a variation on this classic dish, try sautéing your garlic green beans recipe instead.
Toss all the ingredients together then simply heat a skillet over medium-high heat, and add your green beans and sauté until they are tender-crisp, about 6-9 minutes.
Sprinkle with more grated parmesan cheese and continue cooking until the cheese is melted and bubbly. This quick and easy side dish recipe is perfect for busy weeknights or when you need to whip up something delicious in a hurry.
How To Store Leftovers
Here are some tips to store them if you have leftovers:
REFRIGERATE – Place your leftover cooked green beans in an airtight container and store them in the refrigerator for up to 4 days.
FREEZE – If you want to keep the green beans for longer, you can freeze them for up to 6 months. To freeze, simply place them in a large plastic ziploc bag or airtight container. When you're ready to eat, simply thaw them in the refrigerator overnight or microwave them on the defrost setting.
REHEATING – To reheat this side dish, you can either microwave or bake them in the oven. If microwaving, cover the container with a damp paper towel. This will add moisture while heating and help to prevent them from drying out. If baking, preheat the oven to 350°F and bake for 10-15 minutes or until heated through.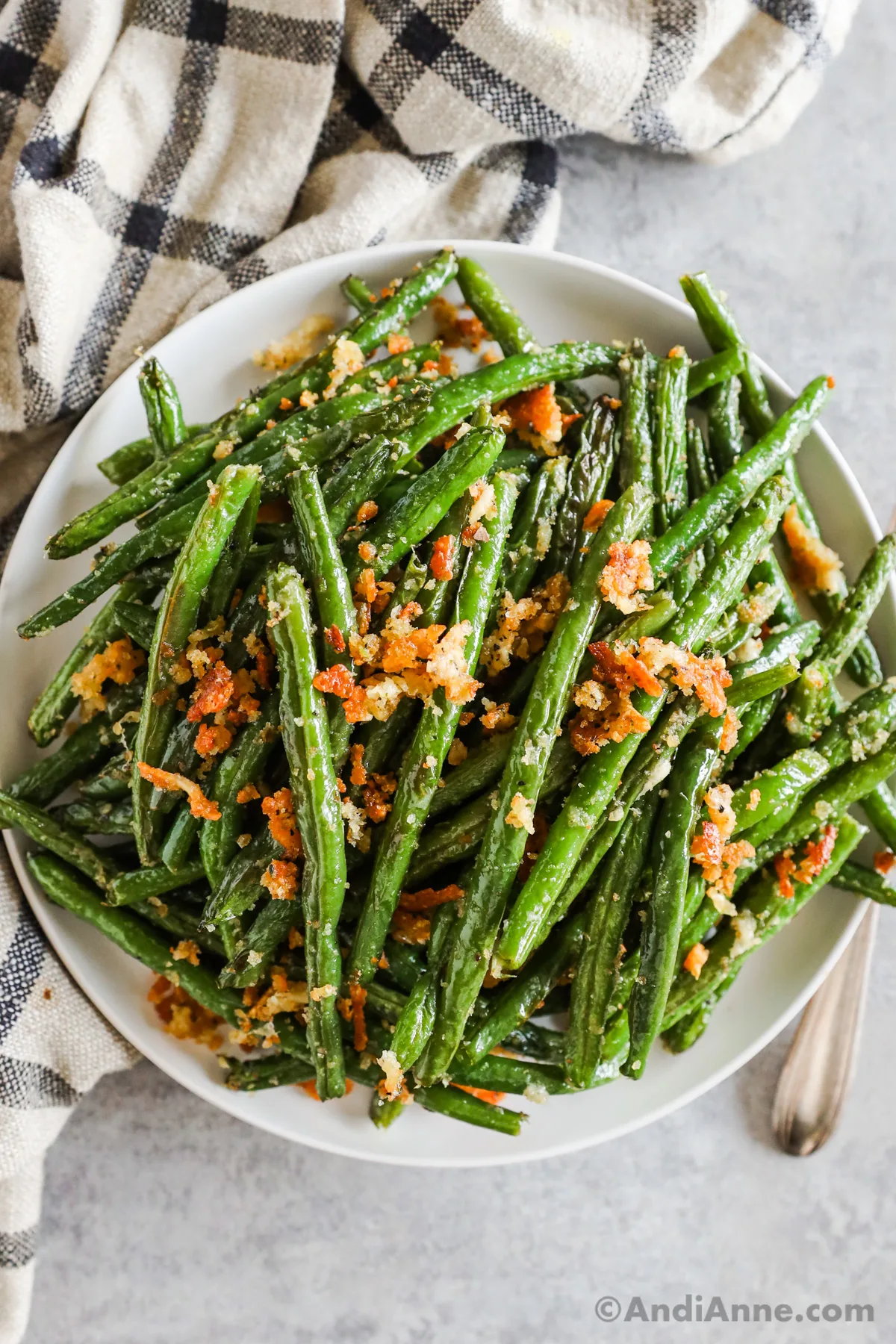 Recipe Tips
Here are some recipe tips to help you make the best parmesan roasted garlic green beans recipe:
FRESH GREEN BEANS – Use fresh green beans for the best results. Fresh green beans are more tender and flavorful than frozen beans. Buy green beans that are bright green, firm, and snap easily when bent.
TRIM THE ENDS – Trim the ends of the green beans before roasting. This will make them easier to eat and ensure that they cook evenly.
SPREAD THEM OUT – Spread them out on the baking sheet in a single layer so that they all roast evenly. If the beans are too crowded, they will steam instead of roast, and won't get nice and crispy.
ADD MORE SEASONING – If you like your green beans extra flavorful, try adding more seasoning. You can add more garlic powder, sea salt, and black pepper to taste.
USE FRESH PARMESAN – Use freshly grated parmesan cheese for the best flavor. Avoid the jarred parmesan because it just won't taste the same.
SERVE IMMEDIATELY – Serve the green beans immediately after roasting. They're best when served hot and crispy. If you let them sit too long, they'll lose some crunchiness.
Frequently Asked Questions
Can I roast frozen green beans?
Yes, but I recommend thawing them first. The ingredients won't stick to frozen green beans. That means there won't be much flavor. It's best to thaw them under cold water in a strainer and pat them dry with a paper towel first.
Can I use canned green beans?
Yes you can, however the flavor won't be the same. The texture of the beans will be softer and not very crispy. But the recipe will still work.
What are some other ways to add flavor to green beans?
Green beans are a versatile vegetable that can be seasoned in many ways. Some of the most popular seasonings for green beans include garlic, lemon, rosemary, and thyme. You can also add some heat to your green beans by adding red pepper flakes or cayenne pepper. If you prefer a sweeter flavor, try adding honey or brown sugar.
Can I add bacon to the recipe?
Yes! Cook the bacon in a pan until it is crispy, then crumble it and sprinkle it over cooked green beans just before serving. The bacon will add a salty and savory crunch.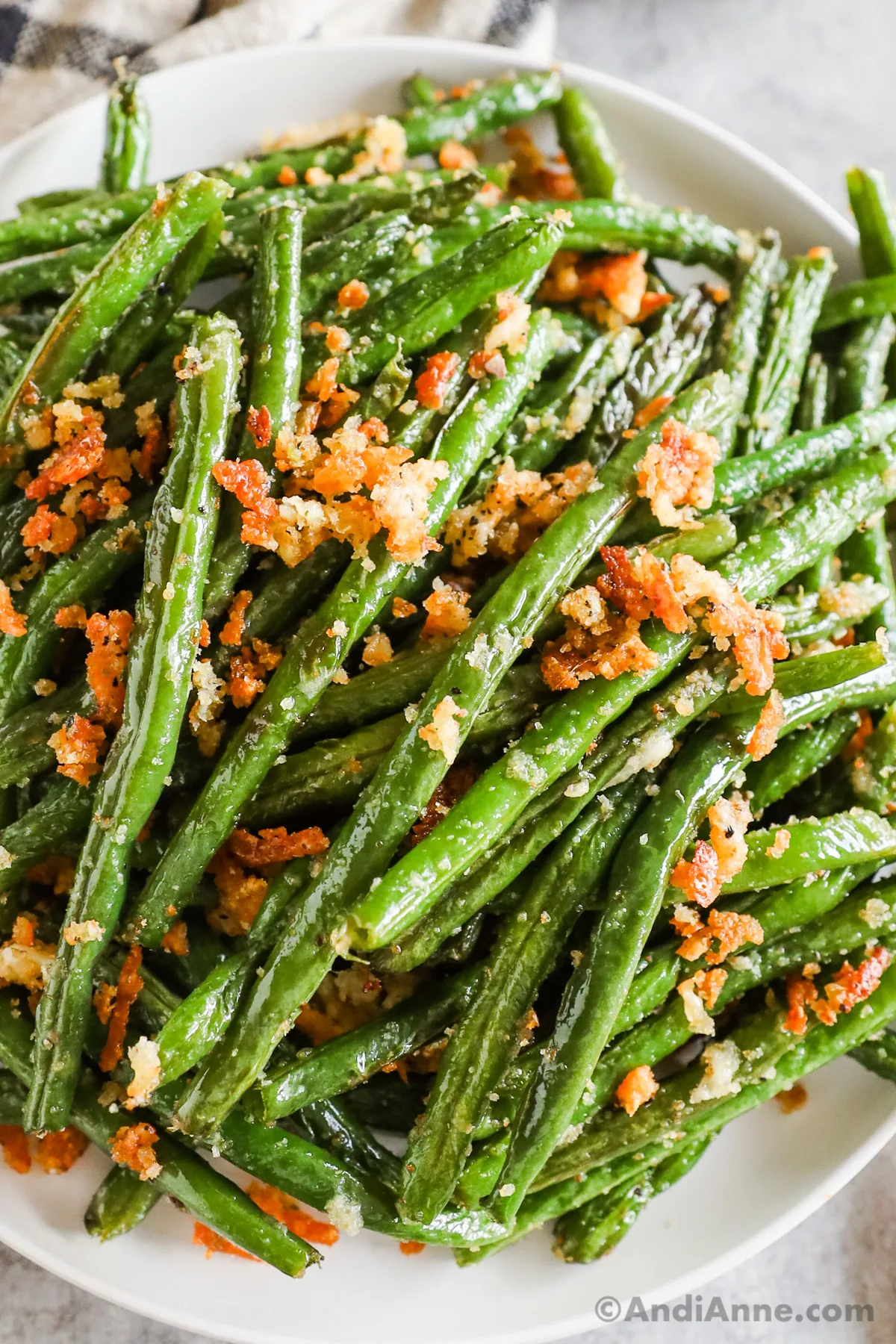 Whether you are looking for a quick weeknight side dish or a special holiday recipe, green beans with parmesan are perfect for any occasion.
So go ahead, grab some fresh green beans and parmesan cheese, and give this easy recipe a try. You won't be disappointed!
More Side Dish Recipes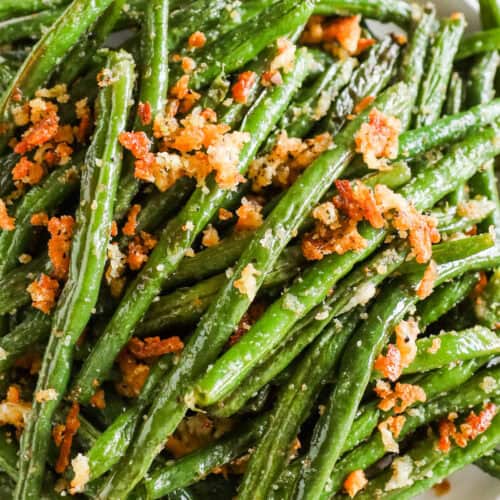 Garlic Parmesan Green Beans
A combination of tender fresh green beans is mixed with roasted garlic, savory parmesan cheese, and crispy bread crumbs.
Save Recipe!
Saved!
Pin This
Print It
Ingredients
Instructions
Preheat oven to 400℉. Line a baking sheet with parchment or foil. Or spray with nonstick cooking spray.

Add green beans, parmesan cheese, minced garlic cloves, olive oil, bread crumbs, salt and pepper to a large bowl. Toss everything together.

Spread onto a baking sheet in a single layer. Bake for 15-20 minutes, flipping them halfway through. Cook until edges are crispy and golden brown.

Add to serving plate, serve and enjoy. If desired you can sprinkle on more fresh grated parmesan cheese and a drizzle of lemon juice.
Recipe Notes:
The cheese and bread crumbs will get crispy and clump together as everything bakes. It tastes delicious!
Spread the beans out into a single layer so they cook more crispy. Flip the green beans halfway through using a spatula.
Nutrition
Calories:
150
kcal
|
Carbohydrates:
14
g
|
Protein:
5
g
|
Fat:
9
g
|
Saturated Fat:
2
g
|
Polyunsaturated Fat:
1
g
|
Monounsaturated Fat:
6
g
|
Cholesterol:
5
mg
|
Sodium:
444
mg
|
Potassium:
280
mg
|
Fiber:
3
g
|
Sugar:
4
g
|
Vitamin A:
838
IU
|
Vitamin C:
15
mg
|
Calcium:
115
mg
|
Iron:
2
mg