Roasted Parmesan Chickpeas
Disclosure: This post may contain affiliate links.
Roasted parmesan chickpeas can be made at home with this very easy method. They can be used as a snack, added to soups, salads, wraps, and more.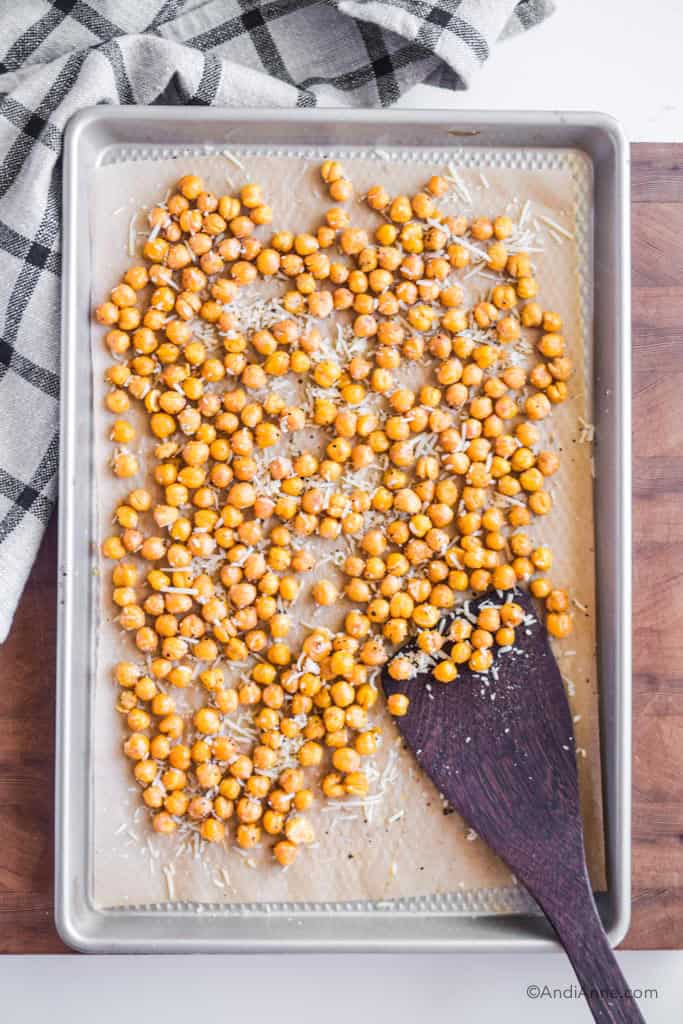 Roasted Parmesan Chickpeas
Roasted parmesan chickpeas are an easy snack that the whole family can enjoy. They're healthy, nutritious, and incredibly easy to make.
I love to roast chickpeas and use them in my soup! It's a great way to add protein and fiber and avoid using refined flours from traditional crackers and bread. Chickpeas are high in fiber and a good source of protein, iron, magnesium, and phosphorus. They help to promote satiety, weight loss, and blood sugar regulation. Not only are they nutritious, but they're also very satisfying (all thanks to the protein).
So whether you eat these roasted parmesan chickpeas as a snack, or sprinkle them on top of a soup or salad to add a bit of crunch, you'll love how great they taste.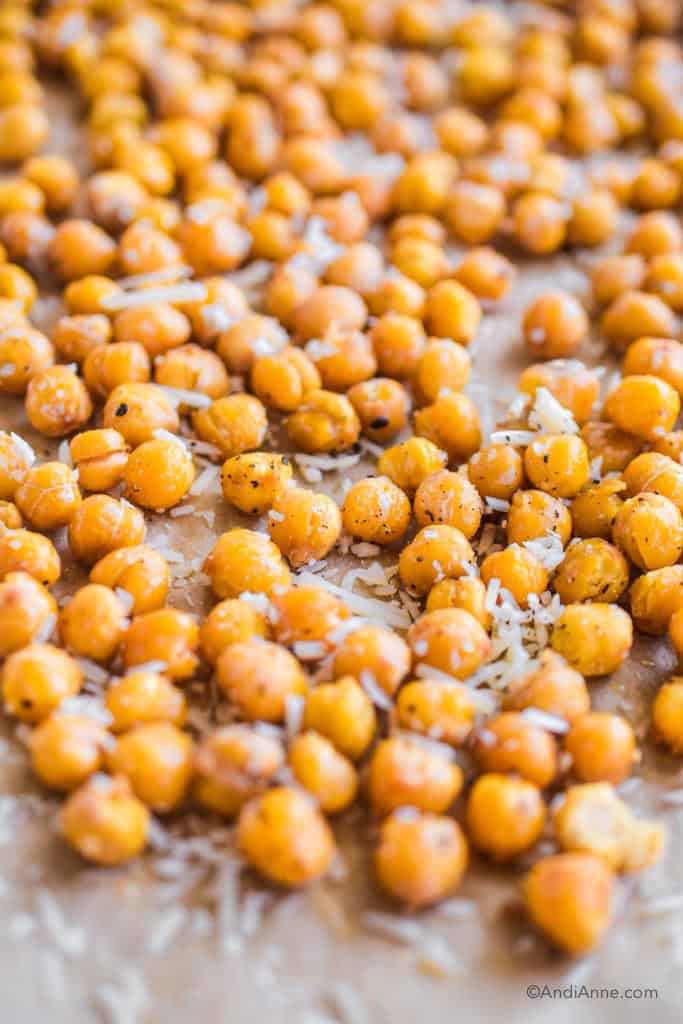 Roasted Chickpeas Ingredients
You only need a few simple ingredients to make this easy snack:
Canned Chickpeas – Using canned chickpeas makes this process a breeze. They're budget-friendly too!
Cooking Oil – I drizzled olive oil overtop of my chickpeas. You can use any type of cooking oil you have at home.
Salt and Pepper – These chickpeas are seasoned simply with salt and pepper.
Pamesan Cheese – I highly recommend using freshly grated parmesan cheese versus the packaged stuff you'll find in the food aisle. Fresh parmesan cheese is one of the easiest ways to create incredible flavor in a recipe.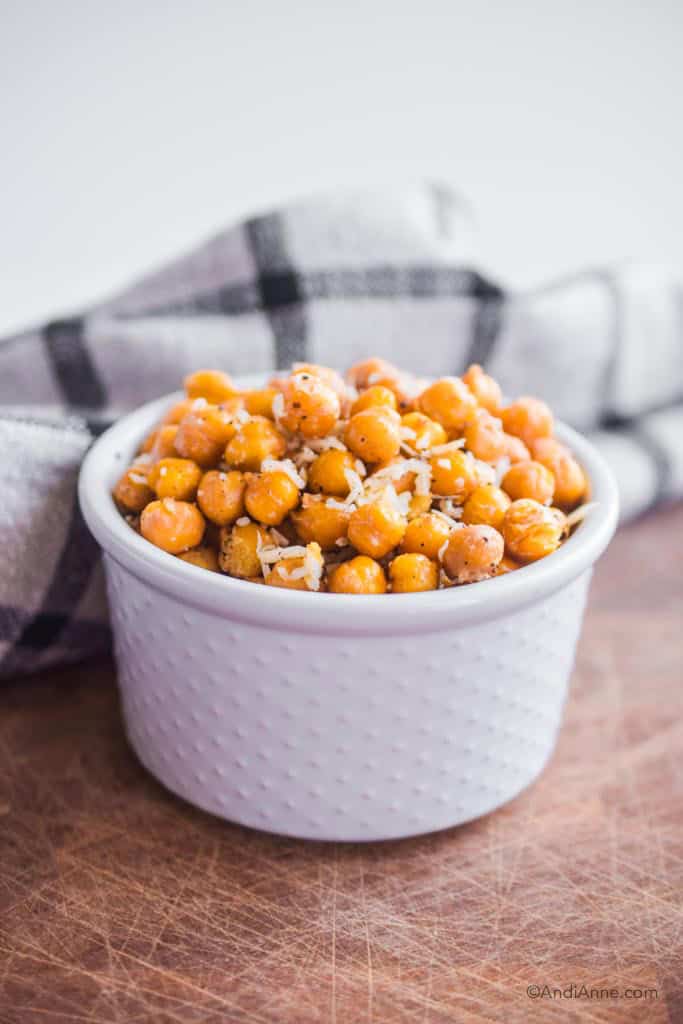 How To Make Roasted Chickpeas
Add the canned chickpeas to a strainer. Drain out all juices from the can, then rinse the chickpeas under cold water.
Add the chickpeas to a clean dry dish towel, and pat them dry as much as possible. During this process, the chickpea shells might start to release. Remove as many shells as you can and discard them.
Add chickpeas to a baking sheet lined with parchment paper and roast at 400°F for 20 minutes, flipping half way.
Remove chickpeas from the oven and season with more salt and pepper. Sprinkle freshly grated parmesan cheese on top while they're still hot.
What Can You Use Roasted Chickpeas For?
Once you make these roasted chickpeas you can use them for any recipe that needs a bit of crunch. Some common ways to use it are in: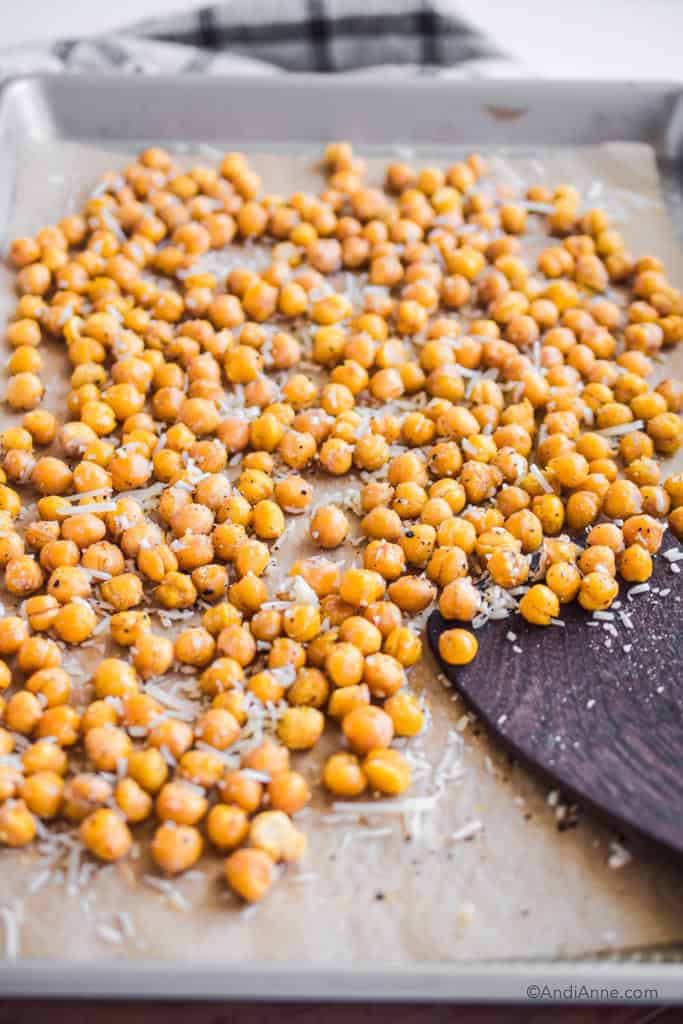 More Recipes You Can Make With Chickpeas
I'm a big fan of using both chickpeas and chickpea flour in a variety of recipes. Here are a few favorites: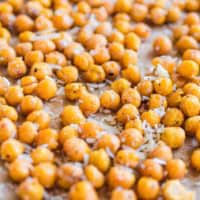 Roasted Chickpeas
Roasted parmesan chickpeas can be made at home with this very easy method. They can be used as a snack, added to soups, salads, wraps, and more.
Print
Pin Recipe
Instructions
Preheat oven to 400°F. Line a baking sheet with parchment paper and set aside.

Pour the canned chickpeas into a strainer. Rinse and drain them.

Pat the chickpeas dry with a cotton dish towel, removing as much moisture as possible. Discard any shells that come off chickpeas during the process.

Add chickpeas to a baking sheet and toss with oil and sea salt and ground pepper. Bake for 20 minutes, flipping chickpeas at the 10-minute mark to allow for even cooking.

Remove from oven and season with more sea salt and ground pepper, and grated parmesan cheese immediately while still hot. Serve while still warm or save for later in an airtight container in the fridge.
Recipe Notes:
Note: Roasted chickpeas are best eaten right away. They don't keep their crispiness without re-baking. However, I add leftover roasted chickpeas to my soup lunches all the time. They're a great added protein source.
Storage Tips: I prefer to store my roasted chickpeas in the fridge. You can add them to an airtight container for up to one week. Chickpeas can be eaten cold, reheated in the microwave, or added to the oven or air fryer to help them crisp up again.
Nutrition
Calories:
48
kcal
|
Carbohydrates:
1
g
|
Protein:
1
g
|
Fat:
5
g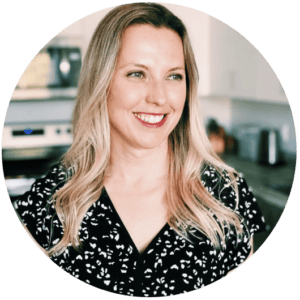 About Andi Anne
Welcome to Andi Anne! Here we focus on simple recipes that are easy to follow with lots of images to guide you along the way! We've created over 500 recipes for you to explore and try out in your own kitchen.