These lemon brownies are chewy and fudgy with a zesty citrus taste. Topped with a lemon glaze for the perfect decadent treat. Otherwise known as Lemon Blondies, these delightful squares are quite easily one of my favorite dessert bars.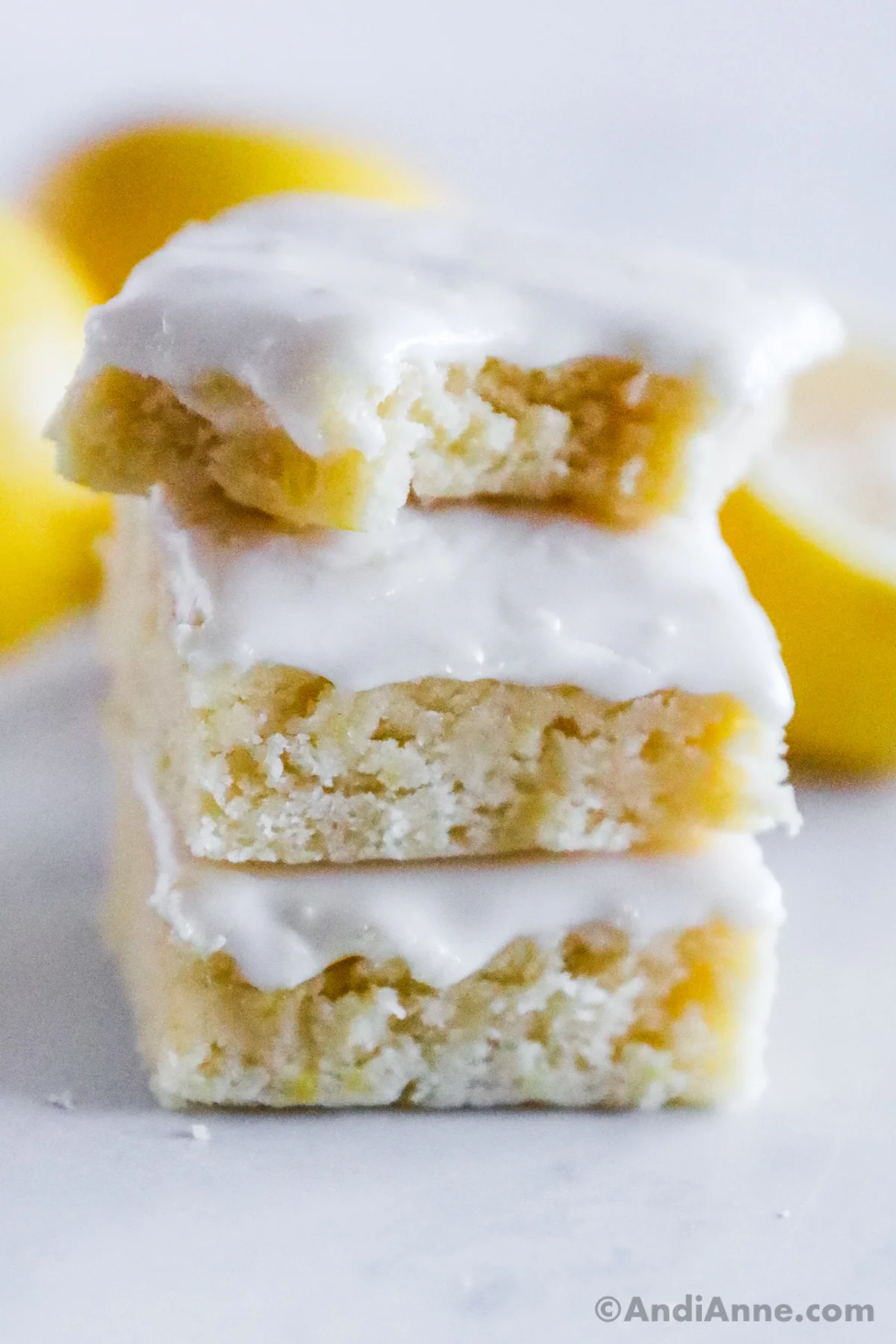 Lemon Dessert
We're big fans of brownies from our easy brownies without eggs to our edible brownie batter. But this recipe replaces traditional chocolate flavor with the tangy zest of fresh lemons.
CITRUS FLAVOR – If your family loves the taste of lemons, they're certainly going to love this one! Fresh lemons and lemon extract give the perfect citrus flavor. Be sure to try our classic lemon coconut squares too!
INEXPENSIVE – The list of ingredients is cheap, and you probably already have most of them in your fridge and pantry.
When life gives you lemons…make this recipe! On their own, lemons can be too sour to enjoy. But with a little love and some sweet ingredients, you'll be stocking up on them next time you're at the supermarket.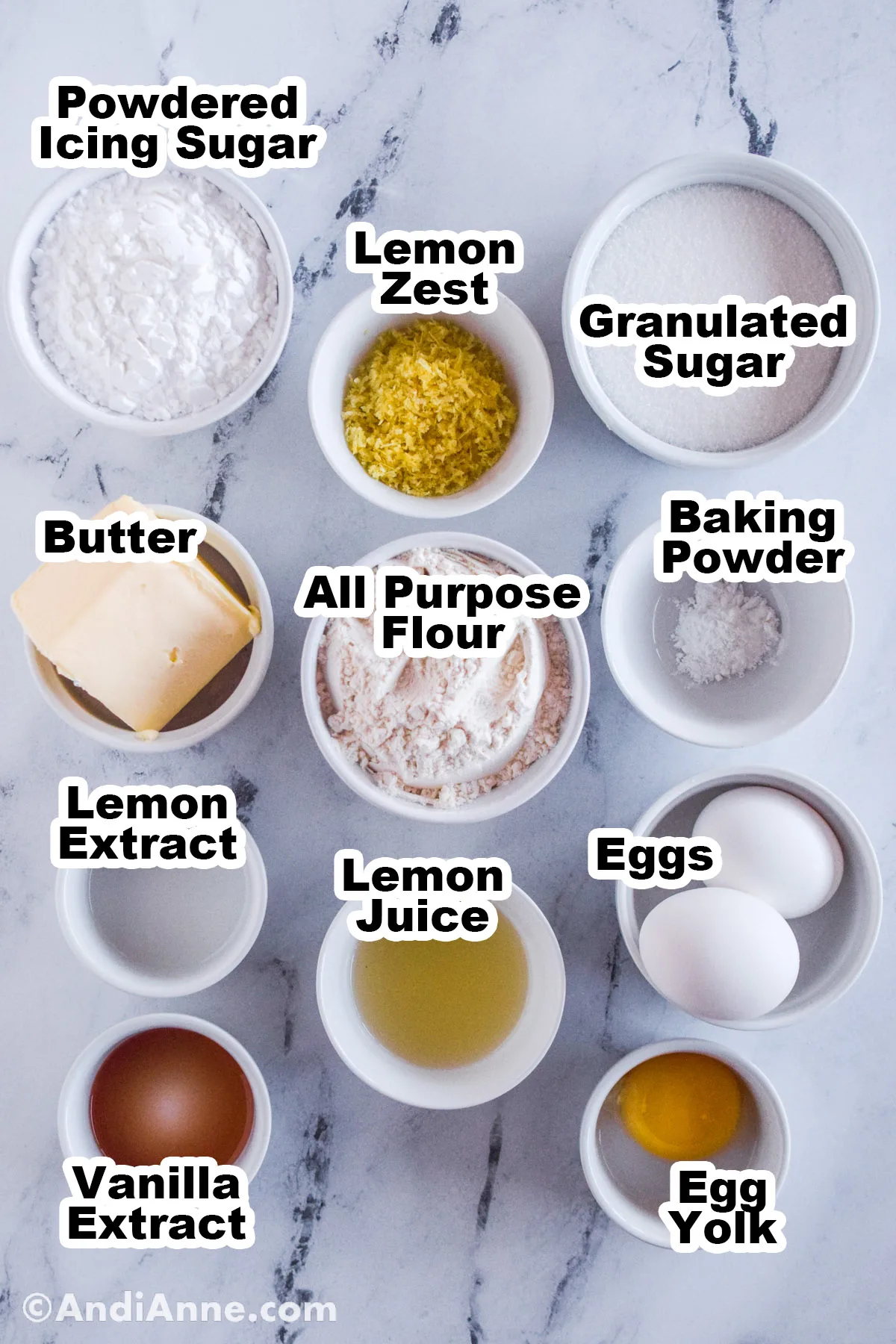 Recipe Ingredients
Fresh lemon is the key to this tangy treat. Make sure you have enough for both the juice and the zest. Here's an overview with full ingredient details in the recipe card at the bottom of this post.
FRESH LEMON – This recipe uses 1 lemon, zested and juiced.
LEMON EXTRACT – Lemon extract will enhance the citrus flavor perfectly.
GRANULATED SUGAR – You'll need this to reach a sweetness level that will offset the sourness from the lemon.
ALL PURPOSE FLOUR – 1 cup of all-purpose flour is the base of the recipe.
CONFECTIONERS SUGAR – Confectioners sugar will create the perfect glaze that's drizzled on top of the baked lemon brownies.
UNSALTED BUTTER – This should be softened and room temperature. Salted butter can also work, just omit the ¼ tsp measurement of actual salt.
LARGE EGGS – The eggs will add structure and create a more tender result.
VANILLA EXTRACT – This will add a warm, floral flavor to the dessert.
BAKING POWDER – The small amount of baking powder will allow the batter to rise ever so slightly but maintain that dense velvety smooth texture associated with brownies.
SALT – Not much salt is needed, however it will help with the overall flavor.
Pro Tip: If you are absolutely crazy about lemons, you can add more zest to the batter and the icing glaze.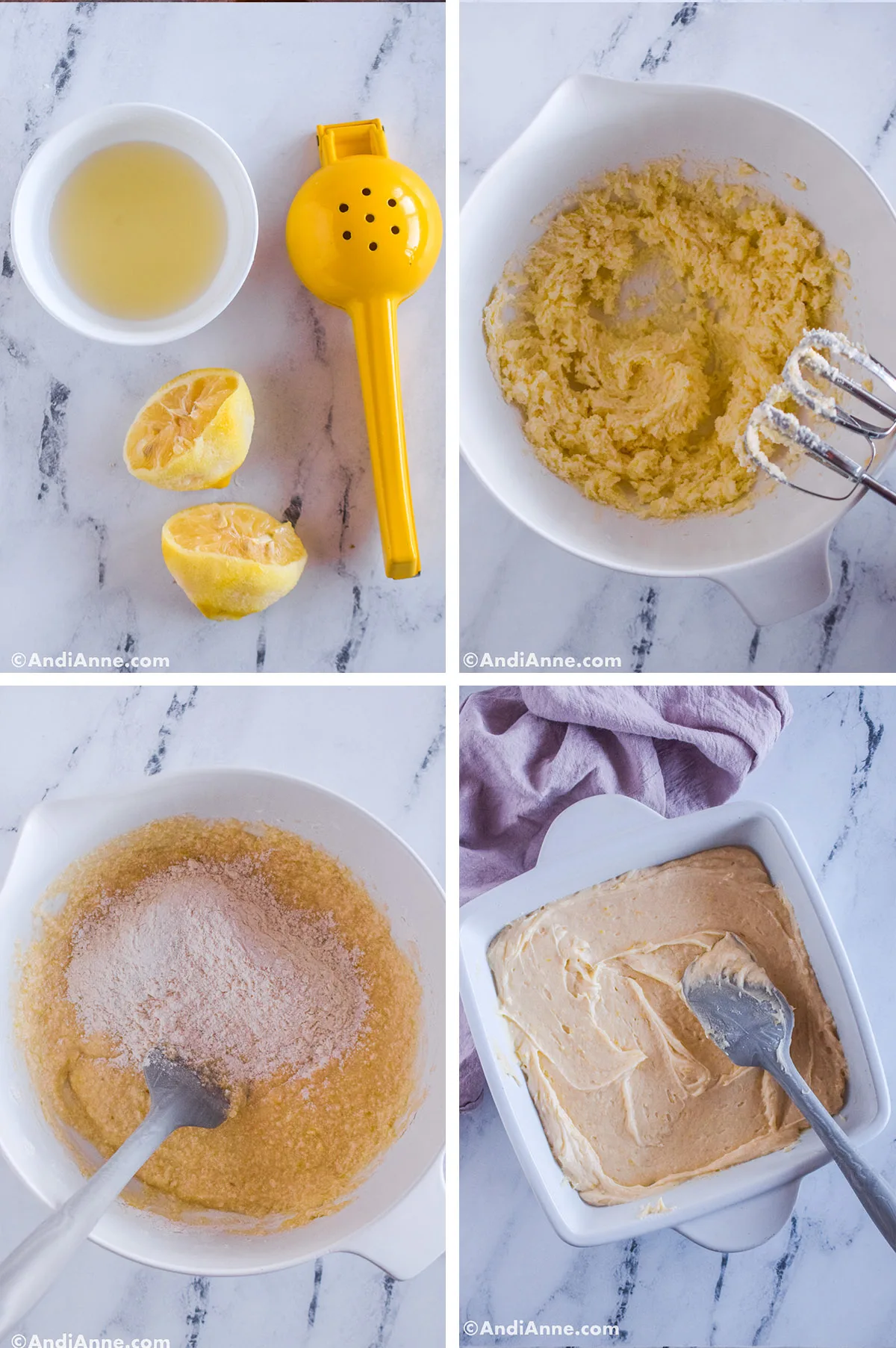 How To Make Lemon Brownies
Here's a quick overview with full instructions in the recipe card at the bottom of this post.
PREP – Preheat the oven to 350°F and line a 9×9 baking dish with parchment paper. You can grease the pan if you don't have a liner or if you prefer this method.
LEMONS – Zest the peel from two lemons and juice the rest into a small bowl. Pull any seeds that found their way in.
WET INGREDIENTS – In a large bowl cream together the softened butter, brown sugar, and lemon zest with an electric mixer. Next, add the eggs and the egg yolk one at a time. Continue mixing while adding the vanilla and lemon extract.
DRY INGREDIENTS – Using a medium mixing bowl, whisk together the flour and baking powder.
ASSEMBLE – Now, using only half of the dry ingredients, pour into the wet ingredients and mix until incorporated. Repeat this with the second half of the dry ingredients.
BAKE – Pour batter into the prepared baking pan and place on the middle rack in the oven to bake for 22-25 minutes. Remove from pan by pulling up with parchment paper. Let cool completely before adding glaze.
GLAZE – Prepare the glaze by adding the powdered icing sugar, lemon juice, lemon zest and lemon extract to a bowl and mix well. Once brownies are completely cooled, spread glaze over the top with a spatula, slice into squares, and enjoy!
Pro Tip: Be sure to sift the flour before measuring. Or spoon small amounts of flour in until you have reached the required amount. Don't forget to level and you'll achieve perfect brownies!
How To Store
You can make this recipe well in advance of needing it. Just follow the recommendations below.
REFRIGERATE – This recipe will store in the fridge and maintain freshness for up 4 days. Just be sure to use a re-sealable container.
FREEZE – If you are going to freeze, it's best to do so before adding the glaze. Also, try freezing before cutting into slices as this will preserve the moist and chewy brownie texture.
Fun Fact: Lemon trees aren't seasonal, which means they will produce fruit all year long! The leaves from lemon trees are commonly used to make tea.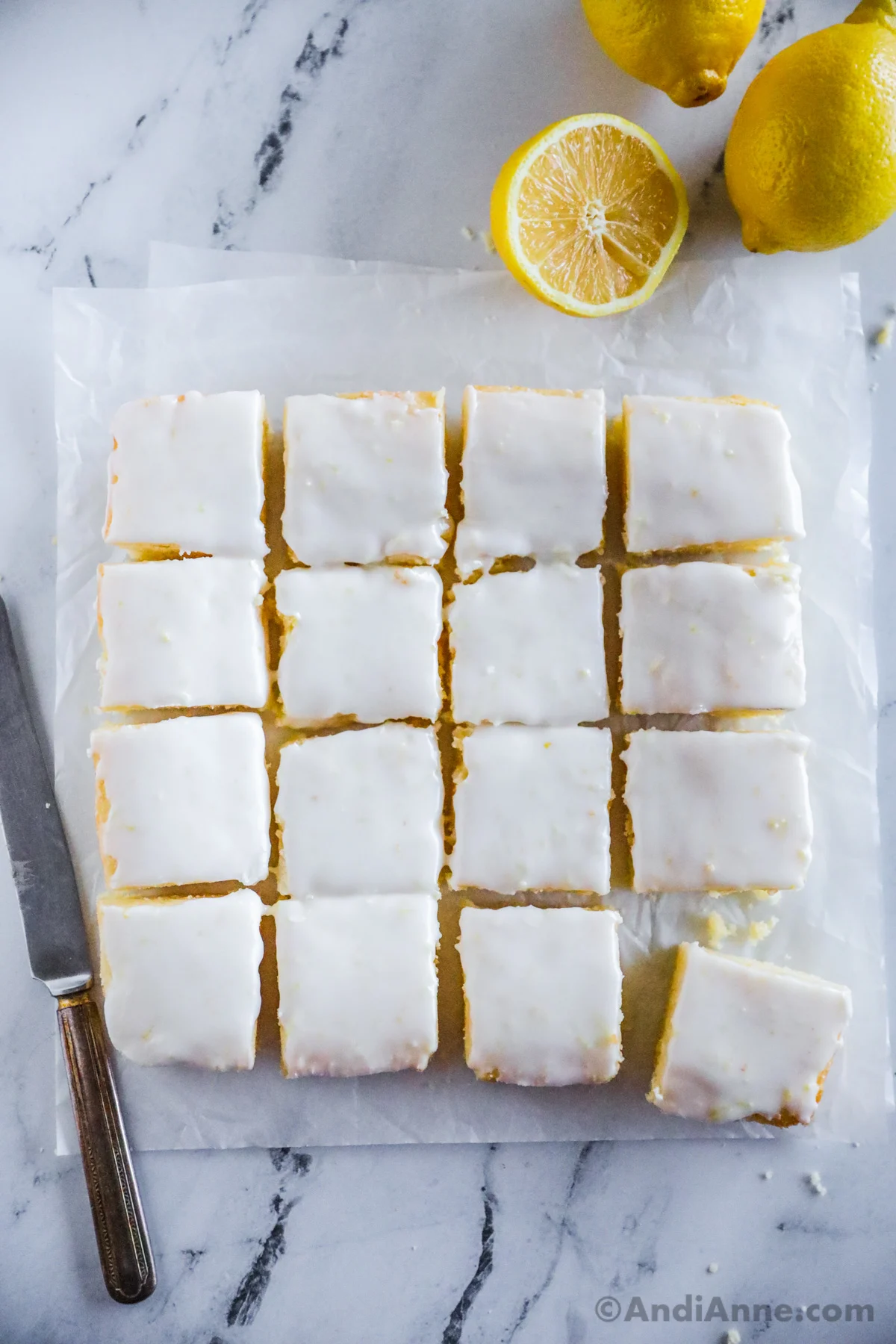 What To Serve With
A mid-afternoon snack, a follow-up to a delicious dinner, or simply to satisfy a sweet tooth. There are so many reasons to eat these delicious treats.
WITH TEA – Paired with lemon-infused tea.
FRESH FRUIT – Compliment the tart taste of these brownies with sliced strawberries or honeydew melon.
MILK – A glass of milk goes well with any dessert.
Brownie Tips
PLASTIC KNIFE – Use anything that is non-stick to slice brownies. Steel knives will sometimes tear the brownies and the moist center will almost always stick.
CHILL BEFORE SLICING – Chilled brownies will definitely slice better. In fact, chill overnight and slice in the morning for the perfect cut.
MIDDLE RACK OF OVEN – In an oven, the air circulates best right in the middle. For best results, place a rack in the middle position before pre-heating.
Common Questions
What if my lemon brownies are cooking in the middle?
This is because the brownies weren't cooked long enough. To test, poke a toothpick in the middle and it should come out almost clean.
Is it ok if brownies are gooey in the middle?
No, underbaked brownies are unsafe to eat. The internal temperature should reach 165°F with a thermometer.
How long do you let brownies cool in the pan before removing them?
Let the brownies cool for 10 minutes before pulling the parchment paper with the brownies out of the pan.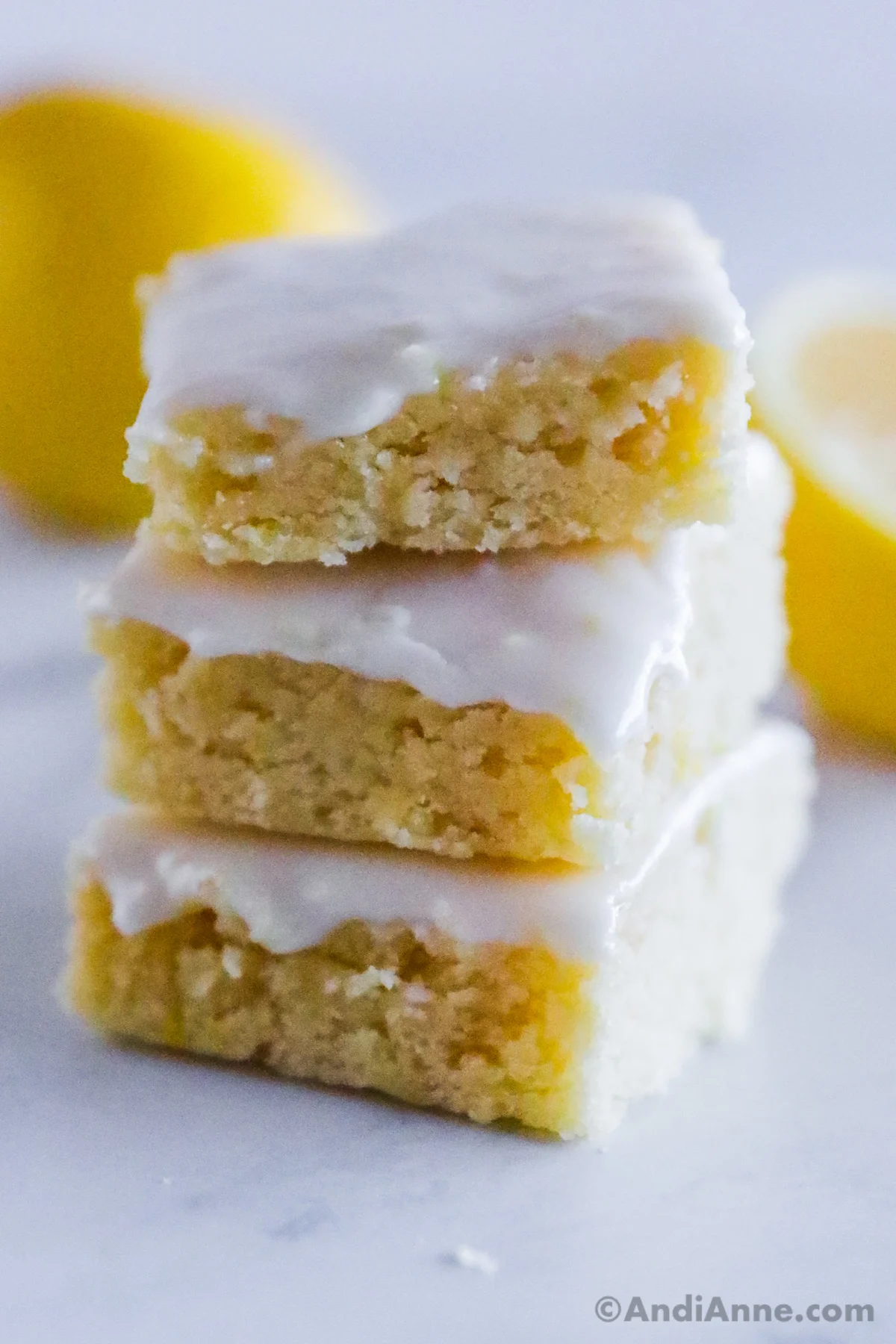 Brownie lovers everywhere are going to want to try this rendition of a classic dessert. Perfect as a springtime treat, easily stored and so very simple to make, these lemon brownies will be a new favorite.
More Recipes To Try
Try these other delicious square recipes that are perfect for parties, snacks, and gatherings of all kinds: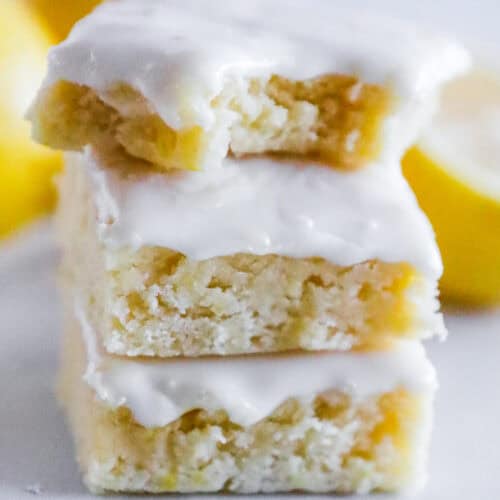 Lemon Brownies
These lemon brownies are chewy and fudgy with a zesty citrus taste. Topped with a lemon glaze for the perfect decadent treat.
Save Recipe!
Saved!
Pin This
Print It
Instructions
Zest the lemon peel of one lemon. Squeeze out the lemon juice as well.

Preheat the oven to 350°F. Line a 9"x9" baking dish with parchment paper.

Add the softened butter, brown sugar and lemon zest to a large bowl. Use an electric mixer to cream everything together.

Add in the eggs and yolk one at a time, mixing thoroughly before adding another.

Add in the vanilla extract and lemon extract and mix.

In a medium bowl, mix together the flour and baking powder.

Add half of the flour to the wet mixture and mix in.

Add the other half and mix in.

Pour the batter into the greased baking dish. Bake for 22-25 minutes. Let cool for 30 minutes before removing from pan. Transfer to a rack to cool completely.

Add the lemon glaze ingredients together in a small bowl. Mix everything together.

Spread overtop of the brownies with a spatula. Slice into squares, serve and enjoy.
Nutrition
Calories:
211
kcal
|
Carbohydrates:
31
g
|
Protein:
2
g
|
Fat:
9
g
|
Saturated Fat:
5
g
|
Polyunsaturated Fat:
1
g
|
Monounsaturated Fat:
2
g
|
Trans Fat:
0.3
g
|
Cholesterol:
64
mg
|
Sodium:
79
mg
|
Potassium:
32
mg
|
Fiber:
0.4
g
|
Sugar:
23
g
|
Vitamin A:
298
IU
|
Vitamin C:
3
mg
|
Calcium:
21
mg
|
Iron:
1
mg