Norwegian Lefse (Potato Flatbread)
Disclosure: This post may contain affiliate links.
Norwegian lefse is a traditional soft flatbread made using mashed potatoes and flour as the base. Milk, cream and salt are added to create a soft dough that's rolled thin and cooked on an electric griddle.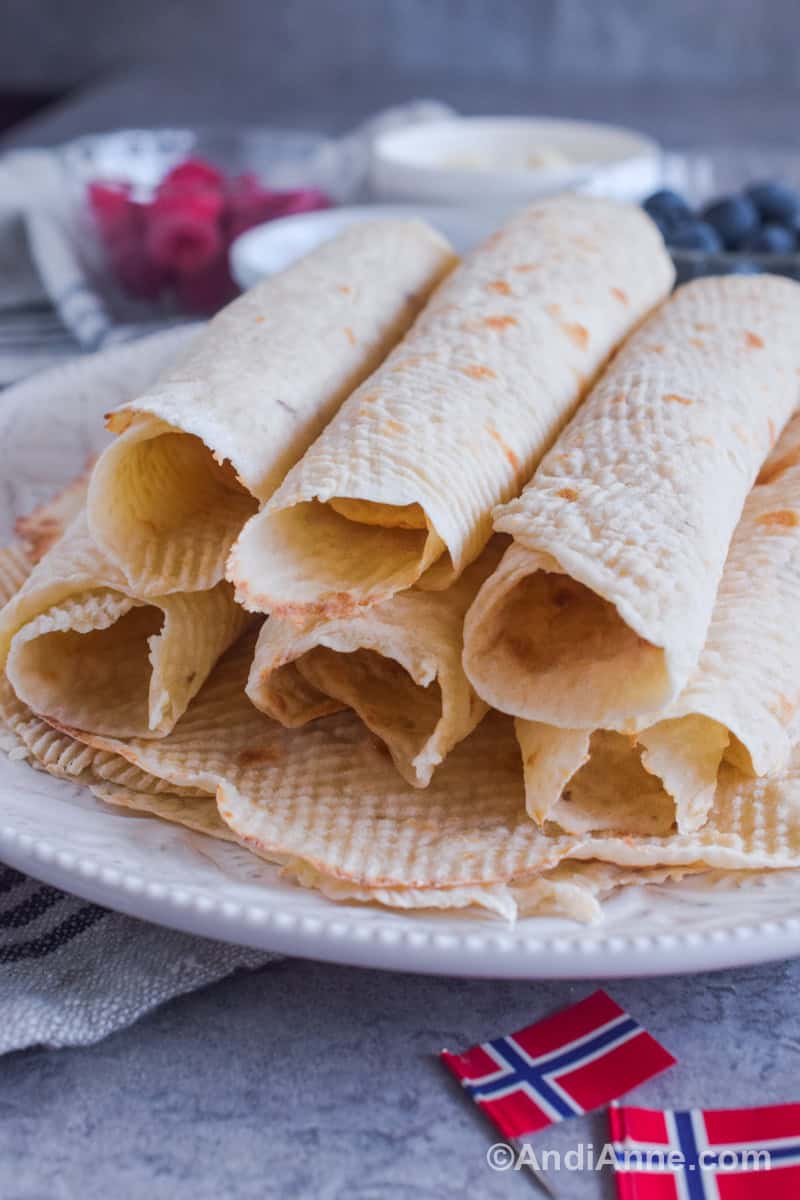 Norweigan Potato Flatbread
Lefse is a Norwegian potato flatbread that can vary on how to make it in different regions. For example, Tynnlefse is a very thin lefse from central Norway that's served with butter, cinnamon and sugar. Tjukklefse is served thicker with coffee. Some regions use potatoes and some don't.
Today's recipe is Potetlefse which is similar to tynnlefse but created with potatoes and flour (not just flour). Personally this my favorite way to make lefse. I've tried to create tynnlefse before (no potatoes) and have struggled to create a thin sheet because the gluten in the flour springs back on me. I find Potetlefse to be one of the easiest ways to make lefse, especially if you're a beginner!
The most common way to serve lefse is by spreading good quality butter and rolling it up. You can also add a sprinkle of sugar and cinnamon, your favorite jam flavor, peanut butter, cream cheese and smoked salmon, gjetost, lingonberries or gomme.
In Norway, lefse is often traditionally served with lutefisk and rolled together. Feel free to experiment with how you want to serve it. My favorite way to eat is with strawberry jam and a slice of jarlsberg cheese!
Lefse is usually prepared in two days. Day one includes mashing potatoes and mixing with heavy cream, butter and salt. This mixture is then chilled completely overnight.
Day two is when potatoes are mixed with flour to form lefse dough. The dough is rolled out into thin flatbread and then cooked! It usually takes 2-4 hours to cook all of the lefse so be prepared for a very full day! It helps to have two people make lefse together.
If you're in a pinch for time, you can buy pre-made Norsland lefse or Mrs Olson's Lefse which are already cooked and ready to eat.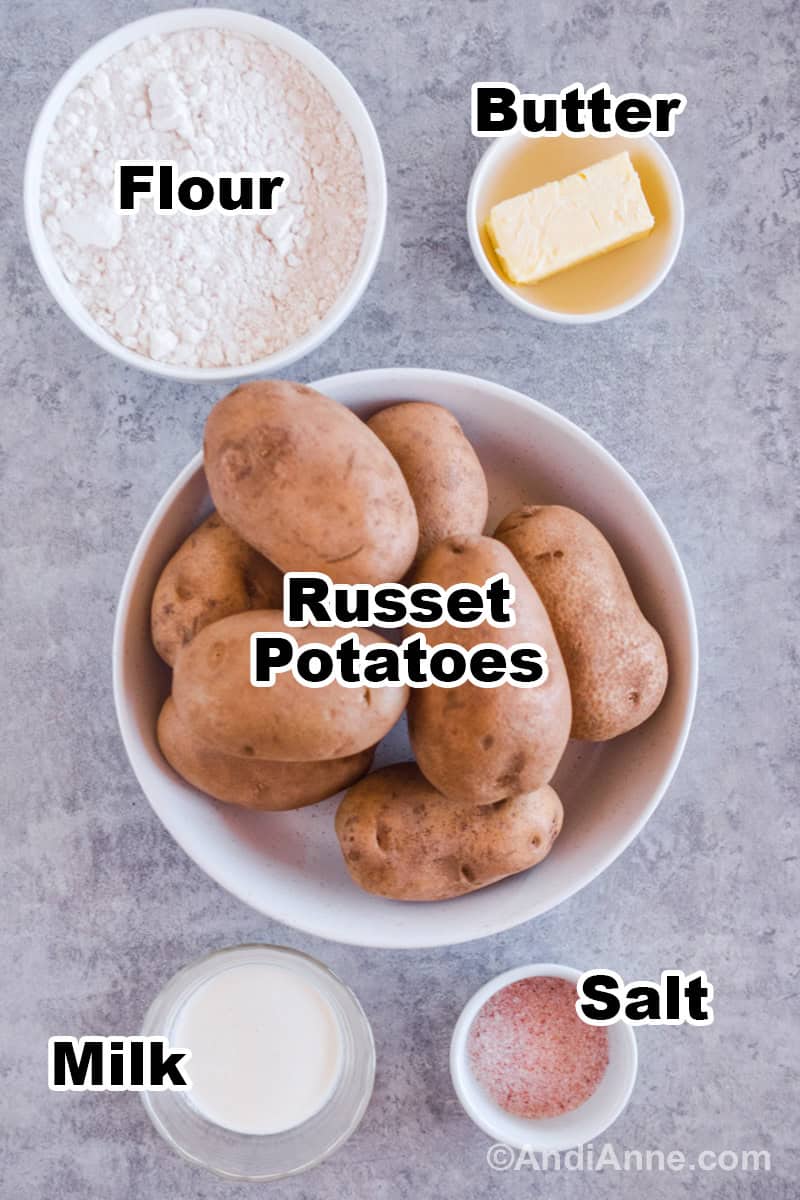 Recipe Ingredients
FLOUR + POTATOES: The base of lefse is made using mashed russet potatoes and flour. You'll need 5 cups of hot mashed potatoes. This is between 2-2½ pounds of raw potatoes. Two cups of flour is mixed in with the potatoes. I recommend using a good quality organic flour for best results.
OTHER INGREDIENTS: A combination of unsalted butter, heavy cream and salt are mixed in with the mashed potatoes before the flour is added. These are all important ingredients to creating the best lefse!
Equipment Needed
A lefse griddle kit is the perfect way to cook up traditional lefse throughout the year. In this kit you'll get the lefse grill (which I believe is essential), rolling pin, lefse stick, and pastry board. This kit is quality-made and used in many Scandinavian households. I was gifted this set from my Father-In-Law years ago and couldn't be happier with it. If you buy everything together in the lefse kit you'll also save money.
Below is a list of tools that come in the lefse kit (except for kitchen towels) and are used to make lefse.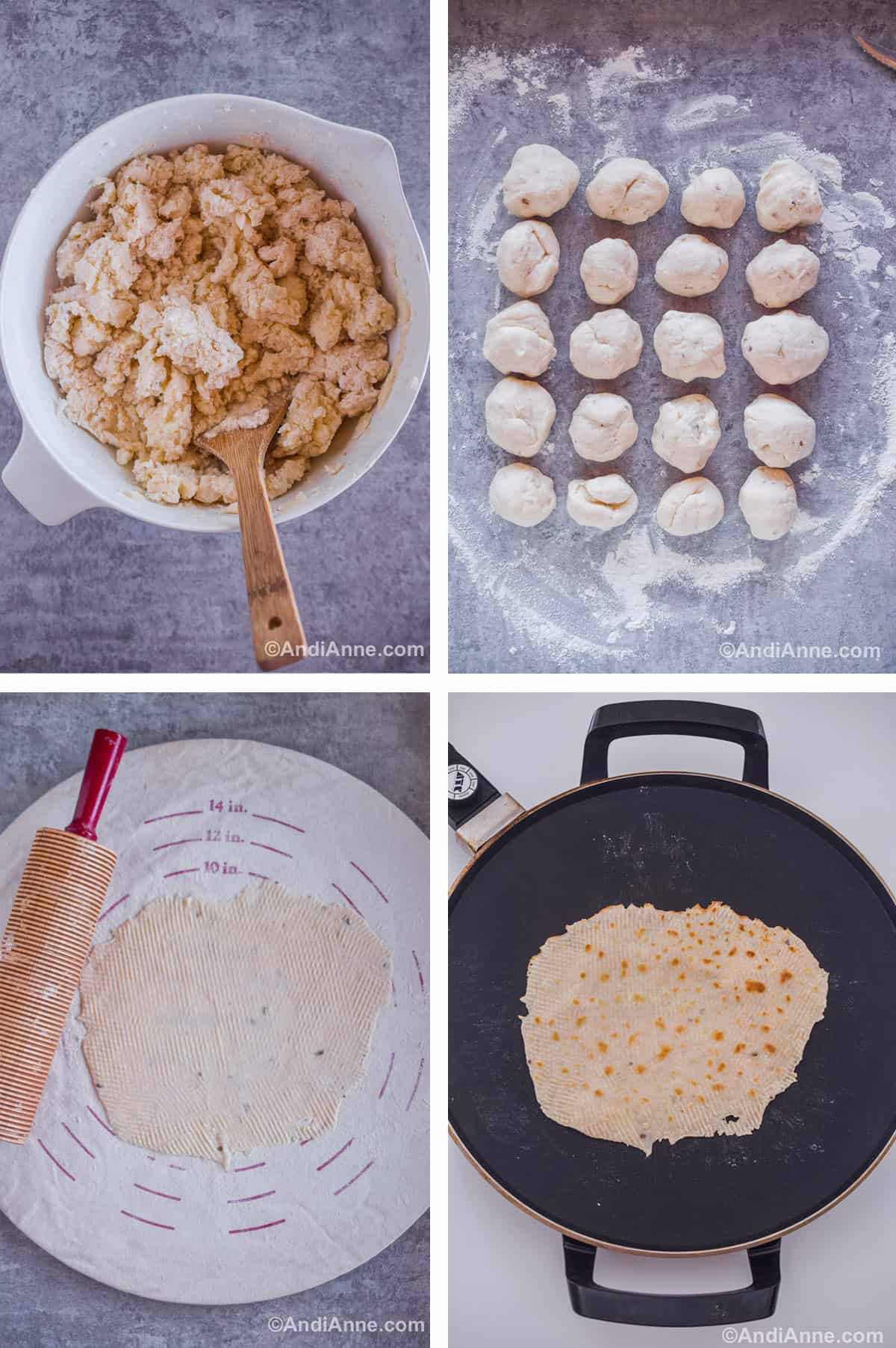 How To Make Lefse
Here's a quick overview (full instructions are in recipe card below):
On day one, cook the potatoes until tender. Drain them and mash them thoroughly.
Add 5 cups of mashed potatoes to a bowl with butter, cream and salt. Beat until smooth and creamy. Chill overnight.
On day two, add flour to chilled potato mixture. Knead until it forms a soft dough. Divide into 10-20 pieces.
Roll out one piece into a 10″ thin circle. Add flour when neccessary.
Cook on an electric griddle until each side forms brown speckles.
Repeat with the rest of the dough until all lefse is cooked. Store warm lefse under kitchen towels.
Lefse tastes best when served fresh and warm. Feel free to reheat in the microwave or warm in oven before serving.
Leftovers can be stored in an airtight container in the fridge up to 4-5 days. Lefse can also be frozen flat between wax paper or folded into thirds and stored in a freezer bag for up to 6 months (I prefer to eat by 3 months for maximum freshness).
Serve Lefse With
Lefse can be served in a variety of ways. Here are some ideas:
Spread on fresh salted butter and roll it up.
For a sweet treat spread butter and sprinkle cinnamon and brown sugar.
Add a drizzle of maple syrup or honey.
Add fruit jelly or jam or strawberry sauce.
Spread with cream cheese, smoked salmon and chopped green onions for a savory taste.
Add white cheese slices like jarlsberg and jam (my favorite way).
Spread peanut butter or sunflower seed butter.
Add slices of gjetost.
Eat with scrambled eggs.
Or add cottage cheese.
Add a dollop of whipped cream or whipped coconut cream.
Or serve with lutefisk like many people in Norway do.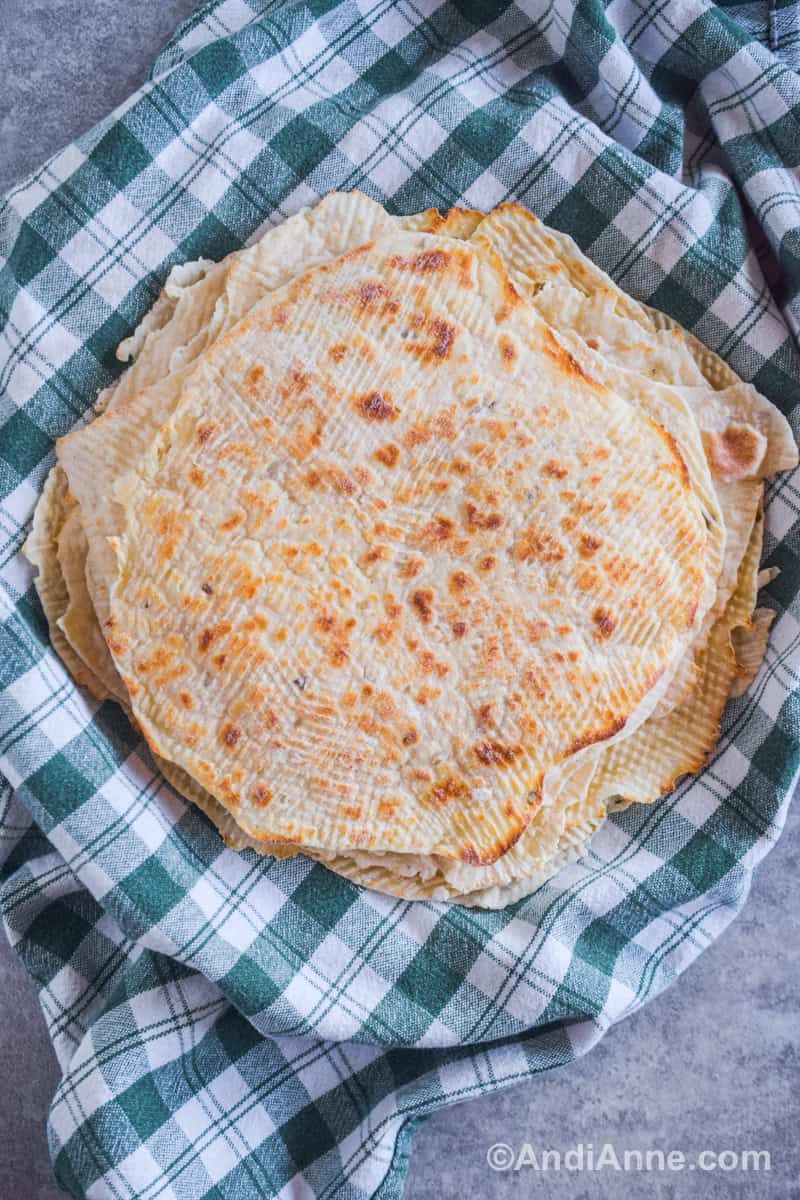 Recipe Tips
Mash the potatoes without any ingredients. This is an important step to be able to measure out the exact amount of mashed potatoes needed for the recipe. Make sure there are no potato lumps!
Chill mashed potato mixture overnight. Five cups of mashed potatoes are mixed with cream, butter and salt. This is chilled in the fridge overnight. It is important the potatoes are very cold before adding the flour. If you skip this step, you won't get the right lefse consistently.
Divide the dough into 10 or 20 pieces depending on how large you want lefse to be. I divided my lefse into 20 dough ball pieces. This smaller size is the perfect snack size. However, it can be a very long process to cook it all. Feel free to merge two dough balls together to make a bigger sheet as well.
Traditional lefse is rolled very thin. This is why the lefse stick comes in handy! It helps to transfer the lefse to the griddle without wrinkles to cook, and then to a plate to cool.
Use a lefse griddle kit for best results. The griddle is built to withstand high temperatures for long periods of time while you cook multiple sheets of lefse (I highly recommend the non stick griddle versus aluminum). Although you can use a regular frying pan or electric frying pan, it is much harder to keep a consistent temperature.
Flour the surface generously and the dough as you roll it out. Keep a bowl of all-purpose flour on the counter. If the dough gets sticky, add as much flour as needed to avoid that problem.
Use a rolling pin cloth on top of the rolling pin to prevent dough from sticking. This helps a lot!
Do not grease the griddle before cooking. Instead, heat it to 400F before cooking lefse. I prefer to use a non-stick griddle versus the aluminum versions (I've used both) as they seem to stick a lot less. If you need to, add a very small amount of cooking oil or butter then wipe off as much as possible before cooking lefse.
Can you use instant mashed potatoes?
I've never tried it and personally don't recommend it. I don't think you'll get the same freshness, texture and consistency of traditional lefse. However, if you're in a pinch you can buy pre-made lefse ingredients kit. This kit uses potato flakes so it's definitely possible to use instant mashed potatoes if needed.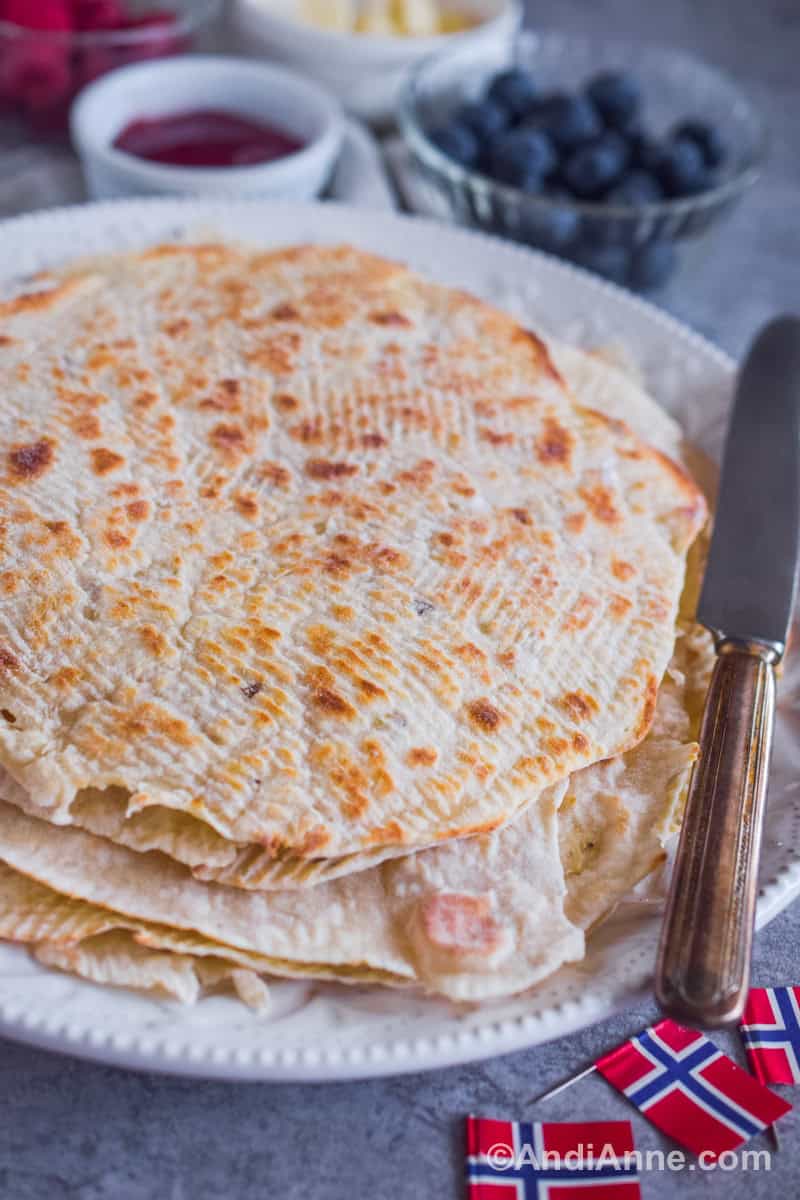 More Scandinavian Traditional Recipes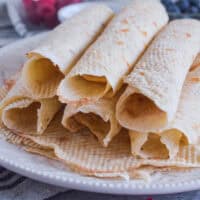 Norwegian Lefse Recipe (Potato Flatbread)
Potato lefse is a traditional Norwegian flatbread made using mashed potatoes and flour as the base. Milk, cream and salt are added to the mixter to create a soft dough that's rolled thin and cooked on an electric griddle.
Print
Pin Recipe
Ingredients
5

cups

hot mashed potatoes (no milk or butter)

-

approx 2-2½ lbs raw potatoes

¼

cup

unsalted butter

2

Tbsp

heavy cream -

or milk

1 ½

tsp

salt

2

cups

all purpose flour
Instructions
Peel and chop 2 ½ lbs of potatoes. Add to a large pot and cover with water. Bring to a boil and cook until potatoes are very soft. They should easily break apart when poked with a fork.

Drain the potatoes fully, then add them back to the pot. Mash them fully with an electric mixer or potato masher. There should be no lumps. Do not add any other ingredients during this step.

Measure out 5 cups of hot mashed potatoes into a large bowl. Add in the unsalted butter, heavy cream (or milk), and salt. Beat together using a hand mixer or potato masher until mixture is smooth and creamy with no lumps.Cover and place in the fridge overnight until potatoes are completely chilled.

After fully chilled, add 1 cup of flour to the cold potatoes. Mix together.

Add the last 1 cup of flour to the potatoes. Knead together until it forms a soft dough.

Knead onto a floured work surface. Divide the dough in half.

Divide into four sections. Then divide each section into another five sections. There will be 20 pieces in total.

Roll each dough piece into golfball sized pieces. Place in the refrigerator to keep chilled.

Take out only 3-4 balls from the fridge at a time.

Roll out the dough into a thin 10" circle. Add flour as needed.

Heat an ungreased griddle to 400°F. Lift the dough using the lefse stick (or a spatula). Gently Place one half of lefse onto the pan, rolling the lefse stick from underneath dough to help place lefse evenly.

Cook a few minutes on each side, until brown spots or blisters appear on the bottom (Mine took 3-4 minutes on each side). The lefse should be crisp and not soft.

Use lefse stick or spatula to transfer it to a plate lined with a clean dish towel. Cover pieces of lefse with the towel to prevent drying.
To Store:
Lefse can be stored flat or folded. Keep the lefse in an airtight plastic bag stored in the fridge up to 3-4 days for maximum freshness. Lefse can also be frozen for up to 6 months (or longer).
To Serve:
Lefse can be served warm or cold. Serve a piece with butter spread over top, cinnamon sugar sprinkled, jam, cream cheese, gjetost, provolone cheese, smoked salmon or cold cuts. Roll or fold over into a wrap. Serve and enjoy!
Recipe Notes:
Generously flour the rolling pin and surface for rolling out dough. Add more flour when needed.
Keep a knife or dough scraper nearby to clean the surface and rolling pin. A cloth cover on the rolling pin really helps as well.
Keep raw lefse dough balls chilled in the fridge. Take out 3-4 at a time so dough keeps cold.
Cover cooked lefse flatbread in kitchen towels to keep warm.
Nutrition
Calories:
101
kcal
|
Carbohydrates:
16
g
|
Protein:
2
g
|
Fat:
3
g
|
Saturated Fat:
2
g
|
Polyunsaturated Fat:
1
g
|
Monounsaturated Fat:
1
g
|
Trans Fat:
1
g
|
Cholesterol:
8
mg
|
Sodium:
177
mg
|
Potassium:
172
mg
|
Fiber:
1
g
|
Sugar:
1
g
|
Vitamin A:
93
IU
|
Vitamin C:
2
mg
|
Calcium:
9
mg
|
Iron:
1
mg