This ambrosia salad is a classic recipe just like Grandma used to make. Mandarin oranges, pineapple and maraschino cherries are all combined in a creamy dressing with marshmallows. It's light and fluffy, and perfectly sweet. Traditionally served alongside savory side dishes at holiday dinners.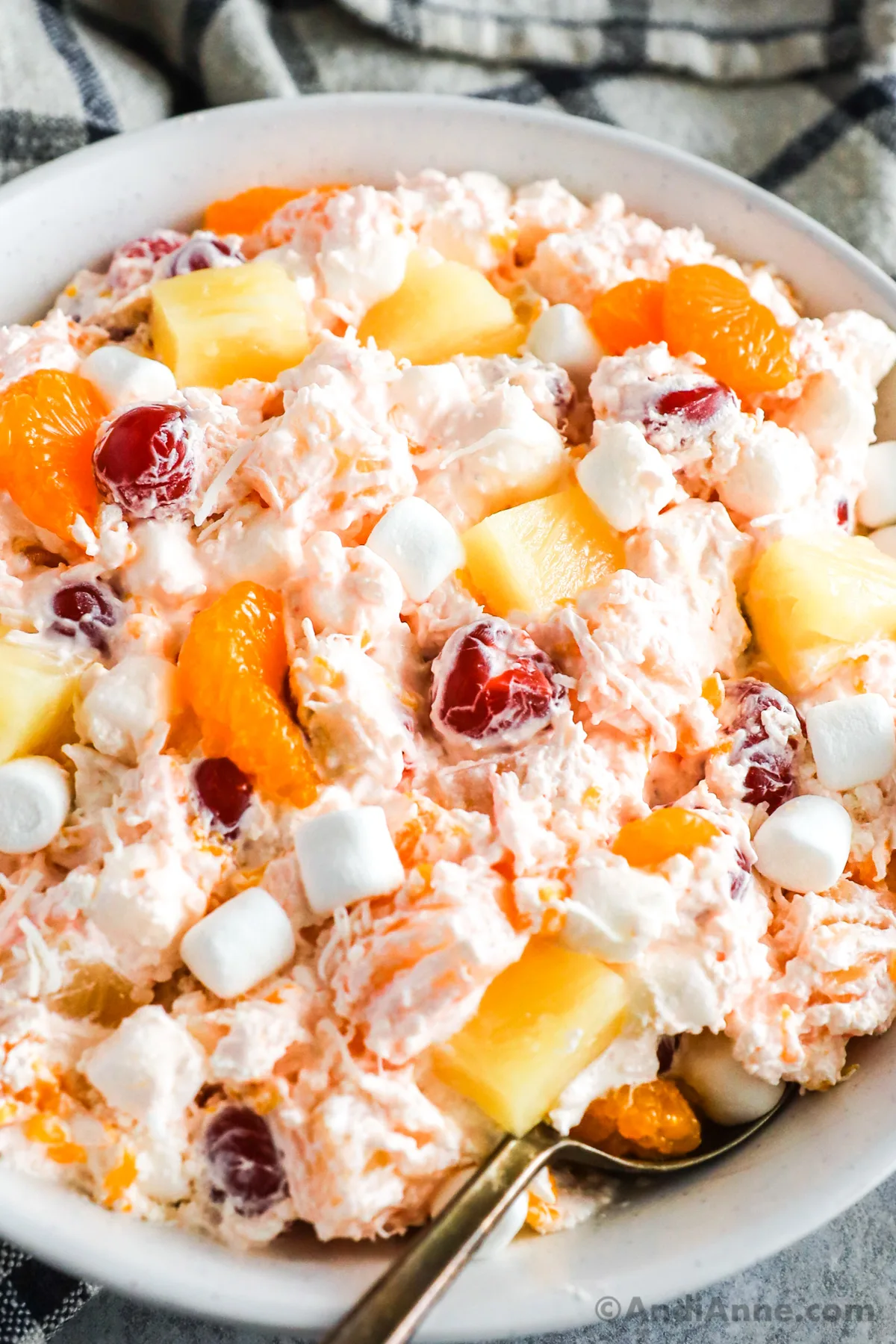 Ambrosia Salad
I have fond memories of this salad being served at Christmas dinner at my Grandmother's house. I know I'm not alone on this as many people remember ambrosia salad from their childhood. There's something very comforting about it's light and fluffy texture with bits of sweet fruit.
We love to serve a sweet side dish at our holiday dinner. This could include our orange jello salad, cranberry jello pineapple salad, or a tart but sweet homemade cranberry sauce.
This ambrosia salad can be prepped ahead of time and stored in the fridge. Perfect for when you've got a busy day cooking a large meal in the kitchen! I don't know about you, but nothing beats a hint of sweetness from ambrosia salad with a bite of fresh roasted turkey.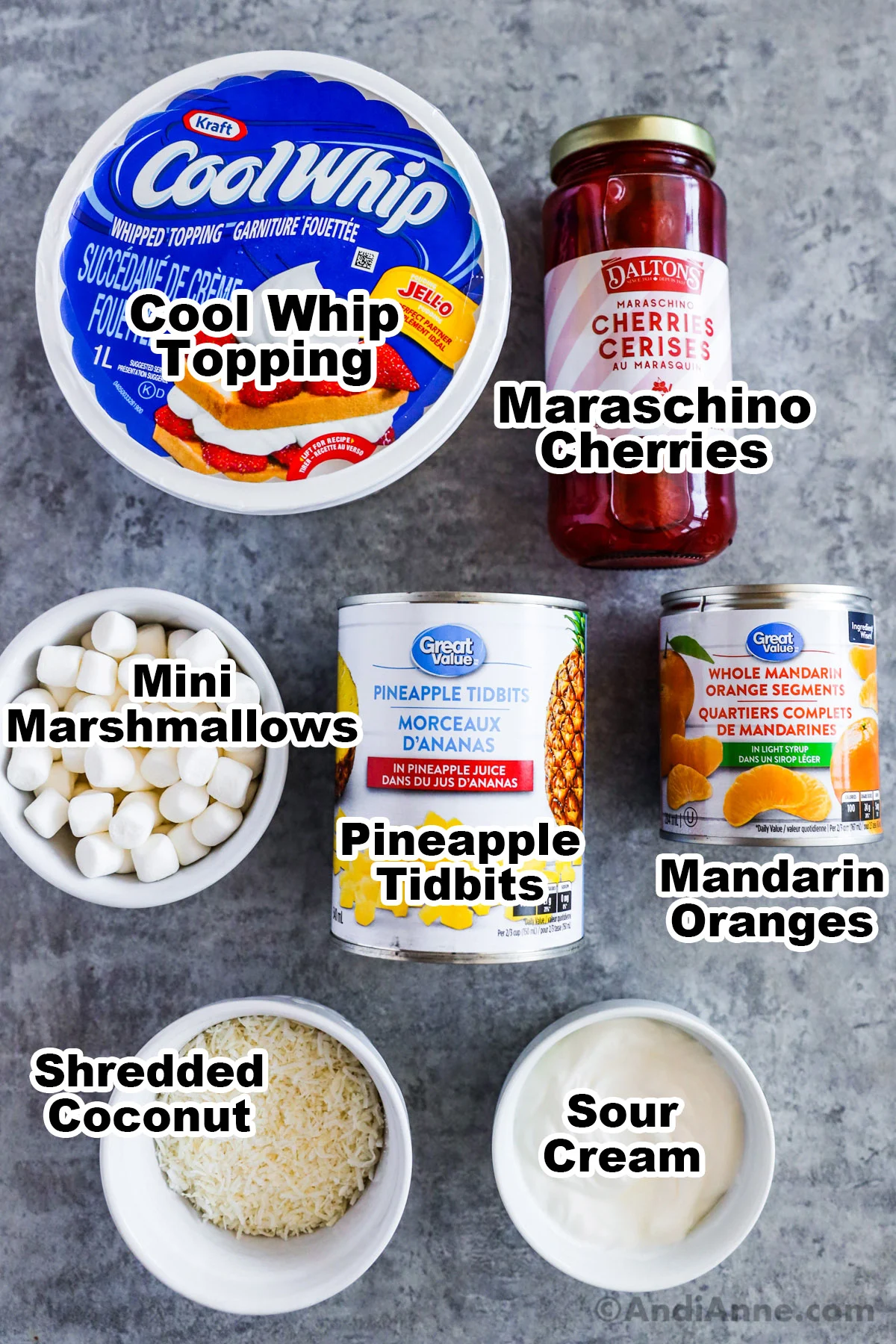 Ingredients To Make Ambrosia Salad
There are 7 ingredients, all of which you can find at most grocery stores. All of the fruit used is the canned version. Other ingredients like shredded coconut and mini marshmallows can sometimes be found in the bulk section if you don't want to buy a full bag. However, if you do have a full bag, leftover marshmallows can be used to make our s'more bars.
Mandarin Oranges – A can of mandarin oranges with the liquid drained.
Pineapple Chunks – Use canned pineapple chunks or tidbits, liquid drained.
Maraschino Cherries – Adds a bit of sweetness and a bit of tart.
Mini Marshmallows – Light, fluffy and sweet!
Shredded Coconut – You can use sweetened or unsweetened.
Sour Cream – Yes, a little bit of sour cream really adds wonderful flavor!
Cool Whip – Whipped topping makes it taste sweet.
Variations
There have been many variations of ambrosia salad over the years. It's pretty easy to customize to create different flavors. Here are a few ideas:
PUDDING MIX – Add a packet of instant pudding mix to the whipped topping for a different flavor.
FRESH FRUIT – Use only fresh fruit, like diced apples, pears, kiwi, and strawberries.
CHOPPED NUTS – Try pecans, almonds, macadamia nuts, walnuts or cashews.
GREEK YOGURT – Swap sour cream for Greek yogurt.
Is Ambrosia Salad a Side Dish or a Dessert?
Traditionally ambrosia salad was served as a side dish for special occasions such as Thanksgiving and Christmas dinners. It adds a sweet taste that will compliment savory dishes like roasted Brussels sprouts, mashed potatoes and stuffing.
I've never seen it served as a dessert. And if you're looking for this recipe, I'm sure you have a memory of it from your past. Possibly on your grandmother's table served alongside ham or turkey.
Nevertheless, leftovers could certainly be eaten as a dessert. Topped on a slice of pound cake or a scoop of ice cream, it would certainly taste yummy.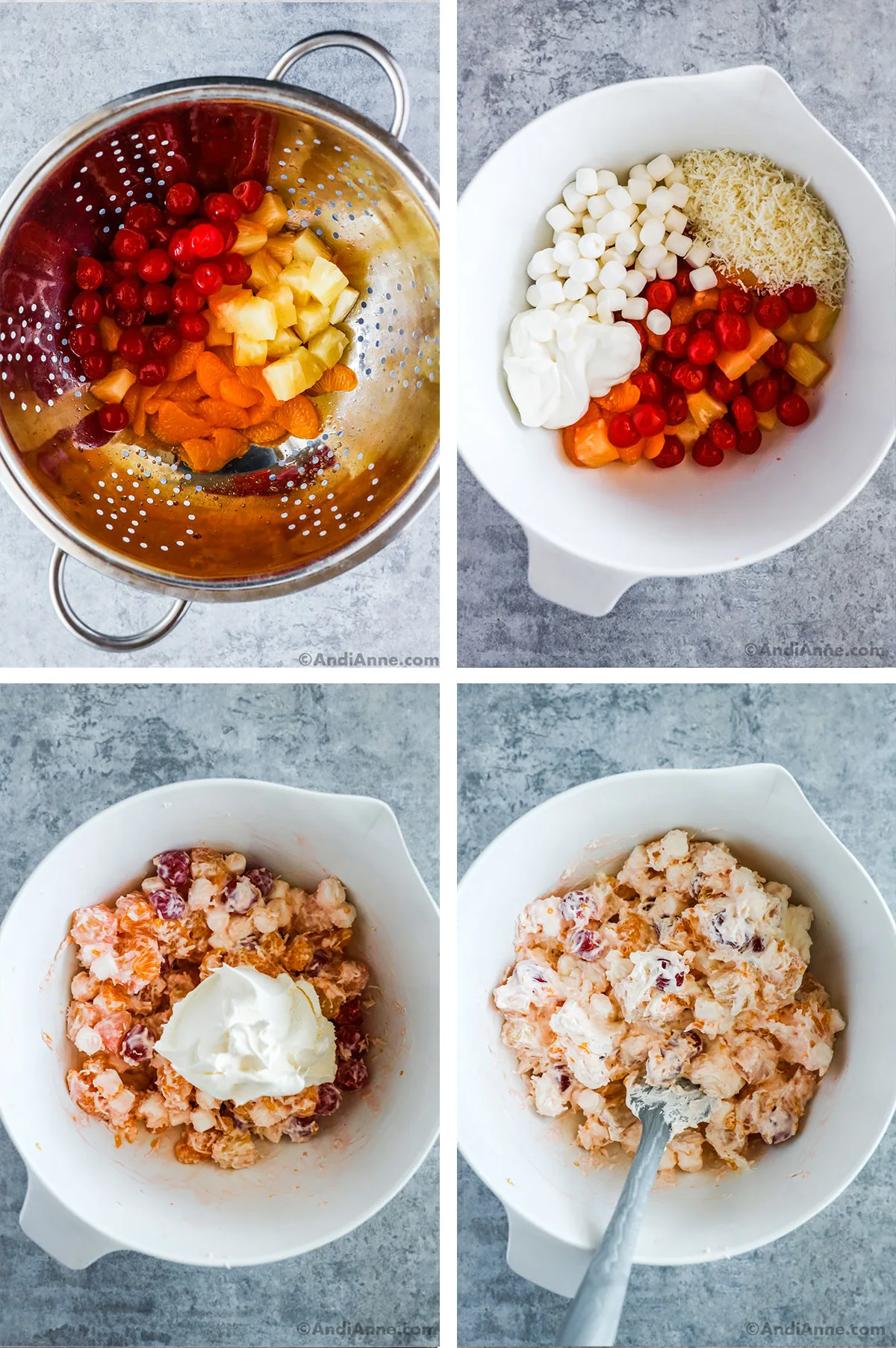 How To Make Ambrosia Salad
Making this recipe is super easy! The key is to let it sit in the fridge for at least one hour after you make it. This will help the creamy ingredients to thicken up and create the perfect consistency.
Here's a quick overview of how to make it but full instructions are in the recipe card at the bottom of this post:
PREP – Drain the cherries, oranges and pineapples from their liquid through a strainer.
MIX – Add the mandarin oranges, pineapple, cherries, mini marshmallows, shredded coconut and sour cream to a large bowl. Gently toss together with a spatula until everything is evenly coated with the sour cream.
WHIPPED TOPPING – Now fold in the Cool Whip using a spatula. Again, gently stirring until it is evenly coated with the other ingredients.
CHILL – Cover the bowl with plastic wrap and place in the fridge for one hour before serving.
Do I Serve This Cold or Warm?
This ambrosia salad is definitely served cold! Be sure to keep it in the fridge until you're ready to serve.
How To Store Leftovers
This will not freeze well! The jello will break down and the texture will get strange once you thaw it.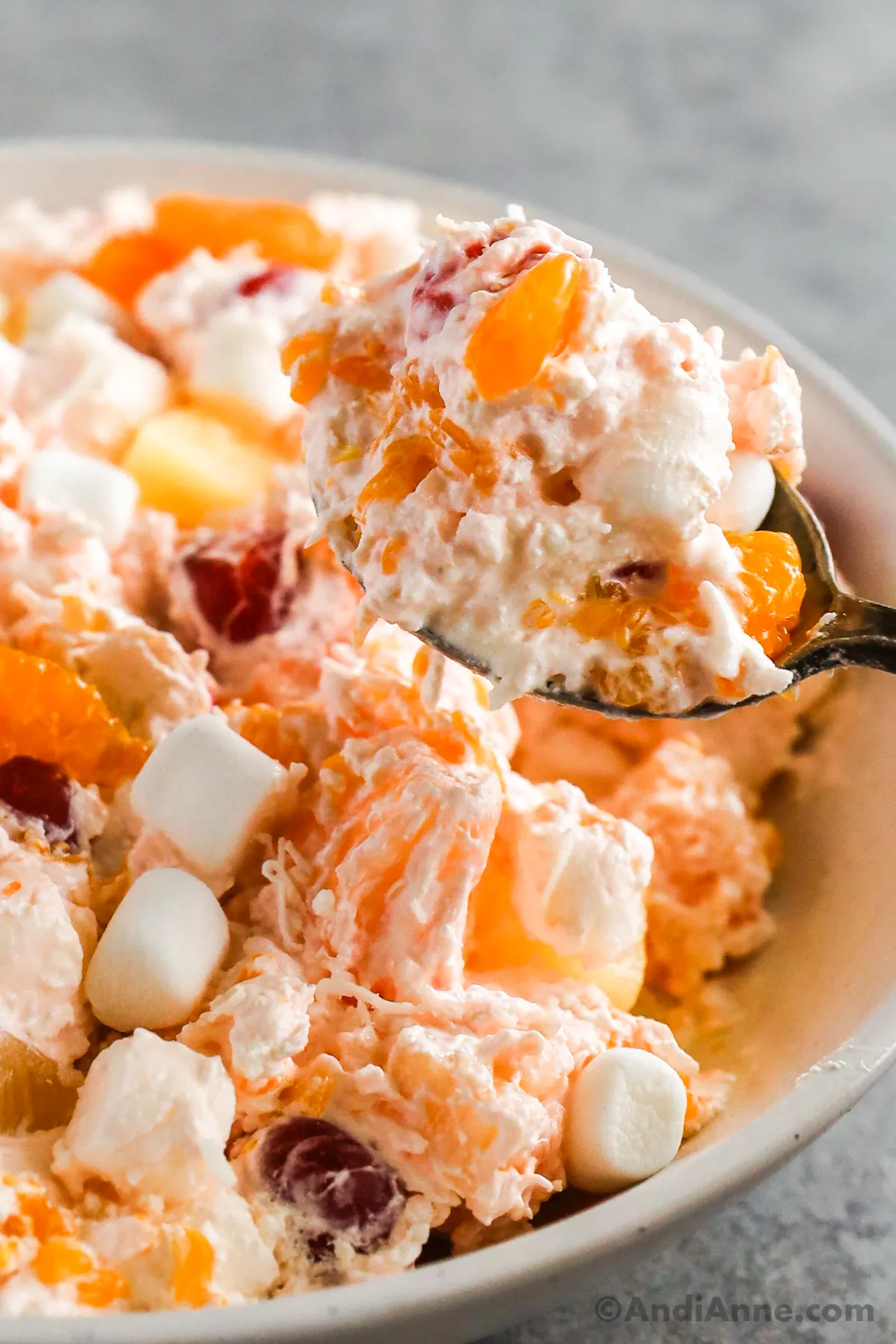 Recipe Tips
I do not recommend using homemade whipped cream. Over time, the liquid will separate creating a runny consistency. Cool whip holds its texture better.
Thaw the Cool Whip overnight in the fridge before you use it. It won't work if it's frozen.
The canned fruit needs to be drained from all liquid before adding other ingredients. I prefer to dump them into a strainer to ensure most of the liquid is gone.
Canned mandarin oranges are pretty delicate. They will start to break apart as you mix them. Which is okay. But if you want a bigger piece, be sure to mix gently.
Let the salad sit in the fridge for at least an hour after you make it. This will allow the creamy mixture to thicken up and flavors to meld together.
Give the salad a gentle stir just before you serve it. Once you're done serving, place the salad back in the fridge to keep the ingredients cold and the right consistency.
When Should I Serve Ambrosia Salad?
Really, you can serve it any time. Some people like to serve it in the Summer, while others (like myself) are used to serving in the Winter. You can serve it at a special occasion Holiday dinner for Thanksgiving, Christmas, or Easter. You can bring it to a church supper, potluck, family picnic, or Summer barbecue.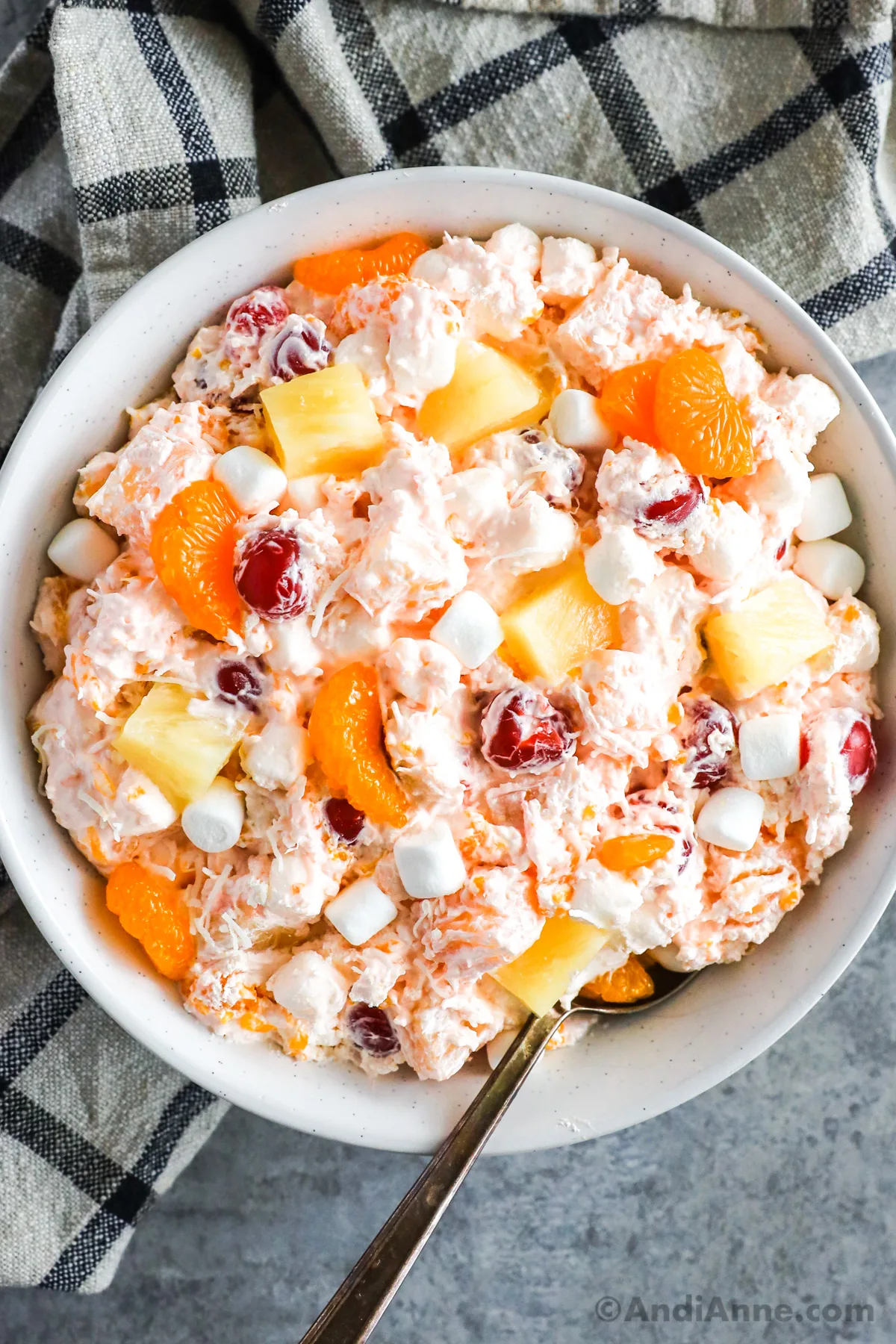 Serving Suggestions
Ambrosia salad makes a great side dish for any holiday occasion, but can also be served as a sweet dish alongside a comforting meal like roasted chicken. You can pair ambrosia salad with our roasted brown sugar carrots, sauteed green beans, easy mashed potatoes or these clever stuffing muffins.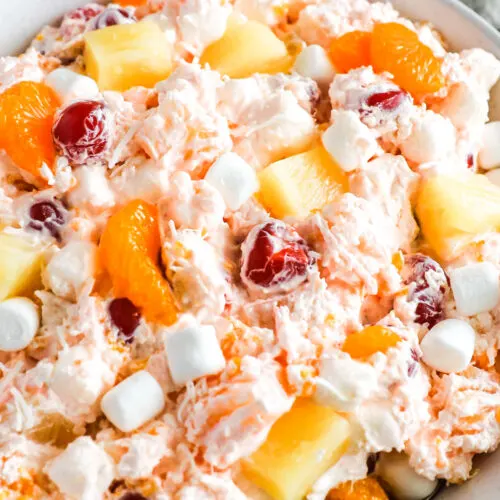 Ambrosia Salad
A classic sweet-tasting side dish with oranges, pineapple and cherries. All mixed together in a light and fluffy marshmallow whipped cream topping.
Save Recipe!
Saved!
Pin This
Print It
Instructions
Add the pineapple tidbits (or chunks), mandarin oranges, and maraschino cherries to a strainer to let all the liquid run through.

Once fruit is drained, add it to a large bowl along with the mini marshmallows, shredded coconut and sour cream.

Mix everything together gently (the mandarin oranges are delicate so it's best to mix gently).

Now fold in the cool whip whipped topping. Gently mix everything together.

Place covered in the fridge for one hour for ingredients to meld together. Pour into a serving dish, serve and enjoy!
Nutrition
Calories:
264
kcal
|
Carbohydrates:
48
g
|
Protein:
2
g
|
Fat:
9
g
|
Saturated Fat:
6
g
|
Polyunsaturated Fat:
0.3
g
|
Monounsaturated Fat:
1
g
|
Cholesterol:
13
mg
|
Sodium:
56
mg
|
Potassium:
209
mg
|
Fiber:
3
g
|
Sugar:
41
g
|
Vitamin A:
806
IU
|
Vitamin C:
21
mg
|
Calcium:
74
mg
|
Iron:
1
mg
The nutritional information provided is an estimate and is per serving.