Berry fold-over pie (also known as a galette) is a delicious and easy way to enjoy in-season berries in a dessert. This rustic pie style uses a pastry crust that's folded over with piled berries in the center.
A flaky pastry crust made from flour, butter, sugar and lemon juice is rolled into a thin circle. Fresh blueberries and raspberries are piled in the center, and the pie crust is folded over and baked until golden brown. It's the perfect Summer treat to serve with ice cream or whipped coconut cream.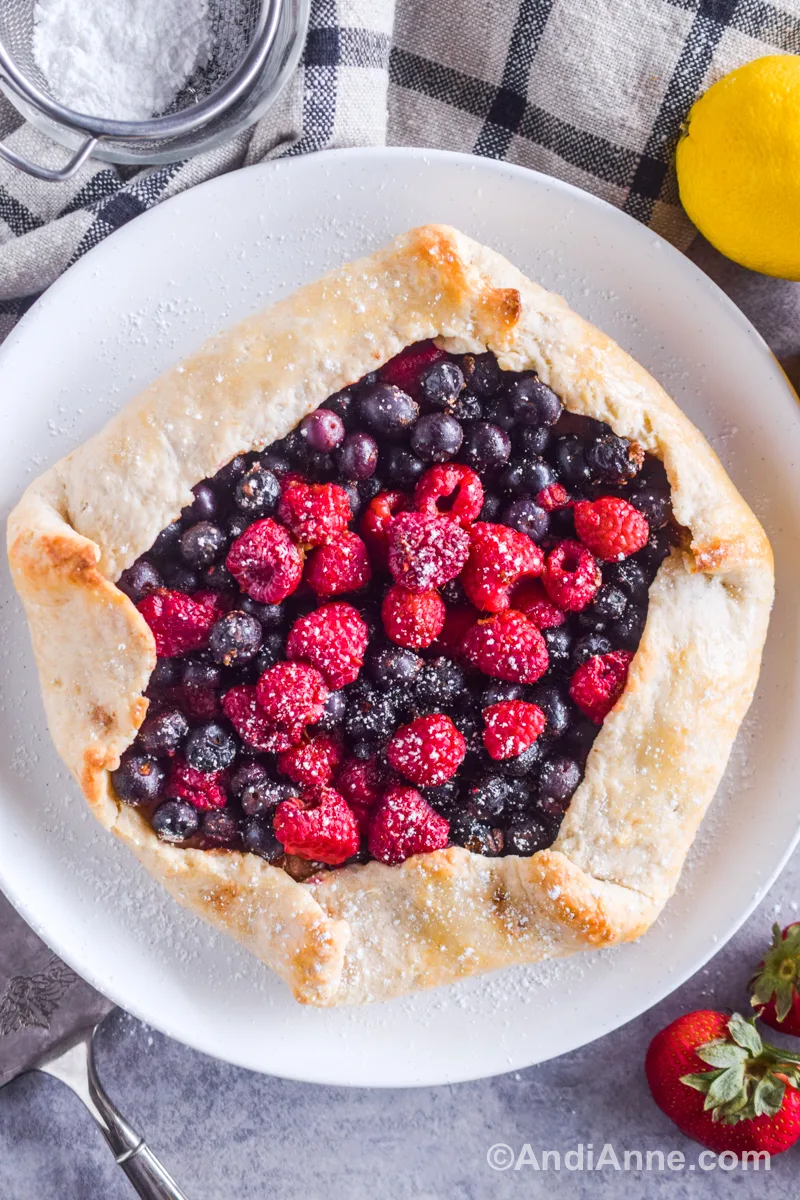 Rustic Galette Pie
Fresh berries are the perfect fruit to add to summer desserts like this one.
A fold-over pie is similar to a traditional pie (like our carrot pie) but with less fuss and detail. One crust is rolled out, then ingredients like fresh berries are piled in the center. The dough is then folded in to create a pocket for the berries to sit. This is baked in the oven until golden brown.
The benefits of making a pie this way are numerous! First, it's a lot less work. It's supposed to be rustic looking, so the edges can be rough and imperfect. Basically, the more handmade looking, the better!
Rustic pies like this one are inexpensive to make if the fruit is in season. And they're a beautiful presentation to serve to guests.
Blueberries usually go on sale mid-summer and can be purchased in large quantities to freeze, make jams or spreads with or delicious desserts like this one! They can also be added to our orange blueberry pound cake, or lemon blueberry muffins or the easy blueberry yogurt oat muffins.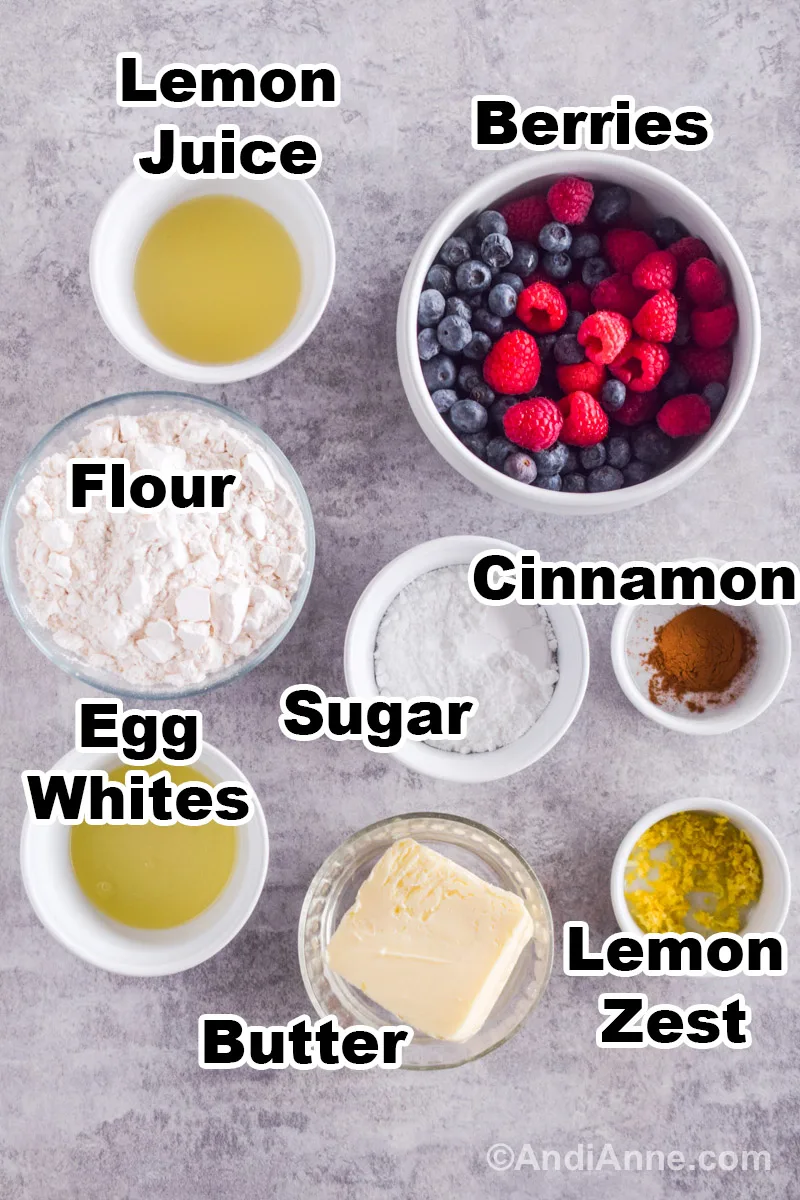 Recipe Ingredients
PASTRY DOUGH: This is a simple pastry dough recipe using all-purpose flour, unsalted butter, confectioners sugar, and lemon juice.
BERRIES: I used fresh in-season berries including blueberries, raspberries and blackberries. You can use all of them or only one fruit. You could also add chopped strawberries. I don't recommend using frozen berries! They will stain the dough and might have excess moisture, creating a soggy dessert.
ADDITIONS: Confectioners' powdered sugar is used in the pastry crust and tossed with the berries. Lemon juice and lemon zest are needed from one fresh lemon. A bit of cinnamon and egg white to brush the pastry dough with. This helps to give it a lovely golden brown color after baking in the oven.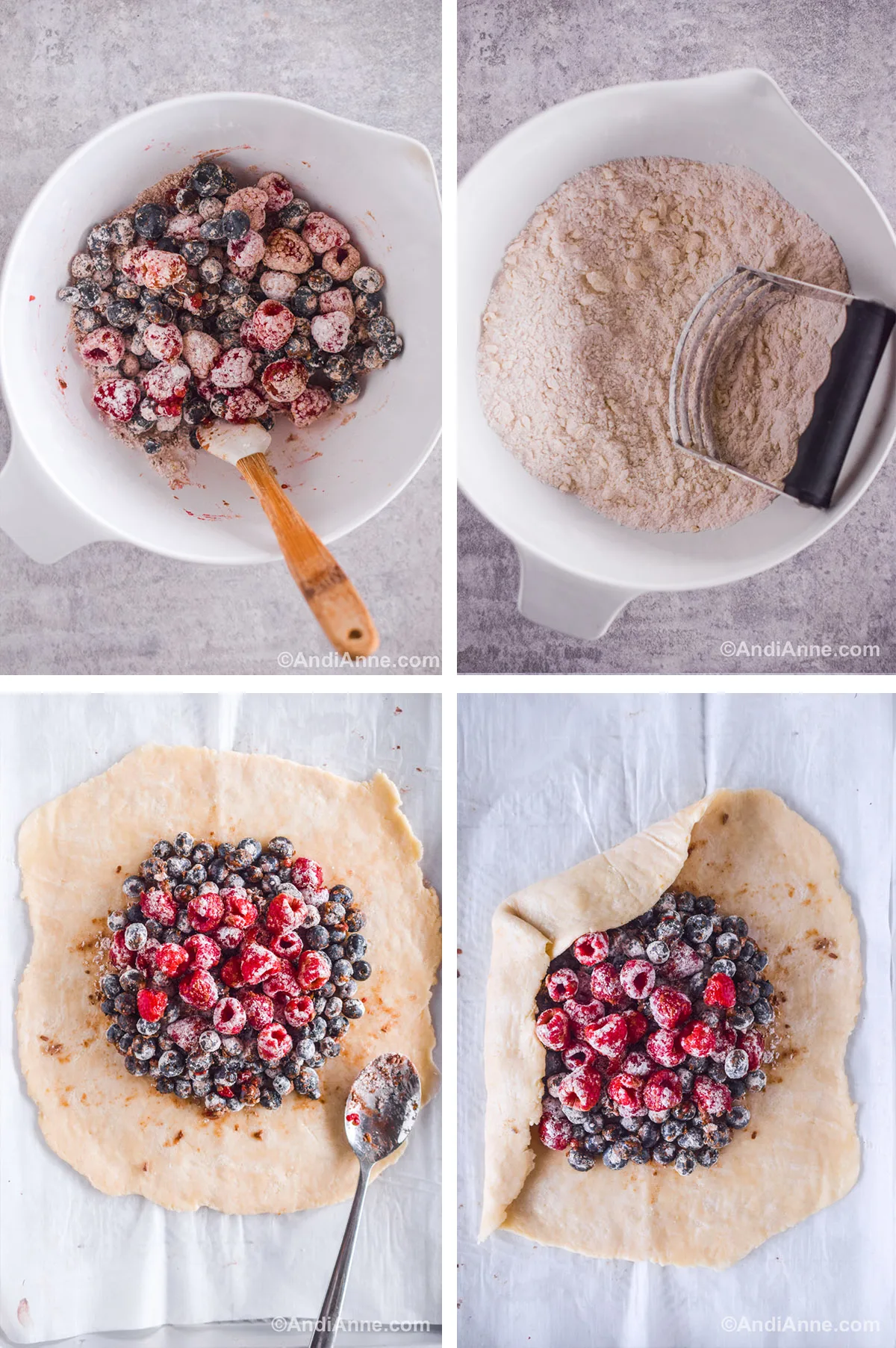 How To Make Berry Fold Over Pie
Here's an overview of how the galette pie is made. Full instructions are in the recipe card at the bottom of this post.
Add flour and cubed cold butter to a bowl with sugar. Mix until butter is small and crumbly.
Add enough lemon juice until it forms a dough consistency. Roll between two sheets of parchment paper into a thin 12″ circle. Chill in the fridge.
Gently mix berries in a bowl with sugar, lemon zest and cinnamon.
Add pastry dough to a baking sheet. Place berries in the center. Fold edges overtop. Brush with egg white.
Bake until edges are golden brown. Sprinkle confectioners powdered sugar on top before serving.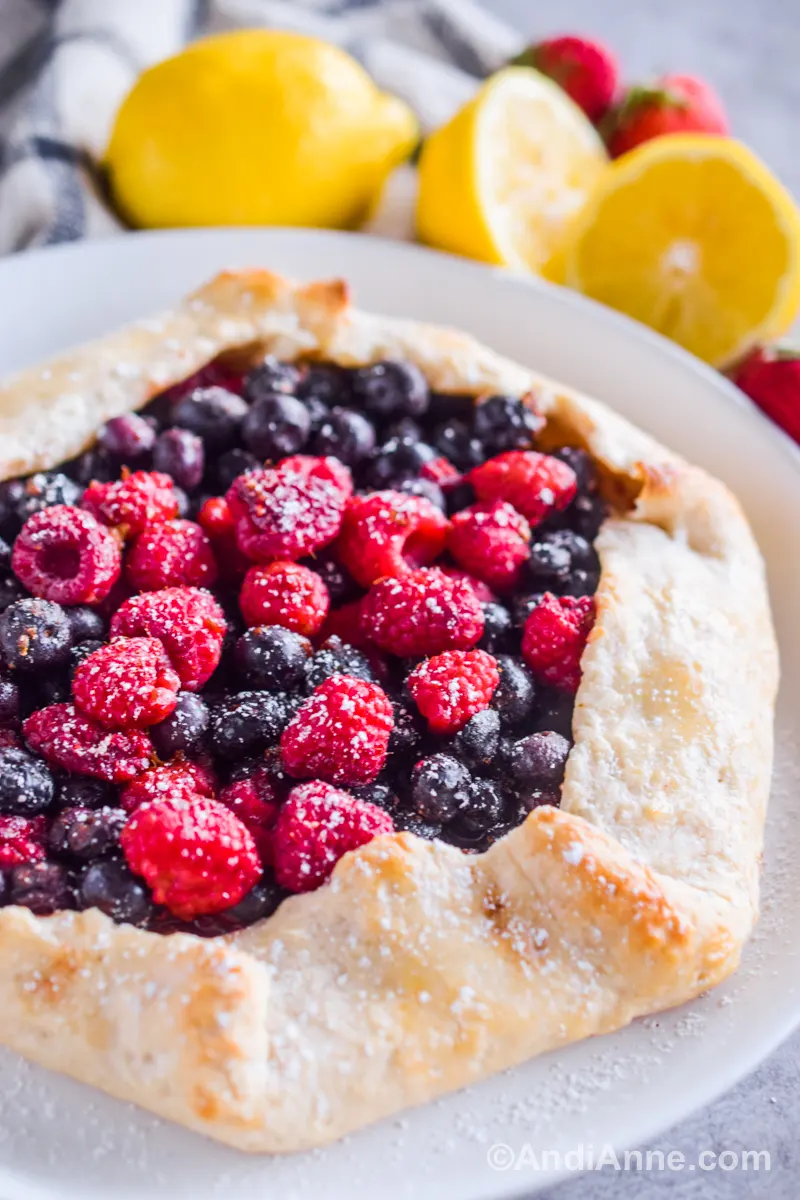 Recipe Tips
Butter should be cold and chopped into small cubes before adding to the flour. Use a pastry cutter or your fingertips to mix the flour and break apart the butter into small crumbles.
Don't add all the lemon juice at once to the pastry dough. Only add enough until it comes together.
Mix the dough ingredients until just combined. Too much mixing will activate the gluten and result in a chewier pie crust.
Roll the dough out as thin as you can. Roll it between two sheets of parchment to prevent sticking to the rolling pin.
Mix the berries gently with the sugar and lemon zest. Fresh berries are fragile and can fall apart easily while being mixed.
Don't pile the berries too high on top of each other. Height should be less than 1″ to ensure proper cooking.
As the dough cooks it may shrink backward. Just move the berries with a spoon to fill any holes if this happens.
Use a sharp knife or pizza cutter to slice the galette into serving pieces.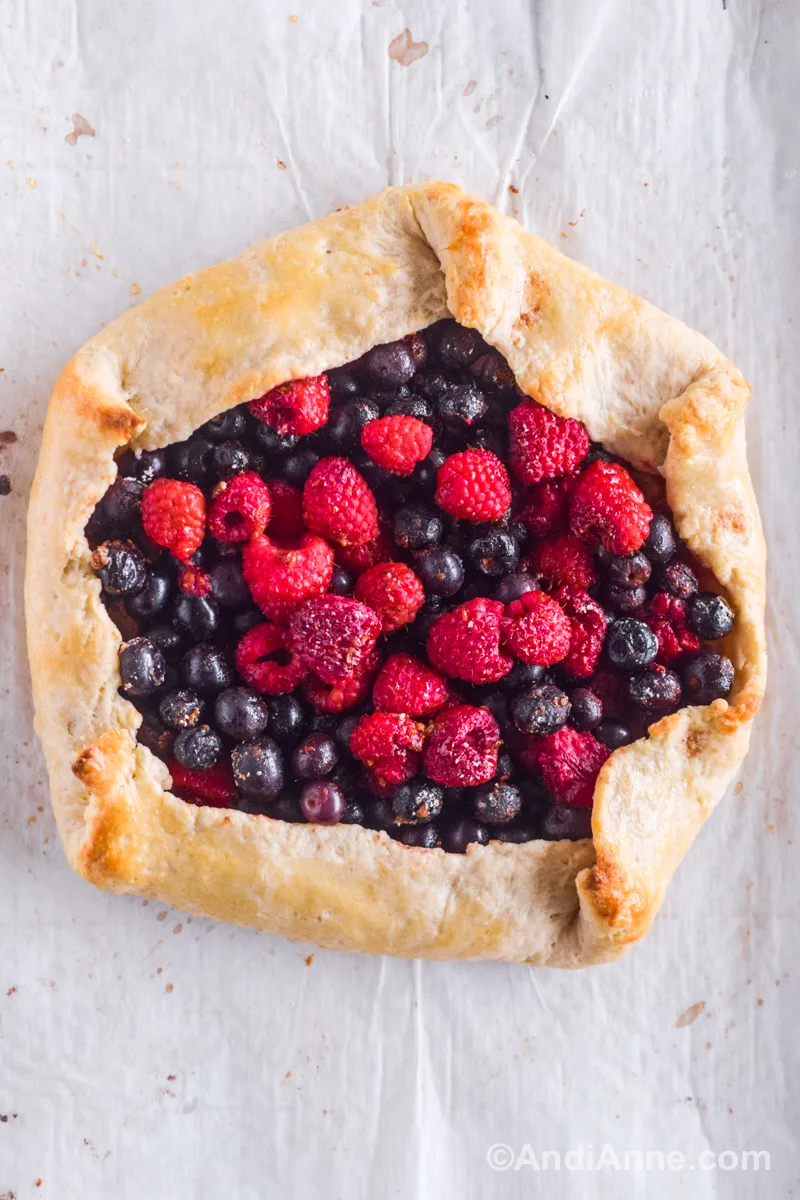 More Summer Berry Recipes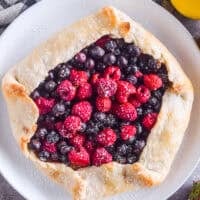 Instructions
Preheat the oven to 350°F.

Cut the cold butter into small cubes. Add butter, flour and confectioner's powdered sugar to a large bowl.

Mix together using a pastry cutter, fork or your fingertips until butter is fine and crumbly. It should resemble the size of peas.

Add half of the lemon juice to the flour mixture and mix until it comes together into a pastry dough. Only add more lemon juce if necessary. Use hands in the last part of mixing to form the dough into a ball. Do not over knead.

Roll the dough onto baking parchment paper. Place another piece of parchment on top and roll out even further to create a 12" circle (it's ok if it's not perfect).

Place the dough in the fridge for 10 minutes.

While dough is chilling, gently mix together fresh berries, 3 Tbsp confectioners sugar, lemon zest and cinnamon (raspberries and blackberries are more delicate and need to be mixed gently).

Remove top layer of parchment paper from pastry dough. Place dough with bottom parchment on to a baking sheet. Brush the top with beaten egg whites.

Pile the berry mixture in the middle.

Fold the edges of dough over to the middle. Gently pressing each corner to secure it.

Brush the top dough with more egg white.

Bake for 30-35 minutes or until edges are golden brown. Dust the top with confectioners powdered sugar. Slice into pieces, serve and enjoy!
Nutrition
Calories:
1298
kcal
|
Carbohydrates:
285
g
|
Protein:
29
g
|
Fat:
7
g
|
Saturated Fat:
3
g
|
Polyunsaturated Fat:
1
g
|
Monounsaturated Fat:
1
g
|
Cholesterol:
13
mg
|
Sodium:
186
mg
|
Potassium:
774
mg
|
Fiber:
13
g
|
Sugar:
121
g
|
Vitamin A:
369
IU
|
Vitamin C:
79
mg
|
Calcium:
207
mg
|
Iron:
10
mg