This Cinnamon Roasted Sweet Potatoes and Apples recipe turns a nutrient-rich whole food into a sweet, savory, and crispy dish that will elevate your fall-season dinners.
Who knew the combination of a few simple ingredients could be so good? Sweet potatoes, apples, maple syrup, and cinnamon roasted together make a delightful side dish.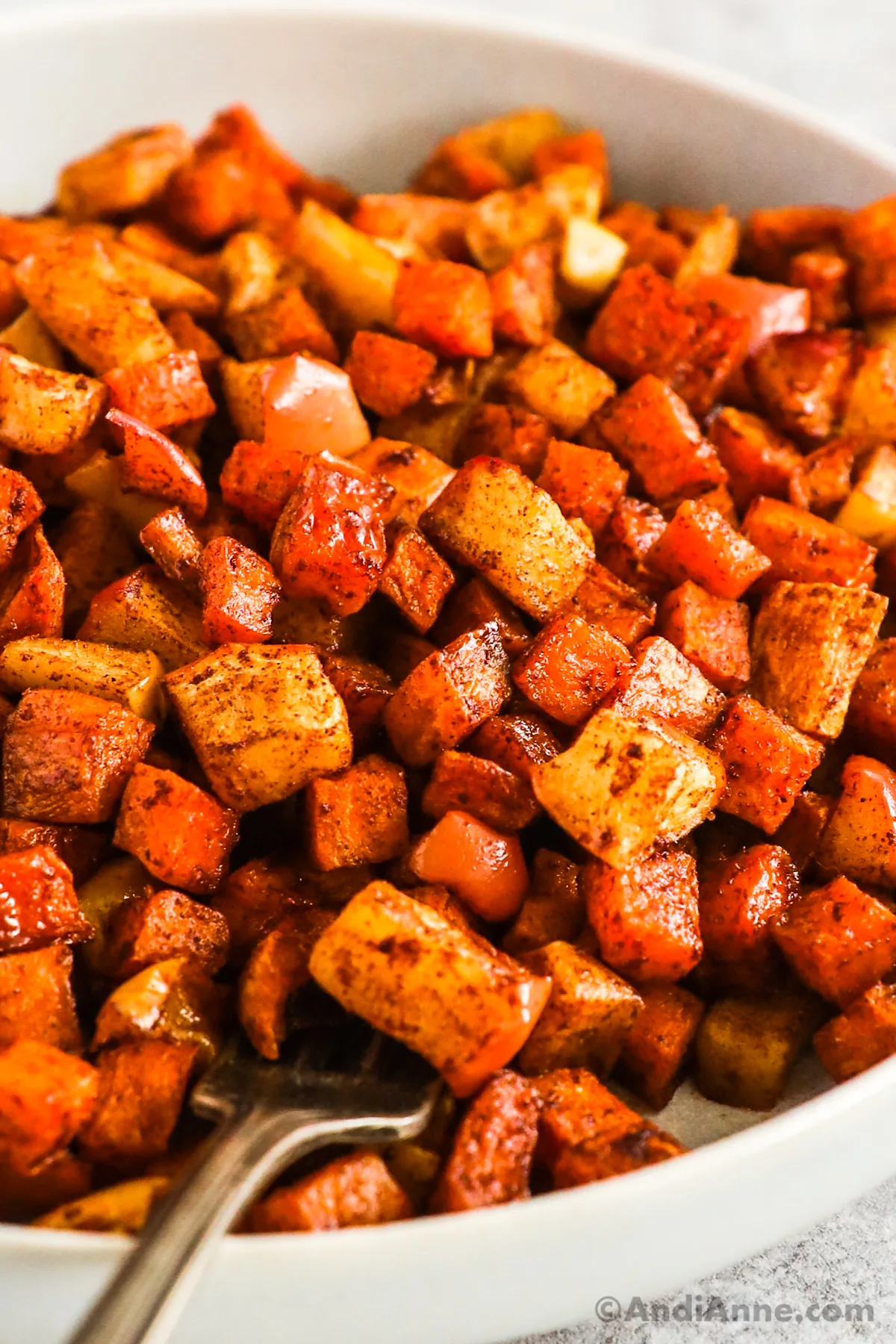 Roasted Sweet Potatoes and Apples
Turkey isn't the only thing you'll be filling up on this fall season. Side dishes are what really get me excited about a big dinner. Cranberry sauce, roasted veggies, and this roasted sweet potato and apple recipe bring variety, tons of flavor, and joy to a meal.
Once you taste the textured and caramelized maple syrup on the roasted sweet potatoes and apples, you'll know what I mean by excitement and joy.
Another minimal-ingredient, easy-to-make side dish that gains admiration through the caramelization process is our Roasted Brown Sugar Carrots.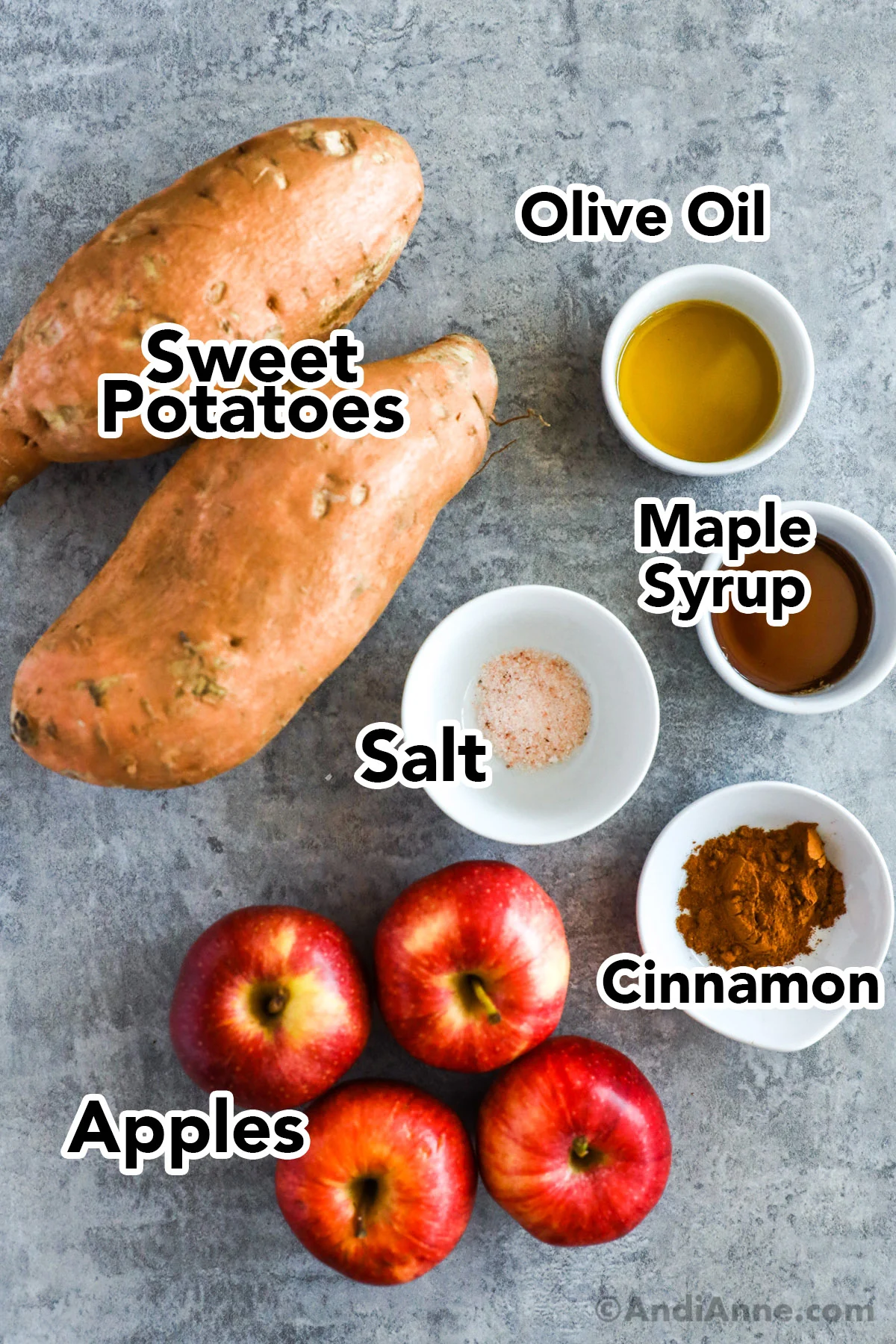 Recipe Ingredients for Roasted Sweet Potatoes and Apples
These six ingredients pair exceptionally well when roasted at high heat. Read on for a brief description of each ingredient.
Full instructions can be found in the recipe card at the bottom of this blog post.
SWEET POTATO –The nutrient-dense feature ingredient. This root vegetable should be cut into 1-inch cubes. Try to keep them close to the same size so that nothing gets over or under cooked.
APPLES – These pair perfectly with cinnamon, they also add sweetness and variety in texture to the dish.
CINNAMON – This is the spice that brings everything together and gives it that extra push towards the divine. Experiment using less if you find this spice overwhelming.
MAPLE SYRUP – Will enhance all the other flavors in this recipe. Through the high temperature baking process, the sugars caramelize resulting in more texture while adding a warm caramel-like flavor.
OLIVE OIL – This healthy fat will keep the ingredients from sticking to the bottom while roasting.
SALT – I love salt and use it whenever required because it reduces bitterness, increases sweetness, and gives our tastebuds a broader sense of the inherent flavors found in each ingredient.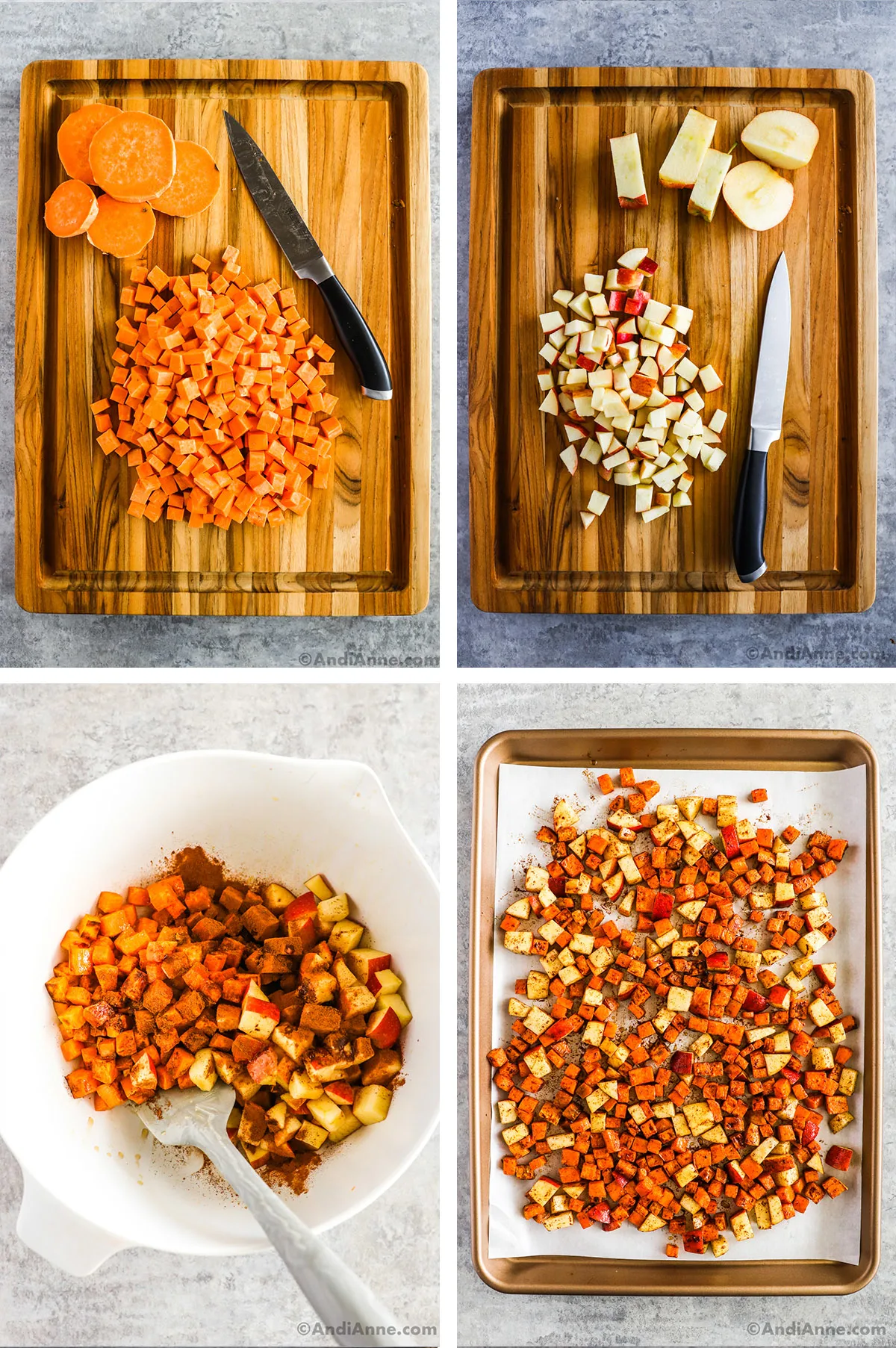 How To Make Cinnamon Roasted Sweet Potatoes Apples
How to make Cinnamon Roasted Sweet Potatoes and Apples
With only six ingredients it doesn't get much easier than this considering the outcome of complex flavors and textures.
The following is a brief overview, detailed instructions are included in the recipe card at the bottom of this blog post.
START THE OVEN – Preheat the oven to 425°F.
MIX YOUR MAIN INGREDIENT – Using a mixing bowl, mix the cubed potato with olive oil and salt until everything is well coated.
ROAST 'EM – Grease a baking pan and pour the potatoes in. Place them in the oven for 20 minutes or until the potatoes have begun to brown.
ADD THE OTHER INGREDIENTS – Place the roasted sweet potatoes back in the large bowl along with chopped apples, maple syrup, cinnamon and last 1 Tbsp of olive oil. Toss everything together and place back on the baking sheet.
ROAST 'EM AGAIN – Place the pan back in the oven for another 20 minutes flipping everything halfway through with a spatula. You will know it's done when the syrup has caramelized to the potato and apples.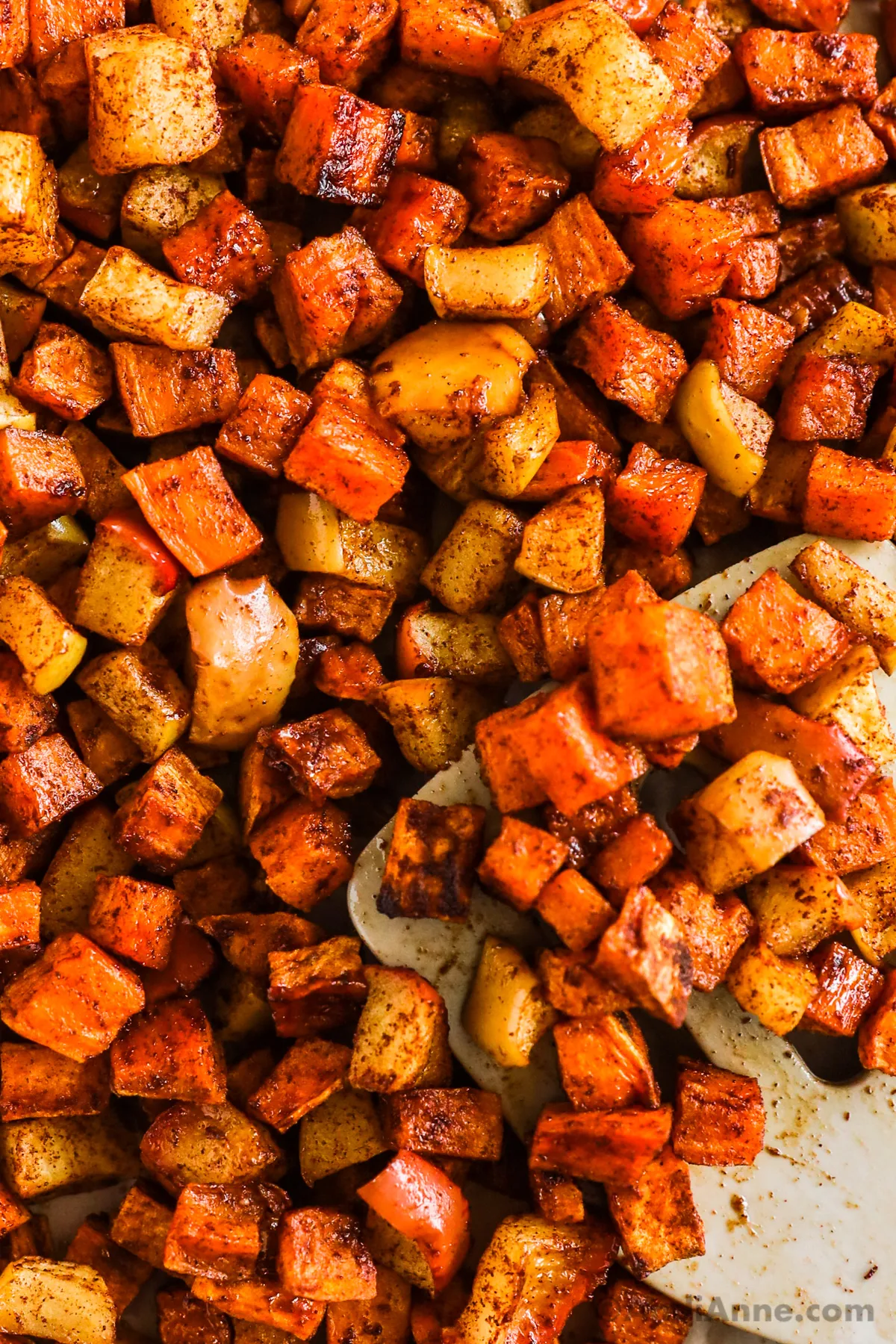 Variations of Sweet Potatoes and Apples
I like when a recipe allows for variation regarding it's specific ingredients. This recipe absolutely has wiggle room if you have limited access to specific ingredients.
Also feel free to experiment with different combinations to find your favorite variation of this Roasted Sweet Potato and Apple Cinnamon side dish.
SWEET POTATOES – Beauregard is the name of the most common Sweet potato found at grocery stores so it will likely be your first choice of the limited selection. The skin is a dark red-orange with a bright orange sweet inside. There are however many varieties out there and most will work for this recipe. A general rule of thumb is the orange Sweet potatoes are soft and moist while the purple and white Sweet potatoes are firm and dry. Yams fall into this same category.
APPLES – The same goes for apples, feel free to experiment with different apples to find what works best for you. For roasting I personally stick with apples that are firm, crispy and sweet. These include Honeycrisp, Braeburn, Pink Lady, and Gala. These will all hold their form during the roasting process and add the sweet flavor we're looking for.
FATS – Olive oil is not the only healthy fat option for this recipe. Consider using Coconut oil, ghee, avocado oil or butter! I like to add butter to the olive oil for a little extra flavor and browning.
MAPLE SYRUP – Out of all the sweeteners available out there, pure maple syrup will add the best flavor to this recipe. I'm always tempted to use honey as a substitute however remember that honey will burn faster than maple syrup so keep an eye on that if you choose to use honey.
Recipe Tips
You've spent all that time cutting the Sweet potatoes and apples, let's get the best results for your effort. Here are some tips we recommend to make this recipe the best it can be:
SPREAD THEM OUT – Spread the sweet potatoes out evenly with no stacking on the baking sheet. This will make sure they cook evenly, quickly, and brown properly. Placing them too close together or stacking them will result in soft, steamed Sweet potatoes. This would be okay if we wanted mashed potatoes but we're looking for crispy and browned. If the baking sheet is too small you can use two baking sheets, one on the top rack and the other on the bottom switching them out halfway through. Keeping them further apart like this will help the heat circulate and not become too humid. Dry heat is key for browning and caramelizing.
FATS AND OILS – If you are using ghee, butter, and/or coconut oil these ingredients are usually solid at room temperature. Warm it up in the microwave or in a pot on the stove before mixing it with the Sweet potatoes. Remember these fats will harden as soon as they come in contact with a cold or room-temperature apple or sweet potato. Avoid this by warming them in the oven for just a minute or two, then adding the melted ghee, butter, or coconut oil. This way you'll have an even distribution of ingredients leading to a better result. This step may sound tiresome but trust me it's worth it.
BROWNING IS CRUCIAL – The goal is to brown the Sweet potatoes which adds flavor and texture, we're also trying to achieve a crispy caramelized layer of sweet sugars. Using the bottom rack on the oven will help because of the direct heat from the element. This will brown the bottom of the vegetables, fruits, and sugars. If you're still having trouble with browning increase the temperature of your oven, use your own judgment, and keep a close eye so nothing gets burnt.
FLIP THEM – If we're cooking on the bottom rack it will make a difference if we flip them over halfway through resulting in browning and caramelization all over the Sweet potatoes and apples, not just one side.
SERVE NOW! – For best results, serve immediately. Time this side dish down to the last possible second. Once this dish is placed in a bowl it will begin losing those lovely textures.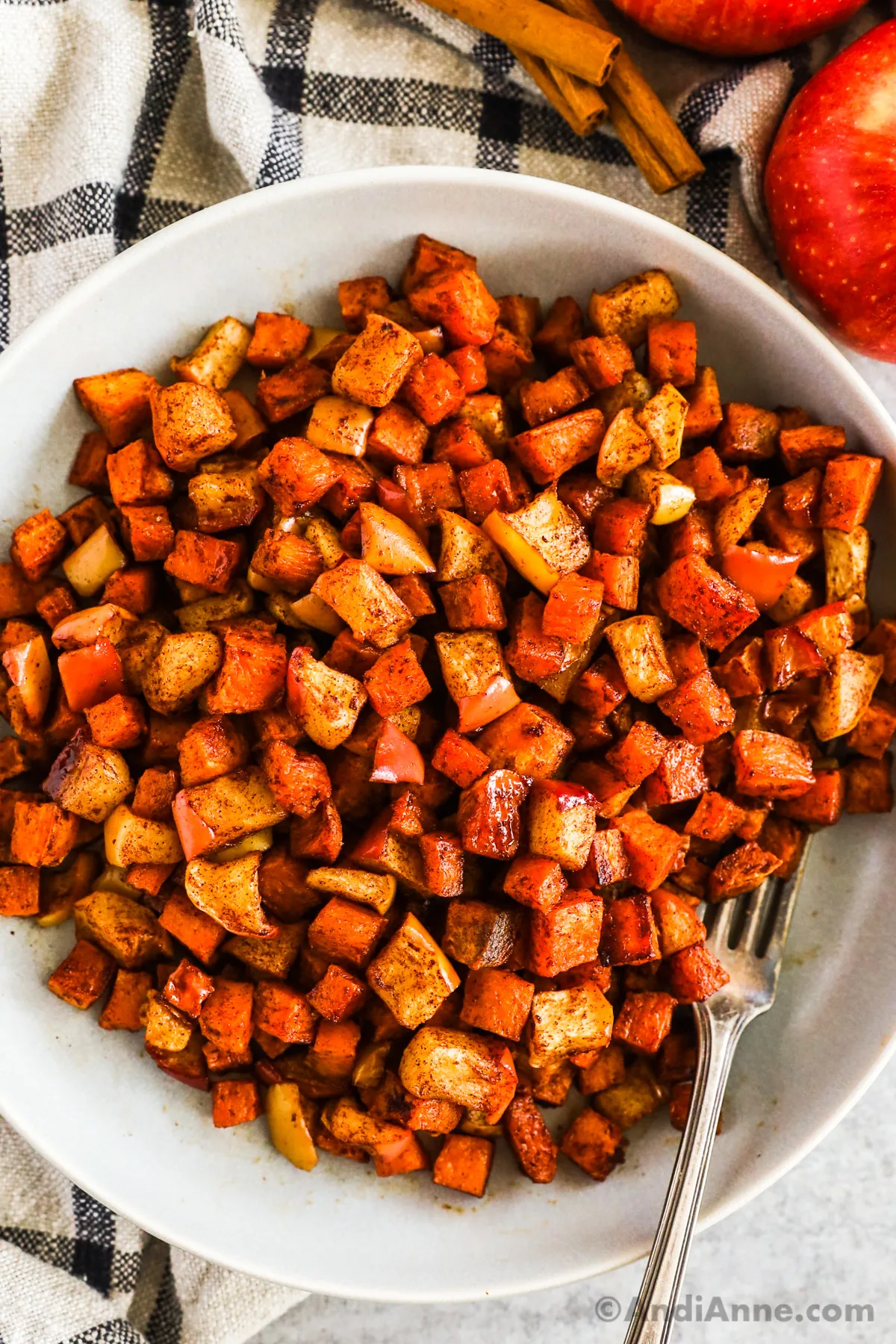 FAQ'S
SHOULD I PEEL THE SWEET POTATOES? This is completely up to you. Do you like the texture? Do you have the time to peel 'em? Sweet potato skins compared to the inside are said to be twice as high in fiber, antioxidants and other nutrients.
SHOULD I PEEL THE APPLES? Same answer as above, it's up to you based on preference and time. Healthwise, the apple skins are said to contain 50% more phytonutrients and than the inside of the apple. The skins also carry higher levels of antioxidants than the center. Leaving the skins on may also help keep the apple from falling apart during baking.
Storing leftovers
FRIDGE – Store these leftovers in an airtight container for 2-5 days. Reheat in the microwave before serving.
FREEZER – You can freeze this recipe, I recommend a Ziploc freezer bag with as much air removed as possible. If you do freeze this recipe it will be difficult to replicate the same texture and flavors as you did in the beginning. For this reason, starting over from scratch is okay since it's such an easy recipe, or follow the step below regarding roasting them in the oven.
REHEAT – You can reheat in the microwave or for better results roast for just a few minutes on high heat to regain some of that texture.
This Cinnamon Roasted Sweet Potatoes and Apples side dish is a simple six-ingredient recipe that is surprisingly healthy as it is tasty. The rich, sweet buttery flavors make this a wonderful side dish for a variety of meals.
More roasted veggie recipes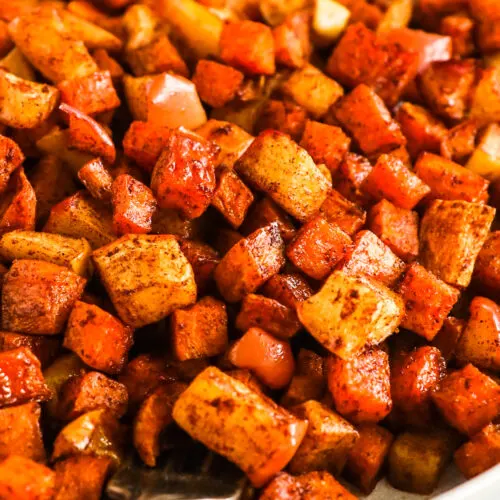 Instructions
Peel and chop the sweet potatoes into 1" cubes. Chop the apple into 1" cubes as well (you can keep the peel on or off).

Preheat the oven to 425°F. Line a baking sheet with parchment paper.

Using a mixing bowl, mix the cubed potato with 1 Tbsp olive oil and seasalt until everything is evenly coated.

Add the sweet potatoes to the baking sheet and roast on lower rack of oven for 20 minutes.

Add the roasted sweet potatoes back in the large bowl with chopped apples, maple syrup, cinnamon and last 1 Tbsp of olive oil. Toss everything together and spread back on the baking sheet.

Roastanother 20 minutes flipping halfway through with a spatula. Sweet potatoes and apples are done when edges begin to turn golden brown and slightly crispy.
Nutrition
Calories:
238
kcal
|
Carbohydrates:
43
g
|
Protein:
2
g
|
Fat:
7
g
|
Saturated Fat:
1
g
|
Polyunsaturated Fat:
1
g
|
Monounsaturated Fat:
5
g
|
Sodium:
656
mg
|
Potassium:
542
mg
|
Fiber:
6
g
|
Sugar:
18
g
|
Vitamin A:
18905
IU
|
Vitamin C:
6
mg
|
Calcium:
65
mg
|
Iron:
1
mg
The nutritional information provided is an estimate and is per serving.