This Tuna Noodle casserole takes the traditional recipe and turns it into a healthier version. Flaky tuna, peas, spinach, onions and celery are combined with a creamy sauce to create an easy dinner that can be made in under 30 minutes. I should also mention that this recipe is budget-friendly and only cost me about $5 to make!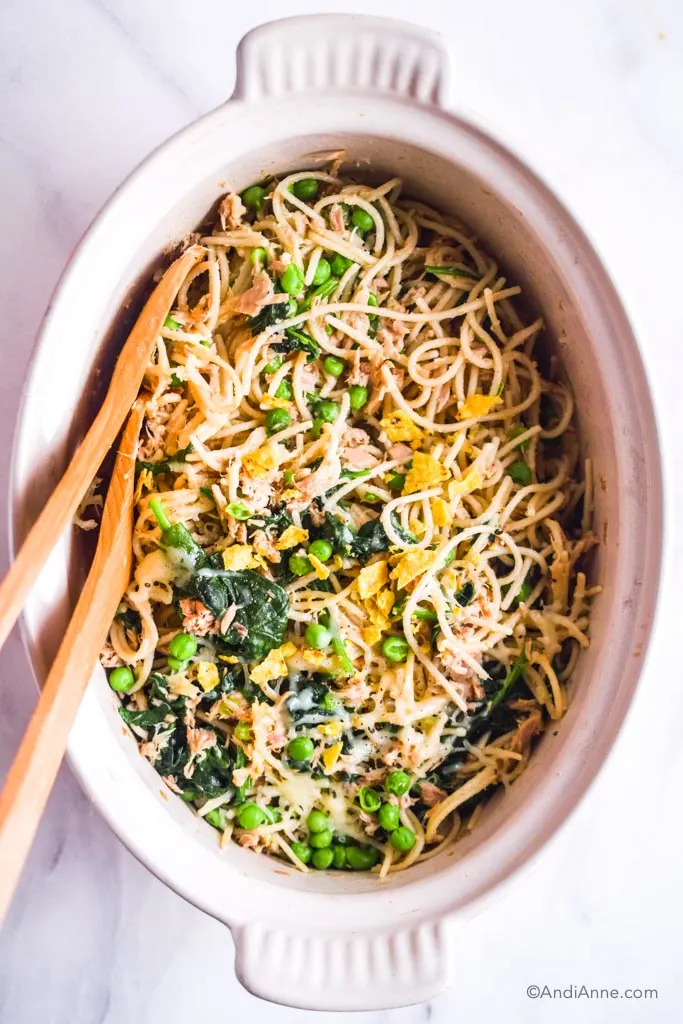 Tuna Noodle Casserole
I love comfort food – but not the added carbs. They leave me feeling bloated and sluggish. That's why I'm making a healthier version of this classic tuna noodle casserole recipe.
If you're anything like me and are craving some comfort food but wish it was healthier, then this tuna noodle casserole is for you.
Most tuna casserole recipes use canned cream of mushroom soup – which is high in salt (660 mg per can!) and added preservatives. If you're trying to limit your salt intake, then I recommend making tuna casserole from scratch. That way you can control the quality of ingredients used.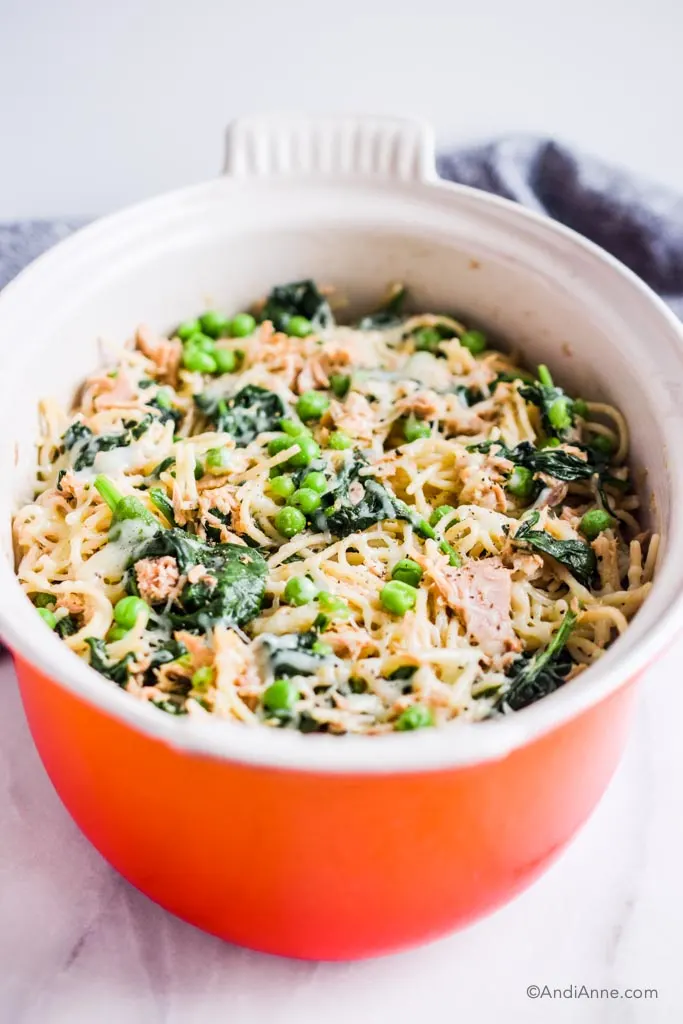 Tuna Casserole Ingredients
Spaghetti Pasta – I use brown rice noodles in all of my recipes. You can use any type of noodles that you prefer.
Canned Tuna – This is often overlooked for dinners, but actually makes a great protein source. Canned tuna is inexpensive and can easily be used as a substitute for fish and chicken in stir frys and casseroles. Any type of canned tuna will work for this recipe. Drain the excess juices before adding it to the casserole dish.
Vegetables – Baby spinach, onion, celery and frozen peas add crunch and flavor to this meal. If there's any vegetables you don't want to add, feel free to substitute them for something else. Mushrooms, green onion, green beans, kale, and radishes would all taste great.
Sauce – The creamy sauce is what truly makes this meal come together. The spices from your pantry that you'll need are cumin, garlic powder, paprika, salt and pepper. To create the sauce, you'll also need flour and milk.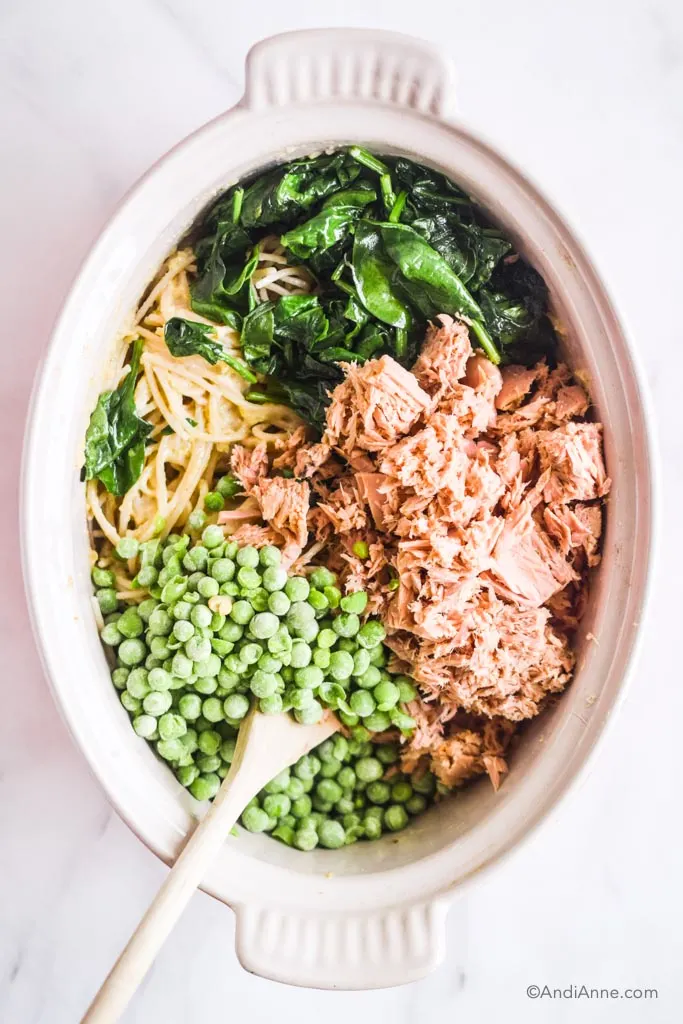 How To Make Tuna Noodle Casserole
Cook The Spaghetti Noodles – Using the instructions on the side of the pasta, cook the noodles until al dente. Break the noodles in half as you're adding them to the pot of boiling water. Drain and rinse the noodles under cold water and add them to the casserole dish.
Soften Baby Spinach – Drizzle a bit of cooking oil into a frying pan and add the baby spinach. Cook and stir until the spinach breaks down and softens. This will only take 1-2 minutes. Then add the spinach to the casserole dish.
Make The Sauce – Add minced garlic, onion, and celery to the frying pan along with 1 Tbsp cooking oil. Stir and cook until the onion turns translucent. Now add the spices, flour and milk. Stir frequently to help it mix into a sauce – about 1 minute. Remove from heat and pour the sauce over the spaghetti noodles.
Assemble The Casserole – Preheat the oven to broil. Add the canned tuna, frozen peas and shredded mozzarella cheese to the casserole dish. Toss everything together.
Broil – Add the casserole to the middle rack of the oven and broil for 2-3 minutes, or until cheese is melted and peas have warmed through.
Serve – Scoop the casserole into bowls and top with more cheese and some crushed tortilla chips (optional).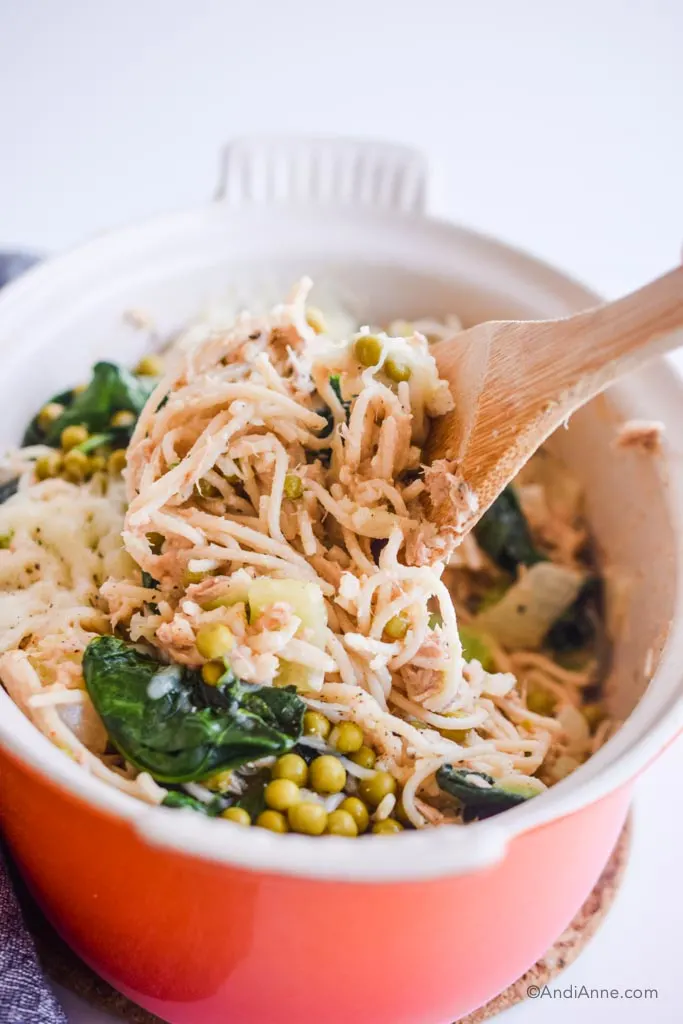 How To Make Tuna Noodle Casserole Healthier
Try Brown Rice Noodles – Instead of using regular pasta noodles, consider trying brown rice noodles. These are whole grain noodles that are high in fiber, good for your heart and digestive system.
Add More Vegetables – This recipe is very versatile. You can add any leftover vegetables in your fridge and it will taste great. Consider fresh mushrooms, zucchini, kale, radishes, corn, and green beans. You will need to add these to the frying pan to sautee and soften before adding them to the casserole dish.
Make It From Scratch – When you make a recipe from scratch you get to control the quality of ingredients you use. Most processed foods at the grocery store contain the lowest quality of ingredients possible in order to maximize profits.
Don't Use Canned Soup – Speaking of too much salt, avoid the canned cream of mushroom soup versions of tuna casserole. One can of soup contains 660 mg of salt! It's just not necessary when you can easily make it from scratch instead.
Use Crushed Tortilla Chips For Crunch – If you're used to adding crushed potato chips to your tuna casserole, consider trying crushed organic tortilla chips instead. They contain simple clean ingredients with less salt and preservatives.
Less Cheese – Cheese is delicious, but it's also high in calories. Use less cheese, or don't use it at all. This recipe will still taste great without it.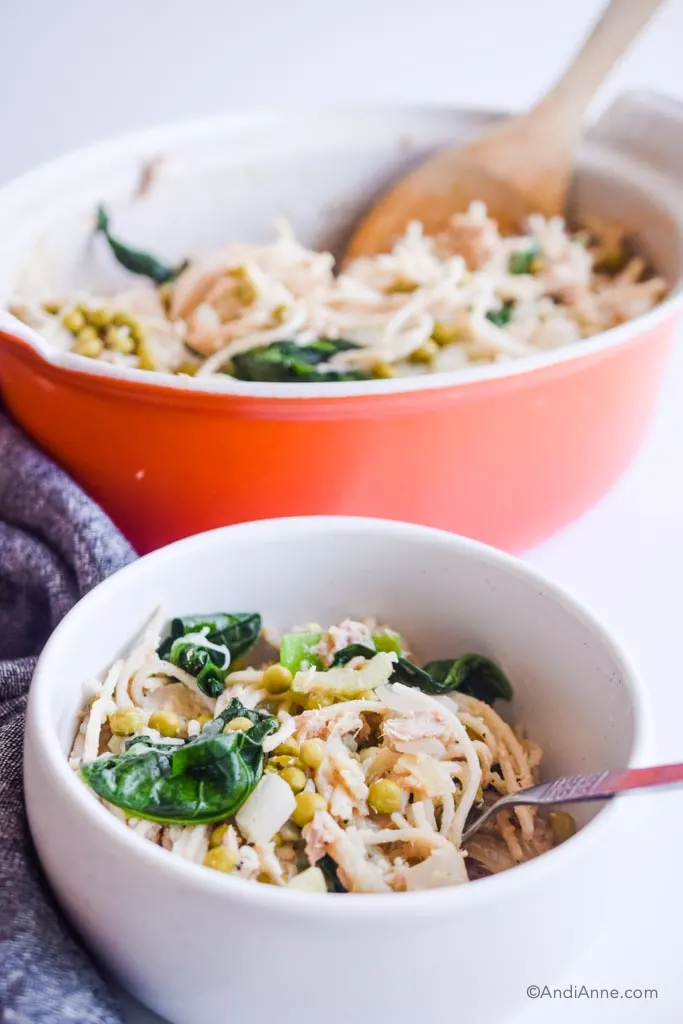 More Easy Dinner Recipes
Here are some more delicious recipes to make at home that are FAST. Perfect for weeknights!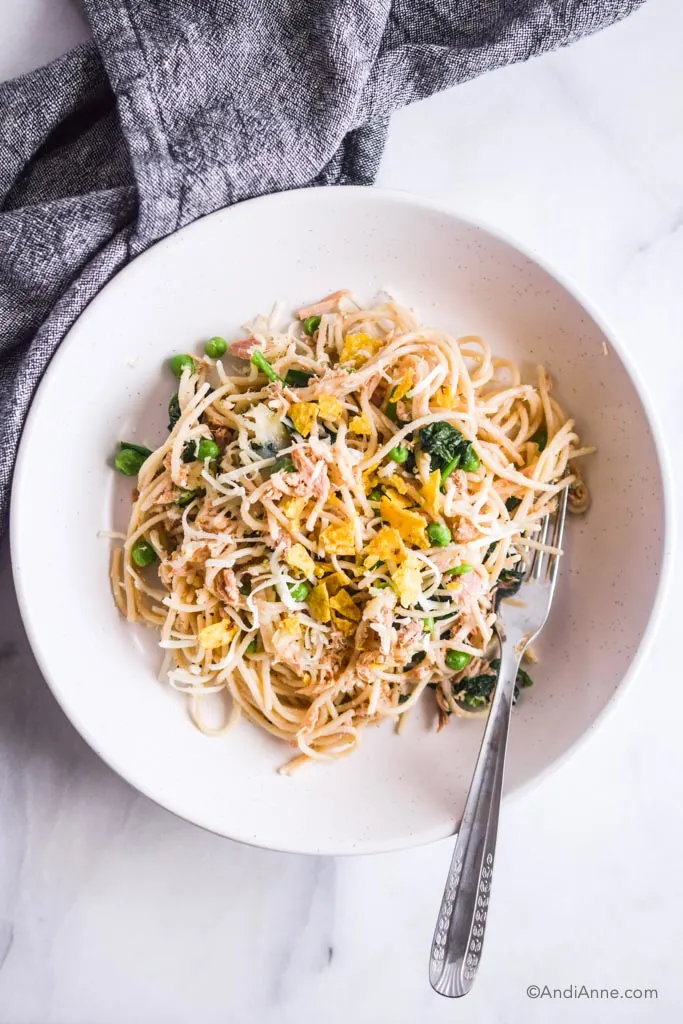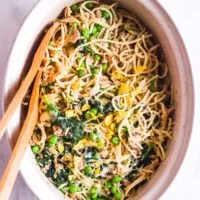 Instructions
Cook spaghetti pasta according to package instructions. Break the noodles in half while adding them to the pot of boiling water. Once cooked, drain and rinse under cold water. Add the noodles to the casserole dish. Set aside.

In a frying pan, add spinach and drizzle with a small amount of cooking oil. Cook for 1-2 minutes or until spinach starts to wilt. Scoop into casserole dish and set aside.

In the same frying pan over medium high heat, add 1 Tbsp of cooking oil along with minced garlic, onion and celery. Cook until onion turns translucent.

Add the spices to the frying pan: cumin, garlic powder, paprika, salt and pepper. Add 2 Tbsp cooking oil, flour and milk. Stir until the liquid starts to thicken into sauce. This should happen quickly in about 1-2 minutes. Remove from heat and pour sauce mixture overtop of spaghetti noodles.

Add the frozen peas, canned tuna, and shredded cheese to the casserole dish. Mix everything together. Broil for 1-2 minutes to allow cheese to melt and peas to warm through.

Serve with extra shredded cheese and crushed tortilla chips (optional).
Nutrition
The nutritional information provided is an estimate and is per serving.