Tomato pasta soup is quick, healthy, and easy. Canned tomatoes, onions, garlic, tomato paste, fresh basil and spices are simmered on the stove. These ingredients are then pureed in a blender until smooth and creamy (perfect for picky eaters that don't like certain ingredients) Add cooked pasta and fresh basil to the creamy tomato soup for a comforting lunch or dinner.
Serve this soup with comfort foods like our avocado tuna melt, our easy chicken bacon ranch wraps, or the budget-friendly and meatless mashed chickpea wraps for a healthy meal.
Easy Tomato Soup With Pasta
This easy soup recipe is perfect for picky eaters that like simple flavors!
It's budget-friendly, much lower in sodium than store-bought soups, and uses fresh healthy ingredients.
Leftovers make the perfect lunch or quick dinner. Just reheat in the microwave or on the stove.
A bit of sugar is optional but highly recommended if you don't enjoy the tartness of tomatoes.
This recipe needs a blender to create a smooth and creamy consistency. You can also use a food processor or immersion blender.
This is an easy weeknight meal that's ready in under 20 minutes.
For more tomato soup recipes try our onion garlic tomato soup, the kid-friendly carrot tomato soup, or classic tomato soup with butterfly croutons, or my personal favorite, our tomato cod soup recipe.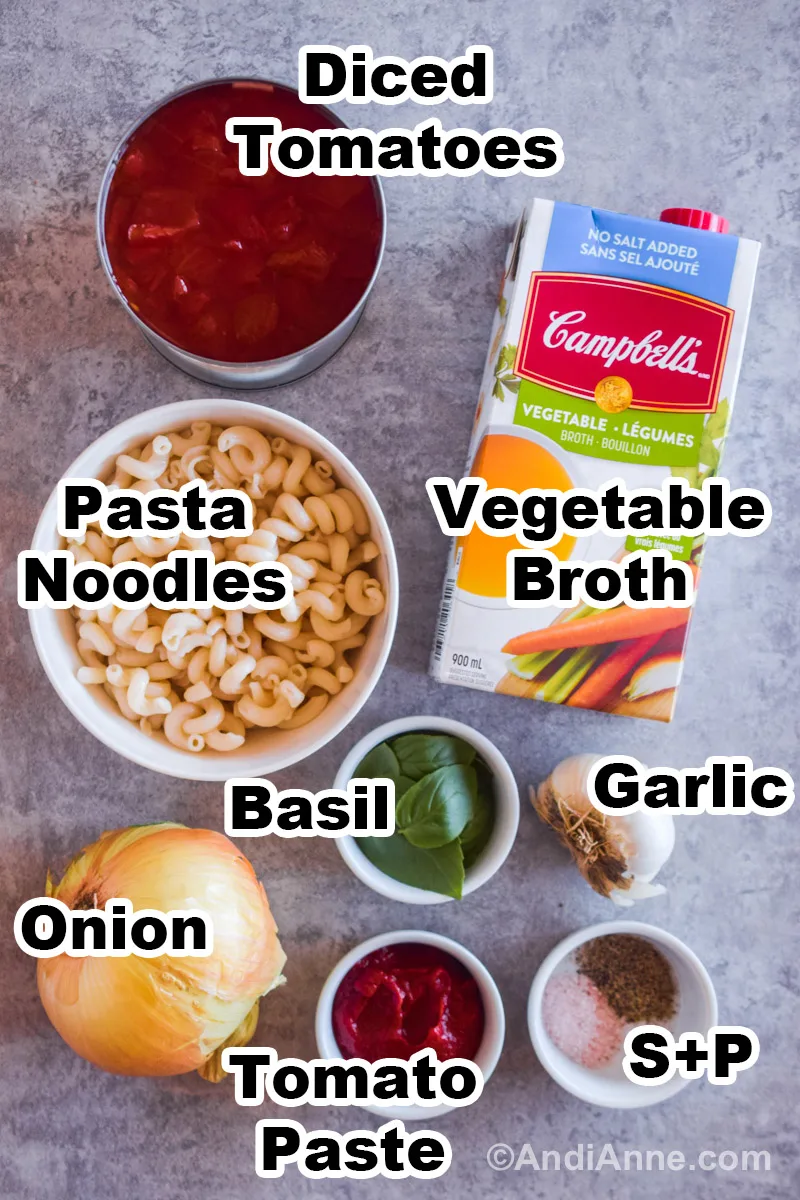 Recipe Ingredients
PASTA: The recipe uses 1 ½ cups of cooked pasta noodles. This is about 3/4 of a cup of uncooked pasta. I used rice pasta spiral noodles which are my daughter's favorite. Any shape of noodle will work. Feel free to use regular whole wheat pasta, rice pasta, or gluten-free versions.
SOUP BASE: Vegetable broth is mixed with a large can of diced tomatoes, tomato paste, basil, salt and pepper. Use your own homemade broth for a healthier soup. Before adding all other ingredients, chopped yellow onion and minced garlic are sauteed in the pot.
BASIL: Chopped fresh basil pairs beautifully with tomatoes. You can usually find it next to the tomatoes in the grocery store. You can use fresh basil or dried basil for this recipe.
VARIATIONS: Add 1 cup of canned navy beans, lentils, some green beans or chickpeas to the pot after pureeing the tomato soup. This will add more texture to the noodles. Add a sprinkle of pumpkin seeds or sunflower seeds on top of the soup for extra protein. Drizzle some olive oil and add crushed crackers just before serving for that perfect crunch. Or add our crispy chickpeas with parmesan cheese for even more flavor.
How To Make Tomato Pasta Soup
Just a few simple steps to create this simple soup recipe! Here's a quick overview:
Cook the pasta noodles according to package instructions.
Sautee chopped onion and garlic in a pot over medium heat. Add in canned tomatoes, broth, tomato paste, basil, sugar, salt and pepper. Let simmer.
Puree soup ingredients in a blender according to full instructions in the recipe card below.
Add back to the pot along with cooked noodles and fresh basil.
Leftovers can be stored in an airtight container in the fridge up to 3-4 days. This soup can be reheated in the microwave or in a pot on the stove.
Leftovers also freeze well. This recipe can be added to silicone freezer containers or mason jars and stored in the freezer up to 4-5 months. Thaw in the fridge 1-2 days then reheat in the microwave or on the stove.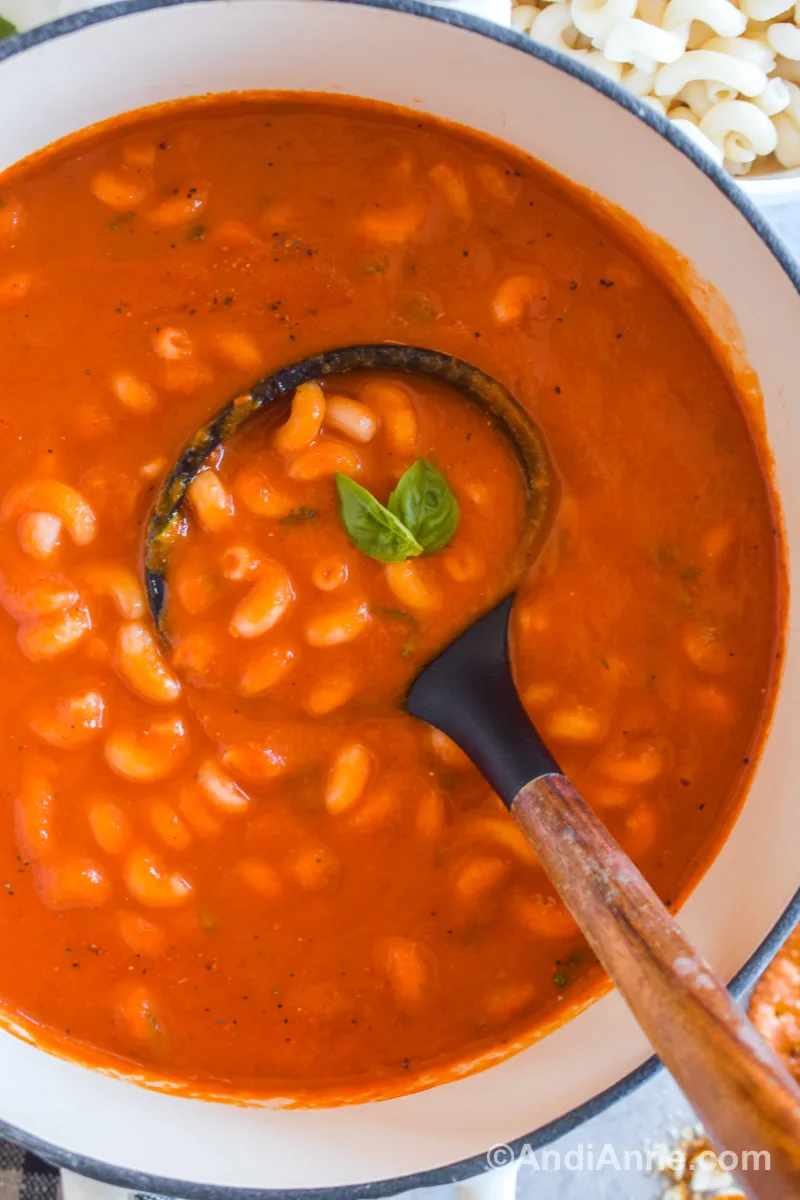 Recipe Tips
Do not add the pasta to the soup until you've pureed the other ingredients! Otherwise, the pasta will be pureed as well.
Cook the pasta al dente before adding it to the soup. A little undercooked is better than overcooked mushy pasta!
Be sure to rinse the pasta under cold water after cooking it. Drained pasta can then be added to the pureed tomato soup.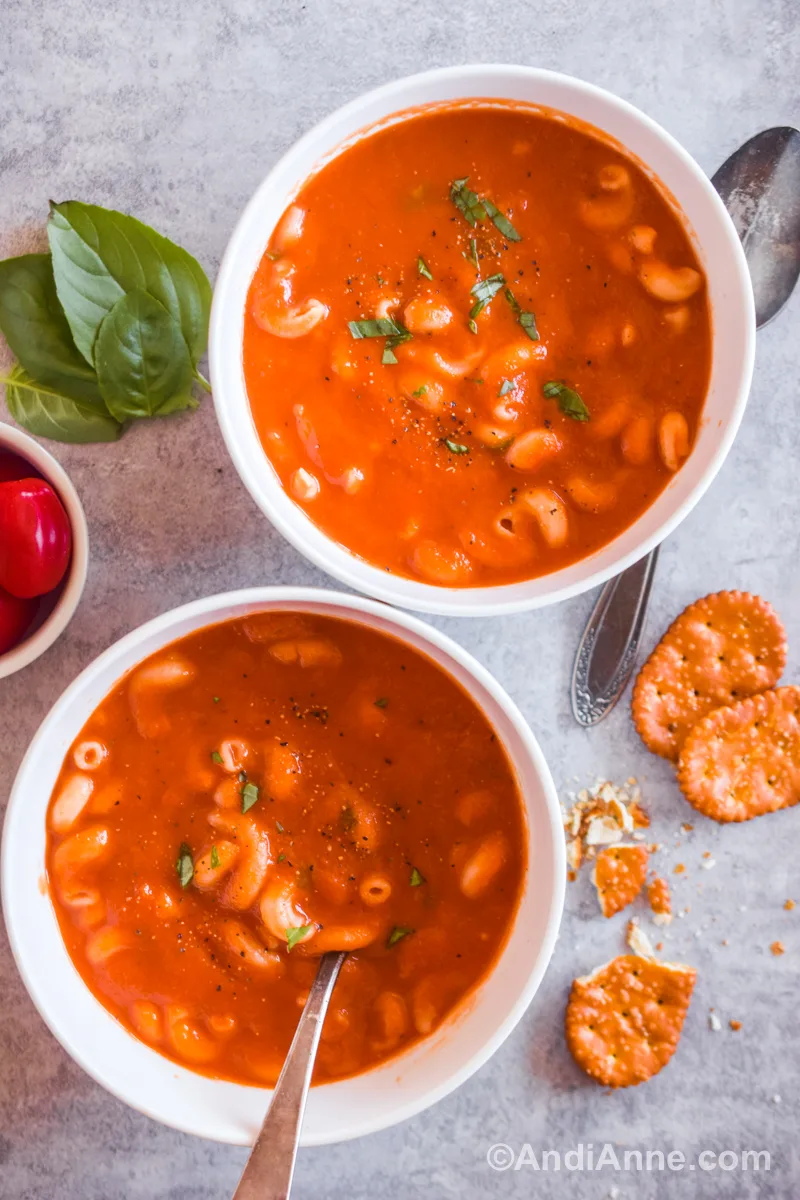 More Soup Recipes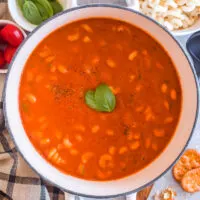 Instructions
Cook the dry pasta noodles in a large pot or dutch oven according to package instructions until al dente. Drain pasta under cold water and set aside.

In a large pot over medium-high heat, saute the onion and garlic with a bit of olive oil. Cook until onion turns translucent, about 1-2 minutes.

Add in diced tomatoes (with liquid), vegetable broth, tomato paste, dried basil, sugar (optional), salt and pepper (do not add pasta noodles). Bring to a boil then let simmer 5 minutes.

Carefully scoop half of the soup into a blender or food processor and puree until smooth and creamy. Pour into a bowl and repeat with the other half of soup.

Add the pureed soup back to the pot along with 1 ½ cups of cooked pasta noodles and 1 Tbsp freshly chopped basil (optional).

Heat over medium-high heat until warmed through, about 2-3 minutes. Scoop into bowls, serve and enjoy!
Nutrition
Calories:
97
kcal
|
Carbohydrates:
21
g
|
Protein:
4
g
|
Fat:
1
g
|
Saturated Fat:
1
g
|
Polyunsaturated Fat:
1
g
|
Monounsaturated Fat:
1
g
|
Sodium:
628
mg
|
Potassium:
428
mg
|
Fiber:
3
g
|
Sugar:
7
g
|
Vitamin A:
408
IU
|
Vitamin C:
17
mg
|
Calcium:
64
mg
|
Iron:
2
mg
The nutritional information provided is an estimate and is per serving.