Wild Rice Mushroom Soup
Disclosure: This post may contain affiliate links.
Wild rice mushroom soup is filling, flavorful and fast to make. Brown mushrooms and hearty wild rice are paired together with broth and cream to create a comforting soup recipe.
Serve this hearty soup as a healthy lunch or dinner alongside warm crusty bread, german potato pancakes or our easy easy herbed quick bread.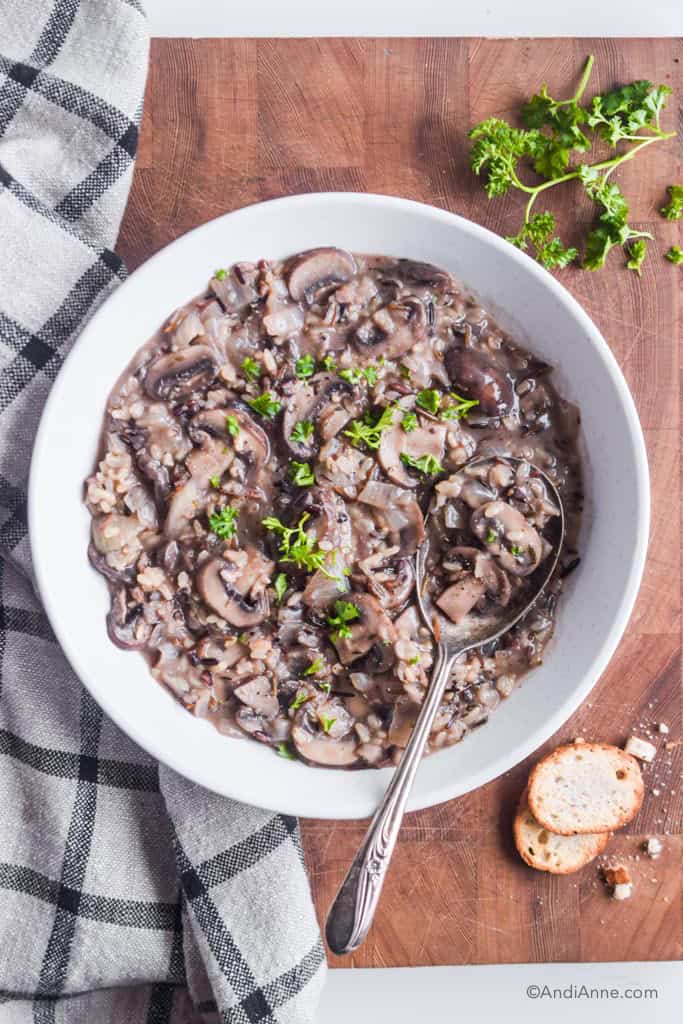 Mushroom Lover Soup Recipe
This is a lovely vegetarian soup. It feels hearty with an earthy flavor, all thanks to the mushrooms and wild rice.
Only 5 main ingredients plus spices, make this an easy wholesome soup recipe.
Chopped mushrooms and wild rice are affordable, healthy, and very filling!
This soup only takes 20 minutes to put together.
I'm a big fan of making a big pot of soup for lunches throughout the week. You can bring it to work or reheat it at home on the stove. It's a wonderful way to eat healthy mid-day.
Serve this soup with crackers, croutons, or a slice of warm bread. Or eat on its own, which is what I like to do most days.
Mushrooms are an easy budget-friendly ingredient to use in a variety of recipes including our marinated mushrooms, our mushroom crustless quiche, mushroom gravy sauce, or our wild rice stuffing.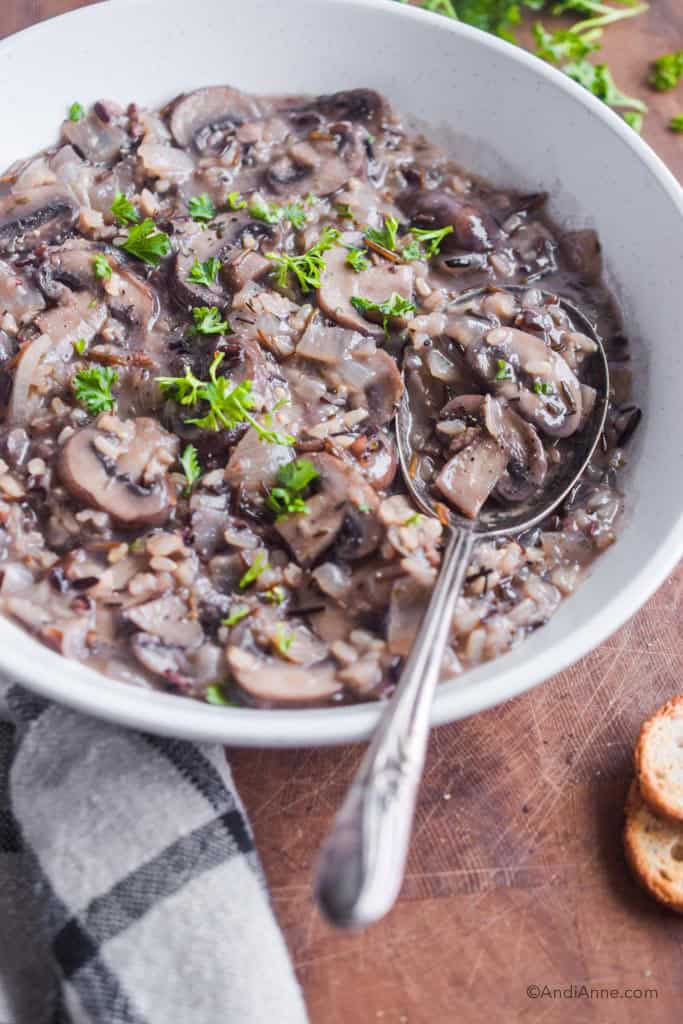 Recipe Ingredients
Here's what you'll need to make this delicious soup:
WILD RICE: This recipe uses ¾ cup of uncooked wild rice. Feel free to use brown rice or long grain white rice if preferred.
MUSHROOMS: You'll need 4 cups of sliced mushrooms. You can use cremini mushrooms, white button mushrooms, shiitake mushrooms, or baby bella. I used brown mushrooms.
BASE: A combination of heavy cream (or coconut milk), broth, spices, onion and garlic make up the flavorful base of this soup recipe.
VARIATIONS: You can add shredded chicken or leftover turkey for extra protein.
TO SERVE: Drizzle a bit of freshly squeezed lemon juice. Sprinkle grated parmesan cheese and a dollop of sour cream for added flavor.
How To Make Creamy Mushroom Wild Rice Soup
Saute onions, mushrooms and spices in a large stockpot.
Add in cream, broth and rice according to the full recipe card instructions below.
Bring to a boil then let simmer until rice is cooked and mushrooms are tender.
Scoop into bowls. Serve and enjoy!
Leftovers can be stored in an airtight container in the fridge for up to 3-4 days. This soup can be reheated in a pot on the stove or in the microwave.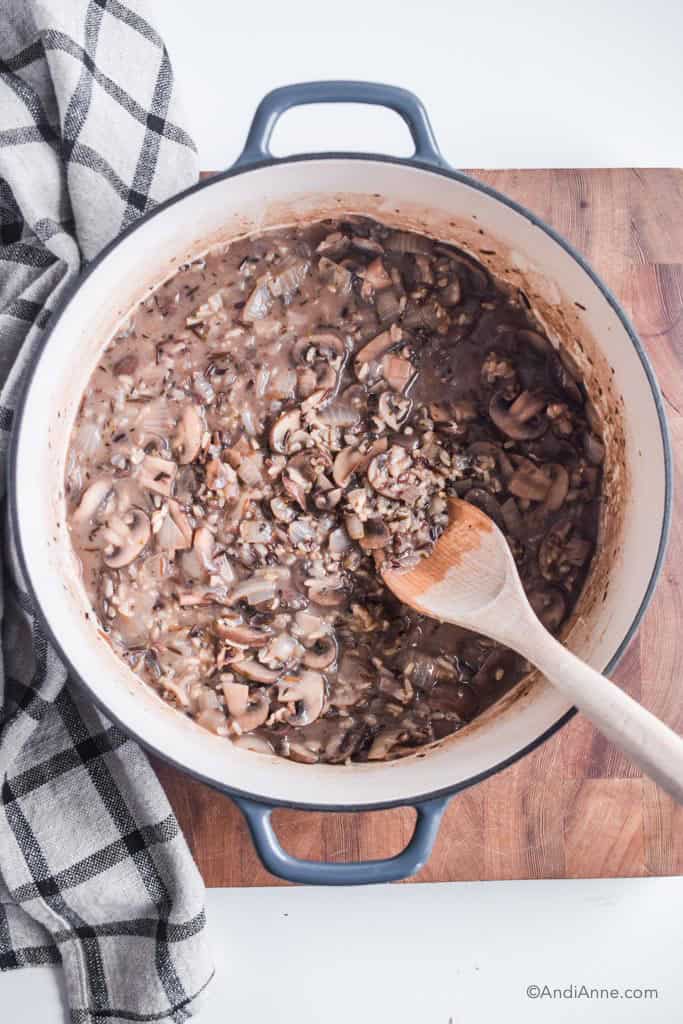 Recipe Tips
This soup is thick and creamy. The rice will absorb a lot of the liquid. If you want it to be a bit runnier, just add more broth to the recipe.
This recipe will make about four small servings or two large servings – feel free to double the recipe if needed.
You can buy pre-sliced mushrooms from the grocery store to help save time.
You could use brown or white rice as an alternative to wild rice. Keep an eye on the rice as it will cook differently than wild rice which tends to take longer.
If you don't have vegetable broth, you can use chicken broth as a replacement.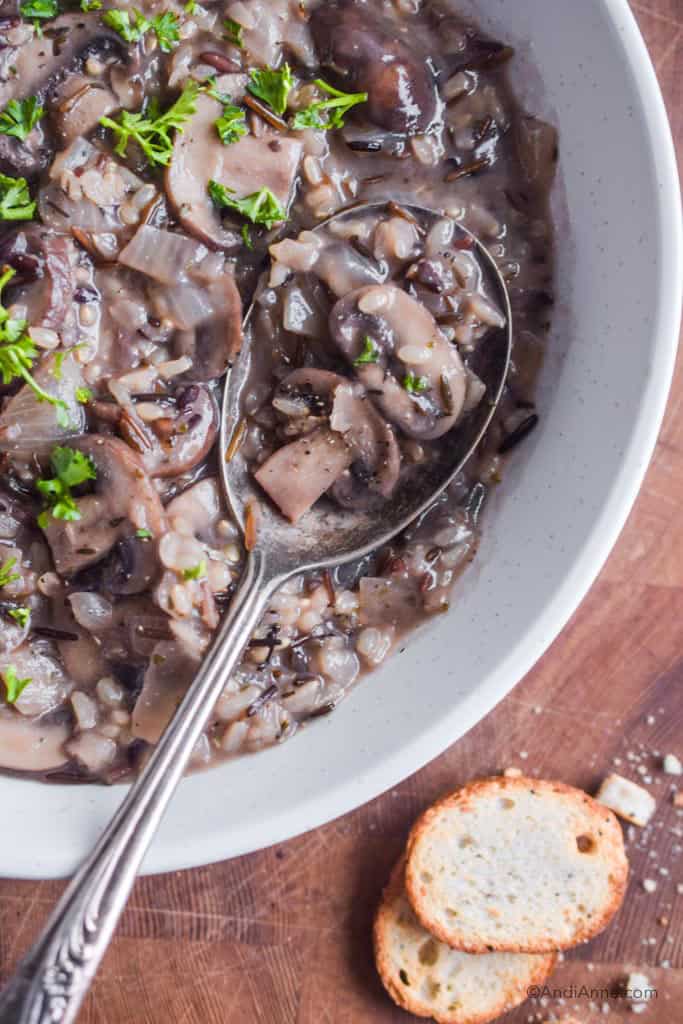 More Soup Recipes
These soups are healthy and delicious: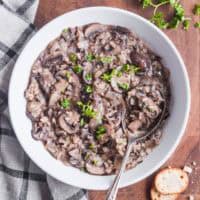 Wild Rice Mushroom Soup
A filling and flavorful soup made with brown mushrooms, wild rice, spices, in a creamy broth.
Print
Pin Recipe
Instructions
Add the wild rice to a bowl with water. Let soak 20 minutes.

Drain and rinse the rice through a fine-mesh strainer.

In a large pot (or dutch oven) over medium high heat, saute the onions and garlic with cooking oil. Cook until onions turn translucent, about 1-2 minutes.

Add in the mushrooms, dried thyme, dried parsley, salt and pepper. Saute for another 2 minutes.

Add the coconut milk. Bring to a boil then add the broth.

Reduce heat and let simmer for 10 minutes covered.

Remove the lid and simmer another 5-10 minutes. Use soup ladle to pour into bowls. Serve and enjoy!
Recipe Notes:
This recipe will make about four small servings or two large servings.
This soup is thick and creamy. The rice will absorb a lot of the liquid. If you want it to be a bit runnier, just add more broth to the recipe.
Nutrition
Calories:
294
kcal
|
Carbohydrates:
33
g
|
Protein:
9
g
|
Fat:
16
g
|
Saturated Fat:
14
g
|
Polyunsaturated Fat:
1
g
|
Monounsaturated Fat:
1
g
|
Sodium:
1129
mg
|
Potassium:
608
mg
|
Fiber:
3
g
|
Sugar:
6
g
|
Vitamin A:
455
IU
|
Vitamin C:
5
mg
|
Calcium:
34
mg
|
Iron:
3
mg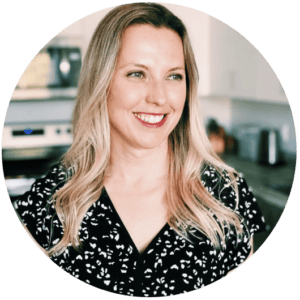 About Andi Anne
Welcome to Andi Anne! Here we focus on simple recipes that are easy to follow with lots of images to guide you along the way! We've created over 500 recipes for you to explore and try out in your own kitchen.