Air fryer soy sauce chicken breasts use a simple marinade to create flavorful chicken thats tender and juicy on the inside. Perfect to add to use as a main dish with rice or chopped up in a soup or salad.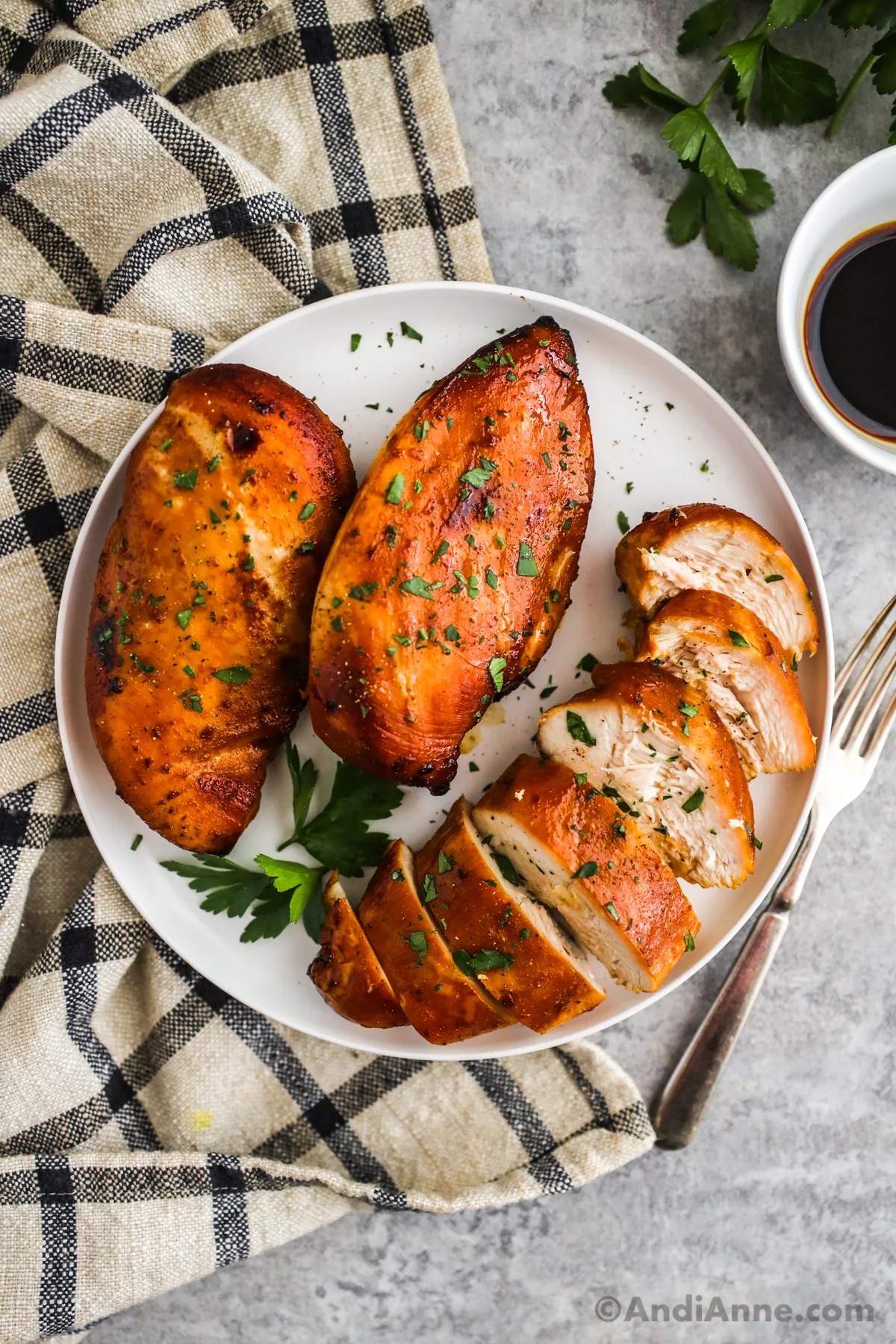 Air Fryer Soy Sauce Chicken Breasts
I love my air fryer! It's such an amazing tool to create delicious meals without added oil or baking time. An air fryer allows hot air to circulate around the chicken entirely. The result is more even cooking, less fuss on your end, and incredible crispy results.
When you are cooking boneless, skinless chicken breasts in the air fryer, there are a few things to consider so that you don't dry out the chicken. I promise it's easier than you might think! I'll go over the details below. Once you've mastered the simple steps, you'll achieve tender juicy chicken in the air fryer every time.
For more easy air fryer chicken recipes, try my air fryer chicken legs, crispy salt and pepper wings, easy chicken thighs, or crispy parmesan chicken legs. You can even air fry a whole chicken from frozen!
And if you want to serve this chicken with some air fryer side dishes, try my air fryer broccoli, buffalo cauliflower bites, air fryer green beans, the best brussels sprouts, and the crispiest baby potatoes.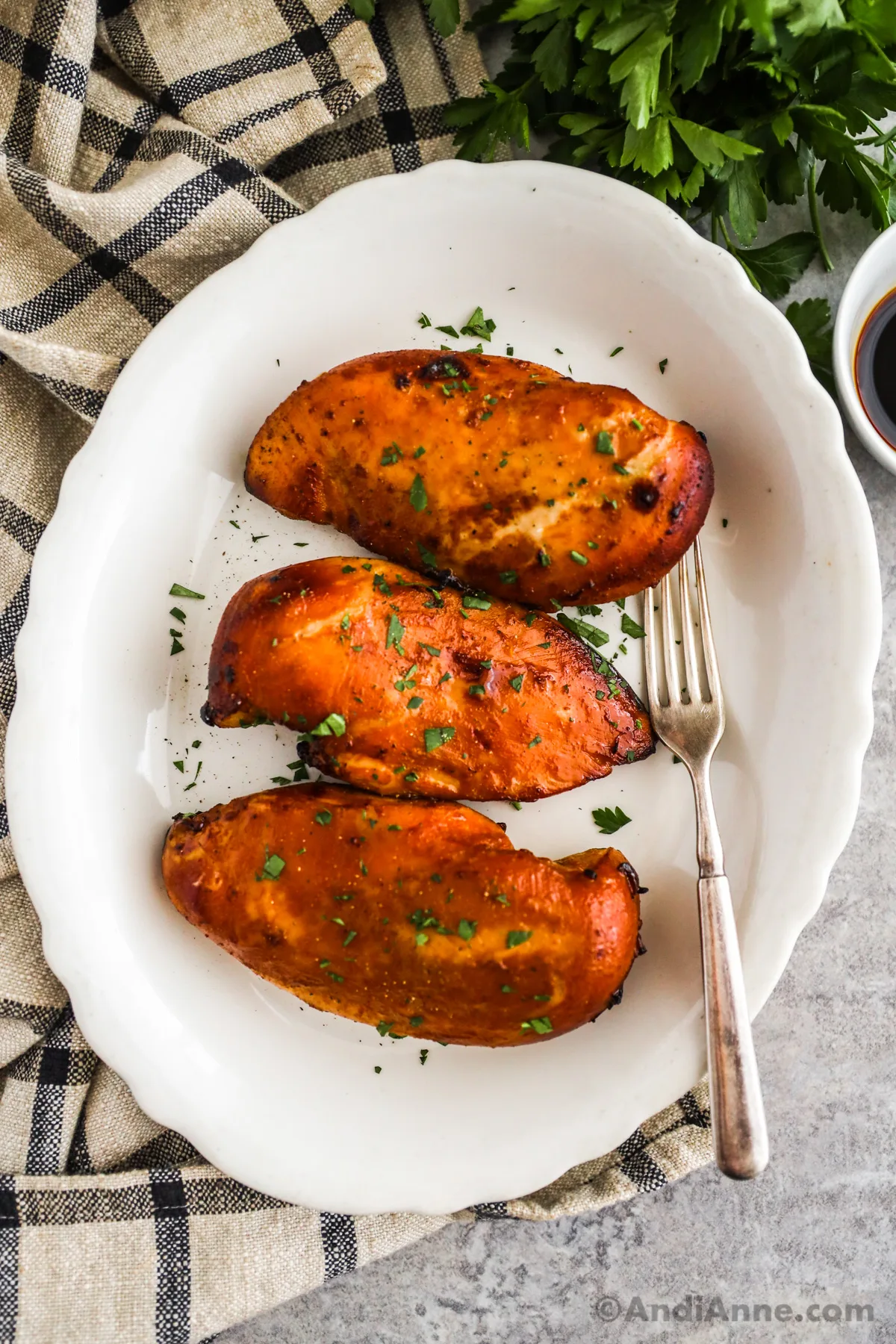 Recipe Ingredients
For this recipe, you'll need boneless skinless chicken breasts and ingredients for the marinade. Here's an overview of what's needed. Full ingredients with quantities are included in the recipe card at the bottom of this blog post.
CHICKEN BREASTS – Four medium chicken breasts will feed most families and fit in the air fryer together. I recommend choosing four that are the same size and thickness so that they cook more evenly.
PINEAPPLE JUICE – This acts like an acid that breaks down the chicken while it marinates and creates more tender juicy meat. You can also use orange juice or lemon juice.
SOY SAUCE – Soy sauce creates so much flavor for the chicken. You can also use coconut aminos or tamari sauce.
OLIVE OIL – The olive oil helps to keep the chicken moist and adds flavor. You can also use another neutral oil like canola oil or avocado oil.
SPICES – A little bit of onion powder, ground ginger, salt and pepper will season the chicken.
HELPFUL TIP: Mix all the marinade ingredients together in a small bowl before adding to the chicken. This will ensure that the chicken gets even flavor.
How To Choose The Best Chicken
USE FRESH CHICKEN – Use fresh, thawed chicken. Frozen chicken will not absorb the marinade properly. Chicken should be pink and firm to the touch. If the chicken has a grayish tint or looks and feels slimy, toss it.
SAME SIZE – If possible, look for chicken breasts that are 6-8 ounces each. Choose ones that are the same size as each other so that you get better cooking.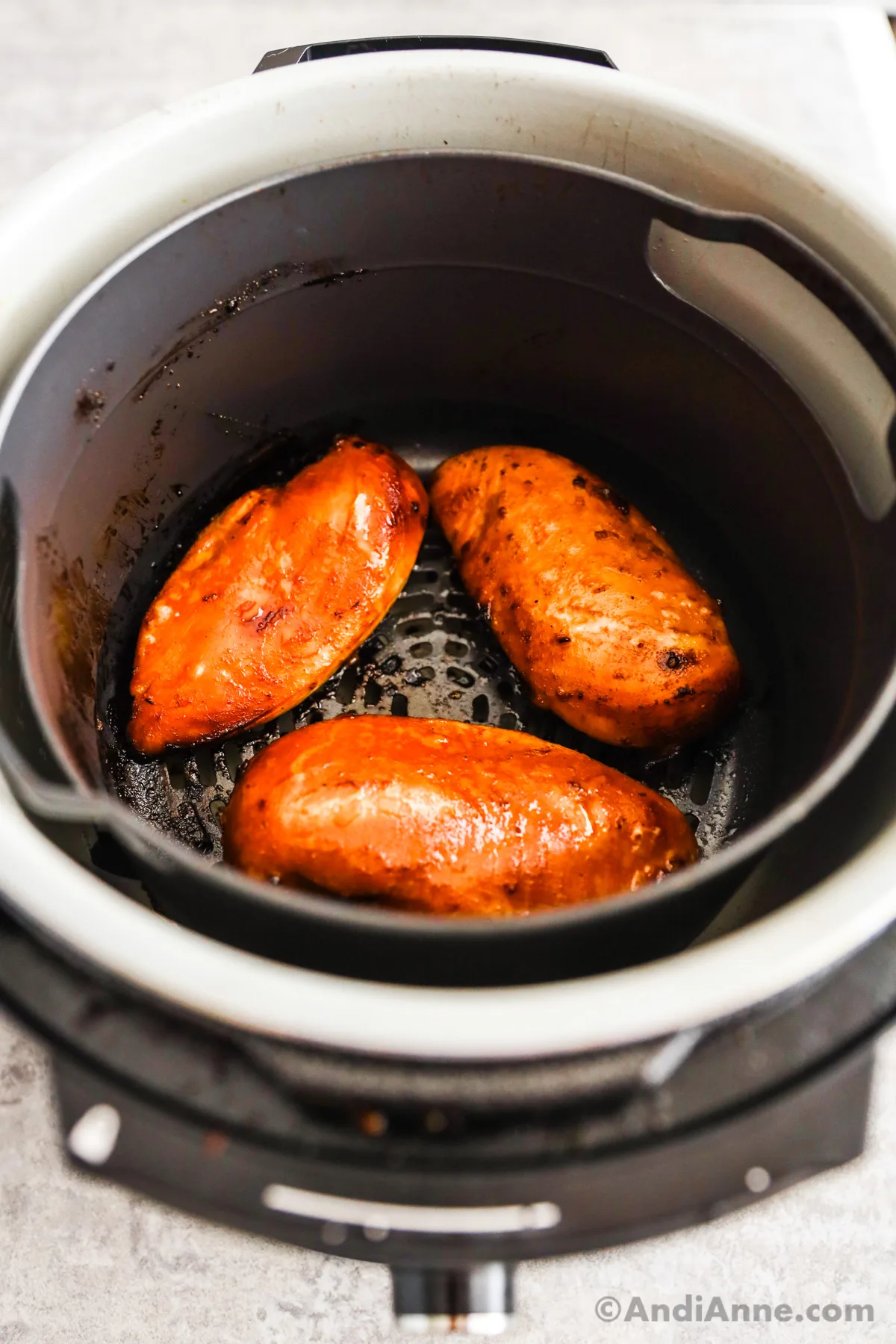 How To Make Air Fryer Soy Sauce Chicken
Here's a quick overview of how to make air fryer chicken breasts, with the full instructions in the recipe card at the bottom of this post:
STEP ONE: MARINATE THE CHICKEN BREASTS
MIX MARINADE – Mix together the marinade ingredients in a small bowl: pineapple juice, soy sauce, olive oil, onion powder, ground ginger, salt and black pepper.
MARINATE CHICKEN – Add the chicken breast and all marinade ingredients into an airtight container. Store in the fridge for at least 30 minutes, but preferably longer. I like to marinate for at least 3 hours minimum or overnight.
STEP TWO: COOK CHICKEN IN AIR FRYER
PREHEAT – Preheat your air fryer to 375°F for 5 minutes.
COOK – Place the marinated chicken breasts in the air fryer basket in a single layer, making sure they are not touching. Cook for 18-20 minutes, flipping the chicken halfway through.
LET SIT – Let the chicken breasts rest for a few minutes before slicing and serving.
Helpful Tip: Check the internal temperature of the chicken breasts using an instant-read thermometer. The temperature should reach 165°F to ensure they are fully cooked.
How To Store Leftovers
First, let the chicken breasts cool completely to room temperature. Once they're cooled you can follow one of the methods below.
REFRIGERATE – Store the chicken in an airtight container for up to 3-4 days.
TO FREEZE – I love to batch prep a larger amount of chicken and freeze half for future meals! You can wrap the cooled chicken tightly in plastic wrap or aluminum foil, then place in a large freezer bag. Remove as much air as possible to prevent freezer burn. It can last up to six months in the freezer.
TO REHEAT – You can reheat the chicken breasts in the air fryer for a few minutes at 350°F, until they are warmed through. You can also reheat it in the microwave for 1-2 minutes.
Add cooked chicken breasts to some of our favorite recipes including taco chicken salad, topped on this popular sweet potato taco bowl, or make a casserole like our chicken broccoli rice bake.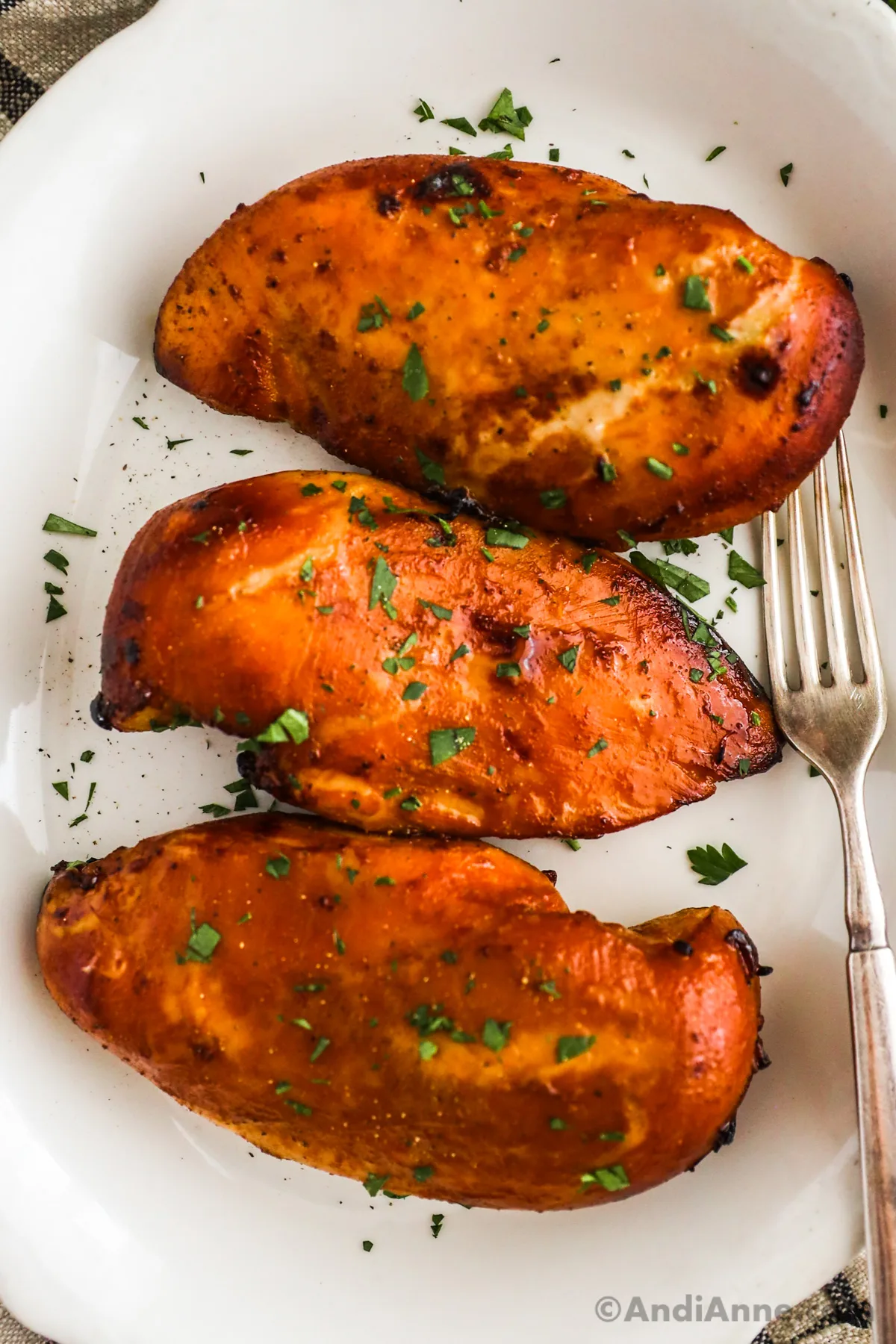 Air Fryer Tips
PREHEAT AIR FRYER – Preheating ensures that the chicken will cook evenly and get a little crispy on the outside.
SEASON CHICKEN – Always season the chicken before you cook in the air fryer. Unless you want flavorless chicken. Chicken marinades or chicken rubs are my favorite way to do this.
USE COOKING SPRAY – This will depend on the air fryer. Some may need a quick spray of cooking oil to prevent the chicken from sticking. Other baskets have a good non-stick coating and won't need this.
SINGLE LAYER – Always cook in a single layer. Don't stack the chicken breasts on top of eachother. The hot air won't be able to circulate properly, resulting in unevenly cooked chicken. Instead, cook in smaller batches if you need to.
FLIP CHICKEN HALFWAY – I prefer to flip the chicken halfway through the cooking process. I find it just cooks better. If you have thicker chicken breasts, increase the cooking time by a few minutes.
USE MEAT THERMOMETER – A meat thermometer is really handy! Poke it into the center of the meat to check if it's cooked. For chicken, the internal temp should reach 165°F.
LET IT REST – After cooking, let your chicken breast rest for a few minutes before slicing it. This will allow the juices to redistribute and make your chicken more tender and juicy.
Can I marinate frozen chicken?
Yes, you can add the frozen chicken straight to the marinade and let it defrost fully in the fridge before cooking. This can take up to 24 hours, first to allow the chicken to thaw, and then to absorb the marinade flavors.
How do you keep chicken breast from drying out in an air fryer?
Two things can help with this. First, marinate the chicken in a flavorful sauce. This will help to create more tender chicken meat.
Second, avoid overcooking the chicken. You can use a meat thermometer to check this. Poke it into the middle of the chicken for a proper reading.
Lastly, let the chicken rest on a plate for 5 minutes to allow the internal juices to circulate.
Can I reuse the marinade?
Since the marinade has been in contact with raw chicken, it's not safe to reuse it – so always make a fresh marinade for the next batch.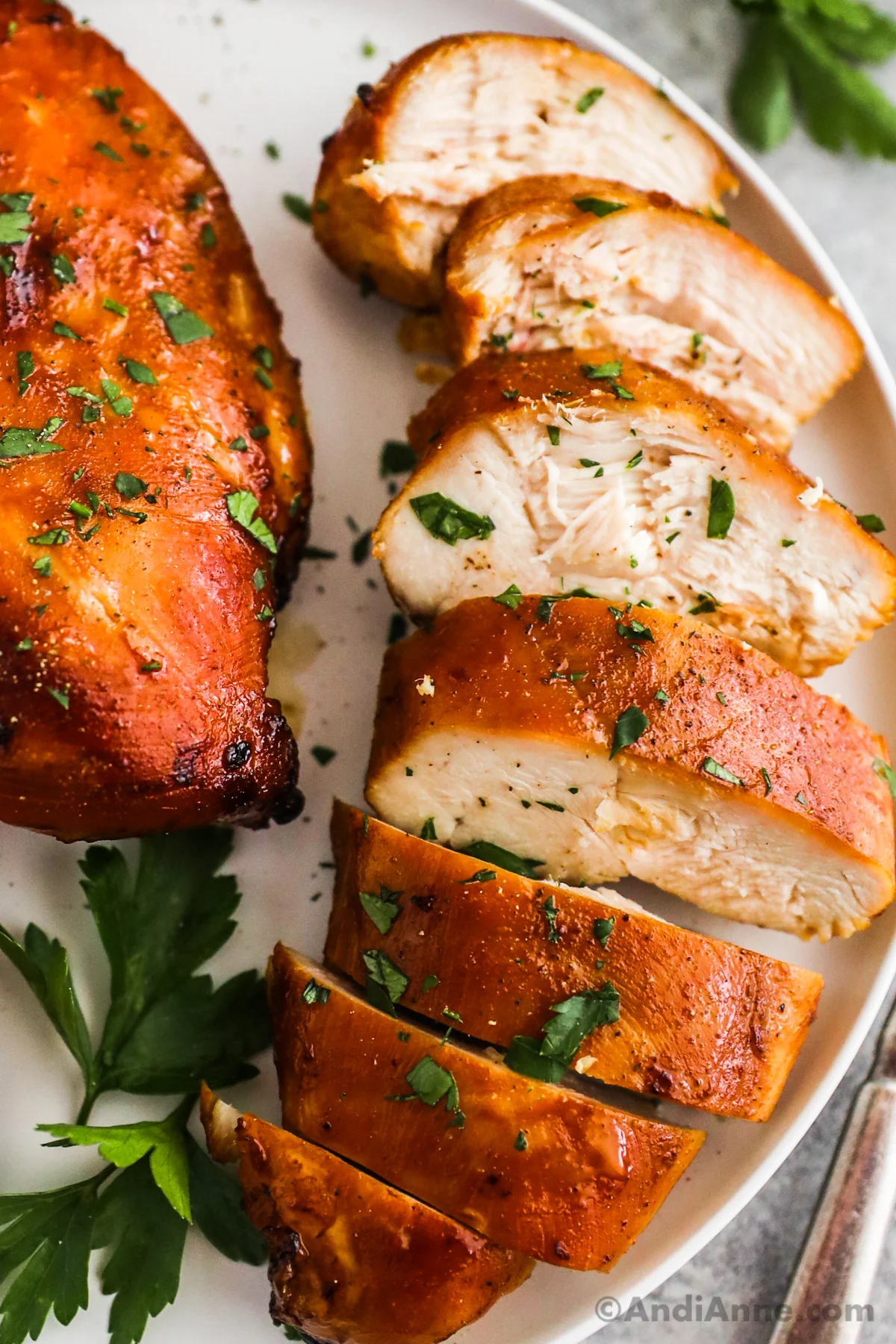 What To Serve With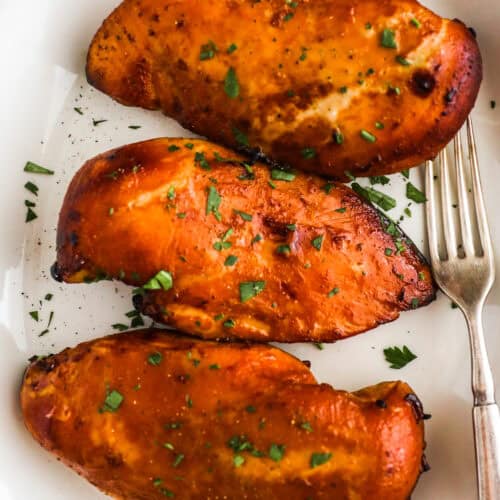 Instructions
Marinade The Chicken:
Mix together the marinade ingredients in a medium bowl. Add the chicken to a large bowl.Pour the marinade on top and toss to coat. Seal with a lid, and place in the fridge for 30 minutes minimum, up to 12 hours.

Rotate the chicken halfway through marinating time. Remove chicken and discard the leftover marinade.
Cook The Chicken:
Heat the air fryer at 375℉ for 5 minutes.

Add the chicken to the preheated air fryer and cook for 10 minutes. Flip and cook for 10 minutes more, or until the chicken is fully cooked and reaches an internal temperature of 165℉ when poked in the center with a meat thermometer.

Remove and let the chicken rest for 5 minutes to allow juices to circulate. Serve and enjoy.
Nutrition
Calories:
348
kcal
|
Carbohydrates:
5
g
|
Protein:
50
g
|
Fat:
13
g
|
Saturated Fat:
2
g
|
Polyunsaturated Fat:
2
g
|
Monounsaturated Fat:
7
g
|
Trans Fat:
0.03
g
|
Cholesterol:
145
mg
|
Sodium:
1600
mg
|
Potassium:
921
mg
|
Fiber:
0.4
g
|
Sugar:
3
g
|
Vitamin A:
71
IU
|
Vitamin C:
6
mg
|
Calcium:
22
mg
|
Iron:
1
mg